The Laundry People
In this modern world, people are busy in their business and routine that they do not have time to do their household chores. Two business partners Mr X and Mr Y is decided to launch an application The Laundry People which not only provides the complete information about the laundries that is located in the area of customer but it also provides the opportunity to make an online request to the desired laundry and then the laundry will provide pickup and delivery service. Since there is no other such application in Oman, so it will not have a number of competitors and it can be easily launched.
Introduction
In today's world, people are so busy in their daily routines that they do not have time to do basic household chores. On average a person spent more than 12 hours in his business activities and spend little time at home (Cristina & Alby., 2014). He does not have time to cook food or wash his dirty clothes. In Western countries, people use laundry centres to wash their dirty clothes. these laundry shops are of two type: a person wash his cloth at the location and pay the fee of washing machine and detergent, or he just needs to drop his cloth at the centre and the staff of laundry shop washes this cloth, fold them and even press them according to the need of the customer. Such laundry shops charge a high fee in return for services.
Description of Business
The Laundry People is an internet application which provides a great opportunity to the people to find the nearest laundry shop around their location. This application provides the complete price list of every laundry that is located in the area. Mr X and Mr Y will start this partnership business and will ease the life of busy people. This application will have unique feature through which a person can make an online order to the required laundry. The representative of that laundry will come to the home location of a person and collect the dirty clothes. After washing and pressing, the clothes will be delivered to that doorstep of a person.
A person does not need to waste his time in finding the good laundry shop with reasonable price. He also does not need to go by himself and hand over his dirty cloth and after washing and pressing, he does not need to go to the shop to collect them. All this work can be through the use of The Laundry People Application. Nowadays everyone has a mobile phone and internet connection. So a person just needs to download the application and his work in done.
Mission Statement of The Laundry People
"To save the time of busy people we provide, best application that will allow customers to access any laundry that is according to their price range by simply using the mobile phone. By providing the feature of home collective and delivery system we will save the precious time of our valuable clients"
Vision Statement of The Laundry People
"To provide a single application that allows the customer to get their dirty cloth washed, folded and pressed and more importantly delivered to their doorstep."
Industry Analysis
This application will be launched in Oman, so the industry analysis of Oman is described below.
Political
Oman has a royal system where Sultan of Oman is the self-appointed leader of the government and the country. He made his own cabinet and build policy and objectives of each sector. Every organization in Oman, need to take special permission from the government to start its operation. Omani government is giving more importance to its small businesses. The development Bank of Oman is especially advised by the government to provide a loan to new entrepreneurs on simple conditions. The political stability of Oman has encouraged many individuals to start their businesses as they get proper moral and monetary support from the government.
Economical
Oman is one of the wealthiest countries in Gulf Region. It has large oil and gas reserves and it gets huge revenue by exporting petroleum products. In 2008, there was an economic crisis in the country due to the decline in oil prices (Nawaz & Omezzine., 2016). But by adopting a new method of business and technological advancement the economy of Oman is again on the path of success.  The recent economic condition of the country is providing a great opportunity to small businesses to flourish. Since the laundry business in Oman is very much in demand, so the launch of this application in this scenario will be beneficial for both partners.
Socio-Culture
In Oman, people are adopting the trend and tradition of the modern world.  They are bringing changes in their lifestyle according to the western lifestyle. To bring this change they are spending more time on earning and spending little time at home.  They are also moving toward digitalization and almost in every home people has a mobile phone and has direct access to the internet (Dave & Ellis-Chadwick., 2016). In their busy lives, they do not have time to wash their clothes. Laundry industry is expanding in Oman, so it will be the best chance for Mr X and Mr Y to launch their The Laundry People Application.
Technology
Oman has made tremendous advancement in the field of technology. It introduced 4G and 5G technology in the country. By using these technologies it becomes easy for people to access online activities and applications. Over the last five years, people of Oman are moving toward the use of online services. Nowadays everyone has complete access to the internet and they know how to use it to get the required information, so it will not be difficult for people to use the Laundry People application and get their laundry done by using this.
Customer Analysis
Customer Analysis or Customer Profile is a careful selection of a marketing plan or business plan of a company (Michael, 2014). It specifies the target customers, discovers the need of these customers and then identifies that how the product and services of this business will fulfil the needs of these customers and how the product will specify them. Customer analysis helps business to better understand the demands and needs of their potential customers so that by providing the desired product, a business can increases its sales and growth.
In order to launch the application the Laundry People, they need to critically evaluate customer profiles. They first need to identify the class of society who will use this app to get their laundry done and delivered to the doorstep. They need to discuss the geographic, demographic and psychographic profiles of their potential customers.
Geographic
Both business partners are launching the internet application that contains all the information about the laundry shops in the different part of the cities. This application has complete information about the services and price list of every laundry that is located in Oman.  A customer from every big city of Oman can use this application and locate the desires laundry shop in his area (Simona, et al., 2013).
Demographic
This unique business will target those customers who work 12 hours a day and has very tough routines. It includes both male and females. Male who are not living with their family due to their job location this application will provide the best solution. Working ladies, who have tough jobs and have little time left to do household chores, will include the target customers of this application. Moreover, the students who live in the hostel are also included in the customer demographic analysis of the Laundry people application (Padmanava, et al., 2017).
Psychographic
Psychographic is the quantitative methodology which is used to define the psychological feature of the customer (Zheng, et al., 2015). The Omani nation is bringing change in its traditional lifestyle, interest and opinion and in order to penetrate these changes they need to earn more. Nowadays Omani male and female both are working in 9-5 jobs to change their lifestyle and to increase their living standard. This application will help them to use modern facilities to do laundry and the time and energy which they previously spent on washing clothes on other productive activities.
Market Analysis
The productive method to understand the market situation is to do market analysis with the help of 4Ps of marketing (Michael, 2014)
Product
The Laundry People application will have many features. It not only provides the list of laundry shops near the location of a customer but it will also provide complete details of the specification and offering of each laundry. The price list and minimum quantity of cloths to be washed off every laundry will display in the application. It will allow the customer to find the right shop and after that, he can make an online request to that laundry. After the request one of the staff members of that particular laundry will come to the home of a customer and will collect the laundry. When the clothes are cleaned and pressed according to the requirements of that customer, a staff member will deliver back that clothes to the doorstep of customer and will get the payment from him.
Price
This is the first laundry application in Oman which will have the detailed information of all laundries in the area and it will allow a person to make an online request for his laundry. Customer needs to download this application on their phone. They need to charge a moderate price in start to attract a large number of customers. They cannot charge a high price in the start because people do not download new applications that have high prices. They can charge OMR 50 as the initial price of this application. If this business becomes successful then they can increase the price of a mobile application (Zhechao, et al., 2014).
Placement
Since this a mobile application so it does not require a building or shop to present its product. This application can easily be available on Android App store that is called Google Play and on Apple app store. I phone and Android users can easily download this application form their app stores and can easily use its unique features and specifications. This application can also be downloaded from the desktop by using Google play.
Promotion
Promotion is an activity that is done in order to tell potential customers about the presence of the company (Paul, 2012). Through sound and effective promotion strategy an organization can easily sell its product and services and can earn profit from these sales. In order to tell the customer about this application, both partners need to put an advertisement in most circulated newspapers in Oman that includes Times of Oman, Oman Daily newspaper, Muscat Daily, The week and Oman Daily Observer as this is prime mean to convey the message of business to the end customers. These business partners can make a small commercial with a powerful message that will run on TV in prime times; through this, they can attract a large number of customers.
They can also promote their application by making an agreement with reputed laundry houses in main cities of Oman. When the name of these famous laundry shops will attach with this application, it will increase the credibility and validity of this application. People will not consider this application as a scam or fraud and will use this for their laundry purpose.
Competitor Analysis
Since there is no any mobile application launched in Oman that provides the details of all laundries in a single application, so this application will not face many potential competitors (Svend., 2015).
There is only one mobile application in Oman named the Laundry Partner. This application provides high quality laundry, pressing, folding and dry cleaning services in Oman. This company claims that they provide state of the art laundry service to their clients and they also keep them updated on the status of their laundry by using email services and SMS. Laundry Partner provides laundry service to many sectors in Oman. These sectors include manufacturing, healthcare, catering and hospitality. They also pick up and deliver the laundry to doorsteps of the client without any fees. They have integrated a professional system where every step is done in a systematic way.
Laundry Partner is a single entity which deals with clients from manufacturing, hospitals, hospitality and catering industry. They have a systematic online system which also uses email and SMS service to inform their clients. Mobile application The Laundry People which will be introduced by Mr X and Mr Y is unique in its nature. This is not an actual laundry rather it has a collection of different laundries in the area. This application contains the complete information of the prices list of laundries. This application includes all the segment of the society. It does not target specific sector or group of people this application is for the whole society.
Managing and Staffing
Mr X and Mr Y are two business partners who will start this business. In order to make this application, first of all, they need to hire application developer, graphic designer and few people who will collect the information about the laundries. Each people will be assigned different area and he needs to collect the complete information, pricing lists and delivery services for every laundry that is located in that area. These people will also gather information about those laundries that will provide pickup and delivery service. These people will first get proper training about the task (Dilene, et al., 2013).
The application developer will then develop the application according to the information that is collected by these people. The graphic designer will create the unique design and layout for the application. He will make an attractive design that will attract a large number of customers. Once the application is designed it will be launched on apple app store and Android app store. The specification and information about the services of laundries will continuously update. If any laundry shop offers any deals or discounts, it will be updated on the application too.
Financial Plan
This business is actually a launch of mobile application so it has different requirement for funding and financial plan. Instead of spending funds on tool and machinery and buildings, the funding is required to build a software and layout for the application (forbes.com, 2014). In order to capture the attention of customers, the mobile application must be tempting and better. The initial capital for the design of this mobile application is decided around OMR 20,000. The business will also apply for some loan around OMR 10,000 from the Oman Development Bank. The interest rate on this loan will be 3% per annum. The projected balance sheet for the next five year is attached below.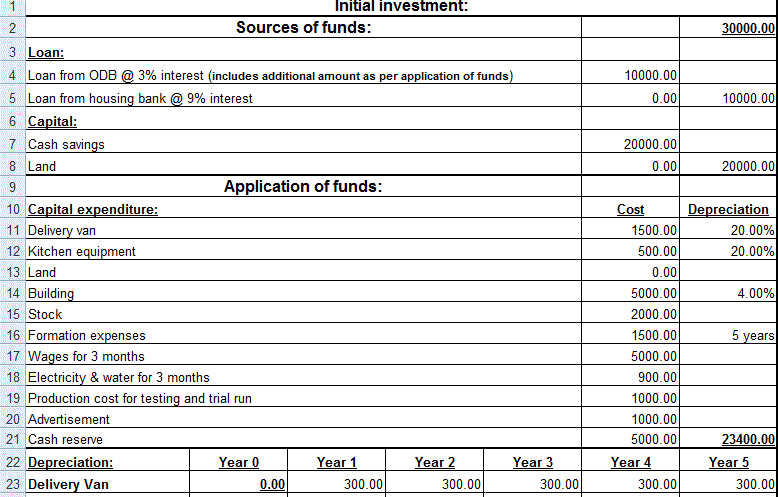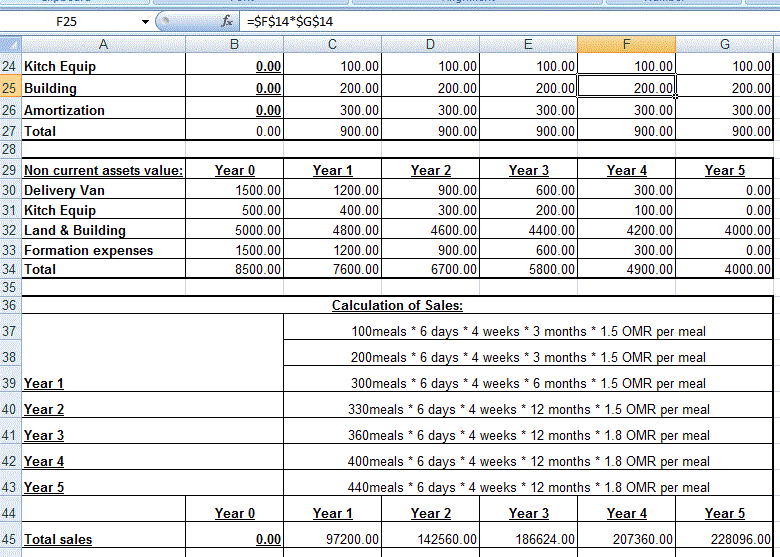 Although, it is a mobile application business but still the whole planning of business required a proper place where all the staff needs to gather and for the planning procedure. It is an ethical duty of every organization irrespective of its size and number of employees to provide proper meal, water, tea and other beverages to its employees. That is kitchen equipment and calculations of meals are included in the financial statements.
Conclusion
The idea of a mobile application to provides complete information and pricing policy of different laundries shops will be supported by people who have little time to do their basic household chores. Since there is no any such application in Oman, so there is a great chance that this business will be accepted by a lot of people. On the same hand, it is a unique application of this kind so there will be an equal level of risks attached to it. It is essential for both partners to make sure that the information available on this application will be valid and credible. If there are any changes in the prices of the policy of any laundry centre it must be updated on the application.
Students working on case studies or might need academic help, might find our custom Case Studies Writing Services helpful.
Also look at some of our business services
– Business Essay Writing Service
– Business Dissertation Writing Services
– Business Report Writing
– Business Assignment Help
– Business Planning Writing Service
– Business Assignment Writing Service
Here you can check some of our dissertation services:
– Dissertation Writing Services
– Write My Dissertation
– Buy Dissertation Online
– Dissertation Editing Services
– Custom Dissertation Writing Help Service
– Dissertation Proposal Services
– Dissertation Literature Review Writing
– Dissertation Consultation Services
– Dissertation Survey Help