Comparing the Management of Apple and Microsoft from the Technology Sector Operating in the US
Abstract
This report compares the management of Apple and Microsoft from the Technology sector which are operating in USA. Apple is multinational corporation which is specialized in computer hardware, software, and electrical devices. Microsoft handles development of the creation of a large number of computer licenses and software. In this report, the analyst will give the overview of both companies. Then, will analyses the organizational culture and national culture. Then will debate on debate the core competence and marketing of Apple and Microsoft. Then, will evaluate e the governance and organizational structure and then will discuss the global alliances, mergers and acquisitions of both companies. In the last, the analyst will synthesize a conclusion of what the analyst have learned from conducting this comparison.
Overview of Companies
Apple
Apple Inc. is a multinational corporation specializing in computer hardware, software, and electrical devices. Steve Wozniak and Steve Jobs founded it on April 1st, 1976, and it has been operating ever since. Apple deals everything from PCs to tablets to smartphones. It has grown to be the world's largest technological corporation and the second-largest overall business after Exxon Mobil (Winck, 2019).According to Apple consumers, the company's brand is the sixth best in the world (COMAREABLY, 2021).
Microsoft
Microsoft is a United States of American company that handles development of the creation of a large number of computer licenses and software. It was established in 1975 by Bill Gates and Paul Allen, a business partner. His success was mainly due to his complicated commercial license rights and to the widely used Windows operating system. Microsoft Corporation is also well-known for its most popular office suites, such as Microsoft Office 2010, 2003, and 2007, which can be purchased in computer stores everywhere. The businesses of Microsoft and Apple have long been the subject of debate (Microsoft, 2021). According to Microsoft customers, the brand's global top 100 ranking, Microsoft comes in at number 22 (COMAREABLY, 2021).
National Culture and Organizational Culture
National culture and organizational culture, which differ in terms of values and practices, are the two main kinds of cultures. Values are derived through life experiences like those in the family, school, and so on, while practice is derived from interactions with others (Hofstede, 1997).
National Culture
The national culture of both companies is same because both are operating in the United States of America.

Figure 1: National Culture of USA
Power Distance: American people are not thinking about those conflicts with other opinions are disturbing the harmony environment. They believe that they have a freedom to give suggestion or different opinions as well as feeling to others including colleagues, supervisors, and leader of organization. American people do not have a strong believe or loyalty their workplaces. They just believe that everyone is equal when they come to workplace and feel free to share the thinking.  (HofstedeInsights, 2019).
Individualism: Americans foster individual thinking and independency of work.
Masculinity: Careers and money are preferred in American culture. The objectives of men and women are more distinct in males than in women's cultures.
Uncertainty avoidance: America has low uncertainty avoidance because American people accept and feel relax in unstructured situation. They also stay calm and hold the changeable environments and try to decrease the rule as possible.
Long Term Orientation: American managers who mainly focuses on quarters or yearly planning.
Indulgence: This dimension may be described as the degree to which individuals attempt to rein in their wants and urges as a result of their upbringing. Drug addiction is more common in the US than in many other affluent nations, despite the fact that the country has fought a long war on drugs and is still doing so.
Organizational Culture
Apple's and Microsoft's CEOs have quite different management approaches. Each has a unique set of skills in the areas of technology and business. The benefits and drawbacks of each CEO leadership style are listed below. Apple's CEO has a powerful personality and charm, which has enabled him and his colleague Woz to "sell" their goods. Apple's success was built on Steve Jobs' unique insight and charm, which allowed him to perceive things differently than others (MEYER, 2019). In making his business decisions, Microsoft's founder and former CEO Bill Gates showed great foresight. When it came to leading his team, Bill Gates used encouragement and compassion to get them to their goal. All of his collaborators knew exactly what he planned to do and how he planned to do it. The drawbacks for both sides turned out to be Steve Jobs' boss-employee relationship and Bill Gates' lack of self-confidence (LOMBARDO, 2017).
The organizational cultures of the two companies obviously differed. Apple's corporate culture was based on rivalry, pitting Macintosh users against those using the Apple 2 computer. Steve Jobs did this in the hope that more competition would lead to a better product. The corporate culture at Microsoft, in my view, was more "generic." When it came to Microsoft, the company was led by Bill Gates, who had capable subordinates. To me, Apple's corporate culture is a disruptive force because it creates rivalry among employees that is not pleasant. Steve Jobs didn't make his workers feel important because of the competition, but he did it by making them uncomfortable with his insults in order to motivate them.
Core Competencies and Marketing
Apple
Apple has placed a greater emphasis on the development of skills that aren't only technological in nature. With this strategy, they were able to accomplish a high level of technological advancement while still keeping an eye on the needs of their customers. Steve Jobs' strategy of building skills remained a top priority, and it was crucial to the company's remarkable growth in sales and profitability. In the customer's view, these goods were completely unique in their purposes, and no other rival could come close to matching them. Because Apple's goods are extremely complex, the company has a skimming pricing strategy, and customers don't mind opening their valets to purchase the unique feature items they want so much (Podolny J.M. & Hansen, 2020).
Microsoft
Microsoft has been attempting for years to expand beyond the PC and into other devices such as mobile phones, television set-top boxes, and gaming consoles. When it came to PC operating systems, the business had all but a monopoly. Therefore, in 2001 it sought to shatter that monopoly by releasing the Xbox video game console (along with accessories). For Microsoft, the video game industry was a newborn. The business has no prior expertise with video games. It also had a bad reputation because of its monopoly on operating systems (DOWNIE, 2021).
This expansion into videogames is very new, and it fits in well with the company's overall fast revenue growth. Today, the home console market is a mass market, and video games, along with movies and music, are considered a cornerstone of the entertainment business. Game development is halfway between computer software and audiovisual material. Negotiating power changes quickly as well as the relationships between the various parties. Microsoft's entrance into this sector came as a surprise. Xbox is a long-term strategic investment for Microsoft, which has taken a highly aggressive approach since entering the market (COMAREABLY, 2021).
Governance and Corporate Structure
Apple
Apple's corporate governance system is characterized by the presence of a robust Board of Directors, effective managerial supervision, and many corporate governance documents. The Board of Directors of Apple is comprised of eight individuals. Seven of the eight are non-executive directors with extensive backgrounds in law, politics, technology, and other areas.
Apple's structure is a mix of hierarchical and utilitarian in nature. Founder and former CEO Steve Jobs created such a framework to guarantee that his creative ideas and clear vision for the company were realized with concentration and clarity. Since Tim Cook took over as CEO of Apple in August 2011, changes have been made to the company's organizational structure. Mr. Cook, in particular, favored a degree of decentralization in decision-making in order to stimulate new ideas and approaches at different levels. Despite this, the organization's structure is mainly hierarchical (Report A. A., 2019).
Apple's current organizational structure seems as follows: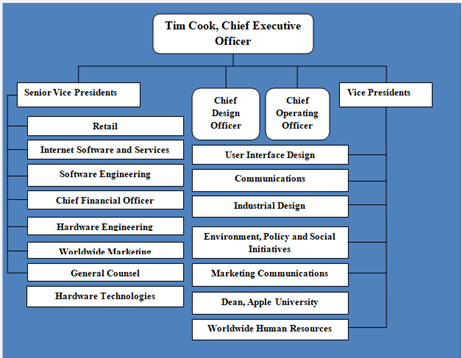 Figure 2: Apple Organizational Structure
Microsoft
Microsoft's structure may be described as divisional. As a productivity and platform business, Microsoft's top management stated in June 2015 that the company's organizational structure will be changing to reflect this new strategic direction. During the 2016 fiscal year, this reorganizational effort led to the loss of roughly 7,400 jobs. Microsoft's current organizational structure is a direct consequence of the reorganizational effort (Microsoft, 2021).
Microsoft's organizational structure is broken down into engineering groups and business departments, as seen in the diagram below. Engineering groups break up the firm into three divisions, while business functions separate it into 9 divisions: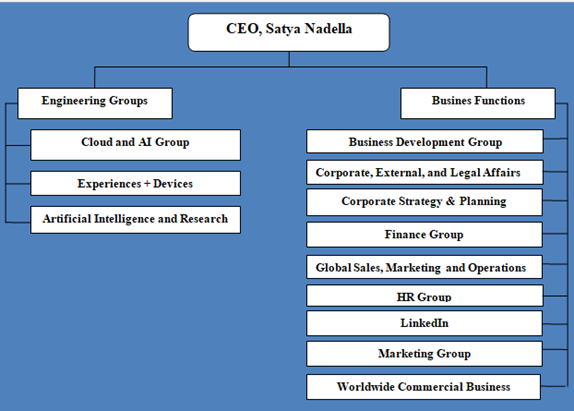 Figure 3: Microsoft Organizational Structure
 Global alliances, mergers and acquisitions
Apple
Because its stockholders are so essential to Apple, the company is very picky when it comes to mergers and acquisitions. These acquisitions and mergers have an impact on the value of the company's stockholders in the long run. It's been established that Steve Jobs has always had concerns about protecting his technology and always improving his skills in order to put other rivals far behind in developing their abilities. Steve's strategy was to form alliances in such a way that he could maintain complete control over the situation. To prevent leaks of technological secrets, Apple has eschewed mergers and acquisitions in favor of acquiring and taking over companies rather than merging (Report, 2019).
Microsoft
In order to get a competitive edge, Microsoft Corporation merges and acquires other companies. Every year since 1994, Microsoft Corporation has acquired, meaning Microsoft Corporation buys the smaller business to gain enormous growth very immediately and expand its market share. According to Microsoft.com, Microsoft Corporation has purchased a smaller business nearly every year since 1994. This is a sound business plan for Microsoft if the company wants to be a successful leader in technological advancement. Aside from that, Microsoft Corporation may increase capacity utilization and make better use of an existing sales team by using this approach. Furthermore, market penetration has a significant effect on the business, such as the ability of Microsoft to expand their market share and economic scale by improving their product (Report M. A., 2020).
Conclusion
I've learned a lot from comparing the management of two global companies which are dealing worldwide and established in USA in this report, and I look forward to using it to enhance my professional development in the future. Apple Inc. and Microsoft Corp. are two well-known businesses who are at the top of their game when it comes to the sales of their goods. Organizational culture, decision-making, and fundamental skills vary enormously between the two. Neither one of them has failed to exhibit the four management capabilities. Both Apple Inc. and Microsoft have a corporate culture that encourages creative thinking and new ideas. The company's cultural characteristics are geared toward maintaining a high degree of innovation that calls for both inventiveness and a willingness to question accepted norms. Despite the fact that the CEO of Apple promotes and implements democratic leadership and believes in establishing consensus among the company's top executives on strategic choices, the CEO of both businesses is in control of all key business decisions. As a result, although Apple's structure enables broad managerial authority, it has limited the flexibility required to adapt to changes in consumer electronics companies and worldwide information technology as market dynamics have changed. There is a significant focus on customer and consumer experience in Apple Inc. management planning. Although Microsoft Corporation similarly prioritizes its clients, its strategy aims to better match individuals with projects. Microsoft Company's choices are based on service management, while Apple has a committed group of top managers who deal with the implementation of measures to deal with management decisions. Finally, the programs and objectives of the two businesses vary in that they both emphasize ethics, social responsibility, and diversity.