Executive summary
Customer experience and customer satisfaction both play extraordinary roles to identify the market performances of Samsung. Samsung is an electronic devices company that tries to manage innovative smart phones with effective technologies and features. As a result, customers are attracted by these appropriate devices and business growth can be managed through this. CX strategy is developed in this study to understand customer experience after purchasing a product and their satisfaction to meet requirements. Apart from this, a customer persona is developed in this case for developing organizational culture and business performance with respect to their CX strategies development procedures. Thus, Samsung can have greater market sharing and a good competitive advantage to measure CX strategy within their organization.
1. Introduction
Customer experience indicates several kinds of interaction with the customers for developing business along with sales (pre-sales and post-sales both), profits of products. This study is mainly based on the "customer experience (CX) strategy" of Samsung and that has developed over the recent years. Besides, it can provide better insights into customer experience during buying or purchasing products that help Samsung to meet goals and objectives according to their requirements. Moreover, Samsung operates in many different countries like the UK and it shares its market by managing attractive deliveries and extraordinary services. As a result, customer satisfaction is maintained by the organization and pushes the customers to become involved with Samsung. Apart from that, the creation of consumer persona, Omni channel marketing, mapping of the consumer journey and CX performance matrices are going to be discussed in this study. Thus, a CX strategy can help Samsung to make attractive plans of action for delivering meaningful and positive experiences over the interactions.
2. Importance of "customer experience"
2.1 Critical evaluation of the concept of "customer experience"
It is a very crucial perception that the customers are extending their decision-making ability about purchasing a product from a particular brand and besides, the experience of customers' matters in this case. As depicted by McLean and Wilson (2016), CX is an effective factor that helps to regard of essential element for managing Samsung's success. In order to successfully implement a customer experience strategy, two internal factors are required to maintain such as customer and customer touch points. As per the opinion of Yoo et al. (2020), brand products or brand quality of an organization always attract customers to engage with it, and besides that is helpful for developing company revenue and their goal-achieving activities.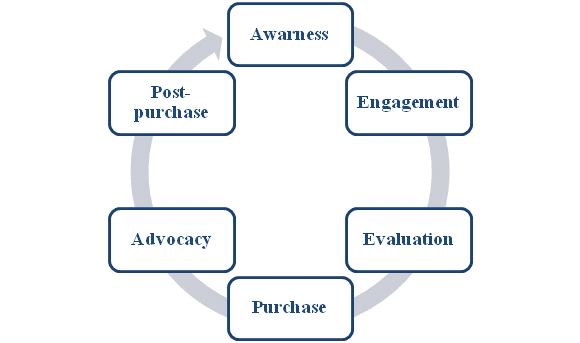 Figure 1: "Customer experience" cycle
(Source: Influenced by Yoo et al. 2020)
After that, a successful CX strategy helps to create products and services that are beneficial for competitive advantages and business rivalries. An effective relationship is formed by the CX cycle between customers and company and this includes awareness, purchase, post-purchase, services and brand quality products, evaluation, and advocacy. Thus, corporate culture plays a viable role in implementing a successful CX strategy within an organization like Samsung.
2.2 "Importance of customer experience in case of Samsung phones"
"Samsung" is mainly focusing on recognition of customer experience for developing and delivering brand quality products and providing better customer satisfaction. This is the core case of Samsung and which manages financial rewards to the company.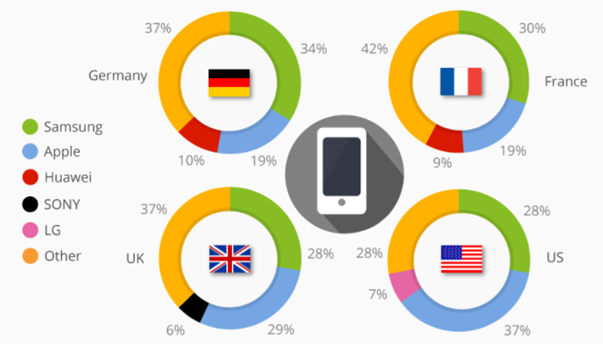 Figure 2: Dominant smartphone markets of Samsung and Apple
(Source: Statista, 2018)
The company's brand image and effective features of their phones attract customers to maintain extraordinary sales and profits to the company. As an electronics devices and Smartphone company, Samsung has a great market share over the world and it tries hard to struggle with customer satisfaction and the fulfilment of their requirements in the UK. The Company possesses its own customer services for measuring customer satisfaction through different surveys like follow-up calls or social media channels. Thus, CX can be a major factor to Samsung for ensuring organizational growth along with the value of customer lifetime and annual revenue (Lemon and Verhoef, 2016). Market sharing on the international stage is not easy for an electronic devices company and for this Samsung must focus on different discounts and offers for their customers to involve them in an adequate manner. Thus, Samsung in the UK can bring a large economic structure and financial growth by managing the CX strategy and its implementation.
3. Consumer persona creation
Customer persona can help to understand and manage the development of a clear picture of customers' requirements, desires, and points of the plan. As opined by Black and Veloutsou (2017), it helps to rescue manufacturing costs of mobile and maintain extraordinary goals and objectives of Samsung. In this case, the process is based on the name of the customers' profile, customers' motivation, and goals for using "Samsung" mobile, and pain points that Samsung Company solves. Thus, social media content and digital marketing systems can operate effectively to collect different opinions and perspectives of customers in this regard.
"Customer persona 1":
| | |
| --- | --- |
| "Name of the customer" | "James Dover" |
| Customers' profile | HRM |
| Using of customers' motivation for Samsung mobile |  Designs of the mobile phones in a sleekly manner |
| Objectives for using Samsung mobiles | Various mobile phone applications for "Samsung" |
| "Pain Points that Samsung mobile solves" | Backup time is longer |
Table 1: "Customer persona 1"
(Source: Samsung, 2020)
"Customer persona 2":
| | |
| --- | --- |
| "Name of the customer" | Oliver Spencer |
| "Profile of the customer" | Researcher |
| Customers' motivation for using Samsung mobile | "The user-friendliness of the phones and the compatibility with other devices" |
| "Goals for using Samsung mobiles" | "Addressing the customer privacy needs to be beset the new goal of the company" |
| "Pain Points that Samsung mobile solves" | Need extra-long backup hours for this mobile application |
Table 2: "Customer persona 2"
(Source: Samsung, 2020)
"Customer persona 3":
| | |
| --- | --- |
| "Name of the customer" | "Harvard Rich" |
| "Profile of the customer" | "Bank manager" |
| "The motivation of the customer for using Samsung mobile" | "A good processor that ensures a greater speed in mobile operations" |
| "Goals for using Samsung mobiles" | "Good quality camera and sound" |
| "Pain Points that Samsung mobile solves" | "Good power backup" |
Table 3: "Customer persona 3"
(Source: Samsung, 2020)
"Customer persona" visualization
| | |
| --- | --- |
| "Name" | "Harvard Rich" |
| "Demographics and story" | Location-London, Gender-Male |
| "Profile" | "A bank manager in the public sector" |
| "Motivations for using a Samsung mobile" | "The high brand image of Samsung in the UK market that the company has gained because of the fast processors that ensure a greater speed" |
| "Goals for using a Samsung" | "The customer wants to get a good battery with a good quality camera" |
| Pain Points a Samsung mobile solves | Samsung supports a high number of applications and long-lasting batteries. The customer would face multiple application storage issues in other brand smart phones. |
Table 4: Visualization of "customer persona"
(Source: Samsung, 2020)
Different customers have different choices and that is useful for Samsung to manage customer satisfaction easily through the customer persona creation process (An et al. 2018). Thus, choices and requirements are able to be identified by an organization like Samsung in the UK.
4. Mapping of the customer journey
A customer journey map is regarded to be utilized and it helps to provide understanding about visuals and storytelling of the customers. The relationship between customers and the company is mainly obtained by customer journey maps in this regard (Bernard and Andritsos, 2017). Moreover, the storytelling process can be done by identifying the insights of customer experience to a brand product.
Factors
Descriptions
Stages of journey
Evaluation of brand

Purchase of the product

Improving brand awareness

Setting of requirements

Activities
Demonstrating the skills of Samsung

Registration in customers' account

Purchasing the most effective model of phone

Evaluation of the design and models

Upgrading new features and processors

Needs and feelings
Different customers have different expectations and that is need to be set the products that "Samsung" Company provides to meet the telecommunication and technological demands (Marquez et al. 2015). In addition, the customers require a mobile phone that has great features and possesses excellent activities and processors
Potential opportunities for improvement
Samsung must focus on generating new and advanced models with appropriate techniques and technologies. The hardware features must ensure the best quality performances on a long-term basis and besides, customers are impressed by battery backup. That can be useful for Samsung to involve more customers with their company over the UK
Table 5: Customer journey map with essential factors
(Source: Samsung, 2020)
5. "Omni channel marketing"
5.1 "Explanation of Omni channel marketing"
Omni channel marketing refers to a particular sales program that can be attributed to the developmental activities towards the maintenance of integrating business processes. Besides, the customization of several kinds of Omni channel strategies helps the customers to access huge amounts of customer information and new technologies, such as machine learning, machine learning, analytics, and many others. After that, as illustrated by Cui et al. (2021), "Omni channel marketing" is regarded to be an effective process in business marketing that helps to provide every individual customer with a completely seamless experience about shopping from beginning to endpoint. In the case of e-commerce brands, customers can bounce from one channel to another channel (Hole et al. 2019). Samsung must ensure their active Omni channel marketing to cover the best customer satisfaction with the great features of their electronic devices. Therefore, the customer in the present time is based on Omni channel marketing.
5.2 "Identification of various marketing channels and the role of interaction and customization in Omni channel marketing"
In the case of "Samsung", "Omni channel" indicates the connection between physical retail and digital retail in this regard through the various touch points of the shopping experiences. Besides, Samsung endeavours to remain consistent for the "journey" and tries to create a "single transaction" for their potential and new customers. As depicted by Merritt and Zhao (2020), the Omni channel is an effective process of business marketing channel customization and development as well as integrating with several things in the international business market. That is unable to manage effective strategic plans of customer experience all over the UK. With developing many products in Samsung, the most attractive and best innovative product was EyeQ software. It is facial recognition software with innovative technologies and advanced processing of computing systems (Yrjölä et al. 2018). This technology personalizes the shopping in-store experience in order to use shopper-aware digital displays. This has an interaction between customized content of each customer and customer's shopping experience to respond and recognize emotion. A holistic experience can be provided by Samsung through using Omni channel marketing. Thus, Omni channel marketing helps the company to develop business activities and manage the essential brand quality of the products for customer satisfaction over the UK.
6. Customer experience strategy performance matrices
6.1 "Identification and critical evaluation of four CX metrics"
 Factors
"CX leading indicators"

(Input)

"CX lagging indicators"

(Output)

Strategy (Interaction between retention and growth)
"Customer Engagement"

Conduction of business review

Adaptation of products

Engagement of community

Request of references

"Engagement of contents"

"Customer value, Health, and loyalty"

The health score of customers

Outcomes of customers

Churned customers

"Referral customers"

Success stories

"Transactional  (Interaction between delivery and maintenance)"
"Quality of delivery"

Utilisation of features

Time of resolution

Adherence to service level

Milestone of onboard completion in the exact time

Closed-loop feedback structure

Critical bugs per customer

Transactional results

Renewal booking

CSAT (Customer satisfaction)

Up sell bookings

Onboard time to value
Table 6: Performance metrics for customer strategy experience
(Source: Influenced by Groen et al. 2017)
6.2 "Recommendations for the two key metrics for Samsung mobiles"
In order to recommend the strategies in Samsung customer experience, two major factors can be chosen for effective business operation and successful orientation of the marketing process. These two are CSAT and quality delivery and besides, appropriate business measures can be possible through this. As per the opinion of Gunasekaran et al. (2015), customers are attracted by quality delivery services and Samsung must focus on it to access this process in an adequate manner. Samsung provides unique kinds of products like Smartphone to their customers with great features and systems within it. Thus, the management of Samsung manages to ensure their delivery parameters and its services within the deadline.
On the other hand, customer satisfaction is really essential to promote an organization's culture with great dealings. Besides, it can mitigate several risks and issues from the company for achieving goals and meeting objectives according to their requirements (Srinivasan and Hanssens, 2018). In the era of a competitive business market, Samsung must hold the mobile market by offering various discounts and gifts to attract customers and manage their satisfactory state for taking proper initiative.
7. Customer experience strategy processes in different industries
Five CX success factors in Samsung and its comparison with different sectors are going to be discussed in this section. Effective factors are journeys (touch points), ambassador (Fun), blueprint (empowerment), rational (latent drivers), and black box (measurable change) and these all are measured in case of analysis of Samsung Company's business market and Omni channel marketing (Schanz and De Lille, 2017). In order to manage motivational aspects with pursuing goals, customers have a large attribute for delivering an attractive CX strategy. Moreover, as opined by Aiyer et al. (2019), cameras, multimedia systems, high-quality processors, and good battery backup are primary factors to them. In order to deliver customer experience, Samsung identifies customer persona as the main factor and effective manner of this factor can mitigate risks and issues with organizational business in SamsungThus, targeting and market segmentation play a viable role in developing business growth in Samsung. [Refer to appendix]
The way of operating Samsung in the business market is very unique and strategic management is necessary to adopt all kinds of possibilities to manage the business in a large manner. Competitive advantage is a part of business and Samsung can be compared with other famous companies like Nokia, LG, Apple, Mahindra, and Redmi. Market shares of these companies are really exceptional and various technologies and features are responsible for their market spreading in global business (Zarrin and Daim, 2019). Apple is the topmost brand in the world and their CX strategy is different from Samsung and whereas Nokia is also a good company to compare with Samsung in the business market on the international stage. As a result, product lagging and leading can be observed by performing the CX strategy and it is helpful to focus a company's business growth and financial development in an appropriate way.
8. Conclusion
From the discussion of the above study, it can be concluded that Samsung tries to manage its objectives and goals in a proper systematic way by maintaining CX strategy within their organization over the UK. In this regard, customer persona and several factors related to this are discussed in this study. Apart from this, the customer journey and customer satisfaction process are discussed in an evolutionary way. CX is an effective factor to grow business very quickly and protect the competitive advantage with great dealing. Thus, the study is based on the "customer experience" of "Samsung" in the context of the UK.
Appendix: Strategy analysis of Samsung