DIGITAL MARKETING
The complete guide to financing your digital marketing budget.
Introduction
The pressure to be in many places today is relatively mounting on a daily basis no matter what business owners and professionals say.
Our digital business blog provides you with a list of articles on new and different marketing strategies which claims and catches your attention.
As a business owner with your own enterprise, getting acquainted with most of these numerous articles can become devastatingly impossible. The pressure is further intensified if you are leading the marketing department of your organization. This is because your boss will be watching your every move, assessing your level of performance based on the result produced.
Prioritizing diverse marketing channels is important to the success of an organization, knowing when and how to do it isn't relatively easy either. What is needed is a detailed no-BS action plan and it is all I have written in this book.
What does the book offer?
Following the steps listed in this book you will,
• Have a better understanding of the most used digital marketing today.
• Decide the best channels that suit your business
• Feel relaxed evaluating the performance of the channels you are using
• Create a better plan to prioritize diverse marketing channels
• Approach revision and revalidation of your chosen plan with self-confidence which will determine its effectiveness in helping your organization.
Setting up a plan requires carefully understanding the choices available to work with. With this information, I have listed the most used digital channels putting into consideration their strength and failures as well as the right time to use them.
The channels I came up with are listed below;
– Email Marketing
– PPC Advertising
– SEO
– Content Marketing
– Organic Social Media Marketing
– Paid Social Media Marketing
– Influencer Marketing
– Digital PR
– Guest Publishing
– Affiliate Marketing
– Viral/Referral Marketing
– Free Web Tools & Apps
– Online Community & Forum
– Participation
Start with the Appropriate Optimization.
Understanding possible channel returns involve understanding how well a website performs i.e. how it's been optimized to be effective and outstanding. This is where the role of Conversation Rate Optimization becomes important. CRO is a testing program created to make the website perform effectively at all time through the placement of certain incremental changes.
It is important to know if your website needs a total overhaul. This is necessary to help understand the role of conversion work on websites as it is important to deal with this part first before spending funds on channel campaigns.
Doing them both make the website perform effectively. A CRO in the past isn't a guarantee of outstanding effectiveness of your website as it changes over time, it is recommended that constant behavior check should be conducted on the website from time to time.
Important Takeaway
Improve the appropriate implementation of your CRO before investing in current marketing channels
Side notes
CRO should be a continuous process independent of specific marketing campaigns. Businesses using CRO see a considerable conversion rate gain during the first few month of implementation, which makes CRO necessary before marketing channels investments.
Knowing Modern Marketing Channels
It is important to know the different modern marketing channels and the best time to invest in them. I will explain in details some of the typical customer procurement channels available online.
Only digital channels will be covered in this piece since they are easily measured and available in your Google analytics account.
Other campaign channel type like the traditional marketing channel that includes print ads, TV adverts play a very important role in your campaign but is reliant on the targeted audience.
E-mail Marketing
This involves sending emails to people who have shown interest in getting communicated to via e-mail with the intention of improving sales.
Email marketing is available in different forms.
Example are listed below
Website visitors who enlisted to receive a newsletter from you are sent continuous, content-established email series that instruct them on your organization.
Extremely-engaged email subscribers: These are subscribers who have procured your service in the past. They can be separated and sent distinct discount openings or VIP bids.
Customers who are regular shoppers in your e-commerce store can be sent custom-made emails to bring them back to complete their shopping.
Standard Cost:
E-mail providers like Vero, Drip, and MailChimp can run your marketing campaign for you for as low as a budget of $20 per month depending on the package you enlisted for. One-off cost can be experienced if HTML email template was designed to run your campaign. (This is a stock template and plain message text and it is good for several businesses.
Enlisting for the creation of messages that makes your email series popular will cost between $50-$400 per email. Hiring creation of messages is not necessary if you are a good copywriter yourself.
Getting the right email addresses to send messages to may mean additional cost if you are not adopting a free driving opt-ins method. Solus emails i.e. using someone else's database will bring about an additional fee depending on the size and the availability of the targeted audience.
When does the result become visible?
The result can become evident immediately depending on the size and a total number of email you are sending out or may take a longer time before the result is seen. Research from vendors shows that you can make up to $38 for every $1 spent using email marketing.
When can Email Marketing be used?
Forming a continuous relationship is made possible by the combination of email marketing with other pairs of marketing channels listed in this guide.
Estimates have shown that about 6-8 brand engagements can provide a brand with a visible sales lead. Getting people to visit your site is made possible by SEO, PPC, and content marketing, but none of them will guarantee them coming back. Appealing to client's conscience all the time is made possible when express permission is granted to email website visitors directly.
Main Weakness of Email Marketing.
Setting up a true email automation is ambiguous despite having cheap email providers and there is the constant mistake of messages not reaching the right target leaving subscribers unfulfilled and unsatisfied.
PPC Advertising
PPC means pay-per-click and the result is always above the Google's search result with a little green Ad tag which helps you understand what the channels looks like in its desolate form.
This advertising channel is rated as a highly-targeted campaign channel because of its specific keyword usage in reaching out to potential clients. It involves the use of specific keywords or the use of a programmed advertising service to reach targeted audience automatically.
The PPC ads are evident in the form of search result listings like Yahoo, Bing, other search engines as well as Google.
PPC can also mean display network placement, targeting previous campaigns, banner advertisement, and other strategies that allow a free charge whenever website visitors click on any of your organization's ads.
Standard Cost:
PPC ad click budget is largely dependent on the type of industry your organization operates in and the targeted keywords you are employing for advertisement. Placing ads for specific keywords is relatively more expensive than those for general top-level keywords.
Deducing Wordstreams's CPC data shows that the average CPC of Australia falls between $0.98 and $1.96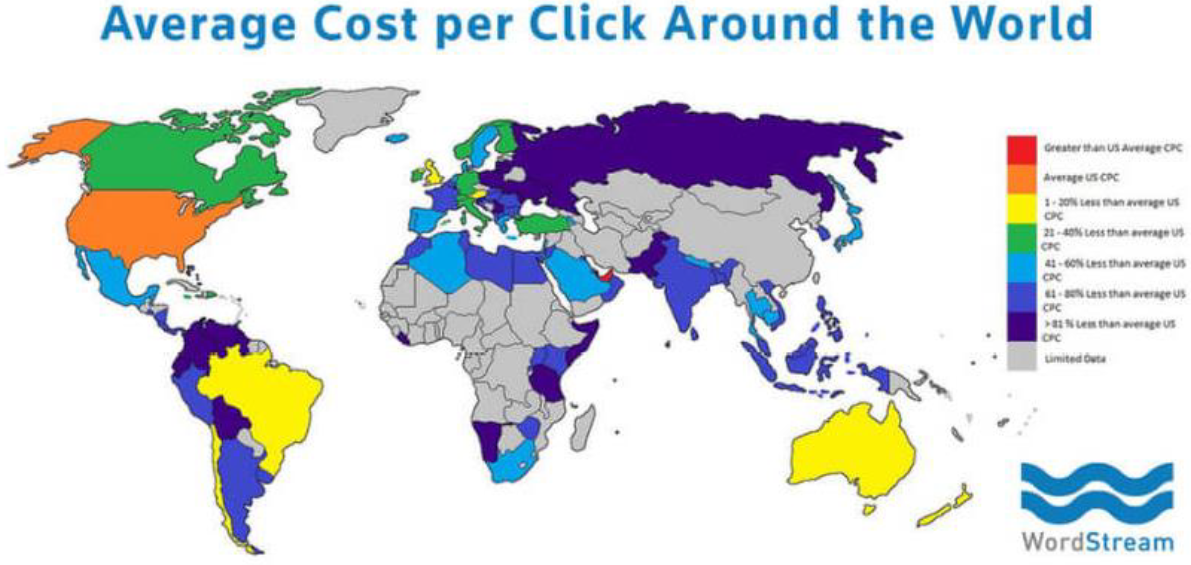 It is important to note that the best way to get good feedback is to send users acquired through PPC to the distinct landing page. Investing in new ones rather than sticking to old ones alone can get the ROI and PPC advertising conversion rate progress drastically. This will lead to an additional cost the result can be recovered in the general campaign performance.
When does the result become visible?
The result of the use of PPC for campaign advertisement becomes evident when visitors visit the website immediately after it has been launched. It is important to devote extra time to this campaign management in order to prevent customers procurement costs from surpassing their average lifetime worth.
When can PPC be used?
The best time to use PPC is when the budget is available, an expert with in-depth knowledge and experience to manage your campaigns, and when the level of confidence in the funnel you've created to direct your new website visitors to is on the high level.
Main weakness of PPC
Inability to get a good expert to maintain PPC campaign can make it get expensive and costly even though it is one of the fastest campaign channels. It gets more expensive with constant usage beyond the advantage of continuous optimization.
SEO
SEO referred to as Search Engine Optimization deals with making changes to your website in order to make it more attractive to search engines.
There is a theory that once search engine finds your content useful to people searching for them, your website will be ranked higher when displayed whenever visitors explore the internet for terminologies related to your business. This will generate massive traffic to your new website.
Higher ranking of your website on search engines has huge and perceptible benefits. Some of the benefits are increased traffic and improved patronage on your product and services. The search engine also provides a distinct best practice for a small business to rank better on search engines which brings about an increment in the number of website visitors on small businesses.
SEO strategies can be divided into three sections
1. Link Building
2. Content Creation
3. On-page Optimization.
Outsourcing SEO best practices will cost a budget of $75-$250 per hour but with the right skill, experience, knowledge and time, you can get it all done by yourself. The price is a reflection of the experience of the provider hired.
Google today employ strict measures for individuals that use a shortcut to trick algorithm, it is advisable to find a better alternative to marketing campaign other than SEO.
When does the result become evident?
The fact that SEO is largely dependent on Search engines algorithm has made engines like Google, Bing, Yahoo and others implement constant changing strategies which have, in turn, forced SEO to adopt new strategies with them. An example is evident in the recent Prioritization of mobile websites by Google. This has made algorithms change and grow new ways on a regular basis necessitating other marketers to change their options in order to keep up the pace.
Here is a report from one of Forbes top contributor:
"Many SEO firms will tell you that it takes 4 to 6
months to start seeing results. That's generally
accurate, but bear in mind this is when you start
seeing results, and SEO results grow over time.
Whatever results you're getting at 6 months should
be considerably less than what you're getting at 12
months."
JOSH STEIMLE
When can PPC be used?
It is important to use SEO when kick-starting your campaign immediately after the website has been launched. Starting your campaign with SEO saves time and also increases the effect of other on-site promotional methods. Implementing proper SEO from the beginning of website launching helps prevents error especially the ones associated with automated indexing programs inability to read your website content.
Main weakness of SEO
Following devious practices can negate your work as a result of constant changes in the search engine algorithm. Using SEO as a campaign channel also takes a lot of time. And the constant changes in the procedures and strategies means that what worked while setting up your website might not work eventually as the website progress.
This is why it is important to use SEO best practices for promotional campaigns even when others campaign strategies are adopted initially to drive traffic.
Content Marketing
Content marketing has been described by The Content Marketing Institute as a
"A strategic marketing approach focused on creating and distributing valuable, relevant, and consistent content to attract and retain a clearly-defined audience — and, ultimately, to drive profitable customer action."
Content, when used for digital marketing takes the following arrangements
Blog posts
Whitepapers
Case studies
Videos
Webinars
Infographics
eBooks.
These content portions, when used together can be used to sustain a number of marketing goals which include;
• Orientating your customers on the best ways your company can help them
• Getting new individuals to have a quick understanding of your brand and product
• Placing your company as one of the top game players in the industry
• Establishing a database through the use of gated lead content market pieces like eBooks
• Educating search engines on the type of product and service you offer which will in
turn help the progress of your organic SEO.
Content marketing helps you reach targeted audiences and ensures a continuous engagement with them as regards your new content as move through the sales process to a subsequent conversion process.
Reaching your targeted audience appropriately involves the establishment and implementation of a detailed content marketing plan. Research shows that 73% of most effective content marketers have a recorded strategy and only 28% of the Australian companies believe they are doing well using content strategy.
Standard Cost:
A content marketing budget is largely dependent on the quantity of work you have put in yourself. Having the required expertise and knowledge can get it done at no cost. Success stories like Brian Dean and Vaynerchuk is a testimony to this. Outsourcing your content marketing will require the service of a freelance agent or an agency and they charge a budget of between $0.05 to $2.00 per word of content depending on their knowledge and expertise.
An infographic could be outsourced for a budget of about $1000 or more depending on what it contains. Promoting this content cost an extra and the rule states that, for you to get the maximum result you must spend as much as the amount you used in creating it on promotions. This extra cost can be from advertising using Facebook or sending an automated email.
It is important for business owners outsourcing their content marketing to make sure the hired freelancer or agency has the required skill, knowledge and expertise as well as a detailed understanding of what you what you hope to achieve using the process.
When does the result become evident?
Content Marketing will take an average of 6 months before the result becomes evident. The result produced is largely dependent on your driving force and motive.
When can Content Marketing be used?
The most appropriate time to use content marketing is when you are in contact with talented content originators or the appropriate time you think your brand needs that supposed leadership as a result of high-value content. Content marketing also balances SEO as the use of great content augments the search engines obvious goal of prioritizing important and reliable results.
Main Weakness of Content Marketing
The time taken to churn out a successful content can be used on other strategies. A popular U.S content creator estimated that just one of out of the 5 contents he created and published came out successfully.
Organic Social
Media Marketing
Organic social media marketing popularly referred to as Creative social deals with the creation of specific profiles on websites where your targeted audience are the most active, and also the publishing of the right updates to engage this targeted audience.
Facebook, Instagram, LinkedIn, Twitter, YouTube, Snapchat, Google+, Pinterest are the most commonly used social media platforms for brand marketing.
3 statistics were shown by Tap Influence on why it is important and necessary to use one of those listed platforms for media marketing.
A report from Global Web Index shows that a moderate internet user spends 28% of their active internet time on social media.
A report also saw 47% of Millennials confirming sales of their product and services was influenced by social media.
84% of active social media users globally liked a brand because it was advertised on social media.
Standard Cost:
Organic social media marketing offers a free patronage except special request to promote custom content on your media page.
BuzzSumo found out that 25 million Post on Facebook found Social Video over a period of one- year.
Sharing videos on social media channels is necessary to drive traffic according to a research from BuzzSumo. It reflected that there has been a tremendous increase in the number of shares.
Hiring Animoto or other organization costs you about $1,000-$3,500 to create videos if your organization lacks the expertise and resources to do so.
When does the result become evident?
A decline in the organic rates of several networks makes it important that organic social media marketing campaign results should be evident immediately. A report by AshRed while writing for Unbounce shared Ogilvy data on Facebook algorithm changes affirming that between October 2013 and February 2014:
"Organic reach dropped to around 6% for all
pages, and for large pages with more than 500,000
likes, the number was just 2%."
When is the best organic social media marketing?
Maintaining a platform that engages your preferred target audience irrespective of the social media marketing website is important because several consumers expect organizations to provide backing via social media. Another means where organic social marketing can become effective depends largely on your targeted audience's behavior. If your targeted audience is social media savvy individuals, it is important for you to engage them via social media and if their activity on social media is absent, then the engagement can be on a platform where they are active.
The main weakness of organic social media marketing.
Individuals who have issues with your product can air their opinions easily on social media and its inability to reach many individuals can produce a wasteful effort. It is important for business owners to have a well-laid plan that allows them to deal with negative reviews, comments, and feedbacks before setting up a social media marketing campaign.
Paid Social Media Marketing
Social media paid marketing unlike organic social media marketing captures views immediately after launch with ads that place your messages at the forefront on Facebook, Instagram, Twitter or LinkedIn consumers.
Paid social media Marketing includes the following:
Facebook Ads
Twitter Ads
Instagram Ads (managed through Facebook's platform)
LinkedIn Ads.
Snapchat uses a self-serve ads platform while Pinterest uses a promoted pins program to advertise.
Standard Cost:
Cost per click (CPC) or Cost per 1000 impressions (CPM) is the classical way through which paid social media ads are billed and is often dependent on time, the network and type of ad. Fit Small Business reported that on Facebook ads cost a budget of about $0.16 to $1.00+ per click which is dependent on target audience, the industry you serve and the ads quality.
When does the result become evident?
Paid social media operates typically like the PPC. It drives traffic and converts immediately after launch. Campaigns may take times before it yields fruitful results because of the testing of different models and target options.
When is the best time to use paid social media marketing?
The best time to use paid social media campaign is when you have available the necessary tool to convert followers into customers and when your targeted audience is most active on your network. Combining paid social media campaign with organic social media strategy is the best as it will increase the number of views on your profile. Getting someone within the organization who has the expertise and experience to create split tests and track ROI results is a good time to pursue paid social ads. The learning curve for paid social media campaigns is just as expensive and sharp as the PPC.
Influencer Marketing
Influencer marketing works by encouraging reputable industries to share their products or services with their prevailing customers in order to avoid the task of building an online audience.
There is a huge resemblance between the way social media marketing/advocacy marketing and influencer marketing operates though it has a distinctive characteristic that makes it stand out as a marketing channel on its own.
"The best way to understand the difference is that
advocate marketing focuses on encouraging or
incentivizing already-loyal customers to share their
love of your brand or product.
The sharing might happen by way of product
reviews and customer references. With influencer
marketing, you're more focused on finding
influencers—not necessarily current customers—to spread your message
The differences between them were pointed out by Tap Influence which states that Influencer marketing makes sense in theory because it produces a better result when an influencer shares your service or product with the millions of audiences he or she has other than when you share the same information with your social media followers. This result is evident not just in the total number of the audience reached but the authority inherent in the influencers endorsement.
This is evident in the result pushed by influencers in the beauty industry where Pixability reported that influencers influenced 86% of the most-viewed videos on YouTube as compared to the 14% influence beauty brands themselves did. The roles of influencers have grown to a large extent today and this is evident in the fact that influencers contribute about 57% influence to the marketing strategies of beauty and fashion companies while some 21% are also hoping to adopt this strategy very soon.
Standard Cost:
Partnering with influencers is totally free but in order to get fast result, it might be ideal to partner with organizations that seek paid endorsements from established influencers around the world.
When does the result become evident?
Influencer relationship doesn't just happen overnight. Targeting the right influencers and selling a product or service that can grab the attention of the influencer's audience is very important. The process can be enhanced through paid promotions.
When is the best time to use influencer marketing?
It is important to have a good relationship with important figures globally by making influencer marketing part of your promotional campaign efforts before you ask them to share your information. Integrate influencer marketing into your business module by referencing key figures in your space. Efficiently promoting them to your audience for free will make it likely for them to share your work as it will be a sign of acknowledging their expertise.
Main weakness of Influencer marketing
Connecting with top influencers can be somewhat difficult. When influencer marketing campaigns are mismanaged, audiences tend to view your product and service as fake especially for those who desire real, original, ad unbiased endorsements. It is important to have a win-win attitude when using this campaign strategy. This provides an avenue that ensures your promotions benefits any influencer you are hiring globally and your organization in the long run.
Digital PR
Digital PR involves getting your organizations featured on a top industry website. For example, a software organization might profit from being featured on TechCrunch or Mashable.
Standard Cost:
Hiring media inquiries personally can save cost. Using the service of a digital PR ideally starts around $2000 on a monthly basis.
When does the result become evident?
The immediate impact left after digital PR has been used for marketing can be incredible. This is largely dependent on your story getting published or featured in a major publication. Often times the time to see results using digital PR differs. Marginal returns can only be evident in the long run if your product isn't significant at the moment.
When is the best time to use digital PR?
Digital PR is best used when you have something significant to promote. It will be quite easier for you to get your product or service promoted if the story is interesting other than if it is uninteresting.
Main Weakness of Digital PR
Using a digital PR is never a guarantee for good traffic, unlike paid PR that ensures your messages reach your targeted audience. Digital PR offers you the opportunity to invest substantial time and energy into promoting your organization.
Guest Publishing
Guest publishing is a branch of digital PR that allows you become a guest author and provide articles to publications instead of trying to get other publications to adopt your story.
For example, Entrepreneur.com can allow a software firm publish articles on its website. This will not only place them as an expert in the industry but will give them the opportunity to take interest in what the firm offers. This provides the firm with a long-term SEO impact and an access to the large audience Entrepreneur controls.
Standard Cost:
A smaller budget is used when cost is handled by organizations because all you need is time and articles. Hiring a firm to do this will have an impact on your budget either a monthly payment or per article payment.
When does the result become evident?
The result you get from adopting this strategy is largely dependent on the type of article you are publishing, and the time it takes to get them published. Sujan Patel estimates that his guest posting campaign delivered result in about 6 months after publication and it took almost 18-24 before the full impact of the publication was felt.
When is the best time to use Guest Publishing?
Reaching out to others becomes easy when you find it easy creating and promoting your content. Good examples and better results increase your chances of having your guest post accepted. If the opportunities available to get your guest articles posted is limited or your targeted audience isn't comfortable getting information using this strategy, it is better to adopt strategies they are very well accustomed to.
Main Weakness of Guest Publishing
There is no guarantee that your guest article will get published. You might be asked to submit a draft of your intended proposal which means you will spend more time creating content that might not be accepted or published eventually.
Affiliate Marketing
Affiliate marketing works like referral marketing. It ideally involves inspiring others to become your salesforce.
Affiliate marketing promotes services based on payment, unlike referral marketing that grows based on audience interests. The number of conversions sent determines to a large extent how much an affiliate marketer gets.
Affiliates can be existing customers or expert affiliate marketers who get paid for connecting the targeted audience to your products depending on the way your affiliate program is designed. You can also reach your audience through a platform like Tapfilliate that accelerate exchanges in return for a price.
Standard Cost:
Partnering with establishments like ShareASale can get your affiliate marketing executed at a cost-effective price. Paying to host your personal affiliate program on your web server gives you the opportunity to pay out successful affiliates after calculating channel performance
When does the result become evident?
The success of your affiliate marketing depends largely on your organization's success. Affiliate marketers prefer to promote products will not promote your product if they are unknown, they will rather deal with products that known and have been tested over time.
When is the best time to use Affiliate Marketing?
The best time to use affiliate market is when you are certain there are active affiliates to promote your product. Looking into the industry and what operates there will give a better idea of the affiliate promoting products in that industry.
Main Weakness of Affiliate Marketing
Trusting the affiliates you employ to promote your product is very important as they are not your employee. The relationship and loyalty that exist between you and your affiliate marketer are not as strong as the one with your sales representative. The inability of your offer to perform well with the affiliates will reduce the attention they give your product as they represent several products. Making your product and offer standout is a sure way to get affiliates to scale and promote your product without any hassles. Most affiliate program ends up delivering below standard. Finding a reliable agency to partner with longtime can bring about life-changing benefits.
Viral/Referral Marketing
The principle behind viral and referral marketing is simple. It involves a continuous cycle of one customer referring another customer and another customer referring another customer until products are sold.
Viral marketing consists of strategies adopted to aggravate viral loops just like the case of Uber and Dropbox while referral marketing basically denotes strategies that sensitize buyers to send new customers your way.
Standard Cost:
Viral/Referral marketing involves the use of additional time, cost and certain incentives to woo customers. Extra cost might be sent when you partner with any referral platform.
When does the result become evident?
The result might become evident immediately depending on how well the program is structured. An example is seen in the upgrade to the number of users on Dropbox which rose from 800,000 in September 2018 to 4 million some 15 years later due to the referral program it adopted.
When is the best time to use Viral/Referral Marketing?
The best time to use a referral marketing campaign is when you are confident your customers are delighted with your product offering and that referring your product to another customer won't offend them in any way.
Main weakness of Viral/Referral Marketing
Choosing an incentive that is attractive enough to attract customer's interest without spending too much is one of the hardest decisions to make when viral/referral marketing channel is adopted. Proper monitoring and distribution of referral bonus will also take time and consume a lot of energy either using an automated tool or your hand.
Free Web Tools and Apps
Creating a free web tool and apps that customers like so much is important as it will be easy to share details with their friends leading to a remarkable growth in your referral strength. This is similar to content marketing but the major difference between both is that this requires much bigger time and effort to run.
Standard Cost:
Creating a webpage is quite expensive unless you have a talented web developer with in-depth knowledge and experience or a UX/UI designer. Basic web app costs between $5,000-$15,000 to develop and the more expensive ones cost between $60-000-$200,000.
When does the result become evident?
The result becomes evident immediately after launch provided you have created something people really want to use. The result is fast and the strategy can drive sales effectively. An example is seen from Zillow, the real estate website where the chief marketing officer Amy Bohutinsky described how she was told to revamp the website from zero to a million visitors monthly within a window space of 6 months with no ad budget. The organization had 5 million visits in its first post-launch month due to the first-of-its-kind valuation tool used.
When is the best time to use Free Web tools and App?
Building an expensive web tool or app is not a guarantee that your targeted audience will take interest in your offering. This strategy is best adopted when there is a loophole in the market as well as when you have the right and necessary investment to finance this project.
Main Weakness of Free Web tools and App
There is a possibility that your app might get unnoticed in the rather large market unless you are willing to pay more for ad campaign coupled with the expenses involved in setting up a good web tool and app.
Online Community and Forum Participation
Participating in online communities and forum is a sure way to reach your target audience just like the social media marketing.
The difference between here and social media marketing is the fact that instead of posting to social media sites like Instagram and Facebook, you will be required to join online forums and communities where you have an active audience.
Developing a presence on the message boards of sites like Inbound.org or GrowthHackers.com is good for individuals involved in social media marketing. It might also be necessary to participate in conversations on a network like Yahoo Answers ok Quora.
Standard Cost:
No budget is required to participate in online conversations and forums. All that is required is time to monitor forums for meaningful threads and the time it takes to compose right messages on the forum.
When does the result become evident?
Your activeness on this forum and community will determine to a large extent when the result will become evident. The one-on-one approach it offers in your response allows others in the forum see your responses which might positively increase your presence in the long-run.
When is the best time to use Online community and Forum Participation?
The best time to adopt this channel is when you have a vibrant and active audience. The community will not only provide you a means to develop your supposed authority but will provide you an opportunity to understand what the audience needs from the several questions being asked.
Depending on your budget, time and target audience, growth hack could get you few customers. Airbnb did something related to this in their early days leveraging on craigslist ads even though they employed an automated tool as compared to the manual responses tool.
For a bigger and more established company, the approach might not work exactly to your specification but it is sure a good way to improve your SEO.
Main Weakness of Online community and Forum participation
Some of this community don't get as much audience as the others and there is a problem of unpredictable and unreliable engagement. There is also a problem of answering questions as you might get confused when there are too many and the purpose of using the forum will be defeated. It is better to look at this strategy as a continuous supplement than the right marketing channel needed to augment your organization's success.
Key Takeaway
Some of this listed channel may sound too impossible or overwhelming it is normal to feel that way. Fear not, take time to study each and see which suits your business first as a first timer. You don't have to engage in all to have a strong online presence. It is better to select the ones that best fit your business.
Subsequent growth of your business and campaigns might see you implementing new channels that will grow and scale your business.
Choose the right
Marketing Channel for
your business
Choosing the right marketing channel for your business can be difficult. Here is a four-step guide to make your choice easy.
STEP 1: Have a clear understanding of what your business needs.
Understanding your business goal, vision, target, budget, and expertise is the first step before you can adopt any marketing strategy.
What are your business goals?
This is the most important question any business owner needs to ask before choosing a marketing channel. The major constituent of your organization's success differs from others operating in the same industry with you.
The first thing to do is to have a clear understanding of what your business needs to succeed. An example: a software company campaign success should focus on a number of websites visitors, new paying clients, and new free trial participants. However, your goals may also include the following:
E-commerce sales (or other forms of sales/conversions)
Email sign-ups
Commitment to particular web pages or marketing assets
Principal magnet downloads
Principal generation form completions
On-site video views
Social media followers
Social media shares
Brand references
Inbound web links.
It is important to note that even when you have numerous goals to choose from, some will be of greater importance than the others.
The overall objective of every business should be driving sales, leads or sign-ups. All other goals and objectives are secondary, just a by-product of the above. They can be used to measure the effectiveness of the primary goals. It is important to distinguish between the key goals and the subgoals of every business.
Understanding the strategy that clearly defines your marketing goal will help you set your priorities right and help you map out the best way to spend your proposed budget when faced with difficult situations as to the right way t allocate resources needed for your business to scale and grow.
How quickly does your business need these results?
Who is your target audience?
If you just set up your business, you will desire quick returns on investment. If you are building your organizations brand authority, your focus maybe long-terms with targets you would hope to reach some months after investment. Your driving force will to a large extent determine the most appropriate strategy to use for your campaign.
It is important to know the right channel that will drive effective and maximum results based on your target audience before you launch your business.
An instance can be seen when you have decided on social media marketing as the channel to use due to the large followership you have. What then becomes of your business if your target audience is not active members of this platform?
An example is my interacting with females in their 30's whose Facebook feeds has been showing ads for fertility clinics. Even though they are women in their 30's with no kids of their own, they might find the advertisement offensive largely because it might be borne out of their personal decision not to have kids at that moment even though they fit technically into the targeted audience.
Understanding what your audience wants is a way to prioritize your marketing channels. Start by asking yourself the following important questions, and gather enough data to answer the questions from your own investigative reports or online explorations
1. What is the demographics of my target audience?
2. What major issue does my product or service solve in the life of my customers?
3. Is there any reason my customers are spending time online?
4. How open are my customers to the advertisement?
5. Are there any offers my customers won't respond to?
In answering these questions, HubSpot has a great template to help you go through this process whenever you are ready to launch your business. We will like to compile both buyer's details and customers responses.
What's your budget?
The prices of channels differ from one another. A PPC campaign with a landing page requires an upfront payment while channels like guest publishing and content marketing can be done for a free budget provided the business owners have the required skill to write and promote the content themselves.
It is not the upfront payment that matters, what matters most is the time and cost needed to optimize the marketing channels.
A result of a PPC campaign ran by VerticalLeap for a period of eight months was shared by Coralie Wood.
Commenting on her results, Wood stated that while planning on the right channel to use in promoting your business, you will need to account for the total cost you will spend in maintaining the channel until it performs effectively and the initial cost spent on running the channels.
It is better to select the channel that requires time than funds if you have more time than money. You will need to take into consideration the total budget needed before deciding the right channel to invest in. You might need to run one or two channels and spread them online instead of investing in several channels if your budget is relatively small.
Finally, it is important to take note of the opportunity cost of selecting a channel over the other. A software organization with about 6 months run away will find it difficult to use channels like SEO, content marketing to deliver results as they would not be opportune to wait for some 6-12 months to see results from these channels. It is advisable to invest in the channels that will produce quick result with your budget and come back to ignored channels after results has been seen and tested over a long period of time
"Yes, PPC can boost your brand awareness and
raise visibility from day one, but a truly profitable
campaign can take months of careful and
considered optimization before the true potential
of your PPC campaign becomes apparent."
CORALIE WOOD
1. What experience or knowledge does your team have?
Organizations with experts spend less on getting the right channels to run their campaigns. This can be easily understood in the example illustrated below. An organization with a good writer
can easily embark on content marketing as compared to an organization that will have to hire a writer.
Also, if one of your team members is good with SEO campaign, leveraging on this channel will be easier and cost-effective for a business that requires SEO channel for the campaign.
My organization was able to invest in a different channel when we had a new guy with in-depth knowledge and experience as compared to using LinkedIn alone to promote our brand. The result was increased productivity for my organization.
It is important to understand that how your expertise relates to your marketing channel choice is more than your past experience. A new channel that is new to your members might require you testing skill sets and past experience before you can have a successful campaign.
The following question about your team's experience is of relative importance.
1. Do we possess the required knowledge to use this channel?
See knowledge in terms of understanding what role each marketing channel has to play and how it can be implemented has rather than your teams' skill's set alone.
Launching a new channel requires more time and attention as compared to the one you already understand.
2. Do we possess the required technical skills?
The above-mentioned channels require the use things like media assets. Ad campaigns, web pages, free web tools and so on. Testing the level of your team's technical skills will help you decide the best marketing channel to invest in.
3. Do we possess the right characteristics?
Right characteristics might revolve around your team members being creative or data-driven or probably a mix of both.
Workers with strong creative skills might help you adopt channels that require visual or written content like social media marketing or content marketing. A team that possesses a member with analytic thinking skill will prefer to use PPC advertising which involves the use of substantial data analysis.
You don't have to be an expert to run these channels, though you can run it yourself if you have the time or get the job done by an agency or a freelancer by outsourcing it.
For example, if the best channel for your organization is email marketing and you lack the expert within your team member, you can outsource the job but you will be required that the expenses are accounted for within your stipulated budget and that the channel performance will most likely offset the incurred cost.
Key Takeaway
Business owners need to understand that channel planning requires different efforts and no two organization can provide the same answer to the question asked above. It is important to understand the exclusive feature of your business and use the idea and knowledge gained to adopt a plan that you can use in the future for your marketing.
STEP 2: Assess your present channel performance
Assessing your present channel performance is also another step to take into consideration after understanding what your business needs and the skills you can put into achieving them.
Knowing your channel performance will help you understand which present investment is worth keeping and which one needs to be discarded.
This analysis can provide you the needed template to locate missed opportunities within individual channels. For instance, if your campaign does not meet your required target after launching PPC effectively, there might be the need for you to up your budget in order to get more leads. This correlates to using CRO on the channel instead of a website.
Ideally, we advise you spend 80% of your time on the channel that is most effective and 20% on the new ones. If you are a beginner or without any data historically, move to step 3 or adopt the following process:
Recognize your inbound visitor sources
You can do this by employing analytics program to locate the source of visitors on your
homepage or website. Google analytics, for instance, provides a breakdown by traffic form on the acquisition overview dashboard:
This will give you an idea of how to dig deeper into your organic search, enable you a direct social referral, and other details to locate the specific sources of your traffic. An example is seen when you click on the social link, you are led to see a breakdown of the particular social networks where traffic was sent.
The particular traffic sources you will be required to track through analytics should be in sync with your marketing channels and the purpose of the tracking. If you categorize success as the number of visitors who visited your website through Facebook, the above chat will be of use. If your focus is directed towards organic search traffic, use a report focused on this channel.
Generate a spreadsheet to track your channel
Ensure the placement of your numbers in the generated spreadsheet to enable you to track them accordingly along with any required data to check the relationship between channels.
Code ship made use of three channels; Perfect Audience, Referral Campaign and Twitter ads and measured them against each other using the following data points:
The conversion rate between them all was calculated and this helped them see where customers left at each stage in the channel. They further divided the total campaign spent against the total number of customers that paid on each channel in order to determine how much it will cost to get a new customer on the average.
In the above example, we can see how obvious campaign spends were. In the top row, the amount spent on Twitter ads equates the total spent on the campaign. Using a channel that entails manual overhead e.g. spending several hours on a blog post, you might need to include a campaign spend based on the time spent.
Note that other channels like content marketing or SEO takes a longer time to deliver and it may be difficult to track conversion time back to when the activity started.
The illustration from Code ship works best for channels with a trackable and short return.
Evaluate results to recognize your present most
important customer acquisition channels
Measure each channel against each other using the simple calculation given. The goal of the comparison is to find the cheapest, attractive and most successful channel that your customers will approve.
The above chat provides you a detailed explanation of how the most needed customers are measured based on churn and retention. Your own definition of success may be entirely different. You may define success based on the number of reappearing customer or any other measurement defined above.
In the above diagram, we can see that referral campaign has the highest number of paying customers and also has the lowest number of customers in terms of acquisition despite having a bigger budget on the overall campaign.
Under normal circumstances, Code Ship spreadsheet will take into consideration the Lifetime Value (LTV) of a customer operating in each channel. Referral campaigns gave a very beautiful result but if the churn rate of the customer increases, the low CPA might give a misleading result. It is important to have similar deductions from your data. This will be used in the next step of the process.
Key Takeaway
Only the right set of data can be used in evaluating your channel performance. Get an analytic provider installed on your side if you don't have one yet and set up the needed tracking features for your goal to measure the metrics defined in step 1 of this procedure.
Take your time to understand the reporting features of your provider. They will play a vital role in your ability to adequately shift and plan the allocation of your channels.
STEP 3: Design a channel plan
It is time to design a channel plan from all the information collected about your business, your customers and your present channel performance where applicable.
At the end of this process, you should have a clear understanding of the following
1. How many channels are you investing in?
2. The channel you find most appropriate to work with
3. How will you define the success of each channel?
4. How will the marketing budget of each channel be assigned?
How many channels are you investing in?
The above questions are difficult to answer because the answer to a large extent depends on your budget, the expertise of your team members, and the probability that you will want to engage in more than one channel than a new business owner with access to limited budget and experienced staff.
Begin with 1-3 channels if you are new to digital marketing. You don't have to test all the channels before you get the one that best suits your business. You will get more productive and deal effectively concentrating on a single channel than testing the numerous channels available.
Use the process illustrated above to test the estimated returns of every channel you are considering even if you are just starting or you are at the level where you need to invest in several other channels. Then measure their importance according to your budget.
For instance, if you are the owner of Code ship and your monthly budget is $10,000 and your target is 100 new customers every month, and you have an understanding that using referral campaign will cost you about $67 to get new customers. From the illustration above, you have an understanding that $6,700 will help you reach your target and you will be left with $4,300 to explore other channels and expand the sources of your traffic.
There is a possibility that most channels can stop working effectively. A point where the traffic you can generate using that channel with be exhausted.
Using another channel, for instance, the number of people searching for a specific keyword will be restricted. Optimization may get you so many people clicking on your ad and in turn
increased sales from those clicks, but there will be a time where you will not get any more conversion even if you increase your budget.
That point may not be near, but it is important to run through other channels to know where you can find that extra sale when your present channel stops converting in the future.
Which of the channels should I invest in?
Going through a channel description and understanding what your business needs may have helped you decide the channel that is most appropriate for your business. Also, you might have a clear understanding of the right strategy to scale your company through the several calculations you have run on what your budget can support. But even after all this, you still find it difficult to make a decision, I will recommend ICE prioritization.
The product manager for tech communication startup intercom.io, Sean McBride developed the original RICE system with the sole intention of helping product developers decide the best product to add to their features in case of numerous requests from customers.
Further research from my end indicated that the methodology is also applicable to those considering investing in the market channel. The below process gave a clear understanding of the possible decision against three criteria amended from the real product development application to help complement the role of marketing managers.
Impact: This is the opportunity size based on the audience influence, search capacity and other factors.
Confidence: This talks about how confident you are when capturing and converting your audience
Effort: How much effort will be required by each channel to perform.
Using these three variables, a final ICE score can be gauged for each channel
Let's assume I have been given the role to sell Fidget Spinners online to the people of Australia. If I require more sales after selling them through AdWords and I am trying to decide the best channel to employ between SEO and Paid Facebook.
I am the type of person that gets irritated when things become unnecessarily popular. An example is why Justin Bieber and Kim Kardashian are popular.
Impact
The first question I need to ask is, which of the listed channel will drive the most traffic to my website?
Facebook: The last time a record was released, Facebook had 16 Million users in Australia. Even though the fact still remains that not all of them will be interested in purchasing fidget spinner but from the statistics released, one can assume that any potential buyer is likely on Facebook which is really is a big budding impact.
SEO: This will be limited because the number of the number of people searching for fidget spinner online. The Google keyword planner will give an idea of how many people made this search.
Using AdWords would have given me a better idea of keywords to use but in order to keep it simple, I decided to stick to those two keywords. My assumption made me come to a conclusion that over 800 fidget spinners were sold online each month based on their popularity online. So, I believe Facebook has the probability of driving back fidget spinner traffic o my website.
An idea about the potential traffic I could generate made me apply a score for impact. Provided I'm working with two channels, I kept the scoring easy at 1-3. If choosing between different channels because of their numbers becomes difficult, use 1-5 or 1-10.
Impact score for Facebook is 3 because of the high probability it has to generate leads
Impact score for SEO is 1 as search volume is relatively low.
Confidence:
I need to think if the traffic I drove to my website is going to convert to sales before I assign a confidence value. The intention of each traffic on your site differs. Traffic from paid search is high because the purchasing intent is high due to the nature of search employed. For instance, it is possible for customers to land on your site if your site is good enough if they searched for "buy a fidget spinner". Facebook traffic can either hit or miss depending on the how well your target converts but even with that the conversion rate will be lower than that of PPC because you are taking someone by surprise to make a purchase rather when they actually searched for it.
From this analysis, Facebook will get a score of 1 based on my confidence level and SEO a confidence level of 2 because paid search converts higher than SEO because you rank for higher intent keywords as well as long-tail keywords.
Effort
This is my last grading method. I will grade my effort based on the time expended and the amount of money I to make the channel work.
It is way easy and cheaper to set up Facebook Ads and the landing page from the PPC campaign I'm running makes it all good. Getting the required audience might take time but I might still be left with no choice than to pay for each click. I will score the effort here 2.
Using SEO, I will require a lot of effort to get my pages optimized, implement schema markup, recruit backlinks and rework my content. There will still b a need for me to create and publish content and the number of people selling this online is quite much, so getting my content to be on page 1 and the first few spots will be highly competitive. I will score my effort here 3.
ICE prioritization
Since each channel now has a value for each criterion, I can combine them all to have a complete score.
A reminder of the assigned values: From the assumption about my business according to the calculation, Prioritizing Paid Facebook Ads over high SEO investment will be more effective.
Note that, IC scores are just a single factor in the prioritization process of your channel, it is advisable not to spend too much time assigning values since it is just providing a guideline template. Instead, use the generated score as one part of the puzzle i.e. channel allocation.
Key Takeaway
Overthinking things too much won't do any good since initial channel selections are part data and part gut felt. Instead pick a handful based on the performance your estimation believe will be ideal for your company (ICE, RICE or either). Monitor your result as you proceed for about 1-3 months by focusing your effort on those channels alone.
I employed this prioritization method for my work. A question of whether it is right to prioritize writing a broadcast email or create a wireframe for a new landing page may be asked. After running this a few times, you should be able to calculate the values in your head but when the workload is much, you might need to write them down and give them an ICO score to prioritize.
Implement,
Evaluate & Evolve
Assemble data performance based on the time frame you expect your chosen channel to perform and take into consideration time limits as to when you need results.
Repeat the process indicated in step 2 and use the data gathered from the channel performance according to the measurement success to ask yourself the following questions
Are any of my channels significantly doing better to other channels in the same niche?
Are any of my channels performing below my expectations?
Has my interaction with my clients over time exposed other channels I should have tested?
What is the average value of a channel of my CPAs and LTVs?
The singular fact that a channel performs better than another channel in the same niche as it doesn't mean the other channels should be trashed away. Instead, take time to check why one channel is outperforming the other.
What influence does temporary factor have on your results?
Let's assume you trade in eCommerce, and you began analyzing and evaluating your channel data in November, and you analyzed again in December and January. If after your analysis you discovered that your channel lost some potential in January, would you replace them?
Replacing them doesn't become really necessary. Think first about what could have happened to have caused the decline noticed.
I believe you understand where this is headed for the holiday season example, but the fact remains that channel performance is no temporarily affected by just holidays alone.
There is a possibility you sent an email out with a one-time promotion and this would mean your report showing email marketing as the major leading factor for sales conversion within the month but running this type of promotion twice a year may not produce the same result.
Are there any signs that warrant me pulling the channel immediately?
Launching a channel with a moderate budget and ramping it up where necessary might become necessary. This could help you prevent spending so much without anything to show for it, but keeping an eagle eye on the performance at the early stage of launching a channel is very important.
But if after all these, the result produced does not correspond to your goals after a significant part of your budget has been spent, then it is time to re-assess.
The issue might arise from the channel implementation or the channel tracking. But if after deep analysis and you are still not getting your most desired result, then it becomes necessary to stop test running the channel.
Other factors may need your judgment in the course of the assessment. You may find out that Facebook posting triggers a lot of negative comment, remark, and publicity. It is best to try and deal with these issues before they escalate, but if after this you still get the same result, then it is ideally recommended you stop the experiment and keep your brand outlook in check.
You can always return to it after the issue has been sorted out.
Is there a possibility this channel will work out again in the future?
After you have completed your analysis, take a record why some of your personal channels refuse to work. Evaluate your notes occasionally because there is a possibility that the channels that didn't perform effectively due to changing conditions may give you a better idea you can implement in the future.
For instance, running a Facebook Ad might look unprofitable at first if you don't have a clear understanding of the channels best practices. But in the long run, you might decide to hire an expert in this niche or someone with good photoshop skills who can create better images to
promote your ads. This can make you revisit the channel as you now have a clear understanding of what caused the initial failure from the record you kept.
Key Takeaway
Channel selection should not be considered the best totally. There should be an improvement in the performance of your company from the evolvement of your marketing mix and the performance data gathered. This repetition is possible only when you document your result and why it worked or didn't work.
Drawing Your Marketing Mix
Experienced marketer's today are faced with the challenge of challenge allocation. For a marketing campaign to be successful, several channels should be used together. For instance, email marketing opts-ins and email sequence that converts, links for SEO purposes, a content marketing campaign that drives massive traffic via Facebook Ads can all be mapped together to achieve great result even though they can be used differently.
Don't be bothered by this, just ignore this information if you seem confused. Establish your starting point and initiate process. Constant practice will give you a good idea of how different channels can grow your business, as well as how their impact can be measured to produce better results.
Perhaps you need a helping hand to direct you on how to do this, we are available to chat. At Web Profits, one of our best interest is Fluid Marketing is a marketing strategy whose main purpose is to link your monthly budget with the channels that will perform best for your specific goals.
Our numerous strategists are available to talk to you. No obligations, no special hassles. We help you understand how important modern marketing channels are and develop a strategy that increases and augments your ROI.