How to Improve Innovation at Nike
Introduction
The purpose of a business model is to provide a clear representation of how and where value is created and can be captured. It also give a framework for how innovation can create value, helps make the business vision explicit and acts a way of sharing an idea with others. When a business model is understood, it encourage employees and the employer to be innovative. Osterwalder's Business Model is a strategized management template used to design, describe and analyze a business model. It is a visual chart with some elements that describe the organization's value proposition, market, and finance, the Infrastructure.
The main objective of this model is to align the activities of a firm by illustrating potential trade-offs. Startups, as well as existing businesses, can use business models. (Metallo, 2018) The canvas can be drawn on a whiteboard and use sticky notes each time a firm wants to add ideas. The value proposition is the company's product or services to its potential customers to meet their needs. It is usually unique as compared to the firm's competitors. It is described in qualitative and quantitative terms, showing the intended outcome and the efficiency and price applied. The Infrastructure consists of the main activities, the resources and the key partners, and their motivation to partner with the business. In our study, we will examine Nike, a famous brand in the world.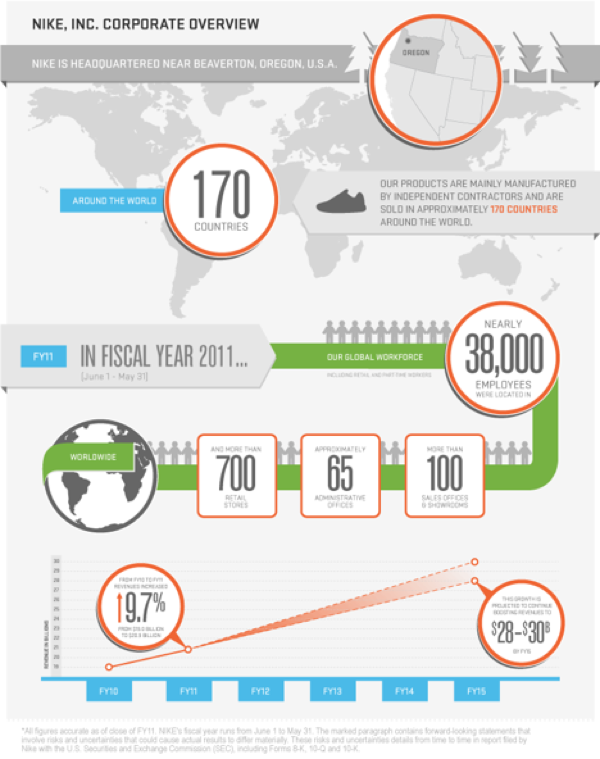 Executive Summary
Nike was founded in 1964 as Blue Ribbon by Bill Bowerman, who was a track coach at the University of Oregon. Its headquarters are at Beaverton in Oregon, Hilversum in Netherland and Shanghai in China with so many branch offices in more than 50 offices. It is on a 400 acre site which has more than 40 buildings. The first outlets was opened in 1988 and the first shoe was launched in 1972. Nike produce about two third of its revenue from wholesale customers such as retail stores, independent distributors and sales representatives. Its revenue has immensely grown over the years with a 16% growth over the past five years. Nike values its employees and treat them well by welcoming their contributions. It is highly respected and gives excellent benefits and a good compensation package.
The mission statement of the company is to bring inspiration and innovation to every athlete in the world. Nike's success is owed to partnerships with athletes like Tiger Woods, Roger Federer, Mia Hamm and Michael Jordan. The company generated more than 60% of its sales from sales outside USA. It sells through more than 1090 owned retail shops in the world and on e-commerce site. Nike's strategy is to attain a long term sales growth by coming up with innovative must have products creating a deep personal consumer relation and giving a great consumer experience through digital platforms.  Nike had the iconic swoosh and later changed it into "Just Do It" in 1981. This icon has remained one of the top five slogans in the 20th century.
Nike is a large organization known for the production and selling of athletic and sports products. These are footwear, clothing, and equipment. It also offers some services. The market target of this organization is anyone who wants to use sports apparel and equipment.  It offers a product to inspire one to become an athlete. They rely on the quality, innovation, and good status of the brand. Quality is what customers seek while buying their products. What matters for its customers is a well-studied product from the best raw materials and having the available technology.
Their marketing strategy is wide, with many Nike stores all over the world. It has an e-commerce platform that serves many countries. It uses advertisements in media, digital print and sponsors many athletes and team to showcase their products. The relationship with its clients is practically done through self-service and interaction with the salesperson where needed. Nike has Nike ID, which personalizes services, ensuring that its products are brought closer to its clients. The main revenue stream of the company is its sales. The total revenue is estimated at $39117 million. The key resources of Nike are physical structures, human resources, and intellectual property.
The main activity of this company is designing and coming up with a viable product. Others activities like research and negotiation with suppliers are involved. Additionally, advertising and marketing is key to the business model. Their key partners are outsourced contractors who manufacture its items. Nike does not produce its item but rather outsources all its manufacturing.  Despite the large outside manufacturing network, it focuses on quality and innovation and investing heavily in research and development. (Haggege, 2017) Also, it partners with various universities all over the world who aid in research.
Nike's business model success is due to the high number of innovations and its marketing. The company is challenged by various competitors such as Adidas, Under Armour, and Mizuno. Other challenges faced are unable to predict the customer's demand, so there is no assurance that a new product will be purchased. Also, there are so many global conditions that negatively influence the sales increment—for example, COVID-19, trade regulations, and data security.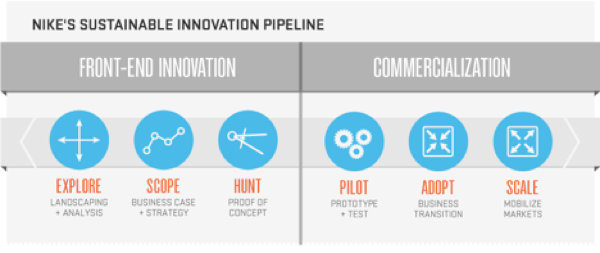 Roles played by Innovation in Nike's Business Model.
The focus of Nike is speed to market and direct to the client. Also, it pays attention to personalizing and customizing products which are termed product innovation. Innovation is part of a B2C retail company and has increased differentiating winners and losers in athletic footwear brands. Compared to Adidas, which was started before, Nike has established its market as the fore front runner. Focusing on innovation, manufacturing, distribution, and marketing, it has grown and become a trusted brand.  Adidas added its iconic three stripe logo after the Summer Olympics in 1952. Nikes effectiveness and aggressive marketing, plus their focus on operational excellence alongside innovation, plays a big role in their products being purchased. Nike is focused on satisfying customer demands by customizing and personalizing. It announced that it had acquired Zodiac, a consumer data and analytic company. Also, it adopted BB, which can actively change its shape. It connects to the smartphone and collects data on human movement.
Nike make use of its innovative strategy for getting new clients, increasing engagement, and improving conversion, which speeds up its revenue growth. Express Lane is causing a strong full price sale via rates and good supply chain management in value capture. It boosts its own direct online sales and also makes select footwear available via Amazon. Additionally, Nike focused on design thinking, prototyping, and early corporate buy-in. a good example is when 195 trials were done before Fly knit Racer was built. The yarns and fabric are made only where they are need for a formfitting and virtually seamless upper. The CEO of the company is well known for his full focus on innovation.
Nike is centered on leveraging the app of SNKRS for product launches, product reservations, and additional points like scanning merchandise for additional records and skipping traces with self-checkout. Over 100 million Nike clients have signed on, so a ways for the Nike app and the business enterprise ambitions to triple that wide variety through 2023. Also, Nike is making use of facts and analytics for selecting store places and assortments based on local demand. To extend income through its wholesale distribution channels, Nike has recognized solely forty retail partners, both on line e-commerce gamers and bodily retailers, that provide the nice get entry to the customers it ambitions and who can deliver best-practices customer journey for the manufacturer.
Additionally, Nike is using Express Lane in digitizing its end to end supply chain. This application allows products updates such as colors and materials for the well-known models on the basis of real time consumer reviews and thus stocks the stores faster. Nike is also focused on meeting the expectations of its clients by personalization and customization.
Technology has immensely helped Nike in boosting its reachability. To continue to take the lead, shoe need to go past celebrity endorsements and marketing. The technology must be taken further and ensure that it fits the preference of shoppers. People everywhere are now up to a healthy life. It has been proven that over 500 million people are active in sports as well as in a healthy lifestyle. On the exciting moments of the world cup and the NBA, sports have continued to grow.
Nonetheless, social media is changing how we perceive sports. It has brought the athletes and leagues that are most loved to our visuals. This shows that the online market continue to grow huge. If the old model of manufacturer retail was to take a seat as a monolith — always telling, never listening — the future of commerce is in the hands of developing dialogue. For Nike, this is Living Retail, a multi-faceted strategy comprised of intersecting brick-and-mortar areas and digital platforms predicated on fluid dialog and seamless adaptability. The thought is first-class expressed in Nike's new flagship program, House of Innovation, which debuted in Shanghai and New York. In each instance, all factors of the Living Retail method are on full show, from the Nike App at Retail to the data-informed product assortments of Nike Live.
Digital innovation, format, and customized service at Nike's two new flagship shops contrasts with any other Nike retail experience. A Sneaker Lab on the fourth ground of NYC's House of Innovation 0 showcases the greatest concentration of Nike sneakers anywhere in the world; the Expert Studio features a paragon of one-on-one service that neighborhood Nike Members can e book in-store and on the Nike App. Shanghai's House of Innovation 001 houses a digitally-enabled Center Court where consumers can enjoy speaker sessions, workshops, and digitally-led trialing sessions; at Nike through You, Nike Plus contributors can have one-on-one periods with a dressmaker to personalize choose shoes.
There is an interactive app once designed to intuitively bridge the worlds of tech and bodily retail, all via your smartphone's energy. The first Nike Live thought saves to open its doorways houses a resolution of product decided by Nike digital commerce records things like buying patterns, app utilization, and engagement to serve local Nike Plus participants precisely what they want. Innovation in cushioning platforms is at the forefront of Nike's regular push for athlete advancement. In 2018, this was once exhibited through a trio of hastily scaling leap forward platforms.
Nike React, which is the softest, smoothest, and most resilient foam Nike has ever created, provides constant cushioning stride after stride; Nike Zoom foam, which offers eighty-five percentage power, return the best of any Nike foam, lets in runners go quick and far; and Nike Air, which, via expressive new designs, has redefined journey for all-day wear. All are predicated on progress, explicitly in constructing the broadest portfolio of choice. After all, private preference is a crucial factor in performance.
Refining in shape and ease of use is additionally necessary to advancing performance. Continued increase of two technologies, the Nike Fast Fit tightening machine that allows athletes to reap 360-degree lockdown in a shoe with a single pull of a forefoot strap and the Nike Fly ease closure gadget that connects a hook-and-loop strap to a wraparound zipper to enable a runner to put the shoe on or take it off in one fluid motion, enables athletes to effortlessly dial in on desired in shape for remaining performance. Both seen technologies are designed for function. However, they also open the door for striking new aesthetic treatments.
Ways to Improve Innovation at Nike's Business Model.
New ideas can be exploited successfully, which is a very practical step in the growth of a business. The ideas should be able to improve the processes and come up with new and improved services and products to the market. Most importantly, the ideas should improve the profits being made and the efficiency of the company. In today's world, the market is very competitive, and demands are increasing day by day. Competition is increased due to the high increase of new technologies and the high trading knowledge and sharing of the information offered by the internet.
Introducing innovation can aid a business in increasing its productivity, reducing costs, and become more competitive in the market. Also, in building the value of the brand, which will ensure there is new partnership and relationships. Innovation should be able to improve revenues and the profits of a business. Businesses that fail in innovation have a high risk of losing the market share to their competitors. (Clinton, 2019) They can also lose their key staff, thus fall in efficiency and productivity. Lack of innovation could also cause the organization to run out of business due to reduced margins and profit.
Nike can apply their commercial ideas successfully by replacing and making better their business processes. This will ensure the productivity is increased, enabling the business to extend the existence of quality products. It should analyze the market and understand how the new ideas will add value to its client. They should identify the opportunities by changing as the new technology changes. Today's research shows that people are afraid of much outdoor shopping; Nike could adapt the technique of home delivery tied with online ordering to bring its services closer to its client.
Compared to the competitor's product, which might have a reputation of being cheap, rather than trying to compete the prices, they should continue producing high-quality products and consider their services as premium. This will increase the market trust and permanent market. There are many places to capture ideas from. Online surveys asking clients' suggestions and stealing viable ideas from the competitor can aid in coming up with new methods. The business partners, suppliers, and the network transverse can aid in coming up with the ideas. The employees, who are the front line in getting the revenues, can bring ideas on how to help in growing the business. One on one customers can be asked to leave their reviews on the customer service as well as their remarks on the quality of different models. This will help the management know exactly what is needed in the current market, especially the trend.
The management of Nike should embrace risk-taking and should not ask those who try new ideas and fail; rather, they should experiment more to get a satisfying product. For example, the cushioning of running shoes. Some people will find it more comfortable with a sprung shoe, while others will not.  Promoting openness among the employees and other contributing teams is also a way of increasing innovation. Ideas and knowledge should be shared among the team members. Teamwork is key to growth. Everyone in the company should feel responsible for innovation. They should feel involved and take the business ahead. The fewer management layers in the company, the more the people will feel their ideas matter.
Additionally, when recruiting new members into the team, they should majorly focus on creativity and imagination. Innovative minds aren't those with high qualifications; coming into a business model, one should be able to raise strategies that will achieve the ultimate goal, to increase revenue. They should also be able to reward innovative minds and celebrate their success themselves. Applying incentives can encourage employees to think creatively. (Clinton, 2019)Workshops and events can be held regularly to help brainstorm ideas. A supportive atmosphere should be created where people are free to express their opinions without the fear of criticism or being looked down upon.
Assigning employees new and exciting projects outside the workplace in the scope of their daily activities could help them think outside the box. Some employees will be afraid of failure, but they will come up with supportive ideas with encouragement. Staff meetings should be done frequently to share the research and intrapreneurial ideas. The personal interests and employees' passion should be at the forefront as they look into the current technologies.
Finally, Nike should be able to fund its innovation. It is a big organization and can fund itself; otherwise, other methods of funding include looking for external aids. Some businesses will always turn into banks for loans, and some will apply for government plans. The point here is that funding is crucial and mandatory for innovation to become a success.  The management should always be role models for their workplace, have a positive look at things, and embrace the good change. The future of a company is planned in the present days. A company should be motivated by its fast-moving competitors.