Introduction
New Media in the modern age is an emerging field that constitutes practical skills and intellectual power. Cinema, in the form of broader practice, focuses on the production process that encompasses art and communication. Through different approaches, the connection is used to elaborate expression in media. To evaluate the concept of new media, various literary articles are used. Mondloch, (2001) focused on culture of computer media, Kiwitt, (2012) worked on cinematic aspect of digital age in a form of production perspective, Herkman, (2012) mentioned convergence culture and impact of digital media on communication, and Knowles (2016) elaborated the digital media concept elated to temporal modalities and technology.
Annotations
Mondloch (2001) discussed the previous literary contribution to digital media and held that cognitive psychology is related to computer media. The new media objects are commonly related to technology, and different aspects like social, cultural, and economic considerations are based on the historical realizations. The new media language is simpler to understand based on computer obsession. It is further related to multiple art forms like photography and painting and the era from the 1970s to early 1980s is +linked to the traditional artistic aspects. The author has mentioned that digital media and its development are linked to reality because increased practical skills are integrated and creating illusionism.
The author discussed computer-generated imagery by focusing on the media. Through different observatory examples, such as Hollywood and Pentagon, set standards of media are practiced. Realism is presented in the study that is about moving objects related to cinema that provoke multiple aspects of digital media. The scope of new media is clear through various examples of the cinematic industry because it elaborates personal views, production experiment, and freedom that are much based on real experiences. It is concluded that new media is versatile, based on realism.
Kiwitt (2012) worked on the digital age of cinema and offered divergent definitions under a production perspective. The cinema studies under various academic disciplines are related to production. It is focused that decision making aspects are linked to the interests and language. Nature of cinema is comprehensive and provides a broad definition of convergence. The convergence is according to the design of academic programs and works based on professionalism. It is subjective and includes evidence of the entertainment industry. Due to the development of new media and cinematic scope, convergence emerges that is all about digital technology.
The approach about production perspective engages all the methods and narrative of production such as TV production, use of cameras, and targeted audience. The distinctive description in this form has various aspects related to visual rhythms. These visual rhythms are in the way of narrating, describe, and symbolize. The digital technology has a central role in the development of new media and its integration, and it is also expected as a more significant revolution. The targeting of the digital audience is linked to the various cinematic aspects like live-action, visual effects, and interactive gaming. The study has focused on the cinemascope, its significance, and methodological implementation of production practices.
Herkman (2012) described political communication and the realm of new media through the idea of convergence. This culture is based on political campaigning due to the concept of intermediality. These aspects are widely used in political communication under convergence concepts. The scope of digital media and its basis are linked with cinema production. New media is developing its forms and development through multiple aspects, underpins the cultural significance of visual elements. The artistic approach through digital media is symbolic, and it provides the basis of various programs.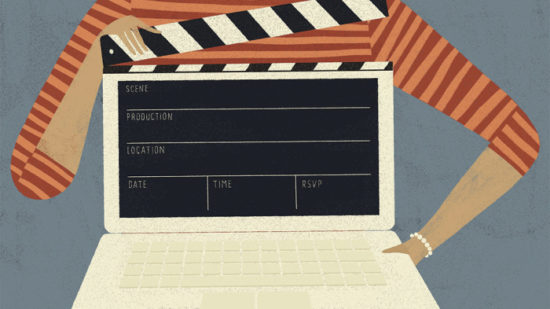 The author mentioned the scope of intermediality and its role in Finnish political communication campaigns. This concept is centrally based on the convergence culture and provides the full range of media channels. These campaigns are analyzed in the study from 2006-2008 with the help of visual perception. Through targeting voter and media generation, the convergence diffusion is analyzed under political performance. The authors analyzed that authoritative political performance is linked to journalists and politicians. Through the convergence culture, visual communication, and multiple artistic expressions, new media and its scope are integrated.  The interaction of digital media and its range is broad and undertakes evident realism.
Knowles (2016) elaborated the new media scope and its significance regarding digital technology. This concept is widely based on cinemascope and artistic communication. The impressive range through the twentieth century has undertaken the diversified idea of technology. The development of new media is attributable to technical differences in digital models and methods of production with the full modes of prediction, artistic practice experiments that also engages film specificities. Through digital forms, the scope of image-making and practice is increased, and it also has provided digital ease.
Today, the artist-run labs are increasingly common and also implementing a burgeoning culture of film practices. The experimental film language is related to political and aesthetic relevance as well as filmmaking shifts. The increased scope of cultural significance is recognized from the technical analysis. The full temporal modalities provide the influence of traditional techniques and offer to understand about traditional cultures. The cinematic elements, visual relation, and its comparison with the conventional media approach discuss the time-related impact and digital filmmaking. The study has implemented control regarding digital media and technology a signifier of the latest computer technology.
Conclusion
The digital media technology and development of cinemascope is established over time, and it is engaging visual and performing arts. Through the improved aspects of disciplinary categories, the technology is incorporated in various forms of media categories and functions of work. The technological approaches are modified with artistic practices, and the latest media techniques are also included. These studies have focused on the multiple features of media arts, cinematic influence, and intermediality.  It is also analyzed through the reviews that the development of media culture and skills is strongly linked with the technology and different aspects of visual arts and communication that can provide different scenarios regarding digital technology and animation.
References
Herkman, J. (2012). Convergence or intermediality? Finnish political communication in the New Media Age. Convergence: The International Journal Of Research Into New Media Technologies, 18(4), 369-384. doi: 10.1177/1354856512448727
Kiwitt, P. (2012). What Is Cinema in a Digital Age? Divergent Definitions from a Production Perspective. Journal Of Film And Video, 64(4), 3. doi: 10.5406/jfilmvideo.64.4.0003
Knowles, K. (2016). Slow, Methodical, and Mulled Over: Analog Film Practice in the Age of the Digital. Cinema Journal, 55(2), 146-151. doi: 10.1353/cj.2016.0005
Mondloch, K. (2001). Katie Mondloch. Review of "The Language of New Media" by Lev Manovich. Caa.Reviews, 2(10), 19-22. doi: 10.3202/caa.reviews.2001.10
Make sure you check our our Annotated Bibliography Help page. Also students working on case studies or might need academic help, might find our custom Case Studies Writing Services helpful.
Here you can check some of our essay services provided by our fantastic academic writers:
– Custom Essays
– Order Essay Services
– Essay Writing Help Online
– Write My Essay
– Essay Writers for Hire
– Academic Essay Writing
– Best Essay Writing Services
– Essay Writing Services UK
– English Essay Writing Services