Plagiarism is defined as the act of duplicating the material and points of view of another without their permission. The phrase refers to the act of displaying someone else's work without acknowledging the original creator. When it comes to plagiarism, there are severe repercussions in both the academic and internet worlds.
It is possible to identify duplicated material inside a paper or website with the use of plagiarism detection software. Authenticity checks may be carried out by students, instructors, researchers, and website owners to verify that the information is genuine. Passages in a text that have been copied from another source will be detected and identified by the software.
What Is a Plagiarism Checker and How Does It Work?
When a document or a part of a document is scanned for duplicate or copied material, a plagiarism checker tool is used.
The checker looks for additional instances of the same words, concepts, or quotations on the internet. In certain instances, a sensitive plagiarism checker may identify parallels in language and paraphrasing as well as similarities in content.
In order to detect plagiarism, plagiarism checkers compare your work to other pieces of material on the internet and search for direct quotations and similar language. You may also use this kind of software to determine whether or not your work has been plagiarized elsewhere since it will provide connections to websites where comparable material can be found.
Plagiarism does not occur when quotes are properly attributed; nevertheless, plagiarism detectors will identify it when identical words, paragraphs, phrases and titles are used in the same or different ways.
Common word pairings and usages are not considered plagiarism; thus, a detector that is so sensitive that it detects common word combinations would be of little value in practice.
A plagiarism checker or program compares your work with other documents and identifies the similarities between the two pieces of writing. This will enable you to verify that your quotations are correctly acknowledged and that you have not been unduly affected by a single source in your writing process.
If you get a positive result from a plagiarism checker, you should go back and fix the problematic section. Unless you thoroughly examine your work before submitting it, you run the risk of getting into trouble and receiving a failing mark. Taking the time to double-check is an essential aspect of the writing process.
The use of customer algorithms is used to create plagiarism detectors, which are accessible for purchase online from a number of vendors. I've run each plagiarism checker through its paces with identical text in order to give you a sense of how they operate.
Here is a list of the top free plagiarism detection tools.
Peachy Essay plagiarism checker
The top plagiarism checker in the United Kingdom uses cutting-edge technology to determine the originality of an essay, résumé, or even a website. The Peachy Essay plagiarism checker is a free application that makes use of algorithms to assist in the search for copied material in essays.
The advantage of using this program is that there is no word restriction on it. After your work has been scanned, you will get a report with your plagiarism score. Additionally, the program employs highly skilled and trained authors that are committed to providing beautiful client pleasure. You may rely on the plagiarism checking services provided by Peachy Essay for high-quality writing.
In the case of plagiarism checkers, this tool is adequate. Plagium is a useful free utility that does its job effectively. Inserting your text is simple, and the results of the stolen text search will appear below the search box in a short period of time. Unfortunately, this program can only scan a maximum of 1000 characters. It will be detrimental to your situation. There are two search boxes on this page. There are two search boxes: a quick search box and a deep search box. It is essential to have a comprehensive search box since it is not free, so keep that in mind. The fast search box, on the other hand, is the most appropriate. Give it a go.
Smallseotools Plagiarism Checker
This is a no-obligation trial. However, each search is limited to 1000 words. If there is a text box, you may simply copy it and paste it into the area that is given, and the result will be available to you in a short period of time as a percentage. If you are unable to put content here, you may share it through a URL or a file instead. It is completely free and does not need any registration or the input of any personal information.
This Quetex application is one of the most effective for checking for plagiarism for free. However, there is a minor drawback to this program in that the contents of a file or a URL cannot be pasted and scanned in this tool. In this plagiarism detector, you can only use plain text as input. However, this is a very accurate instrument that has been processed. Because this is a completely free tool, you may give it a go.
Plagiarism makes it simple to detect and capture material that has been duplicated. Only 2000 words are scanned by this program. With this application, you may get a free taste of plagiarism and look for similar phrases to your own. This program scans all uploaded files, URLs, and plain text for viruses and other malware. You may use this as a top free plagiarism checker to see how effective it is.
Plagscan is a free tool that is better suited for students than most other tools. However, anybody may make use of this program. In order to use this tool, you must first register and then try it for free for the first time as a trial. After that, you'll get 20 scans for free. This tool is similar to other tools in that it tests against a file or text. This tool allows you to utilize a maximum of 2000 words. Take a look at this one.
This is another another tool for checking for plagiarism. This application enables you to scan up to 10 pages for free each month, but only once each month. Additionally, you may check for plagiarism using a URL, a file, or text. However, you must first register for an account. It is advantageous to you since, if you have an account with this, it will store any documents you scan automatically before you scan them.
This application is also classified as a plagiarism checker, and you must check the option to include a plagiarism checker in the web page inspection process before it will function properly. However, this tool has a limited number of buttons to click, therefore it may take a little longer to complete than Duplichecker. After clicking on those things and choosing some of them, you will be able to access the report. Try it for free to see how it works.
Another advantage of this program is that it contains additional content-related automated features, such as spelling and grammar checks. It is simple to operate. Upload your material or copy and paste it into the text box provided by the site administrator. You will not be required to provide an email address or establish an account after that, and you will get the results of the check after a short wait. The maximum length of one search is 1000 words, however, this is not an issue. The theft detector is simple to use, smooth, and completely free. This tool is also the most appropriate for your needs.
You may check for plagiarism on this website both by uploading files and by typing in text. This checker will give you the most appropriate tester for your job. This checking tool is capable of detecting 10000 words and providing you with results in a short period of time. Additionally, it displays all of the results and immediately identifies any duplicates. Due to the presence of this checker, you should not be scared to publish your writing abilities.
Why Use A Plagiarism Checker?
Plagiarism checkers may examine your work and compare it to similar ones that have been published online. They are an excellent method of verifying that you have written an original article and that you have properly acknowledged sources or quotations.
As with spell-check software, consider a plagiarism checker to be an important component of the writing process that guarantees your document or paper is well-written.
Using plagiarism checkers to cross-check text for copied content may save time and effort (this may include quoted material, paraphrased material, similarities in wording, etc.). When using this important writing tool, you may be confident that the content is original and properly-referenced.
These tools, both commercial and free, may assist you in polishing your work. An academic paper or essay that has to be submitted for an important deadline may benefit from the use of a plagiarism detector in a university environment.
Benefits of Using Plagiarism Detection Software
Here are the benefits of using plagiarism checkers.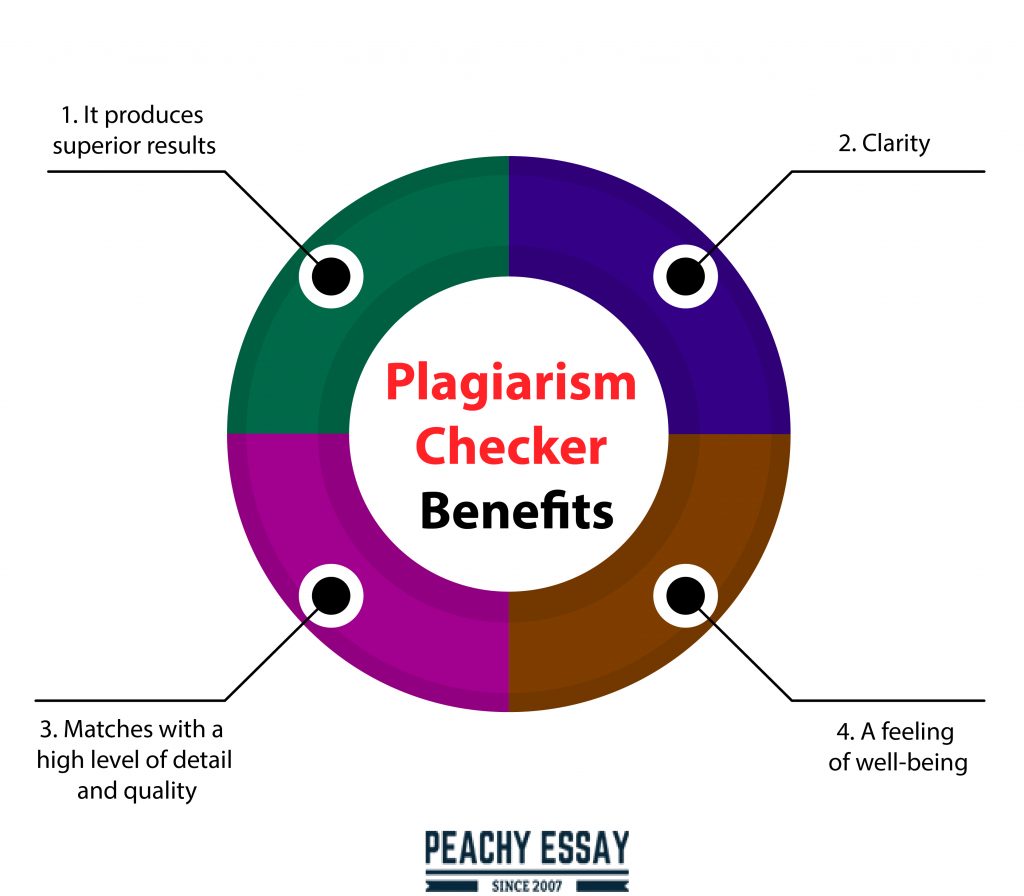 It Produces Superior Results
If you want to know when a certain store is open, Google is your best bet. However, if you want to examine your work for plagiarism, Google may be a hit or miss proposition.
Google might inform you that your own work is perfectly acceptable, which would be troublesome (when there are incorrectly cited quotes or other issues). Your work may be submitted with flaws, resulting in a poor mark or perhaps a review by an academic institution.
If Google makes a mistake, you may wind up making needless modifications to the document or content, which would be detrimental. This also adds time to the procedure, and it may have an effect on your final grade. Using a plagiarism detection program like Turnitin from the beginning avoids these dangers.
Clarity
Even if a search engine such as Google is able to locate a phrase or section of your document online, it is not always obvious where that section or phrase may be found. Google may provide a page of results, but it may not provide you with the information you need as part of an effective plagiarism checking tool. For online publishers, it is doubtful that it will be useful as a duplicate content detector.
Matches with a high level of detail and quality
When you run a free plagiarism checker on a piece of material, you will get a comprehensive report of the matches that were discovered, as well as a percentage of the document that was determined to have duplicate content.
This is beneficial since even a paper that contains quotations that are correctly referenced may get a lower mark if there are an excessive number of them. If quotations and other correctly referenced phrases constitute an excessive proportion of your work, it may have a negative effect on your grade.
A feeling of well-being
When writing an article, a freelance writer, for example, is likely to examine a number of different sources for information. On sometimes, this may result in an inadvertent failure to provide a link or reference. It is possible that they may be accused of accidental plagiarism as a consequence of this.
After utilizing a plagiarism detection program, you may submit your work with confidence, knowing that it is devoid of duplicate material and correctly referenced. This measure may reduce danger, enhance the quality of your job, and safeguard your reputation.
Writing Skills that are improved
While working on material for a client or magazine, putting your completed article through a plagiarism checker may help you identify quotations that need citations.
Running a quotation through a checker may also assist you in locating and authenticating the source of the statement.
One of the worst things you can do as a writer is submits work that contains plagiarized material, even if it was done by mistake. If an editor discovers that you have stolen material, he or she will most likely reject the article and refuse to deal with you again.