What is a Close Reading Essay? 
When you are conducting the essay writing process, you will be usually required to start with a close reading of a text. As you write your essay, you will also be allowed to incorporate your personal experience and all the essays that you will create will be based on your personal observations and knowledge. In most cases, especially when you are writing essays for academic purposes, you will need to kick off with a close reading of some form of the written text in the form of an event, a movie, a painting, or any other text related to your topic of study.
When you conduct a close reading of a text, you are exposed to the facts and details that were employed in the writing of the text. In most cases, you will be required to pay close attention to a particular passage, or the entire text. The aim of this step in the essay writing process will be to recognize and get familiar with all the striking features of the text that may include structural elements, rhetorical features, and cultural orientations. You may also need to get familiar with the selected features of the given materials for example correspondences, oppositions, and historical mentions. No matter what you need to read, the observations make up the first step in the process of close reading.
Close Reading Definition
By definition, close reading alludes to the thoughtful and critical analysis of written material that mainly revolves around the significant details or patterns employed in creating that text in a bid to develop a deep and precise understanding of the text. The major elements that one needs to understand in this process include the meaning, the form, and the craft of the text. This is a skill that helps the learners to understand the purpose of the text and get familiar with the language and the features that were employed by the author. This, in turn, helps the students to think in a thoughtful and methodological way regarding the details in the text and think of the major reasons that propelled the author to use them in the particular work.
Once you have read your text, the next part in good close reading practice involves carrying out an interpretation of all the observations that you have made. What this means is that you have to conduct inductive reasoning. This is an important step in the close reading activities in which you will need to move from the observation phase of the given facts and details to the conclusion. Here, you will need to carry out a detailed interpretation of your text based on all the observations that you made. Close reading as a process needs you to carefully gather all your data and carefully think of the different ways that the data adds up to support your topic. Close reading exercises are very important and it is important for you to clearly understand all the steps and the part that they play in coming up with a good close reading essay.
Steps for Writing a Close Reading 
In case you are wondering how to write a close reading essay and you have never interacted with this kind of paper before, then you are in the right place. Writing a close reading essay while holding the best practices is very important. This is usually done by taking the step-by-step approach that contains a number of steps that are discussed below.
Select or pick out the text/passage
In the case where the text or poem has not been assigned to you, then you will be charged with selecting a text or specific close reading passages. In this process, you will need to limit the selection that you make to at least a paragraph or two. In some situations, you can limit it to only a few lines especially in instances when you are dealing with a poem. You can see the best way to set the limits through exploring some of the close reading poetry PDFs offered by Peachy Essay to our esteemed customers. In the case of the poems, you will realize that the sentence or two will be sufficient and the reasons are best explained in the guide. Literature is very dense and complex especially when you are dealing with poems. From just a few words that you use, you can gain a whole bunch of information that you will find extremely useful. When you decide to set your limit to a longer selection, you can easily be overwhelmed by the information. Always be on the lookout for the elements of language employed by the author such as themes that are repetitive, images, and language flow. You should also be keen to take note of the passages that are closely related to the main players or the definitions of keywords. You can pay attention to a single section and the different ways through which it assists you to comprehend the role of a relationship, idea, issue, or character.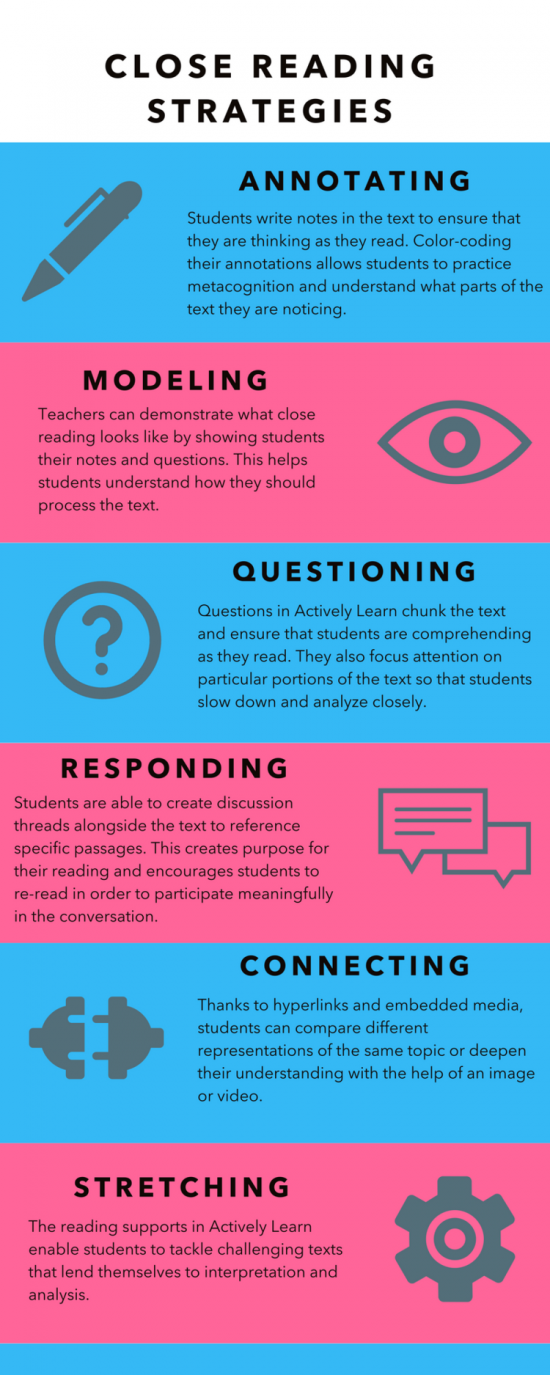 Once you have done this, you should follow the following steps:
Thoroughly and critically read the passage
Ensure that you jot down the important points as you read through the selected text. Ensure that you highlight all the things that seem interesting and reliable to you. In cases where you do not clearly understand what the author was trying to express, try, and get the inner meaning through research. Some of these close reading steps are extremely important for your understanding of any literary text. Explore some of the close reading questions that may go through your mind as you read the text. For example, ask how the author made use of language and the arguments that he/she was trying to make. Ensure that you record all your observations and findings even when this does not seem like a necessary step. Ensure that you are keen to identify any variance in the use of language as the text moves towards the conclusion. Once you are done reading through the entire text, you can look carefully for some of the repeated themes, words, and patterns.
Carry out a critical analysis of the passage
In good close reading practice, the next step would be to cleverly analyze the text in the passage. In this step, the best approach would be to start by answering some of the close reading questions that arise while concentrating on the different kinds of rhetorical and literary devices that you discover in the passage. As you do this, ensure to look out for words that do not seem familiar to you. Always keep in mind that the traditional writers and the modern writers used different words depending on their time in history. Ensure that you look up any of the words that were used in an unfamiliar way in order to understand their meaning. If the language seems too strange or difficult, you can always consult Peachy Essay experts who will help you understand your text in the best way possible. Always remember that words can be used in a variety of ways and you should be keen when conducting any form of close reading activities literary analysis. Ensure that you clearly understand the different use of the words during this step to make sure that the text does not confuse you. Also, make sure to understand any existing connections between words used in the passage since this may have a different meaning that makes more sense when you understand it. Also take note of the tone of voice used by the author, the tone, and the rhetorical and literary devices that were employed. When you take these steps and ensure that you look at some close reading analysis examples, as well as examples of close textual analysis you will be in a better position to come up with better essays from your given passage.
Come up with a suitable descriptive thesis
Once you have all the elements of the language in detail, you can come up with a suitable descriptive thesis based on all the observations that you made. In case you find these steps challenging as most students do, always remember to consult the professional services of an expert from Peachy Essay. In case you work on this part on your own, always use a thesis that summarizes the observations that you made about language use in the passage that you read. For example, you can make the argument that the passage is using repetitive words or short simple sentences or a combination of other things. This will guide you as you come up with your close reading essay despite the fact that the descriptive thesis on close reading only acts as a step towards arriving at an analytical analysis and is not considered as the final thesis statement.
Come up with a suitable argument about the passage
Once you have clearly understood how language was employed by the author of the passage, you will need to link this to the larger subjects of your text. You will need to show the different ways why the language was employed in the different ways that you took note of. This close reading step is imperative to be successful. It just won't give you desirable results when you simply make observations about language use. You need to make the observations and be in a position to use them in the construction of an argument about the given passage. In this step, you should also be able to convert your descriptive thesis into a suitable argument by questioning and pondering about the different ways that language was employed.
Come up with a suitable outline from your thesis on close reading
Once you have come up with a suitable hypothesis, you will need to come up with a write-up that supports your argument with examples and analysis. This will be the last step as you write this kind of essay and you should ensure that you follow the best guidelines as you conduct the writing of the outline. Remember the different ways that language and symbols were employed in the text to describe a given thing or occurrence in various ways. Ensure that you can prove your argument by organizing your essay in a way that shows examples and interprets your description. You must also ensure to include an analysis of the ways that your description differs from other elements in your text and explain to your audience why the difference is important in the understanding of the passage. This may seem like a challenging task but it would be harder to write your close reading essay without this outline. In case you are unable to take this step on your own, you can always consult our team of experts that are well versed in outline creation. You can also look at some of our English literature close reading examples, college info geek research papers, and close reading examples high school to view the different types of outlines that can be used as you write these kinds of essays.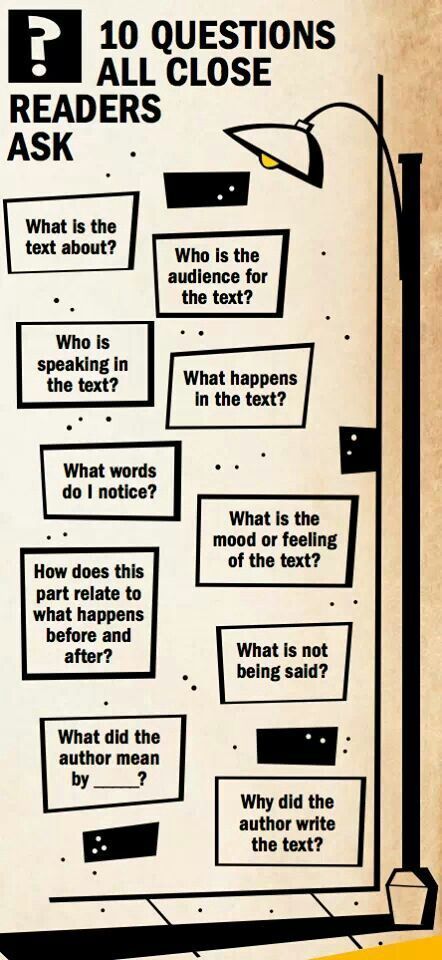 Close Reading a Literary Passage
For a person that has not conducted this kind of work before, it may seem difficult to effectively understand a literary passage. In order to do this kind of reading effectively, you will be needed to first pick out a specific passage and analyze it to the final detail. The next step will involve commenting on the points and styles as well as your particular reactions as a reader. Since it is one of the most important steps of greater analysis, close reading is considered as very imperative. From making your own observations, you will also be able to understand the truth that the author was trying to express through the use of the text in the passage. Whether it is close to reading-English and Related Literature, or understanding close reading symbols, you will need to make use of excellent close reading strategies to help you dig into a text. If you are a master of scrutiny and observation, you will be able to come up with more original and exact ideas as you carry out the exercise.
When you start the process, you will need to ask yourself some questions about the passage that you read. This will always act as the starting point for your thoughts and you do not need to use any specific formula in this step. Once you have your questions in mind, you will read the text and try and answer those questions. The answers that you arrive will help you organize and write your essay. You should always ensure to use the best organizing practices as you have always done as you write other essays, for example, starting your work with a close reading introduction.  The close analysis essay structure is considered very important since it allows your audience to easily follow and understand your work. You can find the different structures that you can use for these kinds of essays from close reading writing centers or from goo places such as the University of York English writing resources. You can also consult our team of experts at Peachy Essay for the most comprehensive services and guidelines when it comes to these forms of write-ups. We are able to help you at all levels of study including close reading KS2, close reading higher English, and Cambridge close reading. As the best service provider on the face of the globe when it comes to close reading services, we always endeavor to reach out to the highest number of students and help propel them to excellence. We offer the most affordable rates and offer the most comprehensive services to students all over the world.
Benefits of Close Reading
Many people always ask, why close reading? In a real sense, close reading looks like a tiresome and time-consuming activity that many students would want to avoid. The benefits of close reading, however, seem to outdo the costs. When you conduct a close reading of any text, you are in a better position to clearly understand that text and decipher the underlying message effectively.
This is a type of reading that will allow you to read text that is not easily understandable and will, in turn, teach you how to understand complex material. When you are able to read and understand text that is seemingly challenging and unfamiliar, you open up your mind to understand and interpret new things. If you do not have the capacity to read such text and analyze it, you limit your brain which is not a good thing. Close reading allows you as a student to read and understand out of your comfort zone which in turn helps you to grow mentally.
This type of reading highly develops your sense of language. You will be able to understand some of the elements that authors employ in their work to make it more interesting to the audience and hence develop your writing skills. Some of the elements include syntax, rhythm, and structure that is applicable across texts. You will also be able to observe the different ways that different writers are able to deliver messages in different ways. Close reading exposes you to and forces you to get into the slightest details in the text and therefore forces you to be keener as you read. If you develop some of these capacities, it will greatly help you as you pursue tour education.
Close reading also helps to defend against point readings, interpretations, and discussions that are not well-thought-out. When you conduct this form of reading, you gain a comprehensive understanding of the text which also enables you to develop all your arguments from and detailed and well-informed point of view. You will be able to understand the specific language and tone that is used which will give you a comprehensive understanding even from the most difficult reading texts.
Some important materials 
It is always important to make use of the best close reading strategies to help you dig into a text. At times, it is never easy to work with or understand some of the techniques or words used in this kind of work. For example, close reading prose is difficult unless you use some markings or close reading symbols in your work. Since you essentially need to group your thoughts and organize your observations well in order to easily refer back to them when writing your essay. In this way, it is important to refer to some materials in this kind of work, for example, close reading PDF, Close reading poetry PDF, poetry close reading worksheets, close reading graphic organizer PDFs, and examples of English literature essay university samples. When you expose yourself to such materials, you are able to see the best practices when it comes to this kind of work and you are also able to place yourself in a better position to write these kinds of essays. It is always important to explore any form of relevant materials when you are interacting with new forms of write-ups and such materials will always provide you with all the necessary information that you may need to excel.
In case you find it difficult to conduct this form of write-ups or you do not have access to materials that you can use to score good grades in this field, you should consider getting close reading essay writing help from Peachy Essay. With years of experience in the field and by employing the most competitive essayist, we have continuously helped students to achieve their dreams. We will assist you through the whole process in the timeliest mannerism and help you to acquire all the relevant skills when it comes to this kind of work. We are dedicated to helping you succeed and you can always rely on us for the best service delivery.