Academic essays usually follow an established structure that enables them to express their ideas straightforwardly and clarifies their argument for the reader. The content of an essay guides its structure so that each essay will pose unique structural challenges. You can craft and structure your essay better if you know the most effective ways to do it, and you can make sure your ideas are delivered.
Having an outline will allow you to develop a cohesive argument that focuses more on the writing process itself once you put your plan into action.
The Role of Essay Planning
If your essay lacks structure, make sure you plan out your strategies beforehand to work out the order of your arguments. Knowing which parts are important will boost your chances for success.
A plan can also help you keep track of what you'll be discussing, which is crucial for your essay to be enjoyable. There is nothing worse than getting halfway into an essay and realizing nothing more to say. By planning your essay, you will reduce your stress while also aiding structure.
Feeling comfortable and connected in an exam will help you write faster because you will know what you're writing, so there's no need to worry about the 5 minutes you spent beforehand.
It is essential to plan your essay before writing your first sentence in an examination.
There are three important reasons to plan an essay: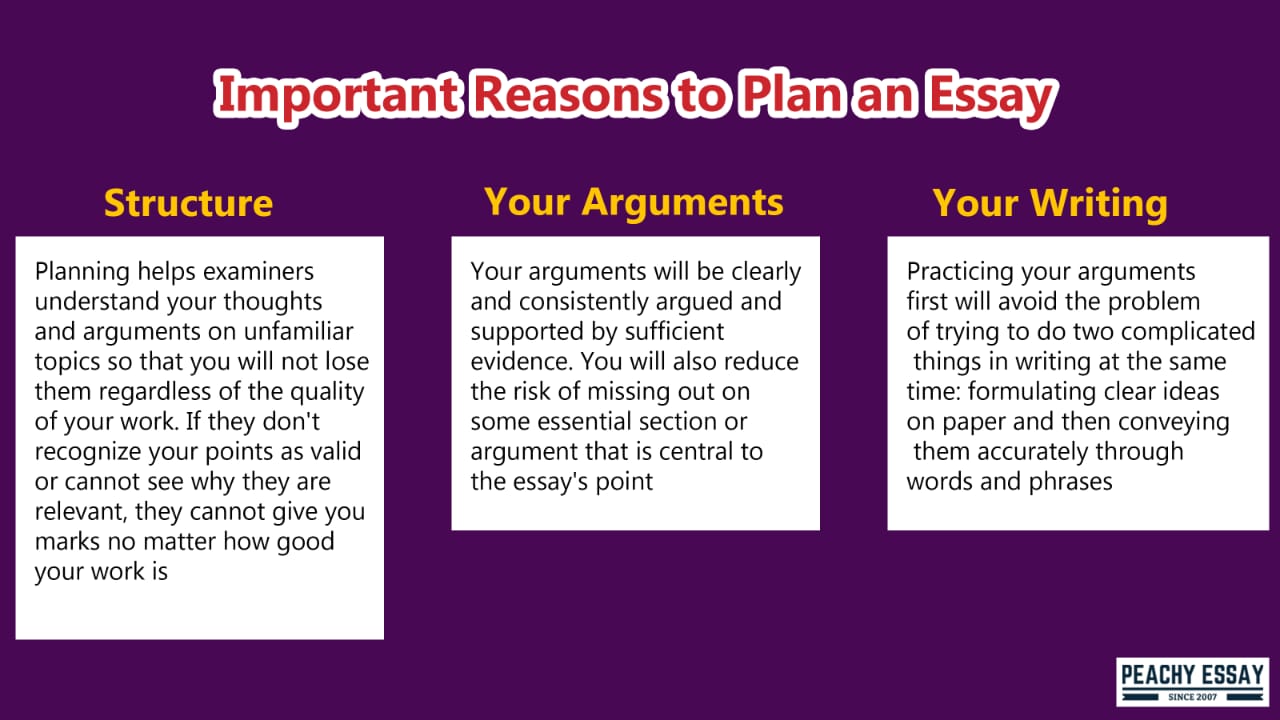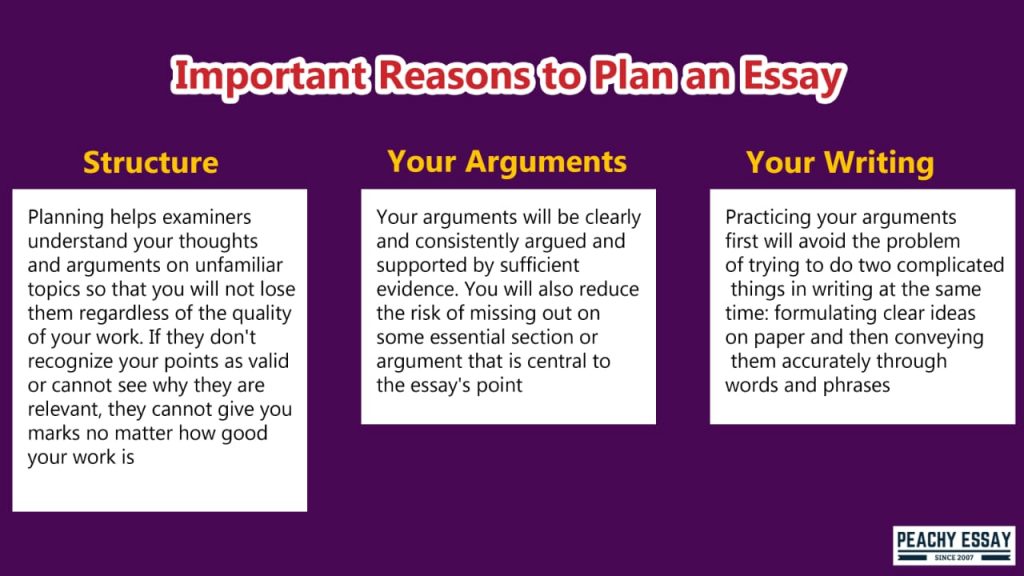 An Essay Outline
An essay outline is a blueprint for your paper, which provides a way of structuring it, and it helps with organizing the points into body paragraphs so that the whole paper would be easier to write.
During the drafting process, you develop your essay's main idea and structure every argument into paragraphs, making sure you don't miss anything important.
You may indeed write an essay without outlining it, but it will probably be difficult. Outlining is an essential skill in the writing process, and every author must do it to impress readers.
Here's why you need an essay outline:
The organizational tool will assist in getting things straight: when you research an essay, you'll receive a lot of information that's hard for you to remember.
With this knowledge, you'll be able to structure the information according to its flow.
By having a manuscript, you'll never fail to write your essay as you'll have everything at your disposal.
How to Write an Essay Outline
Most college essays follow a standard five-paragraph format. Each essay has an Introduction, a Body (involving arguments), and a Conclusion, so a general outline format entails all these parts.
In outlining your essay, keep these details in mind to not to miss any arguments, evidence, and examples while writing.
Here are the key parts of an essay outline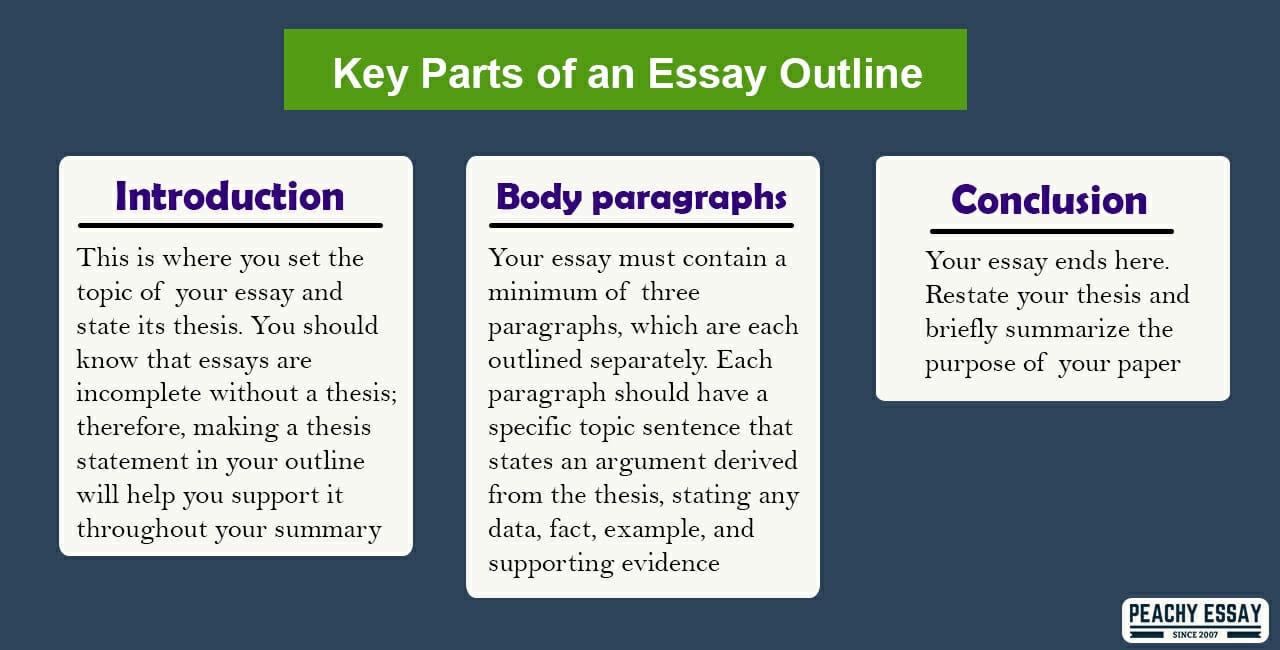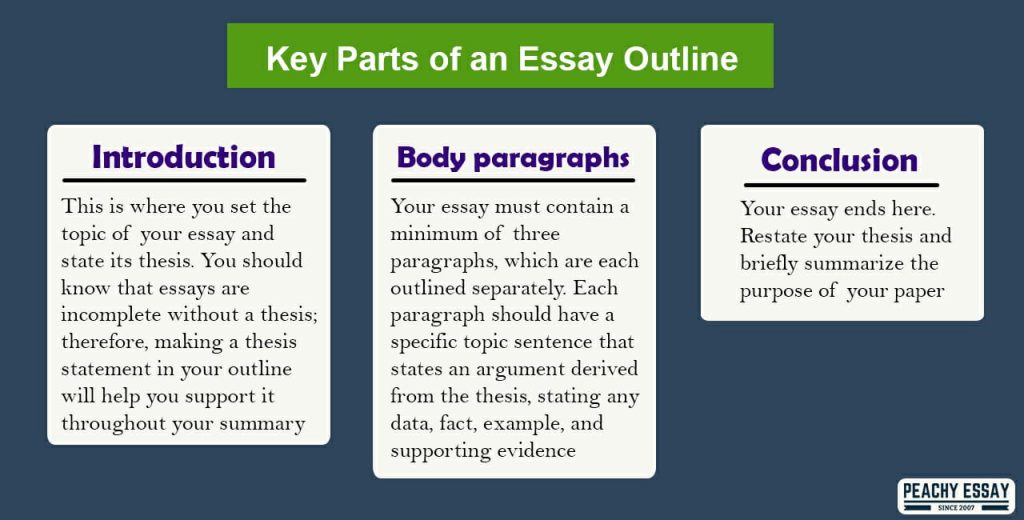 Outline Format
Students generally format their essay outlines in the linear style. This means they prioritize their arguments from major to minor ones.
You don't need to include the complete sentence in your outline. It's only an outline, so feel free to use what you feel most comfortable with. Just make sure it's clear, and you can see if some sections are repeated or redundant.
Even if you know a certain essay topic well, it doesn't mean others do. So prepare your arguments and present them as logically as possible, as if they're new to your topic.
Steps for Writing an Essay Plan
If you've ever started an essay only to realize you're out of ideas and get discouraged, you might hate the essay! To avoid this, you need to write an essay plan.
Here are the steps on how to write an essay plan.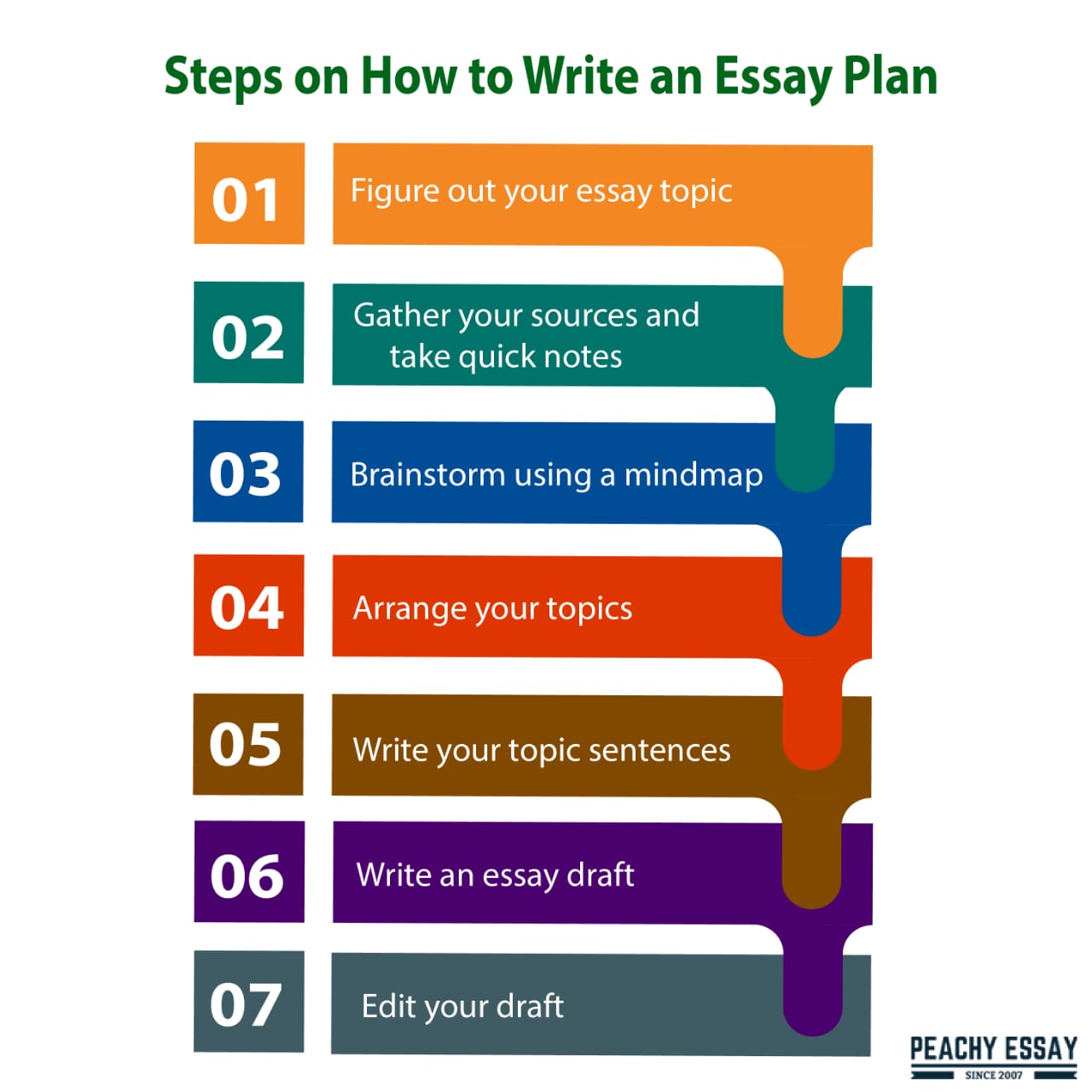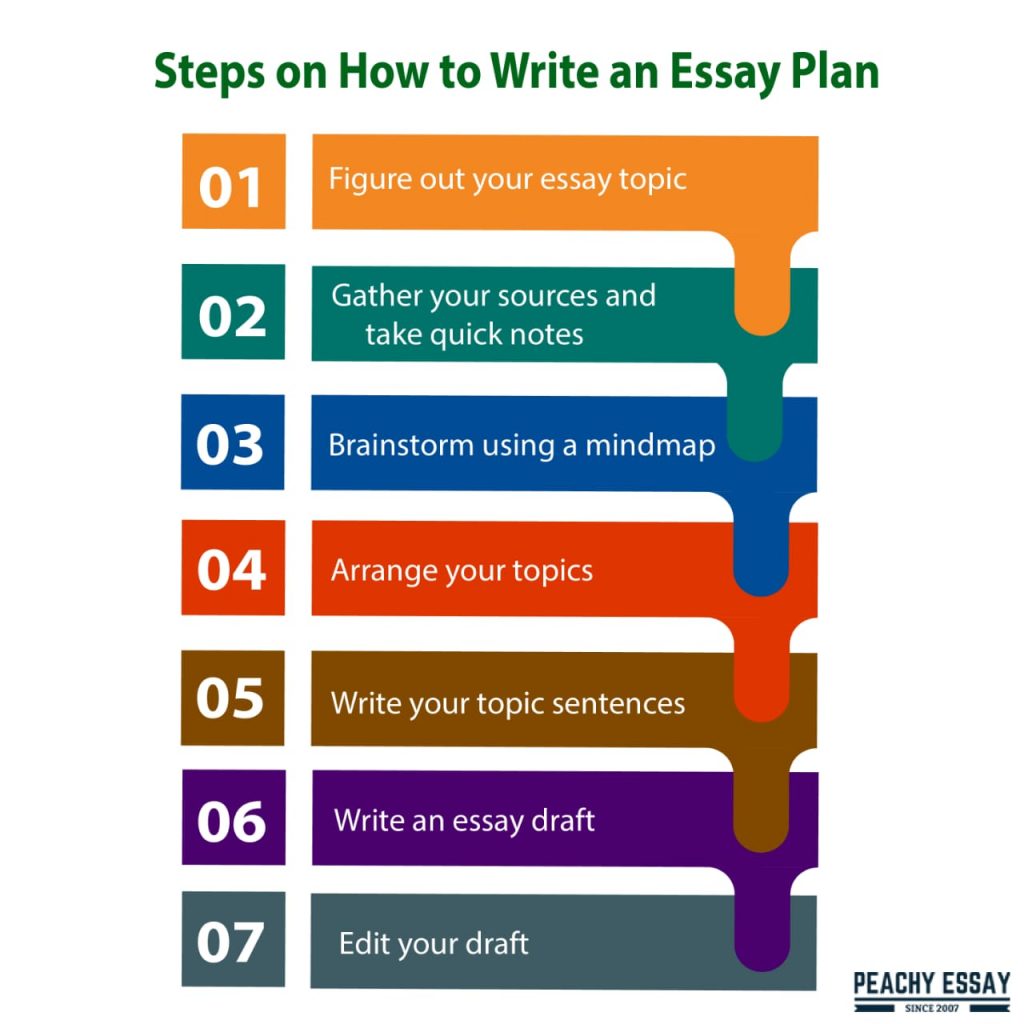 Figure out your essay topic
A lot of students write essays that don't answer the question provided to them by their teachers. So make sure to print out your essay question and any other instructions or guidelines provided by your teacher.
Here are some things that your assessment details page might include:
The essay question;
The scoring criteria;
Suggestions for reading;
Information about the topic
The essay question is fundamental. Once you print it and read it, please do the following:
Identify the essay question's key phrases and highlight them
For example:
Essay question: Which are the best strategies for reducing poverty in developing nations?
Key phrases: Poverty, Developing Nations, Strategies
Utilizing this technique lets you narrow in on exactly what you wish to discuss.
Gather your sources and take quick notes
If you know what your focus is, you can start finding some information to write about. Don't just write something from your head; you want something deep, specific, and true.
A top source for finding information is the resources that your teacher has assigned. Your teacher selects these resources because they believe these are the best sources out there for the topic.
Presentation slides;
Reading Assignments
The lecture slides are one of the best resources for you to access. They are usually posted online for you, so download them, save them on your computer, and use them when it is time to write the essay plan.
It would be best if you focused on the lecture slides that are most relevant to your topic. Using our climate change essay example, perhaps we discussed climate change only three weeks in our course. Those are the slides you need to consider.
Quickly glance through those lecture slides, and jot down the most important statistics and topics for your essay.
Next, read the assigned readings. Some of the course readings may have been assigned by your instructor as homework. They may consist of eBooks, textbooks, or journal articles.
You must read the readings you've been assigned because they have essential information to discover! Review how the readings are organized and see if there's anything else you can add to your list of statistics and key ideas to discuss.
Use Google Scholar to find more sources to support your argument. This is a great tool for finding rich details and ideas about your topic to go along with your essay.
Brainstorm using a mindmap
Is your initial work a little disorganized? That is okay. The goal of Step 2 was to gather information. Now it is time to sort these ideas in your mind.
A mind map is the most straightforward way to organize your thoughts. Write the essay question and circle it in the middle of the page. Then, select the biggest and most important thoughts that are worth discussing in the essay.
When you've picked your key points, you can list them in a circle around the question.
Arrange your topics
The best way to decide which topics to write first, second, third, fourth, and last is to begin and end with your strongest points and make sure the points flow logically.
Write your topic sentences
An effective essay begins with a clear topic sentence. To turn the list of brainstormed points into a cohesive essay, take each item, turn it into a topic sentence and arrange them in a paragraph.
In each paragraph, it is important to state the topic of the paragraph clearly. Your marker wants to know what the paragraph is about instantly. You don't want to leave them guessing until the 3rd, 4th, or even 5th line of the paragraph.
Write an essay draft
As you write your first draft, don't overload yourself with expectations. Remind yourself that you are just giving yourself a test run to create a great essay. It does not have to be perfect right away. It's just important that you get some words on paper.
You can write the draft by making a few additions to each topic sentence to create full paragraphs. Refer to the information you wrote down in your notes and Mind-Map to get some great details down on paper.
When you have all your paragraphs written, remember to write your introduction and conclusion.
 Edit your draft
After a three-hour essay-drafting session, hopefully, you've got all the words down on paper.
Best students tend to write early, so they have plenty of time to reread their drafts and edit them as necessary.
The following are some things to look out for when editing your draft:
Feel free to make any changes to the sentence and paragraph structure until it makes sense. Things might sound good the first time, but not the second time. That's why we edit several times over the course of several weeks.
Make sure that spelling, punctuation, and grammar are correct;
Please print out your draft and read it on paper. This way, you'll be able to find more errors;
If you can add more details and academic sources from online sources like Google Scholar to your paper, you will have a greater chance of receiving a high grade.
Essay structure
Although essay writing is daunting for many, it isn't that difficult if you know how to go about it. Here's what you need to do.
Introduction
You will need to present two elements in the introduction section: introduce your topic and provide your thesis statement. These elements can typically be covered in one paragraph for a short paper but could be more if the paper is longer.
Your paper should begin with an introduction. The introductory paragraph(s) should briefly orient the reader to your topic and provide a conceptual map of the paper as a whole.
Second, state a thesis statement.
Ensure that your thesis statement is clear, specific, compelling, and on-topic. It should be provided in one to two sentences for a fairly short paper (one to eight pages). Your thesis statement should be placed at the end of the introduction section (the end of the first paragraph if the introduction section is a single paragraph in length).
 Body
In the body section of your paper, you should provide reasons, evidence, arguments, justification, etc., to support your thesis. Therefore, you have something you want to write about or argue for, and this is your chance to make your point clear and defend it.
Topic sentences and transition sentences are important parts of each body paragraph since each paragraph's sentences must contain a particular point. The topic sentence is the point you want to make in each paragraph. It can also be the first sentence or the second sentence.
Generally, a transition sentence is a sentence that leads from one part of the sentence to the next one smoothly so that the new paragraph builds on the previous one in some way.
To tie all your points together, make sure they clearly state how they support the thesis statement. That way, everyone can tell that they are all connected. Note that your first sentence may satisfy both objectives.
You may choose to have a topic sentence that also transitions well. Another option is to have a transition sentence followed by the topic sentence.
Summary
A summary (sometimes referred to as a conclusion) is a short restatement of what has been discussed throughout the essay. You might rephrase the thesis statement at the beginning of this paragraph and summarize what has been written to convey support for the thesis statement. Short papers should have just one paragraph in the summary section, and longer papers may have longer summary sections.
It's important to make sure these titles are in your paper's headings to organize and break things up for readers. However, if your instructor isn't into headings, you can remove them before turning in the paper. For long papers, you can also use additional headings (such as "First Argument," "Second Argument," and so forth) to break up the body section.