Stress is a common thing for college students. Apparently, it may result from different factors such as the pressure to excel well in academics, the desire to want to fit in or feel accepted by your colleagues, peer pressure, or even the difficulty in having to balance between your academic and social life. As a student, do you often find yourself stressing over your final examinations or struggling to submit your assignments within the set deadline? Do you have so many expectations about yourself but still get discouraged every time you receive grades that you were not expecting? Have you ever spent the entire night cramming because you did not spare sufficient time to revise for your examinations? If you have ever found yourself in any of the above situations, one of the things you must never forget is that you are not alone. Stress is part and parcel of academic life. At times, stress can be good since it may motivate a person to concentrate on their studies and hence, avoid failing a particular paper. However, when stress levels reach a particular limit or extend up to a certain duration, they become a health risk. Therefore, you must develop ways of managing your stress lest you may encounter diverse difficulties attaining optimum academic performance. This paper will discuss some effective ways students can use to manage their stress levels.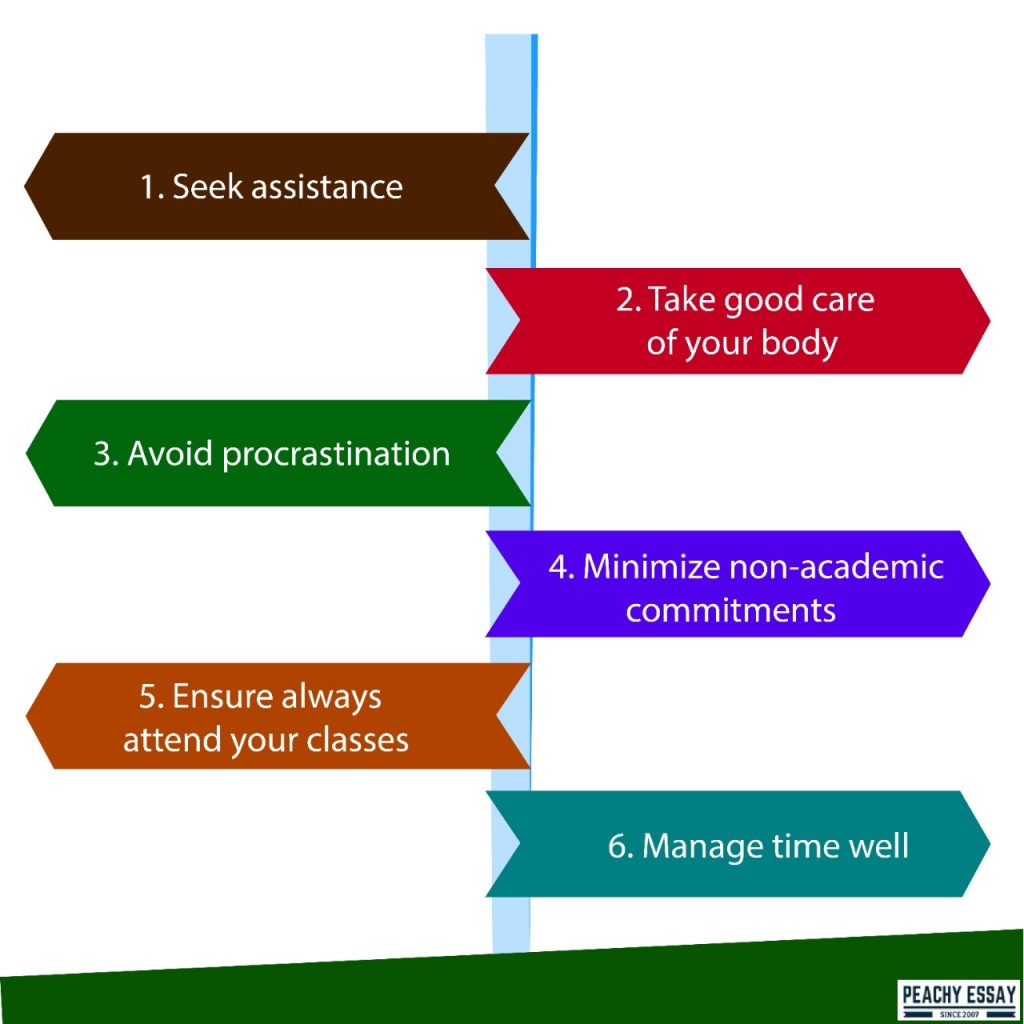 Seek assistance
Most learners are reluctant to seek assistance when they encounter difficult situations. As a result, they suffer silently, whereas their issues would have been resolved if only they sought help. When you find yourself stressed over a particular problem that seems impossible, you may consider talking to your colleagues or the teachers. The moment you are assisted; you should proceed to the next problem. It would be best if you did not waste too much time focusing on a particular problem regardless of how significant it may be. This is because they will slow you from concentrating on other vital things. If you are struggling to format your dissertation papers correctly, you can use helpful resources, it is likely that you will overcome your challenges and also reduce your stress levels.
Organize the rest of your college life and take good care of your body
A student can become caught up with various college activities that they forget to look after their health. Researchers believe that taking care of your health could aid in reducing your stress levels. Therefore, always remember to take good care of your health by eating balanced diet food, having an adequate amount of sleep, and exercising frequently. Also, you should avoid missing your meals. The next time you want to cope with academic stress, you may consider taking care of your physical body. As a college student, it is very important to become and remain organized. Create a good and applicable plan that allows you to tackle the most important activities each day. This way, you will never have to stress yourself trying to get things done.
Avoid procrastination
One of the things that make students stressed is failing to complete their assignments within the set deadlines. It is essential for the learners always to remember that they will have difficulty attaining their optimum academic performance if they keep postponing the activities that are in their schedules.  Apparently, most students wait until it is too late for them to start working on their assignments. Therefore, in an attempt to complete their assignments within the short time left, they prefer copying and pasting information from the internet without giving credit to the authors. The majority of the tutors have a way of identifying information that has been plagiarised without going through the entire paper. As a student, you must always learn to avoid getting caught up with incidents of plagiarism. This is because it has numerous devastating impacts, which might negatively affect the entire student`s life. In some cases, it may make a student lose their scholarship, while in other cases, the student might become expelled from the learning institution. Avoiding procrastination will assist you to evade being caught up with the last-minute rush.  On the same note, one of the benefits of completing your assignments early, is that you will have ample time to go through your paper and ensure that you have addressed all the lecturer`s requirements.
Minimize your non-academic commitments
As mentioned above, there are many interesting activities in college. If a student is not careful, they may easily lose their focus on their studies. While in college, your primary objective should be scoring excellent grades and graduating with first-class honour. Unfortunately, if you do not succeed in your academics, there are high chances that you might be expelled or have to redo the same class. In simple terms, you should learn to prioritize your commitments and manage your stress levels effectively. If you have difficulties undertaking any activity, you might consider seeking assistance from the right people and places.
Ensure you always attend your classes
You might have thought that it is not a must to attend your classes since there is a pdf file containing all the information regarding a particular concept. Evidence shows that most learners have difficulty understanding various concepts because they were not present in class when it was taught for the first time. Students who attend their classes have a lot to gain as compared to those who do not. The most important thing is that if your lecturer sees that you were in class but still have difficulties understanding a specific concept, they will be more than willing to coach you until you comprehend that particular topic.
Manage your time well
You must have heard countless times the essential role of utilizing your time well. Many students enter college with the wrong assumption that life in higher learning institutions is filled with numerous exciting activities and that the examinations are less difficult to excel in. As a result of the wrong mentality, these students do not dedicate adequate time to their studies. They often realize when it is too late that they did not use their time on productive activities. If you want to excel in your studies, you must learn how to manage your time. Otherwise, you may encounter diverse difficulties completing your assignments and studying for your examinations.
There is no doubt that stress is part and parcel of college life. Apparently, it might result from different things, such as the difficulty of balancing social and academic life, the pressure to succeed in academics, examination preparations, as well as the desire to fit in a particular group. At times, stress can be good because it assists us in focusing on important things in life and avoiding wasting our time on unproductive activities. If you want to survive in college, you must learn how to manage your stress. This is because although stress cannot be avoided, it can be managed.