As a student, writing a biography essay is one of the requirements you have to fulfill to complete your academic program. However, some students, especially those who lack adequate time and writing skills, find it hard to craft papers that meet the expectations of their schools.
In this guide, you will get in-depth information regarding how to craft a biography essay. Let us proceed!
What is a Biography Essay?
A biography essay refers to an article where you narrate a story about someone's life. The person you write about could be a politician, an artist, a musician, or an inventor. If you want to compose a great biography, you must select an interesting topic that has some impact on society.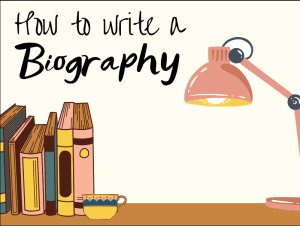 How to Start A biography Essay?
Crafting a biography can be difficult if you don't know where to start. If you are facing such a challenge, don't worry; the following steps will help you a lot.
 Choose the right and an appealing subject about someone's life. After selecting the topic, write down notes about the individual's life.
Conduct thorough research about the person to gather adequate information.
Conclude regarding the individual's traits and their contributions to society. Finally, with the information you have gathered, you can now write a biography essay regarding the person.
Examples of Biography Essay
If you want to become an excellent writer, you must first acquire the right writing skills. Also, you have to review various online essay samples to familiarize yourself with different personalities. To acquaint yourself with these samples, you may visit professional writing websites, such as Peachy Essay.
The following is an example of a biography essay.
A Biography of Gabriela Emma – a Personal Trainer
Gabriela Emma has been a personal trainer in New York City for the past ten years, and her exercise routines have yielded excellent results. Her clients include people from different walks of life, such as lawyers, bankers, business people, musicians, politicians, teachers, and many more.
Because she deals with a diverse clientele, she has adopted unique workout programs that are tailored for specific customers. For instance, she mostly applies aerobic exercises for those customers who are either overweight or obese. However, she uses body toning, stretches, and strength exercises for those clients who either want to build muscles or maintain their fitness status.
Gabriela is a famous gym instructor, and because of her experience, she has managed to appear in prominent fitness publications in the US and around the world. Her unique fitness approach has been an inspiration to many upcoming trainers, who have been learning her styles through various channels, such as YouTube.
Gabriela was born in Florida in 1985 and earned her BS in sports science from New York State University in 2010. After her graduation, she developed an interest and embraced modeling as a career. Due to that, she worked for top designers and appeared in magazines and billboards in the US, Europe, and Africa.
In order to maintain her modeling and fitness status, Gabriela embraced fitness and started working out in the nearby gyms. Later on, she got married, and she is currently a mother of two sons. Like anyone else, sometimes, she finds it challenging to balance between career and family issues, but she has to do it anyway.
With her 10+ years of experience, she has made a positive impact on many people's fitness lives. Outside the gym environment, she is a writer and a consultant for fitness products and marketing videos. Besides working at the gym, she acts as a fitness lifestyle model, and she hosts many fitness shows on many TVs.
Biography Essay Format
If you want to craft a great biography essay, you must follow the right format, as explained below.
The introduction is intended to give detailed information regarding your subject's background. Also, the opening is meant to hook your audience to make them develop an interest in reading the rest of the paper. If you want to compose a great introduction, you must adopt the following approaches: begin with a quote regarding your subject, write an interesting story about them, or describe their accomplishment.
A thesis statement is an idea/argument upon which the rest of the paper is anchored. Note that the statement appears in the introduction to show the readers the position you have taken regarding the subject matter. Furthermore, a thesis statement is put in a conclusion to emphasize to your audience about the essay's main idea.'
The Thesis Statement Generator may also help you gather more information.
Example of a Thesis Statement
'Although Dennis James was a wealthy man, he was a troubled person whose terrible living styles may have led to his early death.'
The body paragraph is where you put the information you collected during your research. Sections can be three, or more depending on the paper's word count.
In case you are writing about a renowned musician or any other prominent personality, the following may be included in sections 1-3.
In paragraph one, you may talk about the subject's birth history and how they were brought up. Also, highlight their school life, from primary school to college level.
In paragraph two, you should capture the subject's work history and any other achievements.
Use paragraph three to highlight the person's contributions to society and show how their role has impacted the community. Also, if they are not alive, you may highlight the story on their death here.
The conclusion is where you give a summary of the main ideas in your paper. If you want to end your article well, ensure that you show how the subject's role has affected people's ways of life.
An excellent conclusion must address the following aspects
The kind of contribution the person made in their field
Show the relevance of their work in contemporary time
Show their legacy and how they are remembered
Highlight the type of people they had a significant influence on
Knowing what to include in a biography can be helpful to you, especially when crafting papers. It is crucial to note that an excellent essay must comprise of an introduction, a thesis statement, body paragraphs, and a conclusion.
You can also read our excellent guidelines on how to Structure an Essay.
Before you start crafting articles about influential personalities, you must know a biography essay definition. Understanding what an essay means is the best way of having a great start.

Purpose of a Biography Essay
A biography essay is about the story of someone's life. The essence of a biography paper is to enable the reader to understand what your subject did and how their contribution was crucial.
Through biography essays, many people can get information about famous people who have done wonderful things. These insights can be an inspiration to the readers and can even help them change the ways they do things.
Unlike other essays, a biography essay is crafted based on historical facts, and it is meant to give an overview of a subject using objective language. The following are important aspects that you need to bear in mind as you compose a biography essay.
A biography essay is a real story about someone's life. Therefore, when crafting it, ensure that you give factual and supported information.
A story about a prominent/famous personality
Usually, a biography essay is about giving a narrative about a famous person and showing how their ways of life are significant to society.
Biography and Culture
Just like history, biography essays play a critical role in highlighting the lives of famous people in society. Note that narrating the stories of prominent people is one of the best ways of keeping cultural memory. For instance, significant heroes, such as Martin Luther, were written about because of their essential contributions to the community.
For you to write an effective cultural biography, you have to narrate someone's story based on their cultural experiences. Therefore, you have to research the person's traditional background, and if possible, you may interview the individual to collect in-depth information from them.
It is vital to note that modern biography essays are written in a scholarly and objective way. Moreover, these articles are crafted based on reason rather than imagination.
Elements of a Good Biography Essay
If you want to craft an excellent biography essay, there are some components that you have to include, as described below.
A linear narrative arc refers to narrating someone's story from the time of birth, schooling, work, and death.
With a biography essay, the subject refers to the prominent person you are writing about. Ensure that you select an appropriate subject that is critical to be your topic. Do research to find out why the subject is worth being written about. Usually, a biography essay is about someone who has excelled in a particular aspect within their discipline.
It is crucial to note that the subject of your biography essay doesn't have to be a famous person, but any person can suffice as long as their story is compelling.
Note that so many things can happen during one's lifetime. Therefore, when writing a biography essay, select important events about someone, and focus on them. For instance, you may concentrate on things, such as birth, marriage, work, and death.
How to Write a Great Biography Essay
The following steps can help you craft an awesome biography essay.
Identify the scope of your biography essay
A biography essay doesn't have to include everything regarding someone's life. Therefore, mark the scope of your essay; for instance, you may decide to narrate events between the person's birth and death. After that, you may then choose other crucial occurrences in a person's life time.
Once you have chosen the topic and determined the scope of your story, you can go ahead and create an outline for your article. This plan is essential because it gives you a road map regarding where to begin and end.
Research and compile reliable sources
The information you use to narrate about your subject must be factual and verifiable. It is essential to select and record the sources of the information you use in the paper. Moreover, avoid using the information on websites because it is hard to trace its sources. The recommended sources to use are scholarly ones, such as journal articles and books.
Note that a biography essay is intended to inform and convince your audience why a particular subject deserves to be written about. For you to write a clear and compelling story, you must select a subject where you have a great interest.
Also, to craft an interesting story, you must adopt appropriate scholarly language. Lastly, ensure that you use the right sentence structure and proper word choice to tell the story of your subject compellingly.
Additional Information on the Best Practices of Writing Biography Essays
The following is a lick up of some of the best practices you ought to follow when crafting a biography essay.
A great biography essay should be crafted based on a linear narrative structure, beginning with the birth of a person and finishing with their death. Besides, you also need to focus on their important events and accomplishments in their lifetime.
Use a scholarly approach in your writing
A biography essay is a story about someone's life history, and it has to be crafted in a compelling manner to convince your readers that the person you are narrating about is worthy. For you to give a credible account about someone, you must use verifiable facts. Therefore, it is advisable to use scholarly sources, such as journal articles and books as your references. Moreover, you may use an appropriate referencing style, such as MLA, and Chicago.
If you want to produce an excellent essay, then choose the subject you like most. An interesting subject will make your writing enjoyable, and you will be able to craft articles in a style that can make your piece more enjoyable to your audience.
Seek assistance from professional writers
Writing a biography is not a straightforward thing, especially if you are not conversant with its format. In case you want to write my paper and you are stuck, contact any professional writing company for help.
Biography Essay Vs Narrative Essay
Biography and narrative essays are some of the vital academic tasks you ought to familiarize yourself with. The following description of their differences can help you get a better perspective about them.
The purpose of a biography essay is to tell a compelling story about a prominent person's life, while the narrative essay's aim is to narrate something you have experience in your life.
A biography essay can be published in historical/cultural journals, whereas a narrative essay can be advertised in newspaper columns or some magazines.
Biography essays are crafted in an objective manner and written in the third-person style. Narrative essays are subjective and are composed in the first-person.
Citation styles, such as Chicago and MLA, required for biography essays. However, no citation or referencing style is needed for narrative essays,
Read our guideline on How to Write a Great Narrative Essay
How Finish Writing Your Biography Essay
The following is a highlight of what you are supposed to do in order to end your paper in an excellent way.
Once you finish crafting your draft, check for grammar mistakes, and edit errors regarding punctuation or wordy sentences. To ensure that everything is okay, read the text loudly, and confirm whether the structure is easy to follow.
The best way of asking for other people's views is to let them read your paper and identify any mistakes. After that, it is crucial to accept and implement all their suggestions to make your paper a better document.
Cite your sources and generate a bibliography
When writing a biography essay, it is crucial to cite and reference all the sources you use. Citing your sources is the best way of acknowledging the sources of the information you are using.
Final Thoughts on a Biography Essay
A biography essay refers to a compelling story about someone's life. Note that these articles touch on famous personalities, such as musicians, politicians, artists, or inventors. It is vital to bear in mind that you may write a biography on someone who is not prominent as long as you have a justifiable reason to narrate their story. Just like other essays, a biography has an introduction, a thesis statement, body paragraphs, and a conclusion.
If you want to write an excellent biography, you must observe the following: use a linear narrative arc, adopt scholarly sources, love your subject, and seek assistance from professional writers where necessary. In case you need help crafting your biography essay, contact Peach Essay writers for assistance.