Essays on recycling can help you grasp the scope of pollution and the methods humanity uses to reduce its effects. There is a wide range of international organizations that are concerned with recycling and environmental protection.
Various environmental protection measures can be taken, which you can use as recycling essay hooks, but many of them are not feasible, mainly due to financing issues and technological limitations.
You will need a solid structure to create an effective and interesting essay, which will add clarity and purpose to your writing.
The first step to creating a structure is creating an introduction, a section in which you explain what the essay is about and create a thesis statement.
Don't mention facts that aren't well known, and refrain from using citations as you're trying to convey a general sense of the field.
It is important to carefully consider the thesis statement since it will be at the center of your essay, and all of your arguments should be based on it. As a result, the introduction sets the tone for the rest of your essay and provides its first critical component.
As you read this article, you will learn how to write a recycling research paper or essay, and you will also find a few topics to choose from and some tips to help you complete your task.
What is a Recycling Essay?
Recycling essays talk about recovering and reprocessing waste materials so that new products can be made. As a first step to composing a high-quality recycling essay read at least one great example. We know that you know how to write an essay already – but please bear with us for just a moment.
An example of a recycling essay will not only outline how your final paper must look but provide you with tips on how to accomplish that. Additionally, it teaches you how to pick a good topic, develop relevant talking points, and maintain your main ideas with strong, irrefutable arguments, facts, and statistics.
What is Recycling?
As we mentioned above, recycling involves converting materials into a new form that can be reused instead of discarded. Recycling is generally feasible for materials such as metal, glass, paper, and plastic. Also, food scraps such as vegetable peels are perfect for composting and making organic fertilizers for growing new plants.
How to Write the Perfect Essay about Recycling
Is recycling an important topic that needs to be discussed in an essay? Or perhaps you wish to compose a fascinating recycling essay you have ever seen. Whatever the case may be,  you need some advice.
Following are the steps you need to take:
Choose an essay topic that is suitable for you. The topic should be narrow enough for you to cover all the information in 1-2 pages. A topic should at least be something you are familiar with. If you want, you can write an essay on "what decomposes the longest" or "why recycling is essential.".
You can either search online or offline for information about the topic. Build your outline based on the information you find. As we mentioned above, it is extremely important.
Create a compelling thesis statement. What is your essay intending to prove? What is the importance of the topic? What will your paper do for the world? Focus on the point and make it strong. The first two phrases of your essay should catch your audience's attention.
You should write three paragraphs for the main body. One major idea should be discussed per paragraph. It is generally best to present the idea at the beginning of a paragraph and then develop it in the following paragraph.
Write the introduction for the recycling essay. After you have written the body of the paper, you will have no trouble writing the introduction since you already know everything about the topic and what you have discussed. It is important that the thesis statement appears at – or near – the beginning of the introduction.
Write the conclusion to the recycling essay. Everything should be summarized in this paragraph. End your paper with an appeal for action if appropriate – and if you wish to do so.
Proofread and edit your paper. Take your time with this, as it's crucial. What's the point in losing points just because you didn't spend an hour ensuring your paper is perfect?
An Outline for Recycling Essays
The outline has the following sections.
The introduction
The first thing to do when writing your recycling essay is to come up with an interesting hook. If you are writing an essay on recycling, an interesting or relevant quote will make a good opening sentence. Don't just throw it in to engage the reader – link it with the rest of the text in the introduction.
You should explain why you chose this topic and tell the reader about its history. Do not overload your audience with information; provide enough details to assist them in understanding the rest of your text.
Recycling essays need a thesis statement as a finishing touch. Your last sentence of the introduction explains where you will focus your essay without describing it in detail.
Recycling essay body
Obviously, you will need to make sure that you assess and analyze all the information you've gathered related to the topic. This part is the largest, so you should have enough information to fill 2-3 paragraphs. Your thesis statement should serve as a guide, and you should analyze each one separately. It is also important for you to make sure that the sources you cite come from trustworthy sources, such as reputable magazines, books, or websites.
Conclusion
Briefly summarize the arguments you made in the body of your essay by rephrasing your thesis statement. You can conclude by calling for further reflection or action.
Essay titles for recycling
Your essay title is one of the most important factors to consider. If you're writing a recycling research paper title, reread the text and pick out the phrases you think summarize the content best. In your conclusion, you might mention this or your thesis statement. Once the phrase has been shortened or turned into a question, the reader will be better able to understand what the paper is about.
Effective Recycling Essay Tips
Currently, a lot of attention is paid to environmental concerns and crises that are affecting our planet. In addition to the governments, important authorities, non-profit organizations, and the general public are participating. In the modern-day, even schools and colleges make sure that their children do some form of work that helps the environment. In Environmental Science, students are constantly required to write various essays and research papers.
You can get excellent grades in your exams by following these tips for writing an essay on recycling.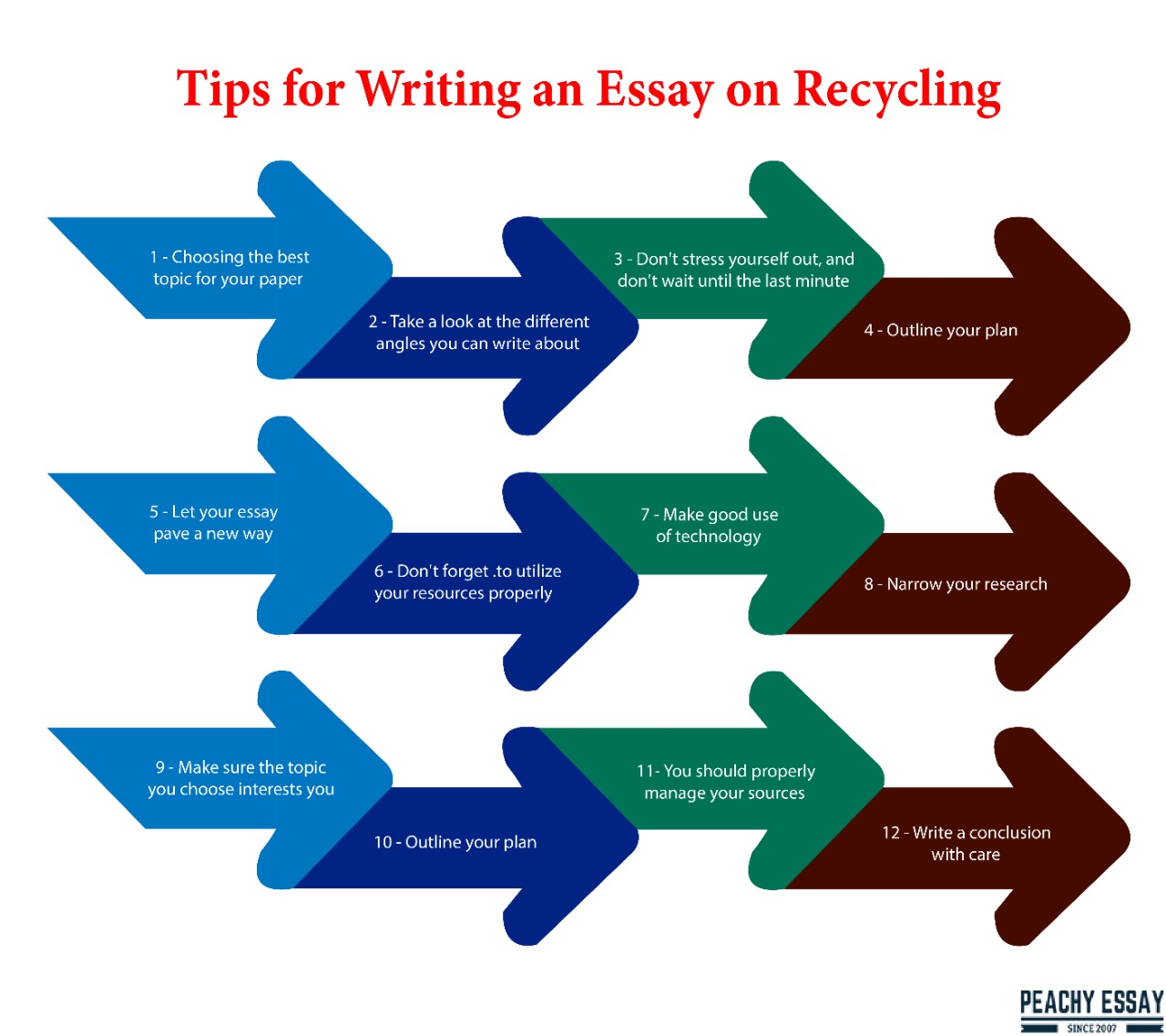 Choosing the best topic for your paper
It is no secret that writing an essay is difficult, as it requires much time, energy, and effort. While it is easy to write, choosing a good topic for a paper is difficult. It's important to choose something that you have some experience with when choosing a recycling topic to write for an essay. With this method, you will create an essay without too much stress and without waste of time.
 Take a look at the different angles you can write about
Your next task is to remember the different angles to a topic. You have more options to choose from since a specific issue can be viewed from so many angles. Additionally, you have the freedom to express your own views on the subject. The benefits of recycling are not limited to just the benefits and methodologies. There are many innovations, groundbreaking technologies, and groundbreaking changes that are evolving every year. By writing your essay, you can use the information that you receive to create something more meaningful.
Don't stress yourself out, and don't wait until the last minute
The last minute is a common time when students finish their essays. Because of this, they are constantly stressed and under tension. Be aware that rushing can result in a poor essay. Considering that this is a broad topic, it is important to use expressive writing to achieve mental wellbeing. It is often forgotten that the writing you do will reveal your mood. In a rush, you may miss important points and make many mistakes. It would be best if you started working on your project as early as possible.
Outline your plan
A proper outline is a key to writing a recycling essay. It is beneficial to you in many ways to outline what you are going to write. It might be better to write down the important points that you want to bring up rather than writing down the whole nine yards at once. You can also use the outline to shape your essay in the right way so that you can make it flow. It would be best if you jotted down any important aspects you would like to discuss in your essay before writing it. Use a pen and paper or open up a word document to do this.
 Let your essay pave a new way
It is not every writer who can influence a change with his or her writing. A person who conducts sufficient research before they start writing is more likely to convey their ideas creatively. Additionally, if you are proficient in writing essays, you will easily influence people. Make sure you use words and sentences that will positively impact your writing if you want to bring about a change. By typing or copying, and pasting your text, you can count and calculate the number of words, characters, and characters without white spaces.
Don't forget .to utilize your resources properly
The topic of your recycling essay should reflect how you used the resources and how you chose to approach the subject. Ensure that you have all your resources at your disposal before you begin writing. If you are looking to write an eco-friendly essay, then you might want to think about any past experiments that you have conducted. By doing that, you can easily utilize the same resources you did before to finish it properly. Regardless of what you write about, make sure that you use your sources correctly to get as many details as you can.
Make good use of technology
Various interactive educational resources are available online for children today. Additionally, some apps let you write essays. Not only will these resources help you to gather the necessary information, but they will also give you advice on how to choose a good recycling essay topic. Simply clicking a button will provide you with an array of suggestions, easy-to-understand information, and a good direction to follow.
Narrow your research
Consider a general problem you might face if you want to conduct a research project on paper recycling. You may want to begin by looking up information on one issue, such as using many chemicals in the process. Find out, for example, what chemical substances are used, how they are disposed of, what the environmental effects are, etc.
Make sure the topic you choose interests you
Students must choose a topic very carefully, as all subsequent work is dependent on how well they select the topic. The relevance or topicality of a topic shouldn't be the only factor considered when choosing one. It will take many hours to write the assignment if it is not interesting for you to work on or find any sources that discuss it.
Outline your plan
Writing a text without a well-structured plan is problematic for many experienced writers and even researchers. You are unlikely to end up with a coherent text if you do not know what direction you are taking when you write.
You should properly manage your sources
Once you have gathered all the necessary information, group the sources based on the findings presented, analyze their similarities and differences, and sum up the findings. Additionally, certain data can be presented visually using charts, graphs, and tables if it is more convenient to do so.
Write a conclusion with care
When students have finished writing the main part of their paper, they think that they are finished and that the conclusion is simply summarizing what has already been saying. There may be some truth in it, but finishing your paper gracefully takes quite a bit of time. To remind the readers about the significance of the topic and the aspects that you emphasized in your paper, you will need to rephrase your thesis statement and place it at the beginning of your conclusion. After reading the text again, you need to highlight the points that need to be emphasized.