With the existence of numerous writings in the business space, business proposal turn out to be one of the essential business documents.  In a competitive business space, writing a business proposal might present your business's success or failure. Because they come in handy to mirror a company's future financial objectives, attract more angel investors and venture capitalists, and structure concrete business strategies for growth.
Powerful business proposals provide management with accurate blueprints on expanding the business and maintaining healthy relationships in the business environment. Writing business proposals might be a daunting task if you lack the proper structure and guidelines. Most business owners spend most hours crafting proposals to target potential investors and clients, but they, however, become futile.
On the other hand, few businesspersons win their proposals after following the right steps. Worry little. The article below purposes to highlight some of the crucial steps to embrace. Before scripting your first word on the business proposal, it is wise to familiarize yourself with the available content, some of the several factors to put under consideration, top tips to follow through, and its structure. Do you know there are different types of business proposals? We will also check on that. Buckle up for some insightful information.
What is a Business Proposal?
A business proposal is a business-to-business document used by a seller when enticing customers to buy goods or services. It ultimately explains why you are the best suit for the business.
Types of Business Proposal
There are two kinds of business proposals. They include:
Solicited Business Proposal
These business proposals become available when the client requests them or even serve as a response to an advertisement made by the client. Solicited business proposals might come in two forms:
You can establish a formally solicited business proposal when responding to an official request. In this case, you have in-depth requirements and information about your buyer. You importantly need to craft a business proposal for the prospective buyer to evaluate.
The business proposal type does not involve official requests. A buyer typically has an interest in your document and requests a proposal to evaluate.
It might require extensive research for the seller since it is based on informal communications.
Unsolicited Business Proposal
Please take it as a cold email. An unsolicited business proposal has a generic nature and lacks a solid understanding and requirements of the buyers. You might win an unsolicited business proposal by researching online about your market, identifying the buyer's needs, and providing relevant solutions to meet their requirements.
What are the Seven Steps to Creating a Winning Business Proposal?
Crafting a business proposal is easy when you follow through with the seven brilliant steps to create a winning business proposal.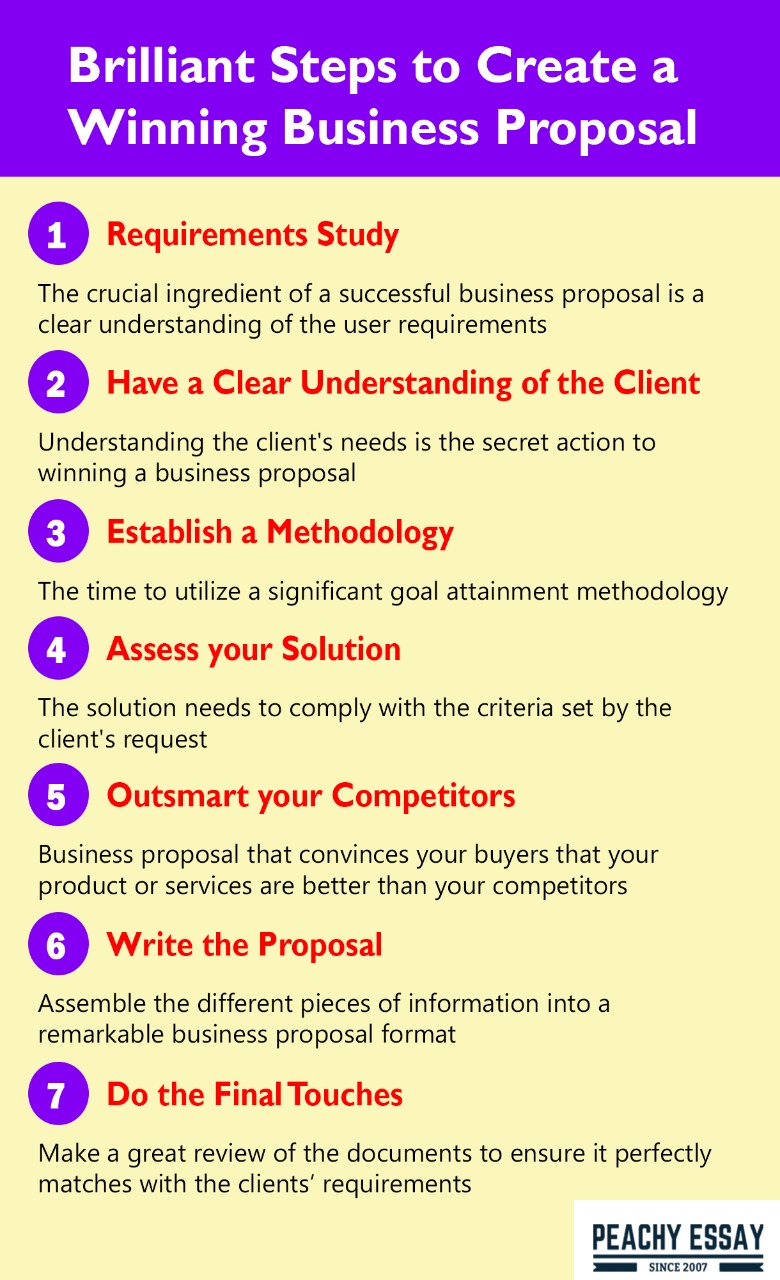 The crucial ingredient of a successful business proposal is a clear understanding of user requirements. Go thoroughly through the request made by the customer. As you go through it, refine your company's goals and objectives and weigh the proposal's success with the available resources and expertise.
Decide on whether you will proceed on with the work. Since writing a business proposal is an expensive process.
Have a Clear Understanding of the Client
Understanding the client's needs is the secret action in winning a business proposal. Failing to understand the lying problem might lead to the implementation of a wrong methodology. The best way to succeed through this is by talking to your client. Please get to know their concerns, policies, and philosophies.
Also, try to explore some of the earlier approaches that came into play while meeting the Request for Proposal (RFP) goals and discover why the past solutions did not succeed.
Once you identify your client's goals, it is the right time to utilize a significant goal attainment methodology. You can achieve a practical method by developing a cost-benefit analysis alongside identifying the supporting required resources.
After coming up with a smart methodology, you might arrange a meeting with your client to discuss it. If he or she is not impressed about it, you will have to develop an alternative solution. The solution needs to comply with the criteria set by the client's request.
Outsmart your Competitors
The business environment is highly competitive. Remember that a business proposal is a sales piece of writing that convinces your buyers that your product or services are better than your competitors. To win your buyers' hearts, you need to portray your strengths and address your clients' requirements effectively.
You establish significant progress after completing the first five steps above. Since most work is done, this is the time to assemble the different pieces of information into a remarkable business proposal format.
It would be useful to comply with the instructed format. In case there is no specified structure, you might check for the right design online. The article will also provide a standard format for a winning business proposal.
Make a great review of the documents to ensure it perfectly matches with the clients' requirements. Maintain a logical flow of thoughts. Besides, you might have a trusted individual go through the work to track any left-out grammatical or spelling errors.
The 3Ps of Writing Excellent Business Proposal
Writing an excellent business proposal requires applying the fundamental formulas, commonly referred to as the 3 Ps; problem statement, proposed solution, and pricing.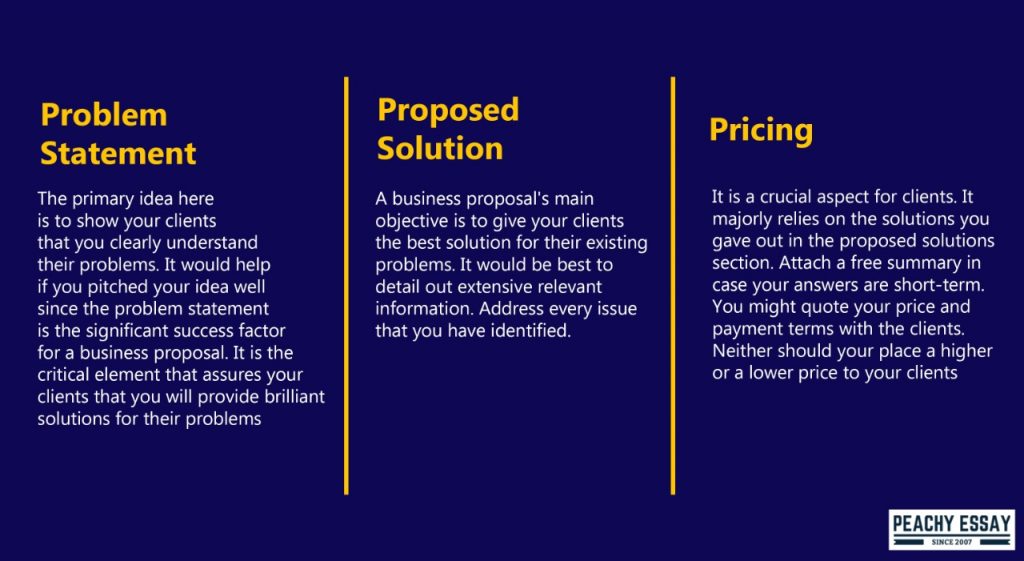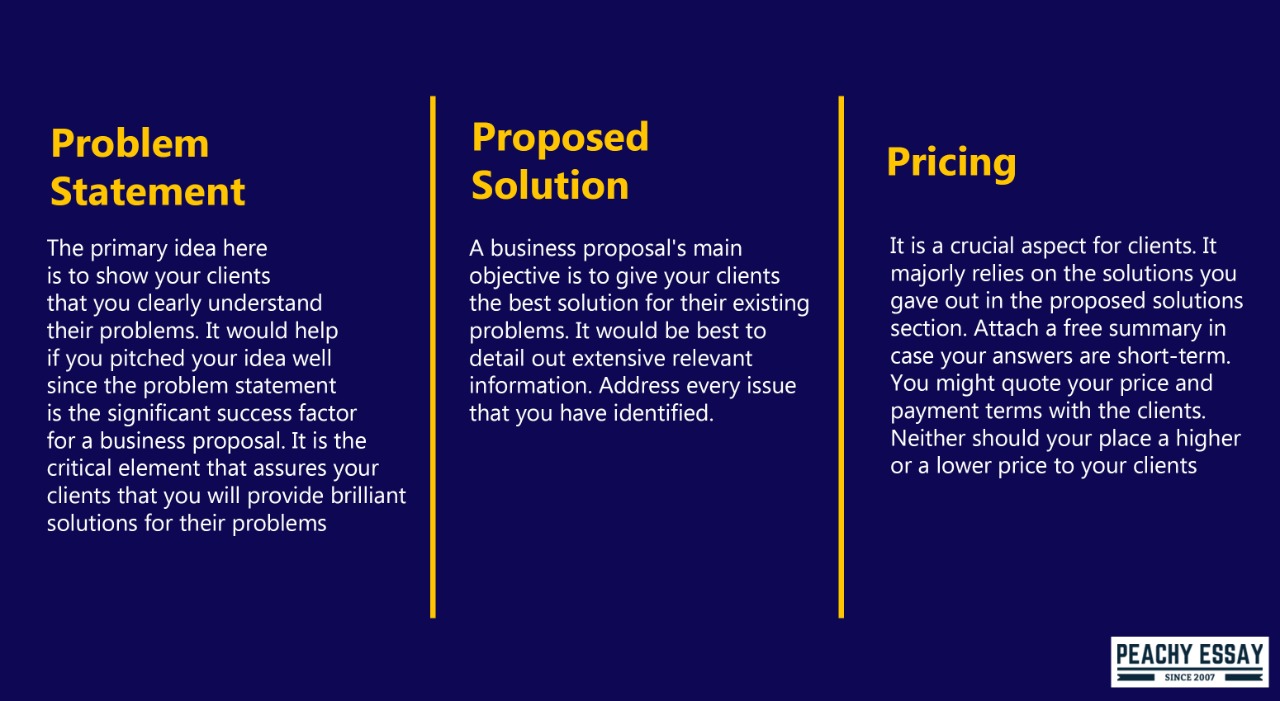 Factors to Consider When Formulating a Business Proposal
There are influential factors that you need to consider when crafting a winning business proposal. They are as follows:
Extensive research provides you with critical information about the issues you are client is facing. For instance, you need to allocate efficient hours for the research in an unsolicited business proposal type. The client might not provide you with adequate needs and requirements.
Detail out your research, and do not forget to mention the client's customers and competitors. You can look for sample business proposals online to grasp how you are supposed to do it. The document needs to address all the client's critical points.
Pick the Right Perspective
You might fix yourself in a position that will match that of your client. It will provide you with multiple ways on how to address potential aspects of your clients. They need to be sure that their hard-earned money is worthwhile, the solution, and the benefits it brings along to their business operations.
Why do you Make the Best Fit?
There are multiple business proposal writers. When identifying the needs of the clients, it would be best to outshine your competitors. You might achieve that by creating a unique business proposal, showcasing your experience and qualifications to make you the best pick.
You might include your work portfolio to maximize your value to the customer. The testimonials might portray your capabilities and exhibit the right expectations.
The above factors are crucial for any business proposal writer. You can formulate your business proposal once you acknowledge the aspects. Utilize your time well on each request to bring out its uniqueness. Justify yourself before the client on why you are the best candidate to solve their existing problem. Before you scribble down your business proposal, check samples online for a unique structure.
Business Proposal Structure
Before getting started with your business proposal, let us study the components of a winning business proposal structure.
With the uniqueness of a business, business proposals have different customers' goals and objectives. The introduction part, which consumes a single page, must perfectly align with your client's needs. You might incorporate some details about your brand to strengthen trust.
Outline your achievements and strengths to outsmart your products from your competitors. The business proposal length will depend on the type of contract.
The executive summary section includes content that outshines you from your competitors. It explains to your clients why you are the best pick for them. The target audience needs to gain information from this section. It usually takes a single page.
The goals of an executive summary are:
Introduce the company to prospective buyers
Outline the goals of your company
Use brief details concerning plans for the company
The section is optional for most business proposals. Table of contents come in handy for lengthy business proposals. It provides you with a list of the involved headings and sub-headings alongside their page numbers. You need to keep your proposal brief and concise.
After scripting down the big picture of the business proposal, you need to develop a fantastic body for your document. The body section includes specific content about the client's problem. It will be essential to provide information concerning pricing and logistics under this section.
The conclusion part entails the expected results when you win a business proposal from a potential client. You might finalize your business proposal with a call to action. You might motivate them to contact you through the website.
Crucial Tips for Writing Excellent Business Proposal
Mastering how to craft a business proposal is a golden skill for any business person. Below are some of the top tips for writing an excellent business proposal.
The key to a successful business proposal is to understand the target audience clearly. It would be best to get the problem well and provide the ultimate solution. Study your client appropriately and apply a unique structure to meet the client's needs.
Does your process meet the needs of the clients?
What solution will you present to the clients?
Will the client agree with the pricing?
If you have no definite answers to these questions, stop the business proposal writing. You will have a hard time when your document is full of uncertainties. You might set up a meeting with your client to get more details or formulate a questionnaire filled by your client. You can find several questionnaires for your client online.
We all know that customers do not have a lot of time to go through the business proposal. It would be best to create a business proposal with a simple structure. You might achieve this through:
Use of bulleted points.
Emphasize your words with italics
Use bold styling for crucial words
Build your titles well for each page
Apply an acceptable method
If you want a winning business proposal, you might employ acceptable methods when organizing your proposal writing. A well-known way is the Problem, Process, Solution, and Price method. Let us look at them below.
Problem – Identify the specific problem your client is facing. The whole objective of a business proposal is to solve existing client's issues.
Process – Provide your client with an elaborate procedure for the underlying issue.
Solution – Be confident that the outlined solution is going to achieve the client's objectives.
Price – Establish a transparent pricing system to present to clients after completing the proposal.
Organize a Winning Business Proposal
As we have seen earlier, business proposals take in different formats. However, the most standard way constitutes of the following components:
Introduction
Methodologies and structure
Approaches to solutions
Project plan
Time and investment
Acceptance Page
Use Short Lengthy Words and more Visual Presentation
Writing your business proposal using short words is the way to go. It becomes more comfortable for you when detailing different points. Your solution becomes clear to the client and draws the customer closer to your work.
Visuals aid the understanding process. You might include more icons in your business proposals for clear communications.
Market your Company Brand
A business proposal is all about focusing more on your client's needs. You can lighten the mood by showing off your brand to the clients. Bring out your strengths, and outshine your competitors. It can be through concrete brand designs or your writing personality.
Spell Check your Document Thoroughly
A business proposal is a sales pitch document that requires effective communication. Writing a business proposal that is free from grammatical errors and typos is a must. It is crucial to edit your document for the readers to have an easy time. It would be best to go through your business proposal before submitting it to fit the task's outstanding person.
Use a Clear Tone of Language
It would be useful for clear communications to use an explicit language tone that eliminates industry jargon and technical words. You might apply casual or formal tone styles when writing your business proposal. Your business proposals need not have humorous statements.
Follow up after Submitting the Document
Upon submission of the business proposal, it would be helpful to do some follow-up with your client. It might assist in providing in-depth explanations concerning any unclear questions to your clients. Also, follow-ups might help in being selected by the prospective client.
Conclusion
A business proposal is a crucial document for any business. It is vital to know how to craft one. Most individuals who lack the right tips, structure, and step-by-step guidelines have difficulty writing a business proposal. The article above lays out some of the concrete forms to comply with when handling your company's first and subsequent business proposals.
A business proposal's proper structure entails the introduction, executive summary, body, and conclusion statements. We have also gone through the different types of business proposals, unsolicited and solicited business proposals. Their differences have been highlighted effectively and bring out their extents to research work.
Some of the brilliant tips to comply with are the right tone style, organization, and methodology, to ensure a logical flow of thoughts. Also, editing and proofreading your work is essential. Do not bore your customers with typos and grammatical errors. Following all this assures you of a winning business proposal.