Writing a term paper deserving of a high mark needs far more than a few hours of research and a few sentences on a piece of paper. Time, planning, and above-average writing ability are only a few requirements for producing a notable paper.
Many students find writing term papers to be a daunting undertaking, so they avoid it and, as a result, receive poor results on academic papers that would have otherwise earned them straight A's. Read our simple guide to coach you through the most critical parts of writing an effective management term paper from beginning to end.
What is Management Term Paper?
A term paper in management is a research paper completed by students over the course of an academic term that accounts for a significant portion of the student's mark. It is a substantial academic project in a course that is several pages long and covers a certain topic in depth. It is usually due near the end of the semester. You must conduct research on a certain issue, produce a report about your findings, and express your own viewpoint on a problem.
Management Term Paper Format
The topic usually determines your management term paper; for example, you can write it as a scientific report or as a literature review. Typical elements of a scientific report include:
An abstract (about 150 words):  is a concise description of your paper.
Introduce a subject or a problem, provide a literature review, and summarize results and approaches in the introduction.
Methods that you utilized to look for data;
Results – in this section, you describe your findings and explain how they contribute to the solution to the study question;
Discussion – summarize your findings and explain their importance in this area.
How to Come Up with an Excellent Management Term Paper Topic
The first step in preparing to write a management term paper is to develop a good topic. Of course, the most important thing is to choose a topic that interests you. Make sure your topic is broad enough that you will have no trouble finding enough sources when conducting research. However, if your issue is too wide, you won't be able to keep focused on it, and your argument will be too hazy. To establish a solid argument in this scenario, you must reduce your topic and make it doable within your word limit.
You can compile a list of keywords that characterize your potential topic and then explore the internet for fresh ideas to tweak or change your original concept. If your term paper's topic is risk management in project management, for example, you can search using terms like risk management, risk management process, risk management methods, risk management definition, and so on.
You can begin your research by consulting general-purpose reference books such as fact books and encyclopedias, which will provide you with relevant terminology and subtopic recommendations. In addition, these books usually provide extensive bibliographies, which can be extremely useful. Reading books like these can help you focus your studies or spark new ideas.
If you're stuck on ideas and need some inspiration, look at our collection of intriguing management term paper topics. You are welcome to utilize them in the creation of your own term papers.
What Are the Benefits of Risk Management for Project Success?
Women Entrepreneurs Who Are Changing the World;
Workplace Conflict Resolution;
Organizational Management Strategic Planning;
What Factors Contribute to the Failure of Small Businesses?
Competency Requirements for High-Performance Jobs;
Information Security Management's Key Concepts
Organizational Financial Management;
Management of the Workplace Strategically
Workplace Time Management: Ways to Boost Productivity;
Finding Suitable Sources for Your Management Term Paper
You can get knowledge from various sources, including management books, respected newspapers, journal articles, and more. You can find appropriate literature on the subject of your management term paper by searching for sources in the library and using a computer access system. However, keep in mind that there may only be a few books on the subject if you choose a hot topic. In this instance, you should rely on scholarly journal papers, which contain analyses and up-to-date information. In addition, reports from government agencies and committees are often good sources of information on current business and management trends.
It would be best to strive to obtain solutions to your research topic when looking for suitable primary and secondary sources. Furthermore, it would be best to organize and use spreadsheets to keep track of your sources. If you intend to quote from the source, add bibliographic information and page numbers. Alternatively, index cards can be used. Then, when you begin writing, you will be able to locate any sources you require quickly, and your reference page will be completed in less time.
How to Create an Outline for a Term Paper
The outline of a term paper serves as a road map that directs the writing process as a whole. This is where you'll keep track of all of the points you want to make in your paper. Outlines are usually created for the writer's benefit to keep them on track. However, there may be situations when a professor requests that you present your outline before beginning your term paper, and it is best, to begin with, an outline rather than a term paper introduction.
Keeping the preceding paper example in mind, most term papers will have the same basic structure.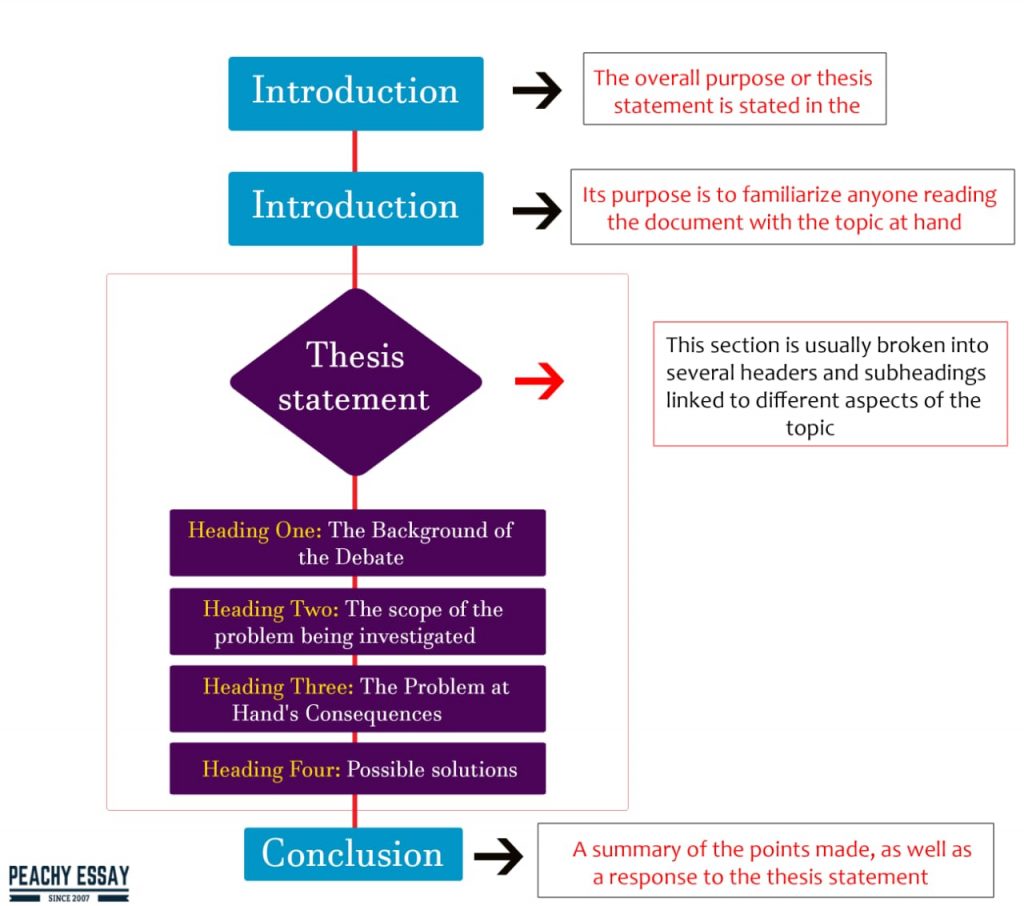 How to Write a Term Paper
You've spent a significant amount of time researching and learning about your subject. It's now time to formulate a strong research topic or thesis statement. It will direct your writing and assist your audience in comprehending the significance of your topic. Your viewers will know what to expect if you write a powerful thesis statement, making it easier for them to assimilate your content. In most cases, the thesis statement is a single sentence that you put in the first paragraph. You must make a claim in your thesis that others may disagree with, and you must back up your assertion with an argument in your term paper.
Making a functional outline that will help you stay focused is a fantastic idea. Sub-topics and essential points must be included, as well as the evidence you will utilize to support your thesis. You may alter your outline during the writing process, adding or removing points, but you will be more productive if you plan out the structure of your management term paper ahead of time. In addition, you'll never forget important details if you use an outline, and you'll make sure they're included in your essay.
The following is a step-by-step guide to writing a term paper.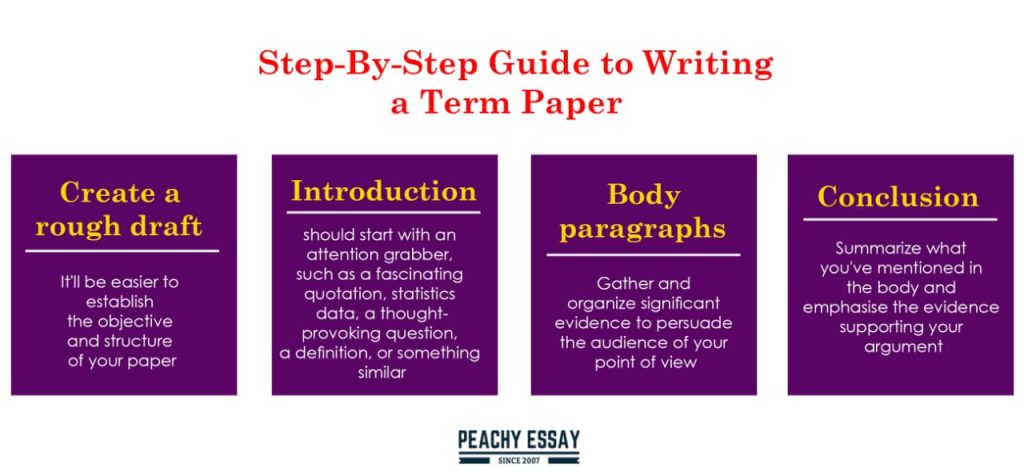 Create a rough draft
Your term paper may be divided into various sections, the number of which may vary depending on your topic, but all academic papers normally have an introduction, body paragraphs, and a conclusion. Each of these components has a vital role to perform.
It is unnecessary to begin writing your management term paper with an introduction; in fact, many students prefer to begin with body paragraphs. Instead, they establish their thesis and then write an introduction and a conclusion after the paper's main section is finished. When you choose this strategy, you'll be more likely to finish the introduction faster because you'll know exactly what your project is about. In addition, it'll be easier to establish the objective and structure of your paper.
Introduction
Your introduction is crucial in informing your readers about the topic of your paper, where you're going, and what you intend to accomplish. Therefore, you should start with an attention grabber, such as a fascinating quotation, statistics data, a thought-provoking question, a definition, or something similar.
For example, did you know that one-third of employees now either ignore or lie in surveys?
Then you should add some context by providing some background information. For example, you might give a summary of the field's literature and discuss several approaches to the topic of your management term paper. After that, define your thesis statement/research question and sketch out the structure in a few sentences.
Body paragraphs
The body of a management term paper is the most important portion; in this section, you gather and organize significant evidence to persuade the audience of your point of view. That is why it should be organized reasonably. If your term paper is lengthy, dividing it into sections using headings and subheadings is a smart idea. You can include parts like literature review, techniques, results/findings, and discussion, for example.
You should describe the major sources of primary and secondary research in your methodology section, as well as the limitations and weaknesses of each source. Secondary sources such as news stories, magazine articles, firm annual reports, encyclopedias, and business textbooks will be mostly used.
The body of your paper is where you can really make an impression on your professor. Are you unsure how to go about it?
It would be best to go over numerous related management principles and theories in greater depth than what was covered in class.
Demonstrate that you are knowledgeable about some facets of your research question.
Make sure the body portion is not only descriptive but also analytical.
To prove that your ideas are correct, you must present a logical argument to back up your statements, as well as relevant evidence and in-text citations. When referring to another author's text in the body of your term paper, you'll need to use parenthetical citations in this scenario. Show your analysis throughout the body to connect the research data, events, or other relevant resources and interpret the facts you've presented as you build your case.
Conclusion
The conclusion's major objective is to summarize what you've mentioned in the body and emphasize the evidence supporting your argument. Here are some pointers on how to do it correctly.
You can reiterate your thesis statement/research question, emphasizing the importance of your study topic and findings once more.
You can put all of the mini-conclusions you offered in the text together and present some intriguing conclusions based on them;
If your term paper is longer, you can include some evaluative insights, such as advantages and disadvantages, short-term and long-term effects, and so on.
You can also discuss any of your research's flaws and limits.
This section should not contain any new information.
You can talk about some important knowledge that you couldn't get before;
You can make some suggestions or recommendations for future research.
Abstract
If your management term paper is lengthy, you may be required to include a 150-200 word abstract. It is, in fact, a scaled-down version of your research project. After you've finished writing the rest of your paper, you should finish this section. It would be best to write your abstract in active voice since it will be easier to read, and many people decide whether or not to read the work based on the abstract. Therefore, make your abstract as straightforward as possible.
References
Remember to make a reference list when you finish your management term paper. All of the sources you cited in the body paragraphs must be listed alphabetically. If you keep track of your sources when researching, you'll be able to complete this work quickly. In addition, it's critical to adhere to the precise style guide advised by your lecturer or school, such as MLA or APA.
Your Term Paper Should Be Revised and Edited
When you've finished your first draft, read it over and make any required changes to improve the substance, logic, and flow. To guarantee that your management term paper provides a strong and clear thesis, you may need to repeat the process numerous times. It's time to polish and double-check everything once you've done that.
Check your term paper's order, sense, and logical structure by reading it aloud. Make sure you referenced your sources correctly. Check your grammar and spelling, and correct any errors or typos you find. Keep in mind that your readers will assess your project based on more than just the research quality and substance. They will also consider the quality of writing, so be sure to carefully edit your management term paper and make it the best it can be.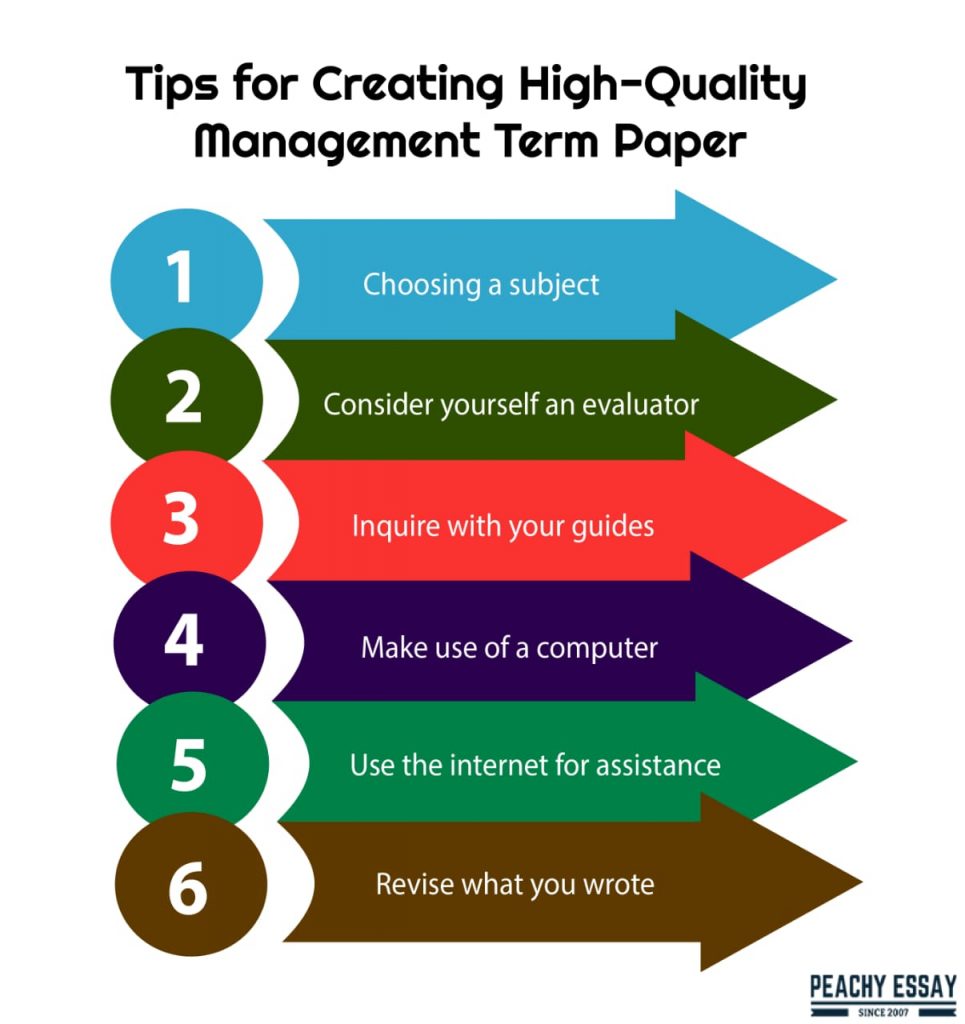 Choosing a subject
The topic is usually chosen based on the author's hobbies, although the guides can also recommend it. You can choose from a variety of topics and then decide which one is best for you. This can be accomplished by asking yourself a series of questions, such as "Is it possible for me to search for this area? Will I be able to locate all of the resources I require to complete the search? Will I be able to find all of the information I require in this field?" If you answered yes to this type of question, you should choose that topic.
Consider yourself an evaluator
If you're having trouble deciding whether or not the evaluators should accept your work, think about it and try to evaluate it as an evaluator would. Try to figure out what an evaluator is looking for in your study work, and you'll have your answer. Make paper blueprints: The outline is a blueprint or framework that will assist you in organizing your ideas. It will help your paper to be more reasonable. However, keep in mind that every item in your outline must be relevant to the topic you've picked.
Inquire with your guides
If you're experiencing trouble with your research, don't be afraid to tell your guide (if you have one). They will undoubtedly assist you and fix your concerns. If you're having trouble articulating exactly what you need for your job, contact your boss for assistance. They may also provide you with a list of recommended readings.
Make use of a computer
This fact is self-evident if you're researching the subject of management and business. Use the appropriate software: Always make use of high-quality software. If you lack the ability to evaluate good software, you may unwittingly compromise the quality of your article. There are a variety of programs accessible to assist you that you can find on the internet.
Use the internet for assistance
Using Google as a starting point for your paper is a great idea. It's a fantastic search engine that may help you find answers to your questions. You may also locate an example research paper or read some answers to the frequently asked subject of creating a research paper. In addition, books can be downloaded from the internet. If you have all of the necessary literature, prioritize reading, selecting, and analyzing the information. Then make a rough outline for your research article.
Bookmarks are beneficial in the following ways: You use bookmarks to keep track of where you are in a book or magazine, right? It's a fantastic habit to get into because it helps you maintain your consistency. Also, when searching the internet, you should always use bookmarks to help you find what you're looking for.
Revise what you wrote
Always read what you've written, summarize it, and then finish it.