There are different processes used to write topics on various issues. Although at times, these processes may seem like a simple concept, most students have difficulties understanding them. Regardless of what you are pursuing in college or university, at one time in your coursework, you will be required to write a process analysis essay. If you have ever written a set of directions or gone through an instructional manual, you will probably be familiar with what a process analysis essay entails. A process analysis essay is mostly used in the field of technical writing to explain various complex systems objectively and logically. Whereas it may seem like all your colleagues know about this type of an essay but you, the truth is that it can be so challenging to come up with a quality process analysis essay. The good thing, however, is that students can always seek assistance from companies providing essay writing services. In this article, we shall discuss everything pertaining to a process analysis essay.
If you want to write an impressive analytical essay, it is important to have a good understanding of its purpose and nature. Before you begin writing your paper, you should carefully examine the problem you are going to explore and thereafter, come up with the positive and negative points. The information you use to support your ideas should not only be logical but also followed up with well-thought-out facts. As a writer, you should not necessarily select an issue that has already been analyzed. The primary objective of why tutors assign students this kind of assignment is so that they can develop their creativity.
Process analysis essay
Most students are not sure of what a process analysis essay is all about. Well, the truth is that there are high chances that you may have written one or two unknowingly. Maybe, you might have also come across a couple of them. By definition, a process analysis essay entails the processes an individual must take to achieve something. The primary objective of this kind of essay is to provide the audience with a step to step guide on how to realize the desired outcome. There are also process analysis essays that seek to explain or analyze a process. This basically means that there is a directional essay, which provides the readers with instructions on a particular topic, and an informational process essay, which aims at analyzing the process. All in all, the primary objective of a process analysis essay is to inform the reader about various things they do not know or should know about a specific topic.
Types of Process analysis essay
There are two types of process analysis essays, which include informational and directional. Whereas the directional essay provides a description of how to do something such as repairing a gadget or cooking recipes, an informational essay on the other hand provides a detailed explanation of how something operates. A good example of an informational essay is a description of how a washing machine operates. Students are always advised to know the differences between the two types of essays.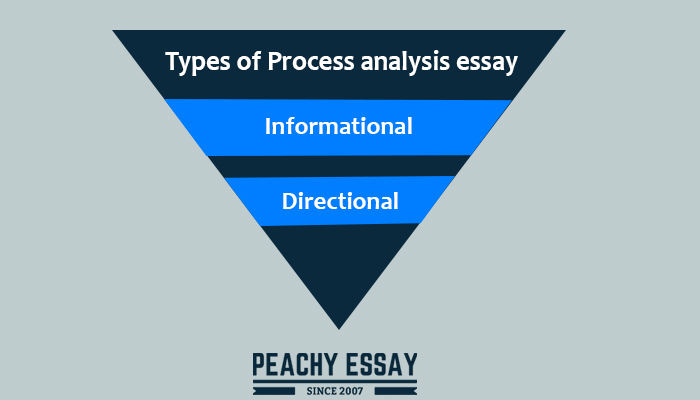 Writing a Process Analysis Essay Step-By-Step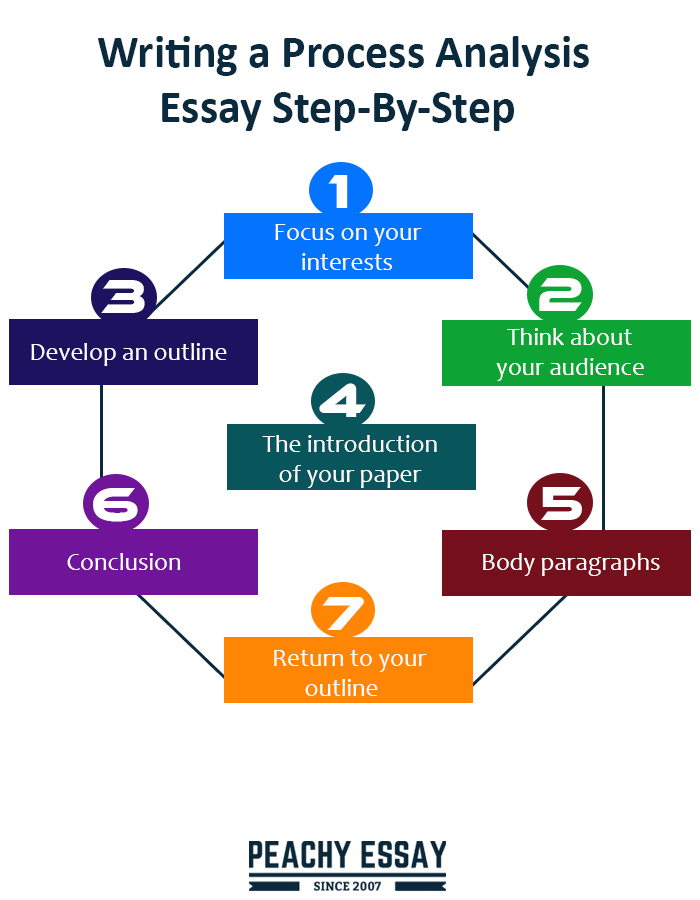 Focus on your interests
Before you begin to write your process analysis essay, you should take some time to think about the topics that interest you. We are all aware that a person is going to write best on a topic they find interesting or about something they have had an interaction in advance. Performing this essential step is not only going to make your essay writing process less difficult, but it will also make your research more effective. Therefore, spare enough time to brainstorm on everything that interests you and thereafter thinks of how you can entertain or educate the reader by bringing value to the discussion topic or subject.
Think about your audience
One of your primary objectives should be ensuring that your audience enjoys reading your paper. Therefore, to ensure you attain this objective, you should always put your audience into consideration every time you write your paper. By thinking about your audience, you will also know how to address your topic; whether the subject matter is basic or advanced, and will require some background information. On the same note, knowing your audience will enable you to know the style to use; whether informal or formal.
Develop an outline
Regardless of the kind of paper you are writing, it is always essential to develop an outline for your essay. Having an outline will allow you to plan your paper and decide how you would wish to structure it. You would want to ensure that your paper is not only interesting to the reader but also informative. One of the primary steps of attaining this objective is by developing an outline before you begin writing your paper.
The introduction of your paper
Your introduction performs an essential role since it introduces your process analysis essay and lets your audience understand your primary objective for writing the paper. In the course of writing your introduction, you would also want to capture your audience`s attention by using funny phrases or rhetoric questions. Your aim is to ensure that your audience continues reading your paper.
Body paragraphs
There are no rules specifying the number of paragraphs that should be included in the body of an essay. Your number of paragraphs will depend on the amount of work you would like to cover as well as the topic of your essay. Ensure you do sufficient research so that the findings of your paper can have enough bases. Your ideas should flow smoothly from one paragraph to the next and connected using transition words. Take enough time to explain every idea in each paragraph.
Conclusion
You need to keep your conclusion precise and straight to the point. Your audience has already gained the most important information in the body paragraphs. As a result, you do not have to repeat everything that you said. Your conclusion should provide the reader with a final statement about what you have been discussing.
Return to your outline
Do you remember the outline you created before you began writing your paper? It is time to return to it and check whether your paper adheres to it. By referring to your outline, you will ensure that you have included all the essential information in your paper and the ideas flow smoothly.
Process analysis essay topics
How to start writing your book
How to cook pizza
How to train your pet
How to upgrade your laptop
How to write an email
How to install an application on your phone
How to become a teacher
How to start your business
How to lose weight
How to score impressive grades effortlessly
How to prepare a resume
How to play chess
How to avoid procrastination
How to impress your new employer
How to stop drinking alcohol
How to develop your website '
How to learn German
How to finance your university
How to reduce plagiarism in your assignments
How to pass Chemistry
How to write a good composition
How to write a poem
How to get along with people you have a lot of differences
How to get a lot of YouTube followers
How to be famous
Process analysis essay structure
When writing your analysis essay, there is a certain structure that you should follow. This includes the following;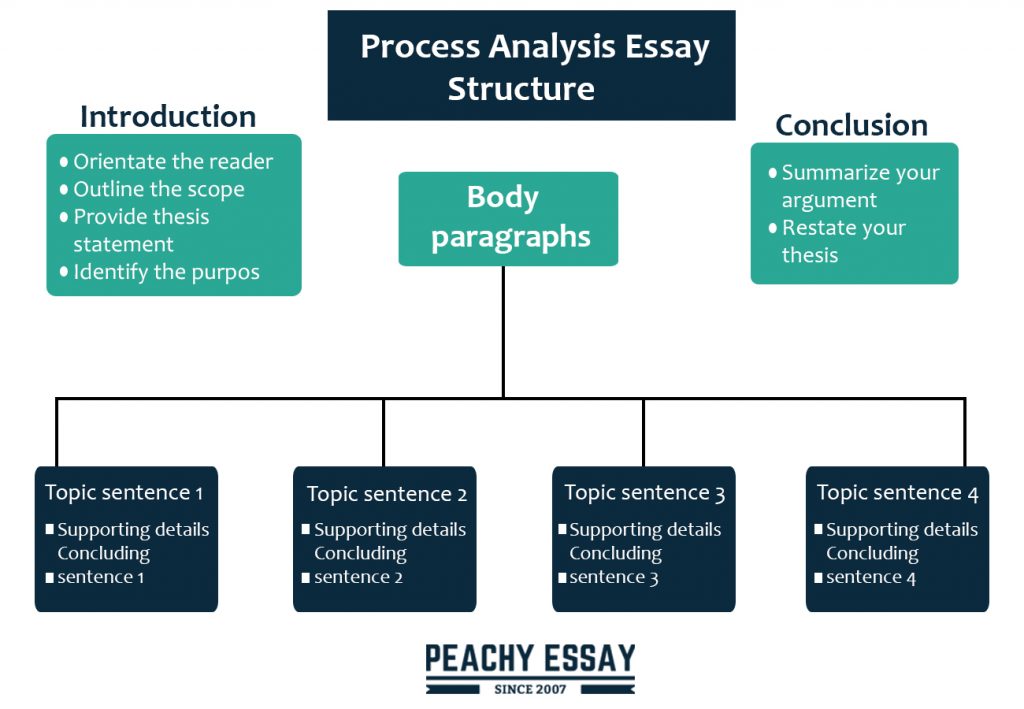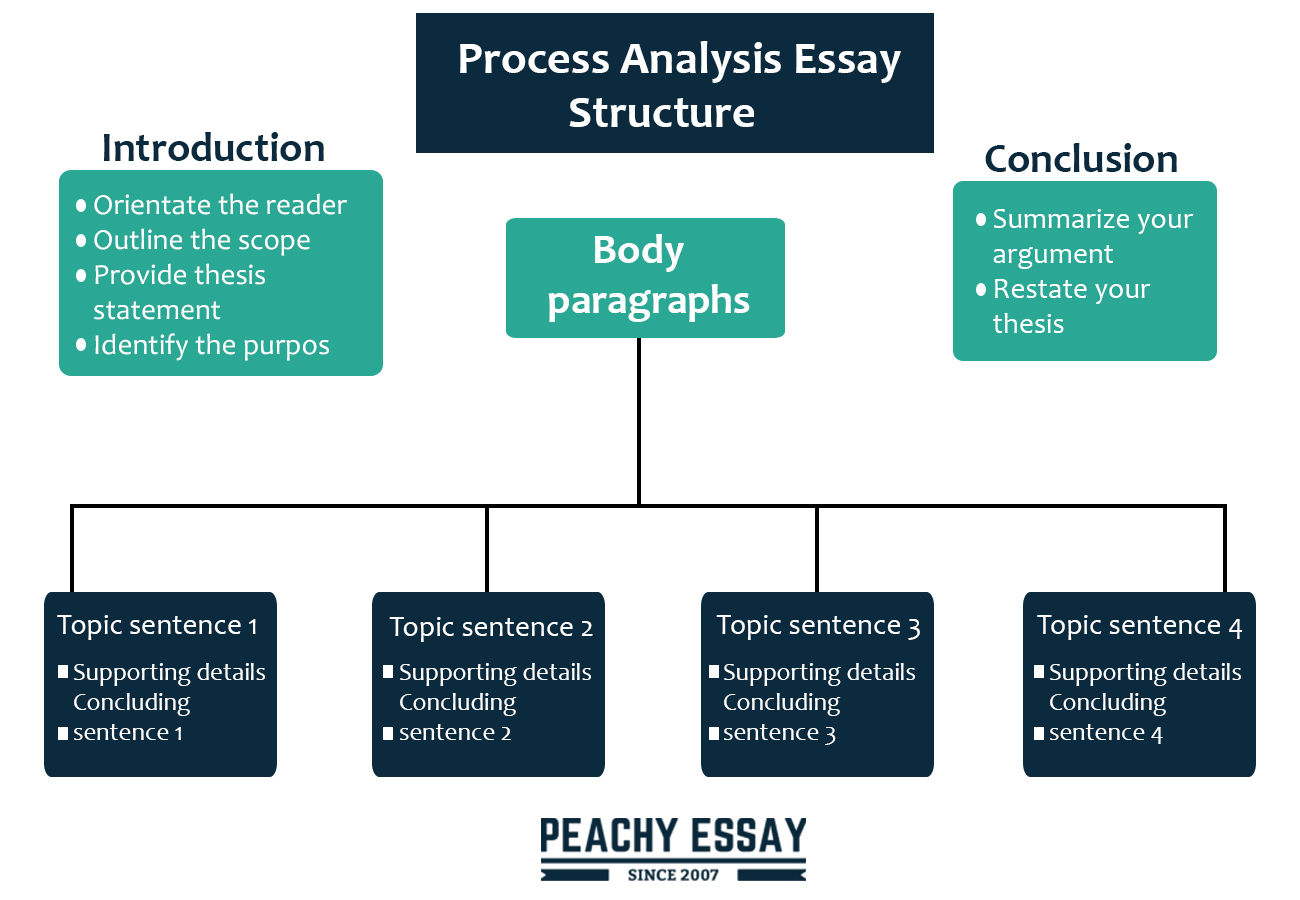 Introduction:
Orientate the reader
Outline the scope
Provide thesis statement
Identify the purpose
Body paragraphs:      
Topic sentence 1
Supporting details
Concluding sentence 1
Topic sentence 2
Supporting details
Concluding sentence 2
Topic sentence 3
 Supporting details
Concluding sentence 3
Topic sentence 4
Supporting details
Concluding sentence 4
Conclusion:     
Summarize your argument
Restate your thesis
Process analysis essay Outline
If you want to write an impressive process analysis essay, it is essential that you follow a specific structure or outline. Similar to all other academic papers, the structure of a process analysis essay is divided into the introduction, body paragraphs, and conclusion. The only difference is in regards to the body paragraphs where the writer presents their claims and supports them using credible evidence. The following is an example of an essay format;
Introduction
Start your introduction with interesting information that will capture the audience`s attention
Introduce your primary objective using a few words.
Describe the main objective of the process
Describe why the process is worth learning as well as useful
Describe the expected outcome as well as the possible risks if the various steps are followed described
Body paragraphs
Divide the different processes involved
Discuss each process in its own paragraph
Ensure there is a smooth transition from one paragraph to the next by using transitions
Use a descriptive style of writing
Conclusion
You should provide a summary of the various processes involved
Avoid repeating the instructions
Avoid introducing new ideas
General Tips for writing your process analysis paper
While writing your essay, you should check out spelling mistakes and grammar. Unfortunately, if you have a lot of grammatical errors, all your efforts to write an impressive essay will not be fruitful. If very possible to find out an essay with great content receiving low grades because of grammatical errors. Therefore, if you want to create an excellent process analysis paper, ensure you always double-check your paper so that you can receive the grade you have always desired.
After you complete writing your paper, consider reading it out aloud. Although it may seem silly, it usually works wonders. You will be surprised by how many errors you may come across when you hear what you wrote. Although some mistakes may seem out of the ordinary, you will have a high probability of seeing your mistakes when you read out your work loudly.
Use credible sources of information. The advancement of technology has made it possible for people to access information anywhere regardless of their geographical location. However, it has also made it difficult and time-consuming for the writers to try and differentiate credible from non-credible sources of information. If you want to write an impressive process analysis paper, ensure you use credible sources of information when writing your essay. On the same note, always ensure that your sources are up to date. This is because new information is published daily.
Avoid plagiarism at all costs. There is nothing as irritating to a writer as reading information that was copied directly from another source. Plagiarism is considered one of the greatest offenses in academics. Therefore, try as much as possible to ensure that your work is free from plagiarism. Writers are always encouraged to make use of a plagiarism checker to ascertain that their work is plagiarism-free.
Finally, always check on the facts. You should always cross-check the characters of the books you are analyzing, the names of the people you are referencing, as well as the correct spelling of events and places. Being thorough with the names of places, events, and people will show your attention and professionalism to detail.
The final words
It is common to see students almost panicking because of the sight of uncommon words. People get scared just by looking at the various names of different essays. If you feel like you are in the same situation because you are not sure of where to start writing your essay, always remember that you can always seek assistance from essay writing services. They have a team of professionals who can assist you in writing any type of academic paper. Whether you are in high school, college, or university, one of the facts is that a blank page is always a writer`s enemy. The blank page can be so intimidating particularly when you are required to write a process analysis paper, and you have no clue about where to begin. I hope that you have learned everything pertaining to a process analysis paper by reading through this article.