Looking for legit and reliable dissertation writing services?
Your dissertation is the hardest piece of assignment ever to be done making it one of the assignments that students fear the most. That makes reaching help for dissertation writing services quite necessary.
For this reason – and the fact that a dissertation writing task can be worth up to 50% of your course- there is an increasing number of students who bail, deliver an all-I-Could-Do work or find help to move on with their projects.
But why is dissertation writing so hard?
Well, in one hand, your dissertation will always show up at the end of your studies, which means that a professional level of writing skills and knowledge is expected from you.
Then, you will get to understand that, starting from dissertation proposals, the difficulty goes up.
Unlike the essays and papers that you have been submitting this far, a professional dissertation implies long content, a specific methodology for analyzing the content and the possibility of offering an "improvement of knowledge" at the end of the work.
So, after you get your dissertation proposal approved by your college authorities, you will have to write a dissertation that actually generates new knowledge and follows the, in most cases, this structure:
Abstract – Briefly and with catchy wiring you inform the reader of the content coming next.
Introduction – An extended version of the abstract, which should be around 10% of the final document and introduce the meaning of your thesis paper as well as its content.
Literature review – Place together every relevant piece of literature that can be used as the basis for your project's discoveries, along with a deep analysis of how they are connected allowing you to extract new information.
Methodology – Explain the process followed to create new knowledge, there are several ways to go, ones more useful to a type of science than others.
Evidence, analysis and results – Place at hand all the evidence collected and, based on your selected methodology, analyze and explain the results.
Conclusion – Present what you got after the whole project is done and inform the reader about the new knowledge that you found.
In addition, all this has to be done with a proper writing methodology, defining and quoting all sources correctly and avoiding at all cost the use of misleader information and plagiarism.
You are not alone!
Here is when our professional dissertation writing services come in
At this point in your studies, you will have a lot going on. And a dissertation is a quite complex assignment that requires time, dedication and the hard work of creating new knowledge.
It is here when most students, regardless of how talented they are, look for help in order to get accurate information and a well-written dissertation.
Keep in mind that unlike a research paper your dissertation can scale to represent 50% of a subject's final grade.
This way, it is completely normal for you to reach dissertation writers for any of these reasons:
You don't have enough time to dedicate to the project.
You don't feel confident enough to risk your grade.
You have to focus on other activities at the moment.
Advantages of using custom dissertation writing services?
As we mentioned above, your dissertation is really important to your grade score, it is also a difficult assignment to achieve and will take a lot of time and dedication from you to get the job well done.
The main advantages here are to get a professional to make the hard work for you, developing a dissertation paper on a proper topic, with the adequate structure and free of mistakes.
The other option – dissertation writing assistance
Not all students feel comfortable with having someone else making the whole work. For this reason, at Peachy Essay, we offer you the dissertation writing assistance service with which you will count with a professional expert to help you out during the development of your project.
In this case, you will do the writing but will count with a certified and experienced professional to help you out the whole time and clear out any possible doubt.
Why Peachy Essay?
There are many reasons why students choose our service. Mainly, because we have the best customer reviews, but we also guarantee:
Quality of work – we make sure that your project is not only efficient and meets the requirements to obtain a high grade, but also that it is really a work of the highest quality.
Plagiarism free – For some students, it turns out to be tremendously hard to use citation formats and avoid copying content, for this reason, we make sure that every work delivered by our professional writers follows all the required copyright and plagiarism rules.
On-time deliveries – If you don't get the job on time, there is no reason to get it done at all. At Peachy Essay, we take timing seriously and make sure that you receive your project with enough time to prepare yourself, clear doubts and suggest any editing before your due date.
Student-driven prices – Our customers are students, and we are aware of what the student's life is like. You already have to pay for a lot, including copies, food, and your student loan, and you also have to deal with not having time for a full-time job; keeping that in mind, our custom dissertation writing service has a price that fits almost any student's budget!
Support around the clock – Our customer support team is there for you all the time, making sure that your academic papers are delivered on time and offering you contact for writing assistance.
100% native English experienced writers
Our team consists of more than 600 certified and experienced writers of all academic levels. So, if you need Ph.D. dissertation writing services, a doctoral thesis, a professional dissertation, or just help during the writing process; you will have the best professional on the field helping you get there!
How to get started?
Do you want to get a high-quality dissertation, written by a top-notch writer and delivered on time?
Just click on Place an Order Now at the beginning of this page!
A member of our support team will contact you and the next thing you know, a professional writer will take that time-consuming written dissertation from your hands! Contact us now!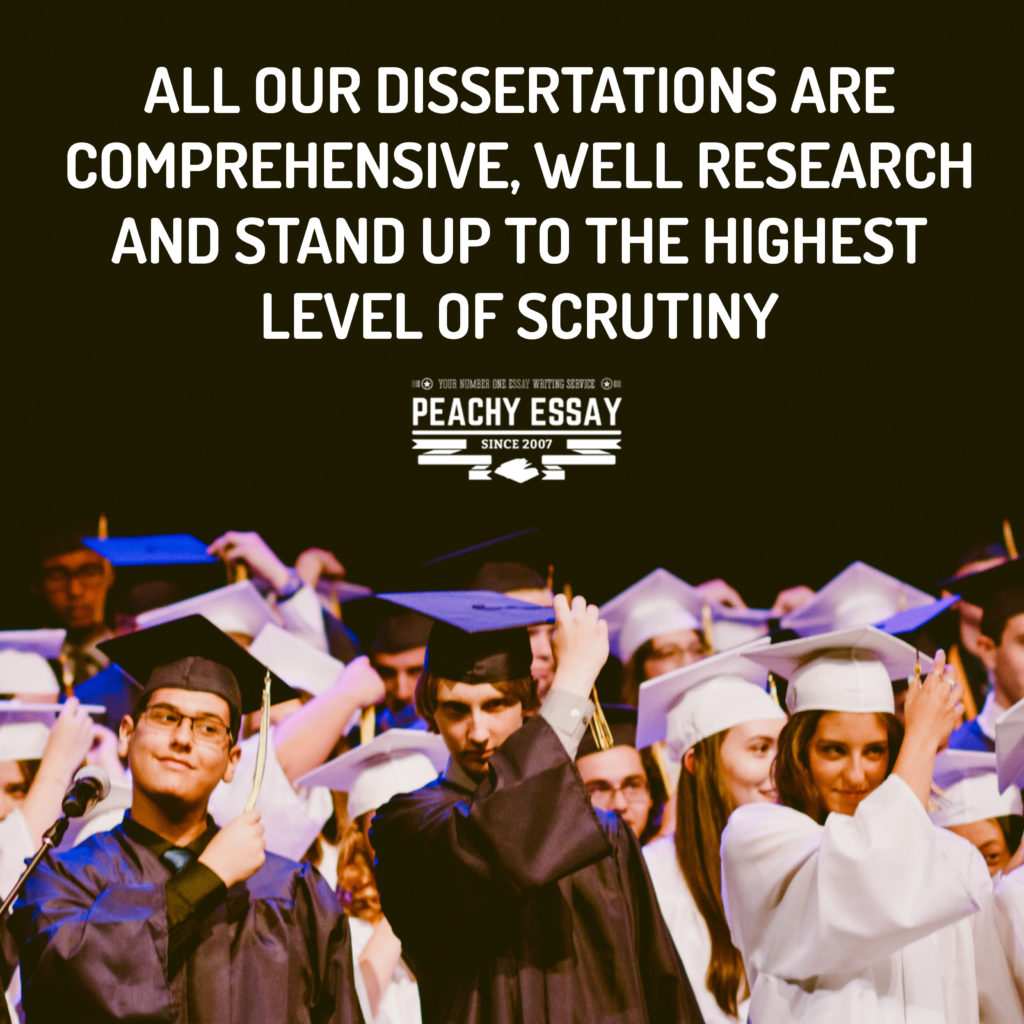 Here you can check some of our dissertation services:
– Write My Dissertation
– Buy Dissertation Online
– Dissertation Editing Services
– Custom Dissertation Writing Help Service
– Dissertation Proposal Services
– Dissertation Literature Review Writing
– Dissertation Consultation Services
– Dissertation Survey Help
FAQ about Dissertation writing services!
How do you write a dissertation?
Writing a dissertation may seem like a daunting task, but if you search out the best dissertation writing services reviews, you can find a dissertation writing service that will work great for you. A good dissertation starts with selecting a topic and carefully defining it, in order to make your thesis as clear and simple as possible. After this, you begin your research, always making sure that your sources are authoritative and reliable. When organizing your research and beginning the writing process, you must ensure to adhere to a strict, rigorous structure to ensure your ideas are clear and comprehensible.
What should a dissertation include?
Dissertations are organized into several parts. The title page and abstract, located at the beginning, summarize the findings of the paper. The introduction follows the abstract and introduces the research question that the dissertation will be answering and why the question is important. The literature review follows the introduction and is an analysis of other works related to the research question that you are asking. The methods follow the literature review and explain how you completed your research. The results explain what your findings were, the conclusion summarizes the results of your paper, and the citations are where you list other works that you referenced in the dissertation.
How do I choose a dissertation topic?
Choosing a dissertation topic can be difficult, but finding the best dissertation writing services reviews will aid you greatly in doing so. A dissertation topic should cover an aspect of your field of study that has not been examined before. A dissertation that covers material that has already been explored in other papers is not a good one. At the same time, a dissertation topic should be narrowly defined in order to maintain a manageable scope. A topic that is too sprawling and ill defined will likely be rejected, so you should define your topic narrowly in order to be able to complete your dissertation in a timely manner.
Can you use "I" in a dissertation?
In general, it is a bad idea to use "I" in academic work, including dissertations. Seeking out the best dissertation writing services reviews will inform you as to why in detail. In short, academic works are intended to be written in an impersonal manner, as they are discussions of facts, logic, and reason. Inserting yourself into a dissertation through the use of the word "I" is therefore inappropriate, because it introduces an element of subjectivity into the dissertation, a big no-no. While there are exceptions to this rule, they are few and far between, and you should generally strive to avoid using the word "I" in your dissertation.
What should a dissertation introduction include?
A dissertation introduction is formatted in much the same way as the introduction to a regular essay. The introduction of an essay is intended to introduce the thesis, lay out the central arguments, provide an overview of the topic, and justify the essay's existence. A well-written dissertation introduction will do these things as well. The main difference is that because a dissertation is much more involved than a regular essay, an introduction for a dissertation will also be longer and more complex. Searching for the best dissertation writing services reviews will aid you in finding a way to write a strong dissertation introduction.
How do you write a dissertation proposal?
A dissertation proposal is intended to be an introduction to your proposed topic and a justification for its existence. As such, you need to inform your instructor of what, precisely, your dissertation will be about and why you are writing it. Prior to writing the proposal, narrow down your central research question in order to make the scope of your research manageable, as an overly-broad topic will likely be rejected. Additionally, do extensive research to make sure that your chosen topic has not already been covered by an existing paper. Looking for the best dissertation writing services reviews will make it easy for you to put together a dissertation proposal.
How do you start a dissertation conclusion?
Much like an essay conclusion, a dissertation conclusion is intended to wrap up the dissertation, analyzing the results of your research and its implications as well. A dissertation conclusion should not merely restate the thesis, though reference to it is necessary in order for the conclusion to make sense. Your dissertation's conclusion should be concise, distilling the most important aspects of the paper for easy consumption and reflecting upon them, summing up the results of your research and the possible implications of it. If you are having trouble writing a dissertation conclusion, you should search for the best dissertation writing services reviews.
How long should a dissertation be?
In general, a paper should only be as long as necessary to make its points clear. Overwriting is a sign of bad writing and/or sloppy research, and this is the case with dissertations as well. Because dissertations involve a well-developed idea and extensive research and study, they are generally much longer than the average essay. Additionally, the length of a dissertation varies between subjects, so how long your dissertation ends up being will be determined in part by what field you are working in. If you need help writing a dissertation of the proper length, you should look up the best dissertation writing services reviews for assistance.
How many pages is a dissertation proposal?
Much like other forms of writing, a dissertation proposal is a good one if it conveys what it needs to convey in the fewest amount of words. In general, a dissertation proposal is ten to fifteen pages, though this is not a hard limit. This length is sufficient to introduce the thesis and research question and justify why the dissertation should be written on this particular topic. It also allows enough space for a literature review to further buttress the importance of the research question. To write the best dissertation proposal, consider seeking out the best dissertation writing services reviews.
What is a dissertation proposal defense?
A dissertation proposal defense is an event where you are required to present your proposal to your dissertation committee. The committee will ask questions related to your thesis and research question, and you will be required to answer those questions satisfactorily in order to receive approval for your dissertation idea. To do this, you will need to research your topic extensively, anticipate questions that might be asked and come up with satisfying answers to them, and organize your ideas in such a manner that the committee will support your work. For assistance with your dissertation proposal defense, consider looking up the best dissertation writing services reviews.