What Is A Dissertation Literature Review
Dissertation writing is both a challenging and life changing experience for any student.  Going through a vast volume of data, research and the intensive workload during their period garners so much learning experiences and eye openers that create invaluable knowledge.
When you are compiling dissertation writing, you go through so many important processes – one of them is writing your dissertation literature review. A dissertation literature review is a critical assessment of the sources used in your writing. This process involves you reading the sources you collected regarding your dissertation topic and identifying gaps so you can address them.
The dissertation literature review is normally written close to the beginning of your dissertation and outlines a summary of existing research and writing on the topic and field you are addressing on your dissertation. In this summary, it will be virtually impossible to cover all the material available.
However, it should form a substantial value and include most of the important concepts. The concepts of dissertation literature review are quite important as they help to form the basis and context of your dissertation topic.
Dissertation Structure And Relation To Literature Review
As with many elements of your dissertation, the literature review must form a synergy and connection with the structure of your dissertation. Generally, the dissertation structure is made up of five main sections, i.e. the abstract, the introduction, the methodology and discussion, the conclusion and the references.
And through this process, so many of us struggle with putting together and to write a great dissertation literature review. It is during this time when so many questions pop up in our minds. These questions include how exactly do I write my dissertation literature review? How long should it be? What should it contain? And so many other important questions.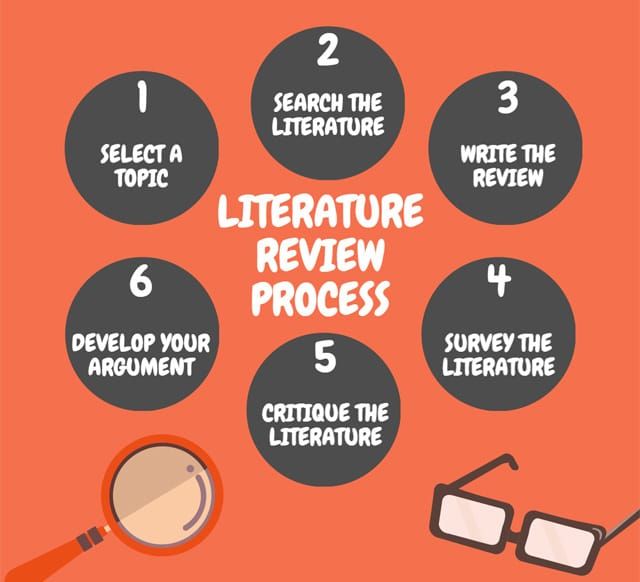 Writing Your Dissertation Review
This process doesn't only involve you listing all the relevant studies and authors down. It should help your reader make sense of what you the message you are trying to convey and form a real connection with the topic you are working on.
This means that your dissertation structure should clearly outline the current state of the issues being addressed in the dissertation, describe the studies briefly, share current positions and gaps that the field is experiencing. The dissertation literature review must also provide an objective stance of each source as well.
Keep in mind that your dissertation is an academic paper thus, you must always seek out credible and authoritative sources to use. This will highly impact the quality of your paper and overall performance.
The Structure Of Your Dissertation Literature Review
There are different ways you can structure your literature review to get your message received clearly. However, one of the easiest ways to do so is to think and structure the themes of each writing source concerning your topic. Then, summarize and comment on them in that order.
This will also help to ensure that all important and key players and research in that particular field are included. Following the structure of using theme will also help to put each research into perspective and help draw up a virtual skeleton map of the topic. You can even scribble them down on a notepad to remember.
This skeleton map, in turn, helps you finally writing the review with an easy flow, fluidity, and connection between each research you address. You can even compare, contrast and relate them a lot easier, as you will have a wider understanding of each topic by then.
After all these points have been outlined, you can then do the actual work of structuring to make your work a lot more comprehensive and easier to capture attention. Do this by creating subheading to separate key concepts and use bullet points to list your important points, so they can easily stand out.
The points can even be used to form a basis for your arguments and discussion later on in the dissertation. Always remember to ask yourself this question before you include any data into your literature review – is the study of any significance? Is it relevant to my research? How useful is it to make my point? This helps to really narrow down the focus of your dissertation and make more sense of it.
Sure the concept of dissertation literature view is underrated and can appear to be a minuscule portion to simply list out current research for most new writers. This is not the case. In fact, your dissertation literature review can cover up to 25% of your actual dissertation.
Tips On How To Write A Great Dissertation Literature Review
There is also a myriad of dos and don'ts to follow that will help to improve the overall quality and delivery of your literature review.
Planning
Before you embark on the impactful research and writing of your literature reviews, you must plan out the work and list down important questions you want clear answers to. This step is ideal before you start your research for sources and after you have found them so you can write a coherent and comprehensive review.
The same questions can be used as you research and then after you have researched the sources so you can get rid of the unnecessary content. The most important questions to ask yourself is the relevance of the study, how it will help to enhance your dissertation research topic and how important the study is.
Actual research
It is in fact during this time where you build up and showcase the research skills you have been working on and perfecting throughout your academic career. Writing your master's or doctorate dissertation is no joke, thus, your research skills should be on point. To make your dissertation stand out and bring more value he research you do to must ensure that you collect relevant, and authoritative sources.
You must also ensure that you have captured all the important studies. Your university library and online databases are a good place to start. keep in mind, especially online to always know the credentials and authority of your sources.
Relevance
After compiling dissertation literature review sources during the research, the next step is to gauge their relevance before including them in your actual literature review. This is done by following the step below. Branching out your sources helps you to break them down to create a focus. This will help you understand and make an informed analysis of whether the source is relevant for your dissertation topic focus or not.
With the ever changing times and technology, the relevance of your sources should also go with time and realities. Some studies hold their space and stance to the present day whilst others may be outdated or overthrown by advanced technological changes. Thus, before you use these sources, though authoritative, you must ensure they are relevant to the time and period of your research.
Branch out
When you are compiling your literature review sources, it is a good idea to group them into their themes. The theme grouping helps you to connect each source, synergize and build upon each. Grouping them into themes also helps you to identify, explore, interpret and evaluate each source effectively.
You can further group your sources to clearly outline the review and capture all sides of your topic focus. A good example is by grouping the sources to compare and contrast them. There can be a category for example, whereby you have sources relating to your topic that is for it and against it. You can also incorporate many other chronological differences or similarities that help to group your sources deeper.
Evaluate
This step leads from grouping your sources. Before you include and start matching the sources together, reread, evaluate and analyze your source. Evaluating your source also puts a critical perspective into play. This when you can rewrite the study to match your dissertation topic without losing its essence. As with most other tips, ask yourself in the end, is this study relevant?
Deeper scrutiny
Before you proceed to the conclusion of the dissertation literature review, it is important to outline the deeper theory and key takes behind each source. This s perhaps the best way to summarize and make sense of each study. It also helps to build a strong academic basis behind your paper.
Connection to the whole dissertation
Other than connecting the literature review to your topic, there's more to be done with it. This goes beyond just writing the literature review itself.  To help the reader make sense of it all and carry these concepts of dissertation literature review throughout your writing, you must create a conclusion.
Do this by pointing out the current situation, surrounding issues and suggest future trends. This helps you to establish the points you will be building to your reader.  Additionally, you must relevantly connect the sources and studies you summarize and point out in the review to the rest of the study.