There are so many organizations out there providing educational funding, and knowing how to craft a scholarship essay can help you get financial support. Unfortunately, many students, especially the fresh ones, are not conversant with these documents. In this guide, you will get in-depth information on what it takes to compose this document.
What is a scholarship essay?
A scholarship essay is a scholarly paper you write to show your personality and to prove to the funding organizations that you deserve to be assisted financially.
Writing a Scholarship Essay
Writing a scholarship essay can be hard if you don't know how to go about it. The following tips can help you compose an excellent document.
Start writing the paper early
It is crucial to create adequate time to produce a quality document. Begin crafting the piece early so that you may complete it on time. If you want to come up with an excellent paper, you must brainstorm ideas, create an outline, write the draft, and finally edit it.
Understand the funding organization's mission and purpose
Note that each funder has some criteria that applicants must fulfill. It is vital to compose an essay that aligns with the financier's mission. Also, as you write the paper, be passionate, and create an exciting piece that can enhance your chances of success.
Follow the essay instructions
Make sure that you follow all the instructions provided while composing the paper. Note that the majority of applicants fail to get financed because of their failure to adhere to the guidelines given.
Share something about your personality
Your scholarship essay will be more interesting if you write something about yourself. Giving such information will make the approval committee have a clear perspective about your character traits.
If you want to enhance the quality of your document, it is vital to consult with expert writers for guidance on the best approach to adopt.
Proofread and edit your document
Note that scholarship committees are keen on quality essays, and any minor mistake will make your paper dismissed. If you want to boost your chances of getting awarded money, ensure that you go through your document to check and edit typos.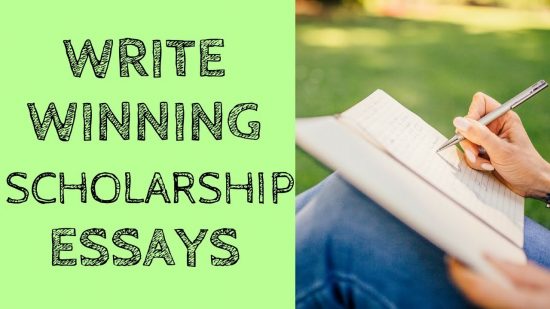 How to Write a Scholarship Letter
Nowadays, the majority of scholarships require an application essay, and therefore, it is crucial to write an excellent paper that can persuade the approval committee to consider your application.
The following steps can help you craft a perfect paper.
Have a Strong Introduction
It is essential to start your paper with a solid opening that can hook your audience to read it to completion. For instance, you may mention where you need to see yourself in the next five years.
Use the recommended essay structure
Ensure that the paper you craft has an introduction, body, and conclusion. Even though some essay prompts need unique approaches, ensure you stick to the right format to make your paper look professional and organized.
Avoid composing length paragraphs, and make sure that you begin every section with a new idea.
Ensure that you wrap up your paper neatly to make the approval committee take your application seriously. For example, mention why you wish to study a particular program.
Scholarship Essay Format
Winning a scholarship is not an easy task if you don't know how to write it in the recommended format. Not that the majority of scholarship applications have their requirements on formatting, and it is crucial to stick to their specifications. However, if there are no guidelines on the format, the following tips can help.
Ensure that all texts, in the entire document, are double-spaced.
If you want to make your paper look more professional, use Time New Romans size 12.
It is advisable to use margins of one-inch on all sides of the document.
To set them apart, indent every paragraph ½ an inch from the left margin.
Choose catchy titles to attract the attention of the audience.
It is advisable to stick to the word count as provided by the scholarship committee to enhance your application success.
How to Structure a Scholarship Essay
Before you write the paper, understand the structure of the essay to ensure that it is well organized. The following is a brief description of an essay structure.
It is critical to start your essay with an excellent opening to attract the attention of the audience and keep them engaged throughout. An excellent introduction should be between 1-2 paragraphs. Moreover, ensure that you state the main points that you are going to discuss in the rest of the paper.
Expand on your main points and support your information with facts. It is vital to share details on what motivated you to reach where you are and the reasons why you want to join the college. Also, give an account of how the scholarship will help you achieve your objectives. Usually, the body should comprise of 1-3 paragraphs.
Summarize your ideas, and show how the winning of this project will help you achieve your goals.
Scholarship Essay Examples
Although scholarship essays are straightforward papers, crafting them can be challenging, especially to inexperienced learners. The following example can help you get a hint of what you are supposed to do.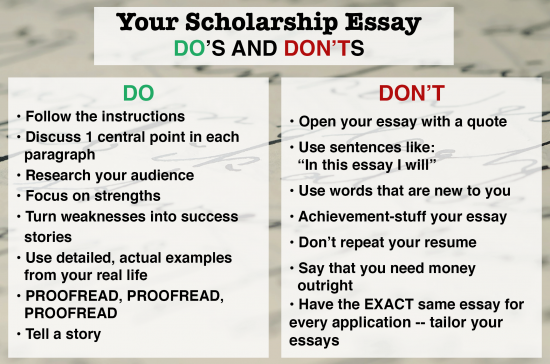 Example #1
Nemat Foundation Scholarship for $2000 by Irene David
I was born and raised in the US by my parents, who were immigrants there. Luckily, my parents were educated and could speak English somewhat. However, my grandparents were elderly, and their spoken English was poor. Fortunately, I knew how to speak and write in English; hence I could help to talk on their behalf, especially during individual appointments, such as hospital visits. As I grew up, I got more engaged with my family, and this made me know what I would become in the future.
At the age of six, my parents encouraged me to work hard in school, and I took their advice positively. Although my parents had basic knowledge, they encouraged me to take studies seriously. At the age of twelve, my high school teacher recognized the leadership skills in me and appointed me to be the captain of the football club. I organized the members of this club and created its vision and vision. The more I got engaged, the more I enhanced my leadership skills.
As time went by, I led my siblings and influenced them with the right virtues. Moreover, I became a role model for my young brothers by teaching them the right morals and encouraging them to work hard. My parents emphasized the significance of being an excellent influence, and therefore, I had to take their instruction seriously.
Since the age of fourteen, I have been thinking of becoming a neurologist. The urge to desire to pursue medicine started when we volunteered to help people with disabilities in an institution within our neighborhood. When we visited the school, the majority of the students had mental disorders. We were scared to interact with them because of their aggressiveness. However, we cleaned their facility and made it conducive for their learning. Before we left for our school, a doctor came to see the patients as his routine practice. I was amazed at how the specialist engaged with the patients. I learned that he was a neurologist. He was very compassionate, and he managed them very well. Due to that, I decided to become a doctor, as well.
Now, I intend to become a doctor. I plan to pursue my education up to the Ph.D. level. With this qualification, I trust I would become a consultant who would not only help patients but other people.
Due to my interests and values, I am applying for the Nemat Foundation Scholarship to derive both motivational and financial help for my studies.
Step by Step in Writing a Scholarship Essay
If you intend to craft a scholarship essay, the following steps can help you a lot.
Familiarize yourself with the prompt and adhere to it
Before you craft the paper, go through the prompt several to understand it. If the prompt is not in the form of a question, manipulate it to become one. Avoid deviating from it, and address its question appropriately.
Choose an enjoyable topic
Although you will want to stick to the prompt, you may choose a topic that is exciting to you. Compose an essay about subjects or events that matter a lot to you. For instance, suppose a prompt asks you to discuss the time you were excited. Under this scenario, your excitement may have come from winning an athletic competition or being the topmost student in an exam. Therefore, it is advisable to choose an exciting instance you are comfortable writing about.
It is advisable to research for adequate information regarding the institution offering the scholarship. Understand their mission, vision, and core values. After that, write an essay that is tailored to them.
Note that the majority of the organizations granting scholarships give specifications on the number of words for the application essay. You can determine the number of words using MS Word counter at the bottom of your desktop. More importantly, ensure that you stick to the word limit as much as you can.
Before you commence writing the paper, strategize on how to craft the essay. Think about how you can draft and revise the document.
Think and come up with ideas that are relevant to your essay. Come up with a roadmap that will help you to craft the paper. After that, you can go ahead and create an outline for the paper.
If you want to write a winning essay, ensure that you give actual and facts about yourself. For instance, avoid exaggerating your accomplishments, but provide honesty information.
As you compose your paper, ensure that you get to the point, and desist from generalizing issues.
Minimize the use of exclamation marks
Usually, exclamation marks are used to express excitement. Contrary to popular belief, exclamation marks don't make sentences powerful; it is the choice of words that does.
Talk about your resilience
In most of the scholarship essays, students are usually asked to describe the challenge they have overcome. This question is meant to make the funder have a clear perspective on the applicant's resilience and their ability to solve problems. Regarding this question, you are supposed to discuss the challenges by showing how you have managed to overcome them.
Maintain a high level of professionalism
Ensure that you craft the document in a tone that reflects professionalism. Avoid using jargon, and instead, use simples and easy-to-read words.
It is vital to appreciate your audience at the end of the paper. Saying "thank you" is crucial since it reflects your gratitude to the funder.
Take a walk and then revise
After you have composed the paper, it is advisable to walk away from your workstation and then come back. With this tactic, you will identify mistakes which you wouldn't have noticed had you done things otherwise.
Ensure that you go through your paper to correct grammar mistakes, typos, and weak sentence structures. Note that having an error-free essay can enhance your chances of being selected.
Final Thoughts on Scholarship Essay
Getting a scholarship is not easy because of the stiff competition out there. Knowing how to write a pristine paper can enhance your chance of winning funds. Like other papers, a scholarship essay's structure comprises of the introduction, body, and conclusion.
You need to write a scholarship essay in the right format. For instance, double-space the text throughout the document, use Times New Roman size 12 and use margins of one-inch on all sides of the paper. In case you are stuck in crafting your essay, please contact Peachy Essay writers for help.