When applying for an MBA, writing an application essay may be one of the most challenging tasks. This part of your application is a crucial component of your candidacy since it presents you with a unique chance to share your accomplishments with the admissions committee and disclose your personal goals and fit for the programs you are applying to.
This post will discuss a couple of tips that may help you write a strong MBA application essay. Read on to learn more!
How do you Start an Essay for an MBA Entrance Exam?
It is common for students to think of this question when they begin writing an MBA essay. That is why a good introductory paragraph is important. This is what readers can use to appreciate your essay and motivates them to continue reading.
Outline your MBA essay to attract the admission committee's attention.
An essay outline helps you to structure your thoughts and ideas. Without an outline, it's impossible to write a highly persuasive essay.
Here are the parts of an essay outline.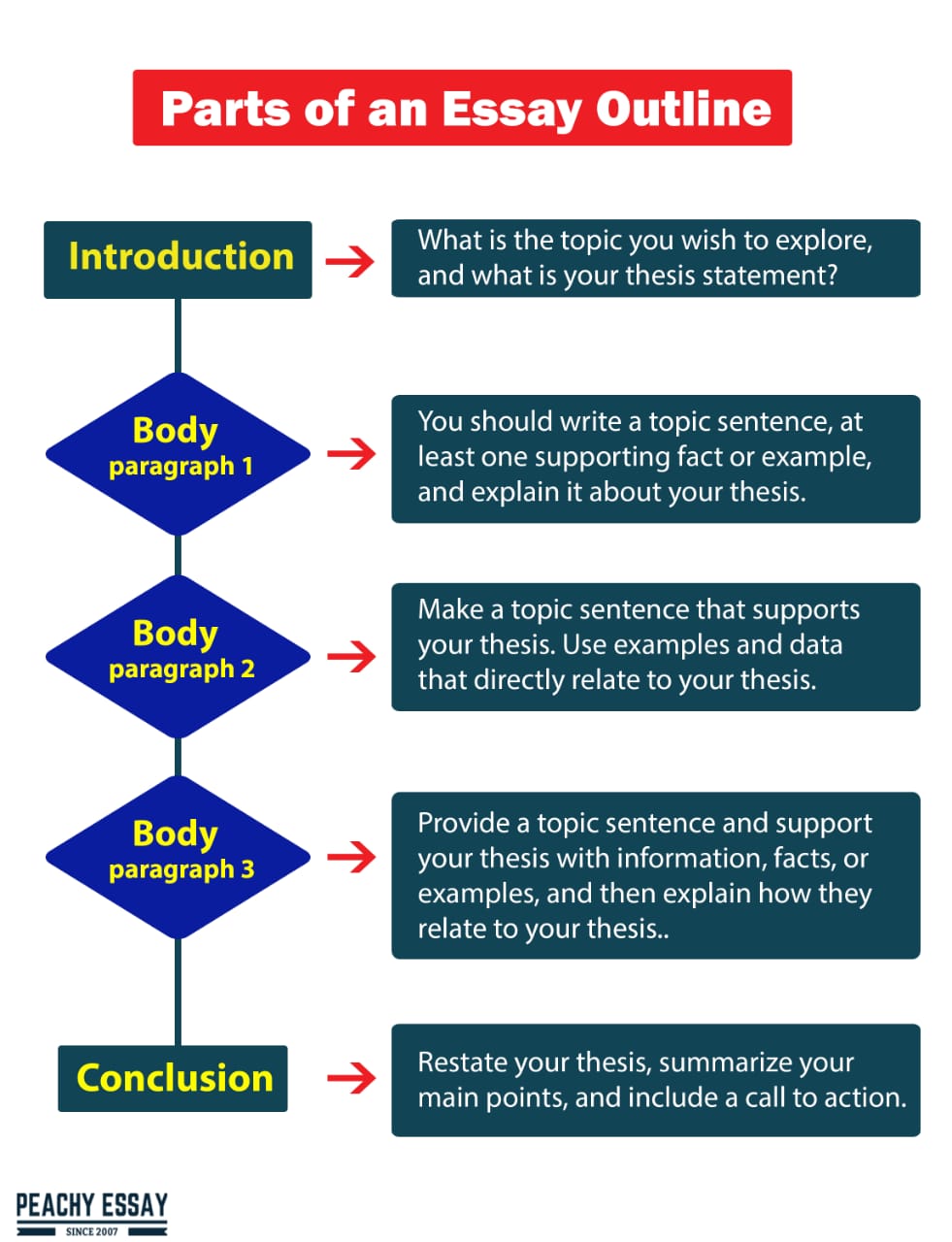 How Should I write my MBA Application Essay?
The MBA essay is your best opportunity to show the admission committee your personality. Be passionate about what you write and explain to them why you are the best candidate for admission.
MBA Essay Topics
Most schools require you to address a particular question to receive a topic or brief list of topics. However, some schools allow you to pick a topic or pick from a shortlist that you have been allocated.
If you're allowed the chance to choose your MBA essay topic, you can make deliberate choices that demonstrate your best qualities.
You might include an essay demonstrating your leadership abilities or one that highlights your capacity to take on challenges or attempt to explain the specifics of your career goals.
Here are some good topics:
Why attend this business school?
What are your career expectations?
What are the short- and long-term objectives?
How will a degree help you achieve your goals?
Why do you like getting an MBA?
Why do you care most about what matters most to you?
What are your weaknesses and strengths?
What has been your most significant achievement?
What is your most regrettable moment?
How did you fail in the past?
MBA Application Essay Prompts
Here is the MBA application essay prompts.
What to include in the introduction prompt
An essay's introduction should try to explain to the reader why you are writing the essay, so it is important to write an appealing introduction.
Admissions to the business school include introducing yourself to members of the admissions committee.
Prompt for Career Goals
On these prompts, applicants are asked why an MBA is needed to achieve their career goals.
By writing MBA essays, you can explain to admissions consultants why this MBA admission is important for you and how you can achieve your career goals if you complete an MBA degree.
Motivation Prompts for School Selection
In such questions, candidates must explain why they want an invitation to the top business school, along with their advantages to both the school and their classmates if they are accepted.
Admissions officers believe this subject is of paramount importance and should be addressed in most admission essays, especially in the introductory essay.
Discuss your accomplishments
This prompts an applicant to inquire about professional inflexion points. The purpose of the questions is to discover how one has achieved success, overcome their failures, and what candidates gained through their experiences.
Responding to the Essay Question
The truth is that many applicants fail to address this question adequately. Questions about professional accomplishments may be put up, but they are answered by an essay that the applicant won in third grade! I see it often (and so do admissions officials).
It is much easier to maintain focus on the subject while limiting the author to direct answers to a question than to break off after a few sentences without the structure.
Originality
Think creatively about what you can bring to the program by avoiding clichés. We want to get to know the real "you," so be honest and creative. Having the opportunity to choose your own subject for an MBA thesis can help you emphasize your best qualities.
Examples of this type of essay include demonstrating your potential leadership skills, demonstrating your ability to solve difficult problems, or stating your career objectives explicitly.
What makes you stand out?
In addition to related professional experience and good leadership, admissions directors are also searching for candidates with their own profiles, interests, and ambitions that truly stand out.
What Should I Write in my MBA Application Essay?
Business schools look more closely at whom you are and whether you would make a good fit for their program than your GMAT scores and GPA in the MBA application process. This is where your application essays play a role.
Your essays must complete the picture the scores and stats have left. Write, proofread, and edit. These essays will form the admissions committee's image will have when they see you in person at your interview.
The essay you write should be clean and clear. There should be no errors in spelling or grammar. After you finish writing it, ask a trusted friend, mentor, or admissions professional to read it. A fresh set of eyes will often catch something you are not seeing.
When writing your MBA essays, here are some important things to remember.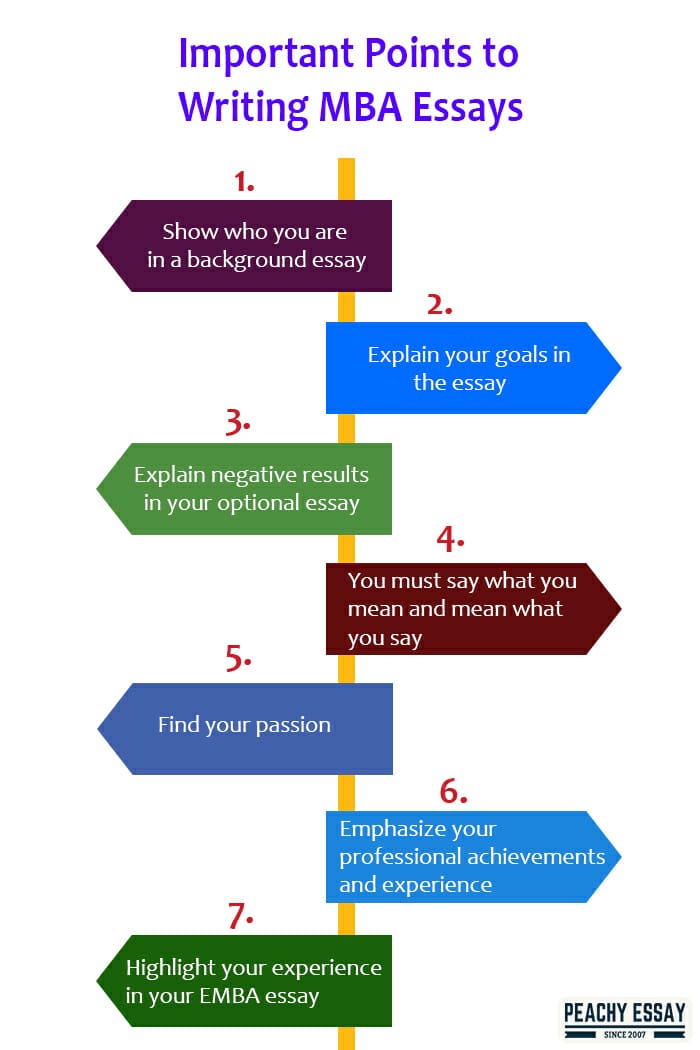 Show who you are in a background essay
Use this chance to reveal your values and personality and the obstacles you've dealt with, as well as the experiences that have made you who you are today. No two people are the same. Tell stories to make your personal background shine and stand out to show why you are different and why they matter.
Talk about how your past has led you to this point. What has motivated you to pursue an MBA at this time?
Explain your goals in the essay
Make the most of this opportunity to show that you have clear goals and purpose based on your life experiences and planning. Business school is not another way to "find yourself."
Regardless of your prior experience, this essay must describe your reasons for changing careers, your new goals, and how the MBA program will help you accomplish them.
Explain negative results in your optional essay
If your GPA was lower than you would have liked in your undergrad education, you might want to use the essay to illustrate what you learned from the experience. Everyone errs from time to time.
Managing your mistakes well indicates success, discipline, success, resilience, and a broad experience base to the admissions committee – all these qualities will assist you in your MBA studies and later in life.
If you make a mistake, be sure to explain it, not explain your reasons for it. That shows maturity. Justification indicates immaturity. MBA programs seek mature adults. They have all made mistakes.
You must say what you mean and mean what you say
A well-written essay will make the admissions committee read yours all the way to the end. It should possess an interesting story and good examples to make it interesting and readable and be to the point. Each one should be good for showcasing your strengths.  These professionals are trained to spot nonsensical essays. Avoid rambling and the overuse of keywords that do not aim to build a clear argument. A non-substantive essay will imply that you are not able to support your arguments.
Find your passion
You need to grab the reader's attention right away and create an essay that will keep their interest until the very end and make them want to interview you even better. In other words, convince them to offer you an interview! Research a topic, and incorporate it throughout your essay.
Identifying a passion you started with as a child and tracing it through your career, child, and extracurricular life will give you an interesting, readable essay. Take your passion and relate it to your quality of life and your achievements and professional and extracurricular activities.
You should demonstrate how your passion impacts your future career and how you're going to serve the community at the school of your choice.
Emphasize your professional achievements and experience
Not everyone has a passion for which they have dedicated their lives. Considering you are planning on obtaining an MBA, you need to have more than just professional training.
Emphasize your professional and personal accomplishments, as well as show how these have helped you to get to this point, how they impacted your long-term plans, and why pursuing an MBA is important to you.
Highlight your experience in your EMBA essay
Executive MBA students are typically managers or executives with at least eight years of business experience seeking a new set of skills to maximize their careers. As part of their coursework, EMBA students must perform well while still working full time.
To be accepted, you must demonstrate significant leadership, impact, potential, and a genuine need for the degree. Showcase your skills, achievements, and responsibilities currently.
Please talk about your career objectives and how a Master of Business Administration (MBA) can help you reach them. Explain how you will positively impact the community at the program you are applying to.
How do I Make my MBA Application Stand Out?
The admissions process for your MBA program, especially at top business schools, is more than scores on standardized tests and transcripts. Admissions offices want to assess a student's character along with his or her data.
If you're preparing your MBA application, you should take a step back. Look for ways to present your story that go beyond gathering the right documentation and data.
Here is how to make your MBA application standout
Manage finances for experiences
All MBA candidates are undoubtedly concerned about paying for their MBAs. When considering the cost of an MBA, many prospective students concentrate only on tuition. However, your financial organization also needs to include money to support experiences that deepen your MBA experience.
To get the full MBA experience, students should also consider:
Participation in conferences
Leaders retreat
A business competition
Treks and expeditions
You will be able to deepen your connection to the MBA program by participating in these co-curricular activities. Admissions officers will encourage you to take advantage of these opportunities.
Find out how much money students who participate in the types of activities you're interested in spending for the activities.
By finding real-time cost estimates, you will know exactly how much money you will need to complete your MBA program while getting the most out of the experience.
With that in mind, do not let finances overwhelm you. Get to know your admissions officers well. Talk to them about anything you consider for co-curricular activities during your MBA program, and search with them for scholarships to help defray the costs.
If money is an issue, they can also suggest other ways of funding your MBA.
Stay up-to-date with current events
The focus on academia is not always part of our day-to-day life when we are settled into the routine of our job. For example, perhaps you have no real-time to read anything other than your social media feed or your workplace emails right now.
The lack of updating your knowledge of global affairs could hinder you when writing an MBA essay or an interview.
Do you feel comfortable discussing current events?
Have you kept up with current business trends?
If you haven't updated your business savvy, you could be caught off guard by casual conversation starters.
It would help if you learned business news in-depth to refocus your perspective once you have been accepted into an MBA program that requires you to read, write, and digest information swiftly each day.
Maintain a journal
An MBA application seems to include essays and interview prep as the two leading stress factors for prospective students. Keeping a journal helps make creative juices flow more smoothly.
When you're currently in the workforce, you can use this technique to your advantage the most. A journal will help you keep track of and elaborate on instances in the workplace that may come to mind in an interview.
For instance, let's say your interviewer asks you, "What kind of team member are you?" Every day, you are demonstrating your character as a team member in the workplace, no matter how routine the actions are. Your daily interactions can be assessed by logging them, and you can generate specific examples that form a thoughtful response.
Rereading your journals may help you brainstorm essay questions. Each time you reminisce, you are improving your narrative. Reflecting on one's responses to interview and essay questions is important to answering well.
Grab a mirror
Conducting mock interviews with friends or family members is another way to prepare for your interview questions.
It can sometimes feel uncomfortable to answer personal questions, especially if you are not very reflective. Without proper preparation, you might slip up or be caught completely off guard.
Look at sample interview questions on the internet and quiz yourself. Respond to the ones that make you feel unable to look at yourself in the mirror.
It would help if you acted as you sit in front of the interviewer or a camera (some interviews are done remotely online). Watch your body language and listen to your answers. Is there any way that your responses could be improved?
Update your social media
In an MBA program, you will be inundated with new contacts and potential customers who will be checking out your social media. What do your social platforms say about you?
Use platforms such as LinkedIn to show off your current interests. Put your skills on display using social media, and make sure you clearly explain your previous work and education experience to potential new contacts.
It is also important to examine your previous content. Do the articles and photos you've shared in the past still reflect your persona today?
Think differently
Humans naturally fall into a pattern, including their way of thinking.
An important learning from your MBA program is the ability to open your perspective and consider business decisions from multiple perspectives without regard to borders, gender, ethnicity, religion, or other factors.
To prepare yourself for development, be open to change. As cliché as it sounds, try and do something scary every day while preparing your MBA application.
Make sure you embrace risk-taking. By practicing the art of openness and spending time focusing on character-building, you'll stand out to academics when applying for MBA programs.
How to Write a Winning Business School Admission Essay
Here are the steps to writing a winning business school admission essay:
Do your research
Each business school has a unique mission, culture, and set of values, so it's important to convey in your application essays how you fit in between these and the school's specific mission.
Read the website carefully and pay attention to any written guidance from the admissions committees; they often post detailed instructions on what they are looking for. Obviously, your first step in the process is to do sufficient research.
Make personal and extended visits to campuses and participate in classes to understand the general culture. Ask your personal and extended networks about their experiences. Look at the classes available and extra-curricular activities and note those that interest you.
Take a deeper look at the question.
The next step is to read the question carefully and consider what the school wants you to do. It may sound straightforward, but many essays that fail to answer the question.
Some schools whose admissions staff may be more interested in your professional experience, while others exclude it. Take this advice! Some schools will ask you why you want to attend a particular school while others don't.
Sometimes individual experiences are more valuable than professional ones.
Take stock of your own goals for the future and align them with those of the school.
Reflect on your values, goals, interests, and experiences and think about how they fit with the specific school you are trying to attend.
In what ways do your personal values align with those of the school? Where do your strengths compare with the schools? What makes the school appealing to you?
Add in school specifics
You need to prove you know the school. This means mentioning specific classes or a specific faculty member.
Discuss the student groups on campus that you are most excited about. Talk about how the school can aid you in achieving your goals. Discuss the location, the student body, and aspects of the curriculum.