Online content can easily convince you that certain things exist when, in the real sense, they are mere creations and imagination. For instance, when you watch alien movies, they are so absorbing to the extent that you will be convinced they are real people living in our midst. What is the secret? The people making the videos have perfected the art of persuasion; they use techniques that will quickly convince you satisfactorily. If you are not conversant with how to craft a persuasive essay, don't hesitate to contact professional writing services, such as Peachy Essay, for help.
This article will help you with the essential elements that you can use to perfect on your persuasive essay writing. The guide will sharpen your craft and discuss various aspects of persuasive essay writing.
What Is Persuasive Essay Writing?
A persuasive essay is the technique of writing that strives to create a debate on a given topic. This writing technique asks students to take a clear stance on a given topic or cause and use witty arguments to persuade readers that the author's position is correct and should be practiced.
Alternatively, we can say that persuasive essay writing is a form of academic writing task, which is assigned to students at the universities and colleges primarily to persuade readers that a specific point of view is correct. Usually, the author strives to present tangible pieces of evidence and references to ensure that the readers are left with no reasonable doubt about the essay.
Is Persuasive Essay Writing Important?
In universities, persuasive papers are common assignments that help keep students engaged and be involved in their course work. Generally, essay writing is vital writing that helps develop a variety of essential skills such as research, critical thinking, and the ability to form evidence-based conclusions, among others.
Persuasive Essay Format
Persuasive papers have a general basic format as follows;
Font and font size: the generally accepted format is Times New Roman, but you can also use Georgia or Arial. On the other hand, font size should be 16pt for the headline(s) and 12pt for the rest of the text.
Alignment and space: the alignment should be justified, and the spacing should be double, or in some cases 1.5
Word count: as a general rule, word count should range from 500 to 2000 words, but this will depend on your teacher's guidelines to know what word count applies to your assignment
What to Know About Persuasive Essays Topics
Before you pick your essay topic, ensure that you brainstorm various ideas, and choose one topic with many contrasting opinions that you can explore robustly. For example, let's say missile control and abortion rights; such topics can give you a broader scope of arguing your points when writing the essay. Please note that the topic examples given may sometimes best suit a dissertation assignment than the general essay.
Keep in mind that persuasive essays are all about your point of view and you should strive to find good topics that you know well. When you pick an appropriate subject, you can easily articulate your issues in favor, or against seamlessly. In most cases, good persuasive essays are centered on real-life experiences and direct the reader towards critical social problems that most authors have ignored for a long time. When your paper touches the most significant aspect of humanity, it is most likely to be read with a universal acceptance. Readers connect more with scenarios that they can relate to in real life.
How to Write a Persuasive Essay Outline
An outline is one of the vital steps in writing persuasive essays. When you have a strategy, you can quickly organize your thoughts and ideas which will make your writing process very simple. If you want to write with a good organization of ideas, then you have to take this step seriously.
Like any other essay writing, persuasive essays have a standard structure that consists of three major elements: start with an introduction, the body of the essay, and the conclusion. Please note that each component is crucial and plays a significant role in making your paper readable and logical. Also, when writing your paper, you have to follow the standard persuasive format and citation style, such as the MLA or the APA.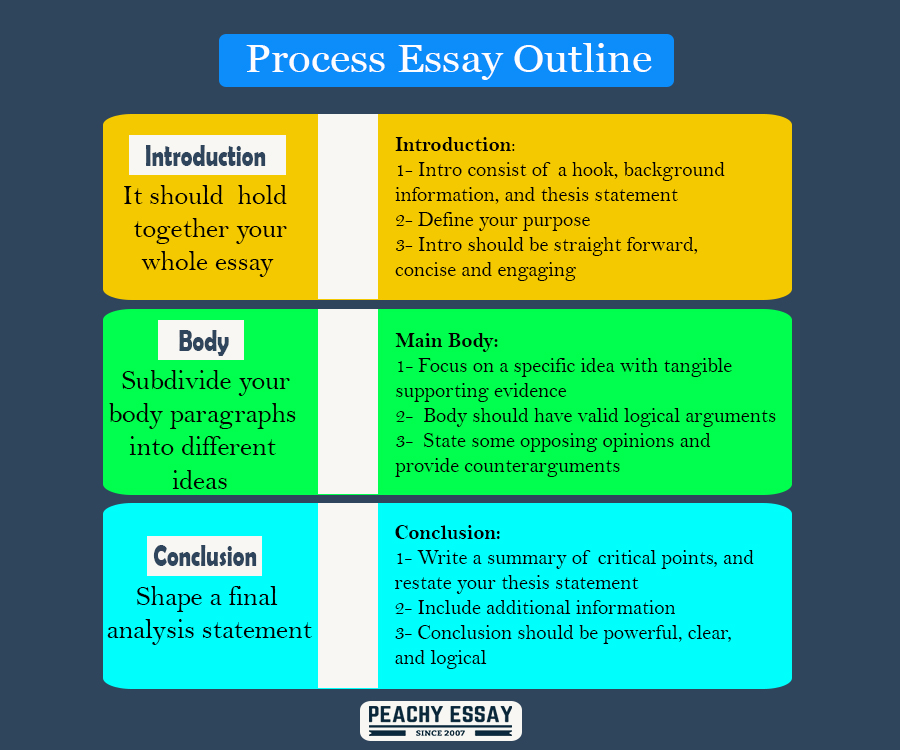 Here is what your outline should entail:
Introduction: the intro should consist of a hook, the background information on your topic, and a good thesis statement. Your introduction should be straightforward, concise, and engaging; you should know that the primary reason for the introductory paragraph is to position your main idea in the reader's mind and define your purpose. Also, at this point, you should focus on grabbing the reader's attention and let them visualize the topic's background.
Main body:  the body of the essay should consist of several paragraphs, with each section focusing on a specific idea with tangible supporting evidence. The body should have valid logical arguments and that which will interest the reader. Generally, such essays have between three to four body paragraphs. In your final body paragraph, you can as well state some opposing opinions and provide counterarguments on the same to strengthen the persuasive effect of your text.
Conclusion: the conclusion part is where you write a summary of critical points, and restate your thesis statement. Also, you can include additional information to leave your readers with something to ponder. Ensure that your conclusion is powerful, clear, and logical to strengthen the convincing effect of your paper.
Here is more information on how to spice your essay:
Use statistics: the most effective way of supporting your essay is to use current statistics. Generally, statistics appeal to people, and your readers will be more convinced with your context. However, you have to provide accurate statistics and append credible reference sources to make it easy for people to buy your idea.
Focus on Facts: if you focus on proven facts to support your ideas, you will sound very powerful, and the readers will quickly acknowledge your paper. Also proven facts will make your essay more persuasive and reliable.
Use Quotes: quotes are another excellent strategy for supporting your ideas. You can use direct quotes to reflect an opinion of trusted and credible personas; this could be from a conference or in published reports. People quickly buy ideas from reliable or people considered prominent in the community. You don't have to include the whole speech, but you can focus on texts that will strengthen your arguments.
Example:
"Real riches is life forever" – Bob Marley.
How to Write a Flawless Persuasive Essay:
Many students rush to write an essay when assigned to write persuasive papers. Do not make this mistake; you have to take ample time and prepare well before you embark on writing.
Here is a complete step-by-step guide to help you write a flawless persuasive essay and effortlessly navigate through the whole process: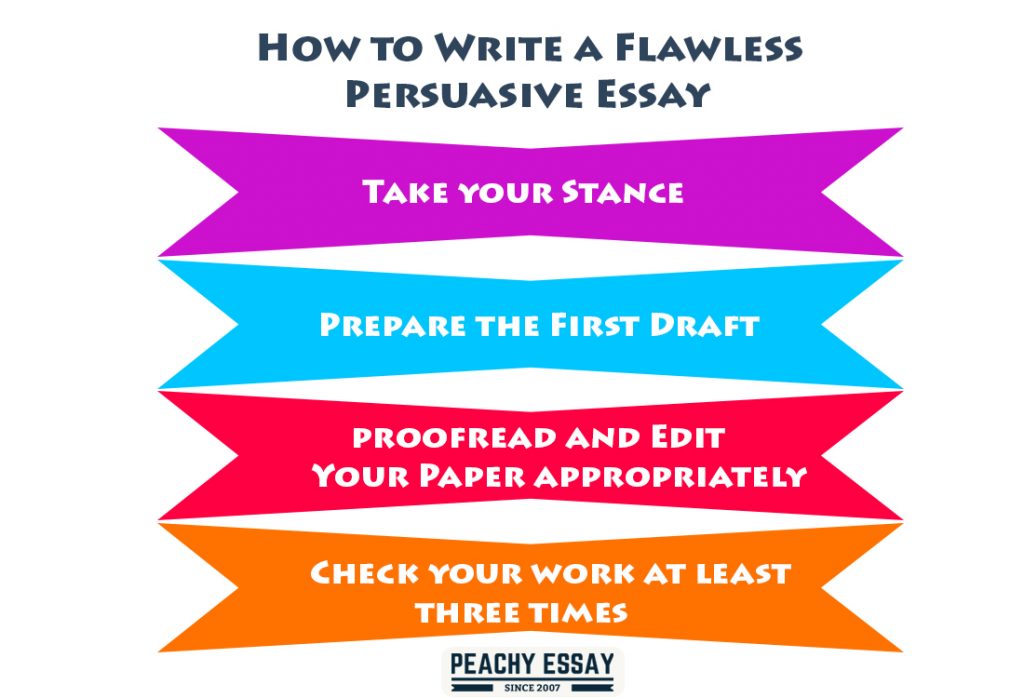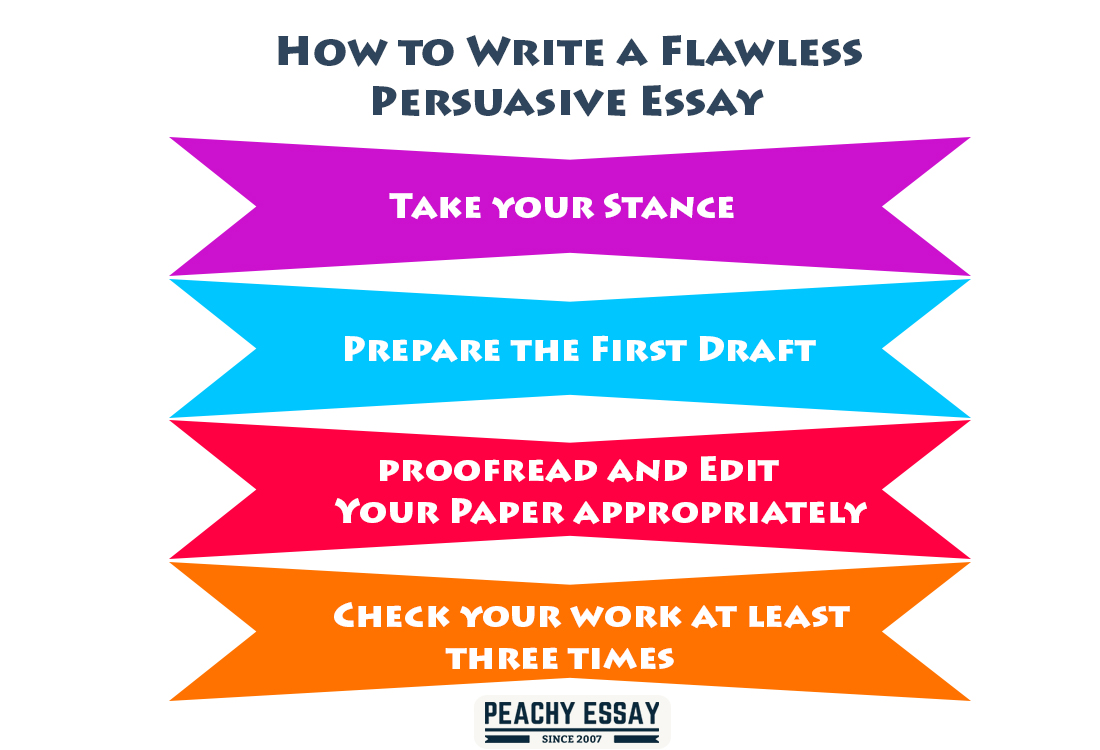 Take your Stance
Before you get started, you need to define an exact position. To decide which side you want to support, please explore both sides of your topic and decide which one is appealing to you and your personal feeling. Also, don't forget to research to gather enough evidence to back your arguments.
Once you have taken your position, you can go deeper into your topic ideas. You should be well-informed on the matter to shape concrete ideas.
You should be careful when conducting your research, use accurate and trustworthy sources. Also, consider the most interesting quotes, facts, and stats; all these help you to support your arguments.
Also, evaluate your Evidence and Prioritize the most significant ones when researching; you will come across a variety of proofs. Still, you cannot fit all of them in one paper, and for this reason, you should assess the collected evidence and identify the most potent facts to add value to your work.
Prepare the First Draft
There are several persuasive essays out there, take some time, and go through a few of them and then proceed to write your firsts draft. Remember, at this point, you have all the ingredients you need to write the paper, you have the outline, and you understand the subject so, you can now write your essay. Don't strive for perfection when writing the first draft; you will have time later to edit and mend errors where necessary. But ensure you follow the outline and write logically; by doing this, you will keep on track and not forget all your points.
Now, proofread and Edit Your Paper appropriately.
Writing is a different thing, but proofreading and editing is another thing altogether. You should know that editing and proofreading are essential to iron out all the grammatical errors and wrongly used sentences and phrases. The success of your paper will be determined by how well you proofread it; you can as well get help from your colleagues to help you proofread the document. The secret is to take some time away from the paper and refresh your mind before you proofread; you can take a few days or even a week so that you come back when you are fresh and energetic to complete the final stage.
Remember that proofreading is not only to correct grammatical errors; this will also help you to remember important points that you may have left out when writing the first draft. You can polish your paper and also remove any vague sentences which will make your essay look great.
Also, take note of the following:
Avoid using fancy vocabulary in your paper. When you have been given an essay assignment, remember you will not earn more points by using too much flowery language. Not at all, take it easy and manipulate simple and straightforward vocabulary that is easy to understand at first reading. You have to be logical and let the reader get your ideas without too much strain, in a nutshell; your paper essay should be flawless.
Try out different persuasion techniques. Your business should focus on convincing the readers that your analogy is real, and they should believe it and perhaps try implementing it. As discussed earlier, your work should be accurate with evidence that the reader can trust. Also, don't limit yourself to the listed persuasive techniques in this article; you can explore some more from other sources.
Check your work at least three times.
Like constant practicing, proofreading makes your work perfect. Ensure that you counter check your assignment for readability, logic, style, and tone of voice. Ensure that the outline and everything paragraph flows in harmony with the thesis and remember to get another pair of eyes from a friend to help you proofread your work for more accuracy.
Ask yourself if your essay look convincing once you have gone through it. If it pleases you, then the chances are that other people will like it too.
Here is the checklist that will help you ensure that your persuasive essay is flawless.
Here are some Persuasive Essay Examples:
Are women generally weaker than men? Here the topic challenges the assumption that women are weaker than men and provides evidence to support his claim.
Should we punish people who download music and movies illegally? Here, the writer challenges the idea of online piracy and argues that sharing media has become standard in our society.
What are easy persuasive essay topics?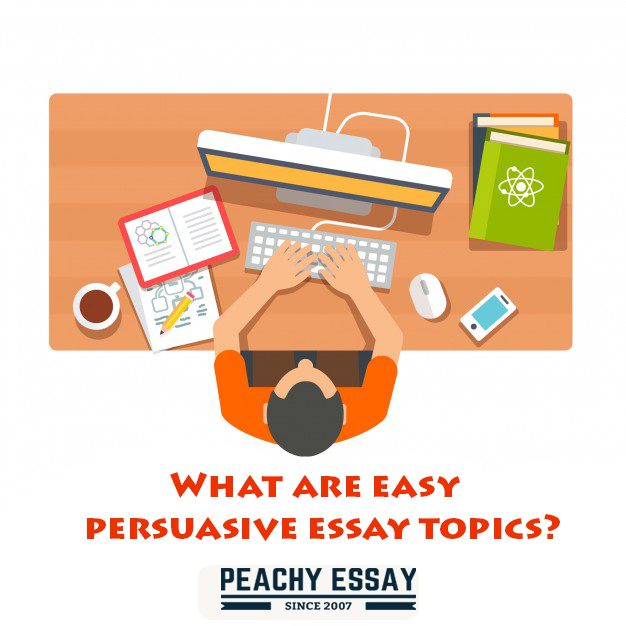 Below are some of the persuasive essay topics
Should plastic be banned?
Education should be free.
Should children get limited access to the Internet?
Selling Tobacco should be banned.
Smoking in public places should be banned.
Facebook should be banned.
Below are the paragraphs in a persuasive essay
One Introductory paragraph
Three-body paragraphs with development and support
One concluding paragraph
What is an example of persuasive writing?
"And what do we say as the people of this community?
What are the five persuasive techniques that you can use?
You should establish trust and develop credibility
First Understand the reader's purpose and align your ideas accordingly
Mind the language
Work on your tone
Use rhetoric and repetition
How do you start a persuasive essay introduction?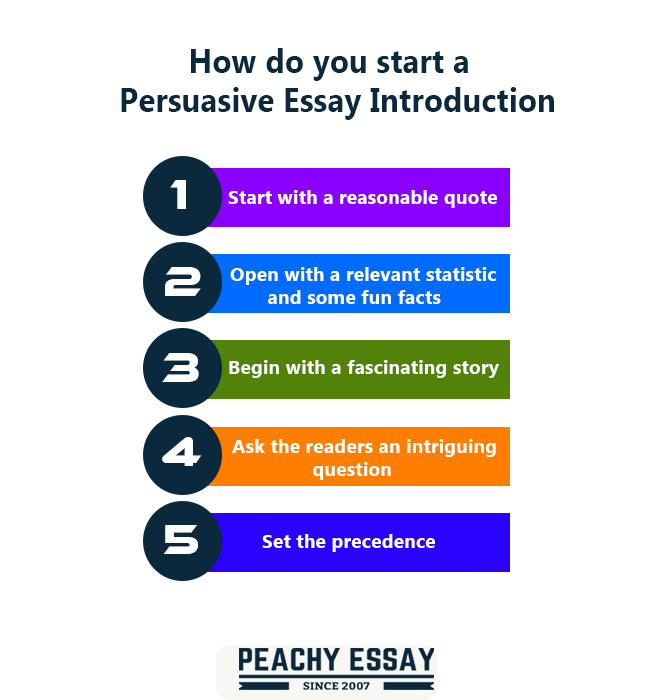 Start with a reasonable quote
Open with a relevant statistic and some fun facts
Begin with a fascinating story
Ask the readers an intriguing question
Set the precedence
What is a topic sentence in a persuasive essay?
Every topic sentence should state the point the writer wishes to make on the subject. Usually, the topic sentence appears at the beginning of the paragraph, and it is often the first sentence in the section. Topic sentences express attitude, idea, feeling, opinion, or point of view.
Conclusion
The primary goal of a persuasive paper is the opposite of that of a mystery novel. When you are writing a compelling essay, avoid building any form of suspense by keeping secrets from the reader. Ensure that your topic sentences are clear, direct, and upfront about your primary purpose. Over to you, you can now plan and effectively execute your next persuasive essay paper.