A quite number of people are afraid of making a public speech. If you are intending to make a public presentation, bear in mind that speaking before a live audience can be challenging, especially when you are not adequately prepared. Note that an excellent speech starts with a particular idea on your mind. In this article we discuss how to write a great speech for public speaking that wins any audience.
Sometimes, putting your thoughts on paper can be challenging, particularly if you don't know how to format your speech. In this article, you will get detailed information on how to craft an engaging lecturer.
What Makes a Great Speech?
It is vital to note that during a public presentation, you can enhance your eloquence if you use straightforward tactics, such as creating an excellent impression and leaving your audience with fundamental ideas. Moreover, delivering a powerful speech requires an exciting topic.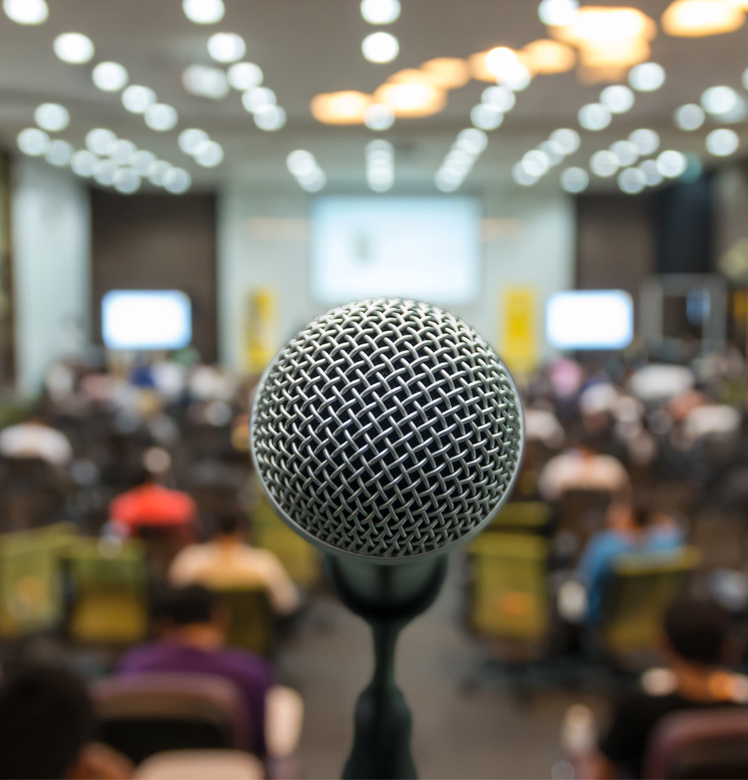 Steps to Writing a Powerful Speech
Crafting a great speech requires calls for a clear perspective of all the necessary procedures. The following steps can help you deliver a persuasive statement.
1- Get focused
Before you write, consider the main idea and concentrate on it. Next, get appropriate content for your audience. Bear in mind that your audience likes listening to short speeches because they have other commitments to care for.
2- Research your audience
If you want to make your speech effective, you must know your audience. Having an excellent knowledge of your listeners can help you craft a compelling statement that is tailored toward them.
If you want to handle your audience well, you must consider their needs and identify the problems you can solve for them. For instance, writing a speech for bank managers can be different from that of teachers.
Make your speech unique and ensure that you offer audience something different from other speakers. Decide on your main idea and fine-tune it to perfection.
3- Build up your speech
Once you have an idea to write about, create content for your presentation.  First, make a list of the issues you will address, and rearrange them. Note the key concepts in your speech and use exciting experiences to earn your points.
4- Select a topic
Selecting an exciting topic can make your speech powerful. After that, identify the main ideas and plan your address based on your arguments. Moreover, ensure that you choose a topic that you are conversant with.  Finally, research the idea to get adequate content for your speech.
5- Make an outline
Crafting a speech outline can help you identify the main ideas to write about. Note that the majority of speeches contain three sections – the introduction, body, and conclusion. In the opening, use a statement that can hook your audience; in the body, capture your main ideas; and in conclusion, summarize your points for your audience to have something for takeaway.
6- Write your speech
Once you have chosen your topic, you can go ahead and compose your speech. To make an excellent speech, you must organize your thoughts through an outline. Ensure you use a conversational tone to craft your statement like the way you would usually talk. To avoid forgetting what you would present, prepare the speaker's notes for your guidance. A great speech must entail facts; therefore, use statistics to support some of the points you would make. Moreover, use short sentences that are easy to read and remember.
7- Proofread and edit
Go through your speech and ensure that the strong points appear at the beginning. Check the content and find out whether it addresses your audience. If there is jargon in the document, substitute them with straightforward words. Bear in mind that short sentences are the best and edit your text to conform to that.
8- Read your speech out loud
Reading your speech loud will help you determine whether it is in the right tone and flowing logically. Find out whether there is a smooth transition from one thought to another.
9- Rehearse in front of a mirror
Delivering a perfect speech requires the use of body language. Before you make a presentation to a live audience, practice in front of a mirror. Also, ensure that you use gestures, create movements, and vary your tone.
10- Select a presentation tool
Once you have crafted your speech, you may require a presentation tool, such as PowerPoint or Google slides. These devices will enable you to add visual features to your address.
11- Choose the right template for your presentation
Note that the design and type of your presentation can make your speech look beautiful before your audience. Knowing how to create an eye-catching display can be difficult, especially if you haven't done it before. If you are a novice in making slides, it is vital to invest in a professional template that you can customize to fit your brand.
12- Make a public speech
Once you have put your ideas on PowerPoint, it is crucial to go ahead and deliver your statement. It is advisable not to read your speech but memorize it. If you find it difficult to remember it, use an outline for reference in case you get stuck.
After the speech, don't go away immediately, hang around, and interact with members of the audience. Be ready to answer questions that might arise from the lecturer.
Speech Format
Writing a speech can be hard if you don't know its format. The following is a highlight of what to consider when formatting it.
Make the font size larger to enhance easy reading. For example, you may use at least font size 14 for an excellent experience.
It is vital to break lines where you would pause naturally so that you can get through the last word.
Bold keywords to prompt your memory
Bolding keywords will prompt you to remember the entire line while delivering your speech.
Ensure that you double space the document to enhance readability and skimming through the speech.
Create extra paragraph breaks
Extra space is required between some paragraphs to allow pauses and to show shifts in topics.
Example of Speech Writing
If you don't know how to write a speech, it is vital to check examples on professional writing sites. Before you begin, familiarize yourself with the structure and format of your presentation. For instance, assuming you are giving a speech to your teachers, your introduction ought to be formal than when addressing your classmates.
For example, "Hi, thank you for gathering yourselves here to listen to me. My name is Joseph Brown, and I would like to talk to you about discipline……"
How to Start a Speech
Knowing the structure of a speech can make you have an exciting experience in creating your address. An excellent speech must start with an introduction, followed by the body, and then end with a conclusion.
The Structure of a Speech
If you want your audience to understand your presentation, you must divide your speech outline into the introduction, body, and conclusion. A persuasive speech must have the structure, as described below.
An opening aims to inform your audience who you are and what you want to put across to them. Craft an interesting introduction that can attract the attention of the audience and establish credibility with them. State your primary idea and highlight your main points. Craft an opening that can allow you to relate with your audience.
Depending on the audience you are addressing, introduce yourself using a language and tone that is suitable to them. For instance, if you are making a speech to your fellow students, you may use an informal style to relate with them. However, if you are making a presentation to you instructors, you have to use a formal language.
You are supposed to make your arguments here. The body constitutes of different sections/paragraphs, each representing a particular idea.
Use this section to restate the main idea and give a summary of the main points. Your introduction should be the same as the introduction; therefore, never introduce anything new in your conclusion.
Tips for Crafting a Powerful Speech
A great speech is what everyone yearns to write and present. The following tips can help you come up with a beautiful statement.
Identifying your goal will help you focus on a particular objective and avoid going off-topic. Therefore, write the goal on a piece of paper to guide you as you go composing the speech. For example, if your goal is to convince parents to pay extra school fees for the purchase of a school bus, then whatever you write must be relevant to this objective.
Audit yourself and accept your weaknesses, especially when it comes to speaking in public. You may be perfect in communicating but fail to put your point across. Once you admit your flaws, you may be careful not to blunder during your presentation.
It is vital to hook your audience at the beginning. You can achieve this by starting with a quote, asking a question, or giving statistics. Never start your presentation without grabbing the attention of your audience.
Organize your presentation
If you want to make your speech look beautiful, organize it based on an introduction, body, and conclusion. Also, illustrations or examples support every point you write.
Make sure you write in a conversational tone and be neither formal nor informal. Avoid wordiness and terrible grammar.
You are likely to sway your audience to your point of view if you use statistics to justify your arguments. Also, if you want to persuade your listeners, it is advisable to use real-life examples to make them empathetic to accept your opinion.
Have adequate preparation before the material day. For instance, on the day's eve, you may eat and sleep well. Also, during the presentation, ensure you have drinking water nearby to help you maintain an excellent voice throughout the speech.
Before the presentation starts, arrive at the venue early than anyone else. This is vital because you will be in charge of ushering in the members of the audience into the meeting. If you want to focus the attention of your audience towards you, pause for about five seconds before you begin.
Connect with your audience
Find out what can make your audience get connected with you and ensure that you provide it in your speech. For instance, if you are addressing business people, mention your background and experience. However, if you want to motivate your listeners, provide them with a personal story to create a strong connection with them.
Ensure that whatever you present is useful to your audience, but not you. Note that your listeners want to get something that can benefit them in their daily lives. Ensure that the information you convey has enough content for your audience.
To get genuine feedback, let your audience complete feedback forms anonymously. This is the best way you can use to get candid information.
Guidelines for Writing a Perfect Speech
A powerful speech is based on so many aspects, such as the nature of your start, your arguments, and your conclusion. Ensure that you start well so that you may hook and make your audience connected to you throughout the presentation.
The following guidelines can help you deliver an engaging speech.
Before you start writing, familiarize yourself with your audience, and note the purpose of your speech. For instance, if the presentation is intended for a wedding or graduation, prepare it to fit the use. Determine whether the statement is meant to inform or inspire people and identify the main takeaway for your listeners.
It is vital to understand your audience beforehand. Therefore, ensure that the language and tone you use is tailored to them.
As you present your speech, keep track of time. If you have a short time, focus on the main ideas.
How to Write a Persuasive Public Speech
A persuasive speech is intended to persuade your audience to buy your idea. If you want to convince people to accept your message, you have to make your speech engaging. The following strategies can help you craft a persuasive speech.
Choose a compelling topic
Ensure the topic you select is exciting to you and can impress your audience. If you are unable to identify the right item, you may opt for a controversial topic, such as gender discrimination in employment.
Find out the pros and cons
It is vital to research your topic before you start crafting about it. Investigate why people may agree or disagree with your opinions. For instance, buying a laptop for every student can enhance distance learning when they are at home, but it can be a financial burden on some parents.
Before you write your speech, consider your audience. For example, think about how they will view you arguments. Will they oppose or support your opinion? Find out the challenges your audience may have with your presentation and determine ways of addressing them.
Engage your audience with illustrations
Before you make a presentation, find practical examples from local sources to support your argument and make your audience get engaged. Note that a real-life scenario from the audience's context can make them understand your point than when a hypothetical example is used. For instance, if you were to convince parents that buying laptops for their children is crucial, you must identify a particular student from their community whom the computer has assisted.
An outline is a roadmap that will help write your speech perfectly. For instance, create a list of arguments for your presentation. Note that writing can be easier if you plan well.
How to Deliver a Powerful Speech
Making a public presentation can be difficult if you don't know what is required of you. However, don't worry; the following strategies can help a lot.
Presenting a memorized speech is a professional way of addressing your audience than reading it from a paper. However, if you are forgetful, write key phrases on note cards and use them.
Speaking slowly is a strategy that makes everyone in the audience to understand what you are saying. If you become nervous, take a deep breath or grab a cup of water.
Make eye contact with your audience
Maintaining eye contact with your listeners shows that you are calm and confident with your opinions.
Final Thoughts on How to Write a Great Speech for Public Speaking
Composing an excellent speech for a public audience can be hard if you are inexperienced. If you are facing such a challenge, please contact professional writers, such as Peachy Essay, for help.