Graduate students and professional researchers alike suffer from writing anxiety. The prospect of facing the blank page, whether it's to write a 200-word abstract, a complete dissertation, or something in between, maybe stressful and daunting.
Have you ever been sitting at your desk, trying to write, when you suddenly feel that cleaning your bathroom is the most enjoyable or important thing you could be doing right now?
You're not on your own! If writing were simple, there would be no need for a whole genre of books and articles dedicated to writing strategy and procrastination management. Even the most accomplished, prolific, and well-known writers admit to having love-hate relationships with their work.
Changing the way you approach the writing process can have a huge impact.
Here are some tips to make your research writing process go more smoothly.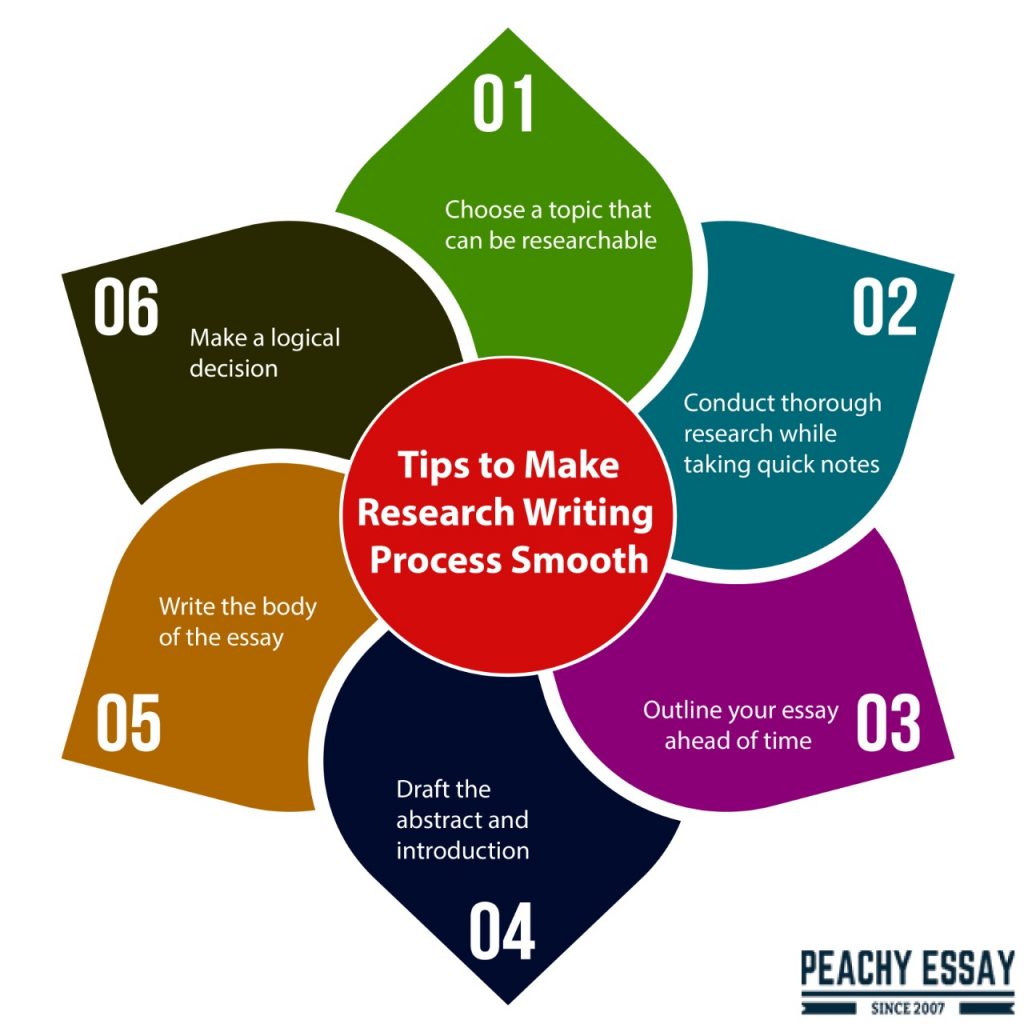 Choose a topic that can be researchable
Students are often handed research paper themes, but the best scenario is when you can choose your own. In this scenario, brainstorming or mind-mapping strategies can help you develop an excellent topic that is both related to your assignment criteria and something you want to write about. Choosing a topic that is as broad as feasible is the key to success. Remember that your time is limited, and you can't afford to waste it performing research to come up with adequate material for a piece on a unique or rare topic. It's the greatest method to choose a topic with a lot of prior studies done on it.
Conduct thorough research while taking quick notes
If you're not sure how to create a 3-page research paper quickly, remember that doing your research first and developing your thesis statement later is the fastest option. It is not a good idea to develop your argument too early since you may discover insufficient data to support it. To acquire a general overview of the subject, start with Wikipedia. Google Scholar, online databases and encyclopedias, government reports and other publications, scholarly articles in scientific journals, newspapers, and other sources of information are also useful.
You should go over all of the sources you uncover, evaluate the information you've gathered, and jot down any essential concepts you wish to cite or paraphrase in your research paper. Remember to maintain track of your sources to reference them in your paper and avoid plagiarism properly. You can use your notes to create your bibliography page later.
Outline your essay ahead of time
When you've finished your research and have many ideas, it's time to organize them. It would be best if you first organized your thoughts in an outline before you begin writing. Planning and outlining are essential for completing your writing project since they will save you a significant amount of time once you begin writing. Your project will lack focus if you don't have an outline, and you'll likely spend considerably more time attempting to make sense of your disorganized thoughts during the writing process. As a result, you should devote some time to developing your thesis statement and creating a well-organized outline.
Because your thesis statement is the central topic of your paper, it must be precise. Furthermore, your thesis should be brief and straightforward. It should simply summarize the ideas you'll make throughout your research paper and back them up with proof.
An outline can help you write your research paper by acting as a road map. As a result, try to be as specific as possible. You'll have a better concept of how your paper will turn out if you do it this way. Consider the primary points used to support your thesis; they will serve as your subheadings. Then you must organize your notes and match all of the information that goes under each of your sub-headings. If any information in your academic work does not support your thesis statement, it does not belong there, no matter how interesting it is.
Draft the abstract and introduction
Write an abstract that highlights your research paper's primary points and goals. After that, begin writing your introduction. The beginning should provide some background for the topic of your research paper. Begin with a powerful first line that will pique your readers' interest. Then you should include some background information on your topic and a quick explanation of why it is significant. It would be best if you also described how you plan to approach your subject. Your thesis statement should come at the end of your introduction.
Write the body of the essay
When composing your body paragraphs, go to your outline and keep focused on your thesis statement. Begin each body paragraph with a topic statement, then examine why that sentence is correct and back it up with relevant facts and examples. You can also support your own ideas with quotes from trustworthy sources, but you must explain how they connect to your points. It's critical to utilize quotes carefully and not to let them take the place of your own ideas.
Make a logical decision
Write the conclusion after you've finished the written analysis. You can rephrase your thesis in a different language and summarize your article succinctly. It would be best to refrain from repeating phrases, facts, or thoughts that you have already mentioned. You can also explain why you believe your arguments support your thesis. You can also submit some fascinating ideas and points for further research and explain why you believe they are significant.
How to Complete a Research Paper Quickly
You should conduct rapid editing and revising once you finish the first draft to improve the content and structure. Furthermore, it would be best if you proofread your work.
Edit and revise. You must reread your academic article to ensure that it is accurate. It will take the same amount of time as correcting your grammatical and spelling errors. To ensure that your paper is well-organized and that there are logical transitions between your paragraphs, you will need to check the logic and flow of your piece of writing and make modifications.
To make your paper clear and succinct, you may need to avoid repetitious sentences, filler words, and phrases, as well as improve your word choice. If you read your research paper aloud, you'll be able to catch any syntax errors more easily.
Finally, double-check the spelling, grammar, and punctuation, and correct any errors or typos that you find. Then, as if you were presenting your paper to an audience, read it aloud once more to detect any further errors you may have overlooked. Consider a title for your piece of writing and, if necessary, develop a title page.
What are the Factors that Make Research Paper Writing?
If you're a college student, you know how difficult it is to write research papers. It necessitates hours of rigorous study, data collection, outlining your paper, writing your essay, in-text citations, proper formatting, editing and proofreading, and bibliography creation.
Here are some variables that can help you write better research papers.
Determine who your target audience Is
Take some time before you begin to define the scope of your study and, more crucially, your target audience. The sort of audience will influence the language level, level of analysis, and issue type, among other things.
Your paper's topic either makes or breaks it
Most students do not devote enough time to study while picking a topic, although it is one of the most important components of the project. Spend a significant amount of time brainstorming the best topic and researching what others have written on the same issue. If you're having trouble, go online and search for "write a research paper for me." Go ahead and choose a reputable provider from the results, then place an order for topic ideas.
A good thesis equates to a good essay
The power of your thesis solely determines the quality of your essay. If you write a weak thesis, it will be more difficult to back it up with evidence from your study. An excellent thesis should pique the reader's interest and dispel a common misperception. To keep the reader's attention, avoid using a popular argument and instead challenge norms with your argument. When writing a thesis, you can get aid from pros who write research papers for money online.
Avoid writing in a pompous manner
Avoid employing unnecessary terms in academic writing and instead concentrate on relevance. Your words should primarily serve to support your idea and persuade readers. Because readers don't want to look up your intended message in the dictionary, your thoughts should be basic and unambiguous.
Obtain a second opinion
It isn't easy to evaluate your work objectively, which is where the advice of others might help. Request that a friend or classmate read your draft and provide an objective opinion. It is recommended that you have someone examine your custom research paper before submitting it.
Parts of a Research Paper
There is no one-size-fits-all approach to producing an educational paper. Aside from content, the writing style and presentation of papers in various educational subjects differ significantly. Nonetheless, certain elements are found in almost all papers, such as: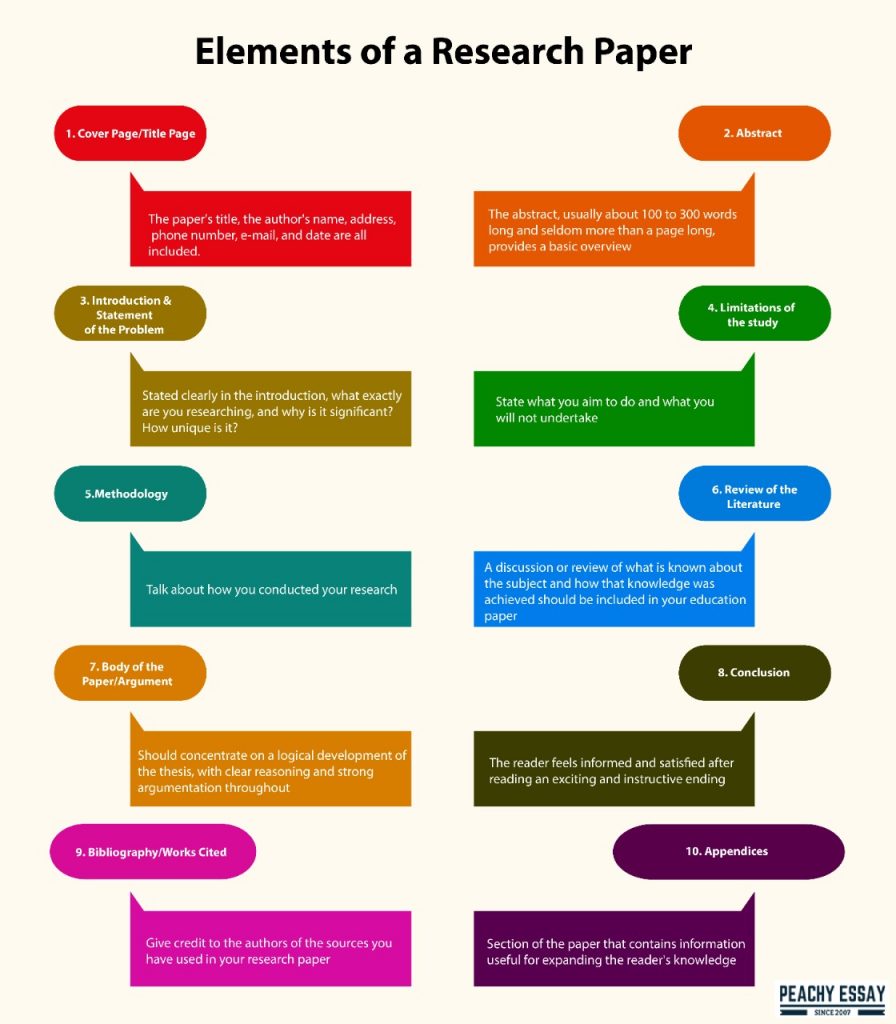 Cover page/Title page
The paper's title, the author's name, address, phone number, e-mail, and date are all included.
Abstract
An abstract is not required for every education article. Abstracts, on the other hand, are especially valuable for lengthier, more complex studies. The abstract, usually about 100 to 300 words long and seldom more than a page long, provides a basic overview. It expresses the essence of the paper's core theme. The study question, its significance, the methodology, and the key conclusions or findings are included. An abstract does not include footnotes or cited works. Remember to write the abstract with considerable care. The instructor reads the first part of the paper. It must wow the audience with its information, style, and overall aesthetic appeal. Never scribble it hastily or haphazardly.
Introduction and statement of the problem
The fundamental research challenge and thesis argument are stated clearly in a solid introduction. What exactly are you researching, and why is it significant? How unique is it? Will it fill a void in other research? Never give a long rationale for your topic unless it has been mentioned expressly.
Limitations of the study
As soon as feasible, state what you aim to do and what you will not undertake. Time, personnel, gender, age, geographic area, country, and other criteria can all be used to limit the topic of your work.
Methodology
Talk about how you conducted your research. Did you conduct your research using qualitative or quantitative methods? Did you use a questionnaire or conduct interviews? Is there any field research done? What methods did you use to gather information? Have you checked out any other libraries or archives? And so forth.
Review of the literature
The research procedure reveals what other authors have said about your subject. A discussion or review of what is known about the subject and how that knowledge was achieved should be included in your education paper. You can build on other people's research once you've provided the general and specific context of current information. This is where the guide Writing a Literature Review can come in handy.
Body of the paper/argument
This section of the paper is usually the longest. It is in this section that the author supports the thesis and develops the argument. It contains the majority of the citations as well as the analysis. This section should concentrate on a logical development of the thesis, with clear reasoning and strong argumentation throughout. The crucial coherence that marks a successful education paper is provided by a clear topic that avoids needless digressions.
Conclusion
The conclusion ties everything together and emphasizes what it all means after spending so much time and energy introducing and discussing the issues in the main body of the paper. The reader feels informed and satisfied after reading an exciting and instructive ending. When read independently from the rest of the paper, a conclusion that makes sense will be praised.
Bibliography/Works cited
In this section, you are supposed to give credit to the authors of the sources you have used in your research paper.
Appendices
One or more appendices are frequently included in education research articles. An appendix is a section of the paper that contains information useful for expanding the reader's knowledge but does not fit well in the main body of the paper. Tables, charts, summaries, questionnaires, interview questions, extensive statistics, maps, photos, photographs, glossaries, survey instruments, letters, copies of historical documents, and various other sorts of extra information are examples of this type of content. There could be multiple appendices in a paper. They are normally put after the main body of the paper but before the bibliography or list of references. They're frequently labeled with titles like Appendix A, Appendix B, and so on.
How to Format a Research Paper
While the format of a research paper may be the last thing on your mind when you're writing, it's crucial to follow the guidelines. Aside from improving the structure, organization, and flow of your document, proper formatting improves the aesthetic appearance of your final product. The academic style, which governs the citation format for a research paper, is the first item to consider while learning how to format a research paper. There are many distinct styles; however, for the sake of simplicity, this article will cover APA (American Psychological Association) and MLA (Modern Language Association) (Model Language Association).
Structure in general
While research papers can cover a wide range of topics, most research papers have the same basic format. A research paper is usually divided into three sections:
Introduction formatting structure
The introduction is the first section. As the name implies, the purpose of this section is to introduce the topic and content of your paper. However, your introduction should fulfill two things in addition to simply opening your paper:
First and foremost, your introduction should provide context or background information. For example, your research article will almost certainly make a specific claim. However, it would be best if you used the beginning to describe the purpose of your paper or why the claim is being made before presenting this claim.
Second, your thesis statement should be presented in your introduction. The key claim of your article is your thesis. It is this concept that will act as the foundation for your entire debate.
Formatting for the main body
The major body of your paper is where you expand on your thesis. This is where one or more of the following should be presented:
The results of your research
Analysis
Main arguments
Evidence
Any counter-arguments
Conclusion structure of formatting
This is the final section of your paper when you summarize everything you've covered in the preceding sections. You should not provide any fresh material in your conclusion. It, like the introduction, should achieve a variety of objectives:
First and foremost, your conclusion should restate your thesis. This is how you remind your reader of the key point you're trying to make.
Second, as a manner of reviewing the grounds that support your thesis, it should summarize the important points.
Finally, give any closing thoughts or experiences. You could, for example, ask the reader to ponder a new question.