Written communication skills are important elements of everyday life. Every student should strive to be in possession of those skills since they will aid them in scoring excellent grades that will in turn help them secure well-paying employment opportunities. Most importantly, students should remember that just like Rome was not built in a day, their writing skills will not improve within a single day. With consistency, determination, and regular practice, you will notice improvements in your writing abilities. You should continue practicing your writing skills even when you feel like giving up. Indeed, there is nothing good that comes easily. Students struggling to improve their writing skills can always seek assistance from companies providing essay writing services. Check this out in case you need any form of academic assistance. Writing impressive academic papers is not easy. Although it takes a lot of hard work and determination, it is always worth the effort. Each paper you write should provide you with an opportunity of making it a little better than the previous one. Here are some tips that will aid you to write impressive essays consistently.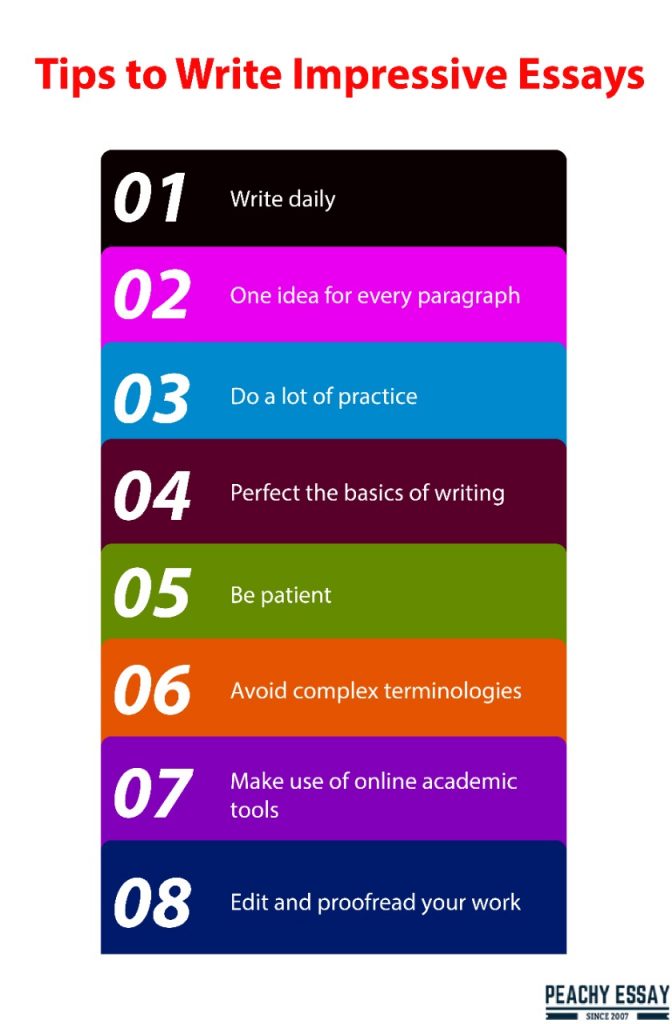 Write daily
One of the most effective writing tips every writer should be aware of is the importance of writing daily. For you to become a better writer, you need to practice how to write. The good thing about writing is that you are not limited to academic essays, and hence, you can write anything. The fact that you will be writing articles on different online content will help you maintain and improve your writing skills. To ensure that you write every day, you can also write social media posts on various platforms such as Facebook, Twitter, and Instagram.
One idea for every paragraph
One common mistake most students make is writing long paragraphs containing different ideas. Such paragraphs make it difficult for the reader to comprehend the arguments presented by the writer. If you want to enhance your writing skills and write effectively, you should ensure that each paragraph contains a single independent idea. Instead of writing too long or short sentences, try to make your sentences enjoyable to read by balancing them. Your readers should not be reading the sentences contained in your paragraphs and begin wondering when they will end. Research indicates that short paragraphs are better since they create a flow and are much easier to read.
Do a lot of practice
Indeed, Rome was not built in a day, and neither are you going to perfect your writing skills in a single day. You may decide to practice your writing skills through composing essays, research papers, blog posts, or dissertations. The main point is to write daily even when there is no particular person who will go through the paper. As you continue writing, you will notice that there will be a difference in your choice of words, an improvement in your vocabulary, as well as the way you construct sentences. The most effective way of improving your writing skills is through practice.
Perfect the basics of writing
If you want to write better essays, you need to have a perfect understanding of the basic and intermediate writing principles. However, this does not necessarily mean that the student should enrol in an expensive class or program. Regardless of what you decide to do, you need to be familiar with spelling and grammar basics. One of the books that can help you improve your writing skills is "the elements of style," written by White and Strunk. The book has comprehensive information on the correct use of grammar as well as other important topics.
Be patient
One effective way of becoming better at anything is through practice. Apparently, writing is not an exemption. There are no shortcuts to becoming a better writer. On the same note, you cannot start writing impressive academic papers overnight. Even the most talented writers need some time to perfect or improve their writing skills. As stated in the point above, if you want to improve your writing skills, ensure that you write daily. Even when no person is reading your content, ensure that you continue practicing so as to perfect your writing skills.
Avoid complex terminologies
Most students like using jargon or complicated terminologies so that they may sound learned or professional. They fail to realize that a person can quickly lose interest in reading a paper containing words that are difficult to understand. Therefore, if you want to write effectively, ensure that you avoid making your sentence flowery or using complicated words. Always aim to use diction or a concise, clear, and straight style to the point words.
Make use of online academic tools
Improving your writing skills can be an uphill task, more so when you are doing things manually. The advancement of technology is meant to reduce the stress students go through to write impressive essays. Such tools include the plagiarism checker, thesis statement generator, bibliography generator, and GPA calculator. Therefore, if you want to improve your writing skills, ensure that you use online academic tools.
Edit and proofread your work
Editing and proofreading your work will help you come across most of the mistakes you made while writing your paper. These mistakes may be in the form of poor sentence construction, spelling mistakes, and grammatical errors. As you proofread your work, you should ensure that it is free from plagiarism. Students are always encouraged to run their documents through a plagiarism checker to ascertain that it does not contain any trace of plagiarized information. The bottom line is that you should always spare time to edit and proofread your work before handing it over to the lecturer for grading.
Although writing is not always a walk in the park for most students, the truth is that, with enough determination and patience, you can take your writing skills to the next level. Although there are no specific techniques on how you can improve your writing skills, the above tips have assisted most students.