It is essential always to remember that the entire process of writing quality academic papers requires an individual to follow the basic rules of grammar. Unfortunately, most students have not taken the time to familiarize themselves with the rules. The good thing, however, is that most essays are formatted the same way. Therefore, the process of writing an academic paper should not be that difficult. However, at times, an individual might be so occupied to the extent that they might not have sufficient time to complete all their assignments. Apparently, it would not be advisable to wait until the last minute to start writing your assignments. By the time you join college, you might be aware that a last-minute rush always has disastrous repercussions. Hence, if you ever find yourself in a situation, where you have difficulty completing your assignments because of unavoidable reasons, you might consider seeking assistance from the right people and places. Visit peachy essay in case you need any form of academic assistance. One of the reasons why some people write excellent academic papers effortlessly is because they have taken their time to understand the basics of writing. This article will discuss tips students can use to write excellent academic papers.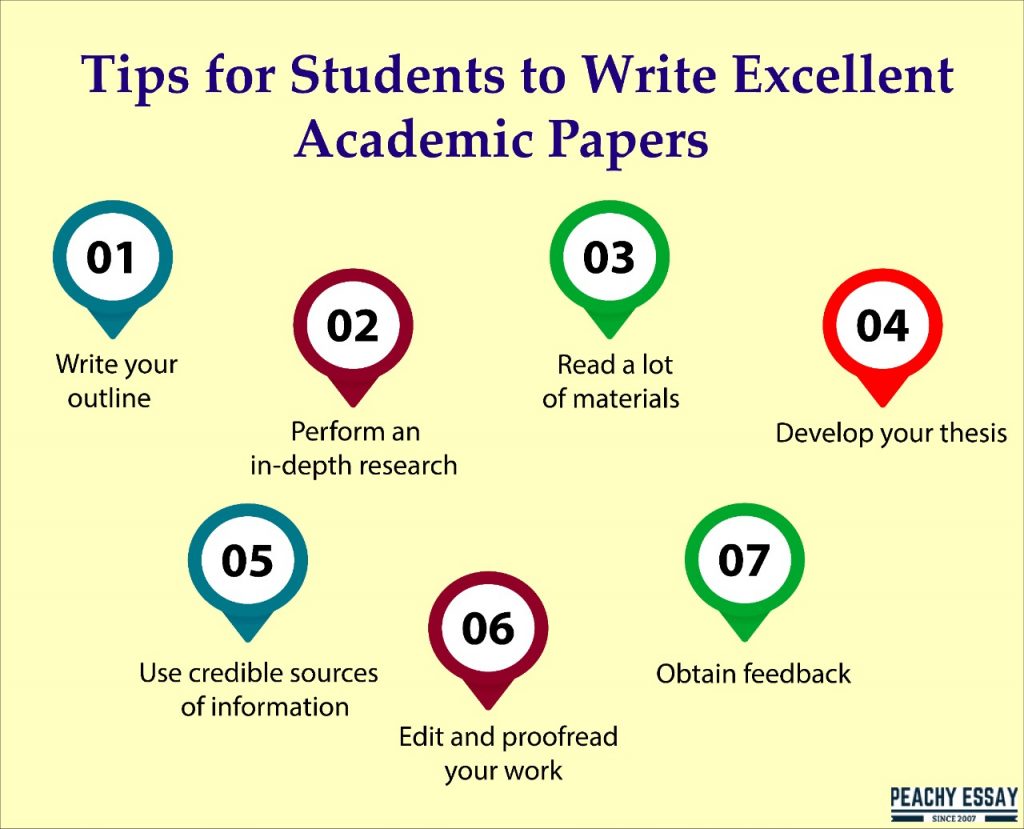 Write your outline
One of the most significant mistakes made by most students is that they start writing their research papers, dissertations, or thesis without taking their time to write an outline. As a result, they always end up mixing their ideas, which makes it difficult for the reader to understand their intended message. It is important to note that an outline describes how your paper will be structured as well as how ideas will flow from one paragraph to the next. Having an outline will also aid in ensuring that you do not mix up your ideas. In essence, if you want to come up with a top-notch academic paper, you should take your time to create an outline before starting the entire writing process.
Perform an in-depth research
Academic writing requires students to do in-depth research. Almost every aspect of writing will require the writer to perform extensive research so that they can gain enough information. There is no doubt that doing extensive research consumes a lot of time, and an individual is required to avoid all kinds of distractions if they would like to maximize their studying sessions. One of the most effective tips for conducting research involves the use of specific search engines such as Google Scholar, which will give your credible sources of information.
Read a lot of materials
As much as you would like to become a great writer and advance your writing skills, you also need to be good at reading. By going through papers written by professional writers, you will not fail to come across two or three new techniques you may use to improve the quality of your academic papers. Therefore, in as much as you spend too much practicing different ways you could use to improve your writing skills, you should also ensure that you read published materials from well-known authors.
Develop your thesis
A thesis statement acts as the backbone of any academic paper. It should capture the main ideas of your essay. All the ideas contained in the paragraphs should support your thesis statement. Your thesis statement should comprise two or three sentences describing what your position is regarding a certain argument. The quality of your academic paper will be determined by how you have written your thesis statement. Students struggling to write their thesis statements can always make use of a thesis statement generator. The tool is not only free, but it also has a user-friendly interface, hence making it simple to use.
Use credible sources of information
Unfortunately, most students are not able to differentiate credible from non-credible sources of information. The advancement of technology has simplified students' work and improved the entire student`s experience. This is because scholars can access information using their phones or laptops from any geographical location provided they have a secured internet connection. However, even with the advancement of technology, there are new challenges, particularly when it comes to checking the credibility of information available on the internet. If you want to score excellent academic grades in all your research papers, it is essential that you use information from reliable books, articles, and websites. Otherwise, the chances are high that you will be penalized for using non-credible sources of information.
Edit and proofread your work
There is nothing as frustrating to a reader as going through a paper that is full of grammatical errors, spelling mistakes, wrong tenses, and wrong sentence constructions. An individual may have great ideas but fail to score impressive grades because of spelling mistakes and wrongly constructed sentences. As a writer, you should always plan out your time well so that you may have adequate time to edit and proofread your work before submitting it to the lecturer.
Obtain feedback
The ability to withstand criticism as well as the eagerness to receive genuine feedback is what aids most students to write excellent academic papers. The ability to withstand criticism will assist you not to feel intimidated and, instead, take criticism positively. One of the benefits of obtaining feedback is that you will be able to enhance your strengths as you work towards improving your weaknesses. In case you are facing challenges in writing your essays, you can always seek assistance from your professors or colleagues. The chances are high that they will be more than willing to assist you in dealing with any form of challenge you might encounter.
As a student, your focus should be to improve your overall writing skills from structure construction writing, writing impressive thesis statements, using credible sources of information, and editing as well as proofreading your work. Every person can improve their writing skills through practice and determination. Hopefully, this article will assist you in writing top-notch academic papers that will earn you excellent grades.