If you are always scared of an informative essay, this article will demonstrate that writing such kinds of assignments is not as intricate as other types of essays. Although informative essay format and purpose are relatively easy, there are various mistakes an individual could make with writing this kind of paper. The good thing is that students struggling to write informative essays can always seek assistance from companies providing essay writing services. This article will prove to you that writing informative essays is not as complicated as you might have imagined.
What is an informative essay?
An informative essay is academic writing, where the writer's main objective is to inform the readers of the essay's subject matter. The ideal subject of an essay could be an event, a phenomenon, a place, or a person. When writing informative essays, the writer is required to use facts to explain to the audience who may have little or no idea about the nature of the subject. Writing informative essays plays an essential role since you have an opportunity to enlighten your audience and increase their knowledge regarding a particular topic. Apparently, it is not surprising to find college students confusing informative essays with expository essays. Whereas expository and informative essays share a lot of similarities, they also have various differences. For instance, expository essays aim at presenting one side of an argument, while informative essays basically present information on a particular subject.
Writing an impressive informative essay is a skill, which every student should strive to master. To graduate from a college or a university, you need to complete many written assignments successfully. Therefore, essay writing skills play an essential role, particularly regarding students' performance and grades. One of the special things about informative essays is that they speak to the reader about a specific topic. As a result, for you to come up with a well-written piece of essay, you need first to be knowledgeable about almost everything regarding the essay's theme and how you will organize your thoughts.
Where to start when writing informative essays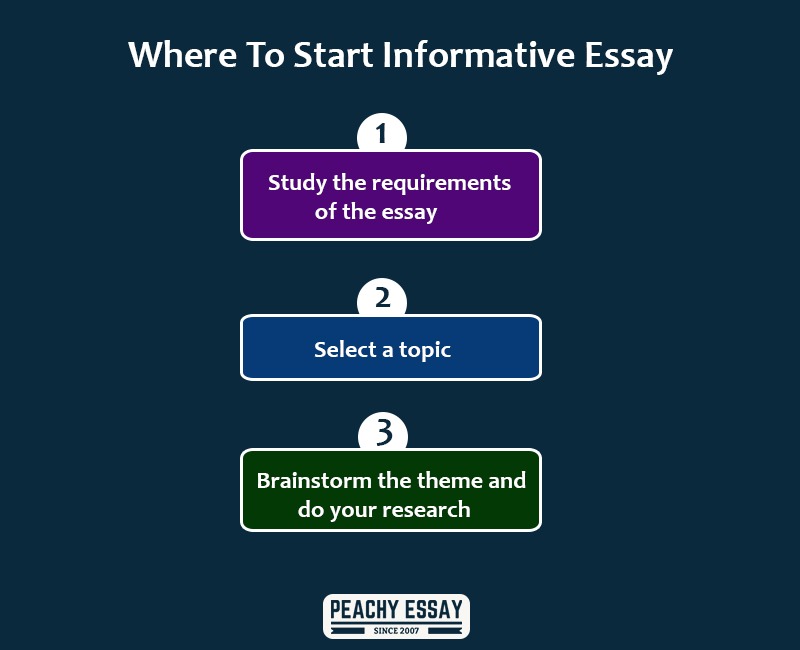 Study the requirements of the essay
The first thing an individual should do before they can begin writing their essay is studying the essay's requirements and instructions. Performing this activity will enable you to college all the relevant information. Particularly, you should check on the content of your essay, word count, and formatting requirements. Before you can begin working on the essay, ensure that you inquire about the deadline so that you can have ample time to finish, edit, and proofread your work.
Select a topic
The other essential thing you should do after understanding the requirements of the essay is choosing a topic. This step will have a significant influence on other strides of your writing process. It would be best if you were careful to select a topic, which you can easily access information. It would also be best if you strived to make your essay as interesting as possible to avoid boring your audience. Try as much as possible to surprise your readers by including some intriguing statements or interesting facts. Thinking about your audience will help you get a clear idea of a unique concept, which you can share with your audience.
Brainstorm the theme and do your research
This is one of the most laborious and tiring activities during the writing process, which requires a lot of attention and takes a lot of time. It would be best if you were careful enough not to miss out on the important details as you do your research. You may consider noting down on a piece of paper informative or interesting facts and ideas, which you will include in your assignment. In essence, ensure that you do enough research before you start writing your essay.
How to choose a theme for your informative essay
Deciding on the theme for your essay can put your writing into a stall for some time. This is because you have not yet identified what you would like to write. In situations where you are already provided with a topic by your instructor, you will be required to base your arguments on the discussion topic. If you have the freedom to select a topic, ensure that you pay more attention to the accessibility of relevant information to include in your essay. Apparently, no rules are dictating the topic you should choose to write your informative essay. Most of the things will be based on the discipline, word count, academic level, tutor's preference, and your interests. It would be challenging for a student to prepare a 500 words essay for a broad topic. However, the word count would be okay if you were writing about a subject that does not have a lot of information. It is also important to note that most of the students who write easy, informative essays never manage to score impressive grades. As a result, it is always recommended that you pay more attention to writing about some interesting, engaging, and complex themes. Although there are no good and bad informative essay topics, we have provided a list of topics, which may help you develop a unique theme for your essay.
Informative essay topics
The effects of pollution on the environment
What does handwriting say about the writer?
The future of technology
How to buy a house in the USA
Importance of donating blood
The importance of doing regular exercises
Dangers of consuming too much junk
The impact of censorship on media
The increasing population of vegetarians
The most interesting event in my academic life
Becoming a true leader
Why independence and freedom are important in the current generation
Essential skills for becoming a leader
How to conserve the environment
How to become an impressive writer
The impact of technology on student's lives
How to become a perfect parent
Why is reading important
Necessary skills to becoming a leader
Importance of creating a strong bond between parents and children
The internet is an important part of human being's lives
My leadership values
Informative essay structure
Once you have done your research and are familiar with the arguments you will present in your essay, it means that you are ready to begin your paper. At times, it would be good if you identified several topics and, thereafter, asked your professor or colleague to assist you in deciding on the topic they believe is informative. Performing this activity will help you kill two birds with one stone since you will be able to decide on a suitable topic and write content that will be interesting to you and the audience. The most important thing about essay writing is to write down your ideas carefully, ensuring that you do not miss out on any essential detail. Apparently, writing an informative essay can be so challenging, particularly when you do not feel inspired or have difficulties arranging your thoughts in a way that makes sense to the reader. But, you should not worry; having an outline will assist you in planning, researching, and structuring your paper in the most effective way. When preparing an outline for your informative essay, always remember that your paper should always begin with an introduction (which should contain the purpose, hook, importance, and thesis statement), a body, and finally, a conclusion. Although you cannot write an impressive essay without a plan, you should strive to ensure that you do not have a long outline. The following is an example of an essay outline;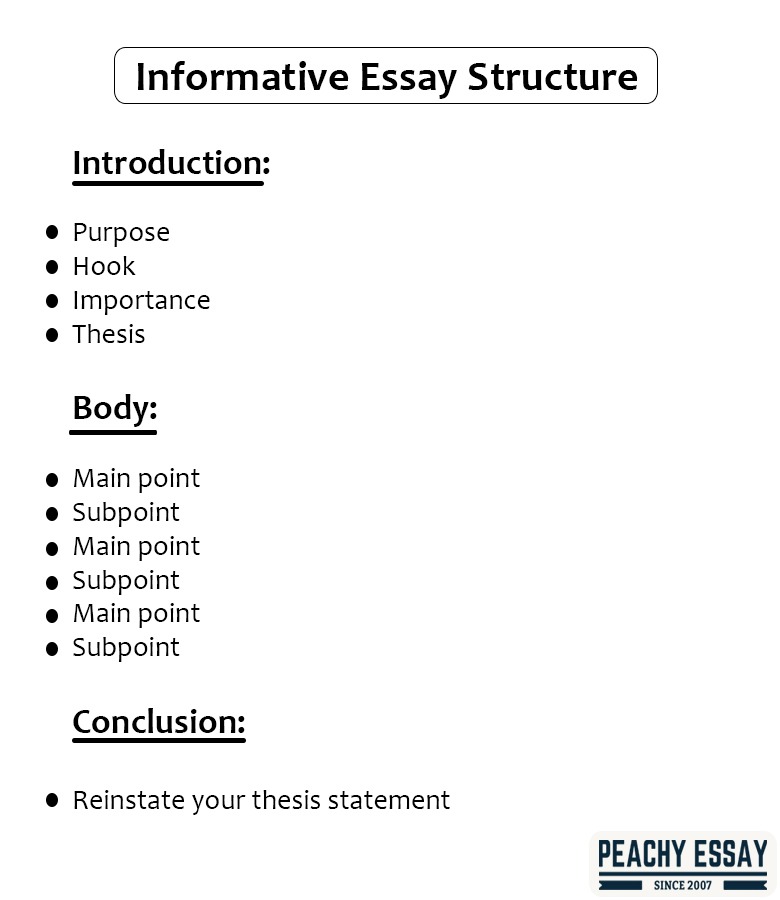 Informative essay outline example
The following is an example of an informative essay outline on the topic: "The impacts of alcohol on the body."
Purpose: You need to introduce the topic of your discussion. In this case, you should introduce how the daily consumption of alcohol affects the body's normal functioning.
Hook:   Your introduction should contain a hook that will be able to grab the reader's attention and maintain it throughout your essays. For example: Do you know that consuming alcohol negatively impacts your ability to distinguish right from wrong?
Importance:  Based on the information you present in the introduction, the readers should decide whether to stop or continue consuming alcohol.
Thesis:   Although alcohol soothes and relaxes the nervous system, it also negatively impacts the ability to make sound judgments, preventing an individual from living a productive life.
Main point: Impact of alcohol on the body.
Subpoint: Alcohol hangovers, impaired judgments.
Main point: An alcoholic may become dependent on substance use.
Subpoint: Lack of interest in acquiring new skills.
Main point: Changes in brain structure.
Subpoint: May lead to mental disorder or disruption of the peripheral nervous system.
You should reinstate your thesis statement and summarize your main ideas. Although alcohol relaxes the nervous system, it also has diverse negative impacts, such as reducing reaction time, hearing, vision, and lack of interest to acquire new essential skills. People need to understand that rather than solving problems, alcohol multiplies them.
Importance of an essay outline
Apparently, a timed essay can easily make students begin writing their essays without first developing an outline. Starting an essay without an outline can be likened to beginning a research paper without having a plan- you will end up mixing your ideas. Having an outline will enable you to start the writing process without wasting time, organize your findings, and structure it using the correct format. Having an outline will aid you in having smooth transitions between ideas and ensure that your essay is well-structured and organized. Without an essay, you will end up spending too much time on meaningless information. With an outline, you will realize that you will not be overburdened when it comes to figuring out how you will arrange your ideas. In essence, having an outline aids an individual to begin their essay while ensuring a smooth transition of ideas from one paragraph to the next.
Informative essay format
Like all other types of essays, your informative essay's format should consist of the introduction, body paragraphs, and finally, the conclusion. In the introduction, you should introduce the topic to the reader, provide background information, and describe why the selected topic is important. When writing an informative essay, you should always strive to grab the reader's attention and maintain it throughout your essay. You may begin your introduction with an interesting quote, statement, or even a question.
At the body of your essay, you should describe the main ideas, which support your thesis statement. Always ensure that each paragraph has a unique idea, which is connected by transition words. While presenting your ideas, strive as much as possible to avoid repetitions and being inconsistent. The final part, which is the conclusion, should reinstate your thesis statement. It is not a good idea to reinstate your thesis statement at the conclusion of the way you had presented it in the introduction. It would be better if you added your body paragraphs rather than introducing new arguments in your conclusion.
The concluding remarks
Writing informative essays tend to be challenging for the majority of the students. At times, explaining a particular concept may take a long duration since it requires the writer to have creative and critical thinking skills. Every student should strive to have excellent essay writing skills. Writing an informative essay is usually the most effective way of explaining something that is complicated using uncomplicated terms. Although you will be writing on the topics that interest and inspire you, you should always be back to the information you use with credible sources. Writers should be careful not to confuse informative essays with expository essays. The main objective of informative essays is to not giving your opinion but educating your audience on a particular topic. Like other types of essays, the structure of your informative essay should be divided into the introduction, body paragraphs, and finally, the conclusion.