A quite number of people require professional references, especially when they are applying for jobs or college admissions. Writing a reference can be difficult if you don't know how to go about it. Therefore, many students struggle and need help on how to write a professional reference letter. Before you compose the document for anyone, be honest, and give the right information regarding their skills and qualification. In this article, you will get insightful guidance on how to craft this piece. Let's go!
What is a Professional Reference?
 A professional reference letter is a formal document written to give testimony about someone's skills and experiences for a particular position in employment. It is vital to note that this letter is an official document and should be crafted in a business-like format.
Difference between Personal and Professional Reference
A personal reference is provided by someone who knows you in terms of character and soft skills, while a professional one is crafted by someone who knows you officially. For instance, your religious leader may compose a personal recommendation for you, whereas your boss can craft a professional letter.
Uses of Reference Letters
The following is a highlight of the uses of reference letters.
To recommend a candidate for a job opportunity.
A reference letter is sometimes required before a job contract is signed between the employer and the employee.
Can be used by students seeking admission in colleges
Reference letters are used to recommend anyone who is applying for funding.
The letters can be used as a tenancy requirement to confirm that the tenant has excellent financial status.
How to Write a Reference Letter for Someone
A professional reference letter is a correspondence meant to proof your skills, qualification, your position, and your terms of service in a particular workplace.
If someone approaches you to write a professional reference for them, it is advisable to follow these steps.
Investigate the position they are applying for
Evaluate whether you can honestly craft a reference letter for them
If you believe that the candidate has no issues, accept to be their reference
Highlight the strengths of the candidate and ask them to confirm if there is anything you have excluded
Inform the candidate in case their potential employer communicates with you.
Ensure that you include the candidate's relevant details in the reference letter, such as their employment duration, their responsibilities, and their skills. Also, don't forget to capture your contact information in the letter.
What to Write in a Reference Letter
If you are writing a formal recommendation for someone to get a job, it is vital to introduce yourself and then explain the nature of your relationship with the candidate. Also, indicate the duration you have known the candidate. Besides, ensure that you capture the following.
The candidate's role in your company
The status of the applicant's employment; whether permanent or contract
The candidate's employment dates
The candidate's skills and experiences
Your contact information
What not to Include in a Reference Letter
The following are highlights of what not to include in a reference letter.
Avoid writing the letter informally, but craft it in a business-like format. Desist from using jokes because they may spoil the candidate's chances of getting the job.
Don't include personal information that is irrelevant to the job being applied for. Irrelevant details include religion and marital status.
Ensure that the document you compose is free from spelling mistakes and typos.
What to Do When a Prospective Employer asks For a Professional Reference?
A professional reference is a formal recommendation that is meant to help you get employed in a particular company. Before you ask for it, it is advisable to follow these steps.
Choose an appropriate reference giver.
Contact your preferred reference via phone or email to request them for their support. Let them know that you are using them as a reference, or ask them to write for you a professional reference if it is needed.
Formally send an email with a link to the job description for their review.
Send the reference letter/information to your prospective employer.
How to Choose Your Preferred Reference
Knowing who can be a professional reference to you is an essential aspect of your job search. It is vital to select a person who knows your strengths, skills, and experiences. The ideal person to craft a professional reference should be your immediate supervisor or your college instructor.
Reference Letter Do's and Don'ts
It is crucial to bear in mind that an excellent reference letter can help you secure your employment, and a terrible one can ruin your chances of getting you're a job. The following are the do's and don'ts you need to observe regarding professional reference letters.
Reference letter do's.
Choose someone who knows you well to write your recommendation.
Get a professional reference from your employer, teacher, or anyone who is conversant with your skills and experiences.
Request for a recommendation in person or through phone rather than via emails.
Explain to your preferred reference why you need their help.
Do mention the specific skills or experiences you want to be included in the letter.
Appreciate your references after they have helped you.
Do ask permission to use your references in the future.
Reference letter Don'ts
Don't procrastinate in getting reference letters; get them as early as possible.
Avoid influencing someone to provide incredible information in your favor.
Always maintain your integrity, and never be tempted to forge someone's signature.
Don't select someone to be your reference based on their title. Choose someone who knows you in terms of skills and experiences.
Don't forget to thank your references for their support.
General Pattern for Writing a Reference
Before you craft a reference letter, it is vital to familiarize yourself with its structure, as highlighted below.
The recipient's name and address
Using a business-like format, address the recipient as "Dear (include name)". If you don't know the recipient, use "Dear Sir/madam."
It is crucial to introduce yourself by indicating your position and your relationship with the candidate.
Facts about the candidate
If you are writing a reference for someone to secure a job, it is vital to provide crucial information regarding the candidate, such as their role in the organization, their current remuneration, and their employment dates.
Candidate's skills and qualities
It is vital to state the applicant's outstanding skills. Point out the person's essential qualities that have helped your organization to grow.
Give instances on the candidate's areas of excellence
If possible, give examples of times when the candidate succeeded, especially in achieving specific targets.
End the letter on a positive note, and don't forget to advise the prospective employer to contact you in the future if they need more information about the applicant.
A reference letter is a formal document and should be closed as any other business letter. Therefore, end it appropriately using phrases, such as "Yours sincerely," or yours faithfully."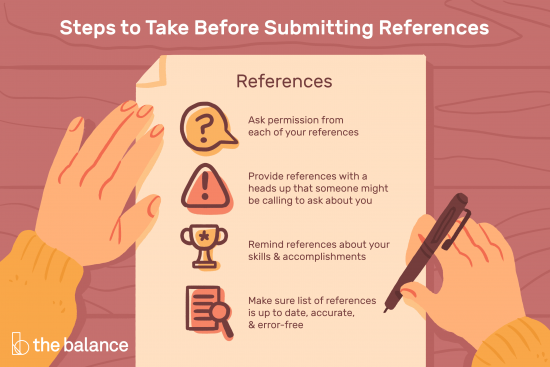 Format of a Professional Reference Letter
Knowing the format of a reference letter is a crucial aspect of crafting a professional document. It is vital to start with your contact details, followed by the date, and then finish with the hiring manager's address. After that, begin your piece with a salutation and then proceed to body paragraphs. Finally, end your letter formally, and don't forget to include your signature and your typed name.
The following is an example.
Dennis Brown
P.O. Box 1234-00020
Florida.
Tel +123334567890
May 6, 2020
Mary Johnson
Neboda Research Ltd
P.O. Box 23457-00020
Florida.
Dear Mary,
Mike Danson has been an employee of Dalsa Consulting for the past five years. It has been a pleasure to work with him. He is highly equipped with excellent research skills, and he has a lot of innovative ideas. He is creative, a team player, and can work under minimum supervision.
I highly recommend Mike for the opportunity to work for you. The role you are offering is similar to the position he currently holds, and therefore, I believe that he will deliver the best in the new assignment. Mike is a talented and exemplary person, and we wish him the best in his new endeavors.
Please contact me if you need more information regarding him.
Yours faithfully,
dbrown
Dennis Brown
What to Consider Before You Write a Reference Letter
A reference letter is an official document which you use to recommend someone for a job opportunity or a placement in a particular institution. It is essential to write a letter for someone whom you know, and you should also provide credible information to avoid landing yourself into trouble.
The following are the things to consider before writing a reference for someone.
Knowledge of the candidate
It is crucial to recommend someone whom you know. For instance, you can't write any meaningful reference for someone who used to work in the organization before you.
Whether you have been working with the candidate
You may not know the strengths of the candidate unless you have worked with them. Avoid recommending people whom you don't know their qualities and experiences.
Professional letters must carry credible information. If you feel that the person you are recommending has inadequate qualities for the position, it is advisable to let them get assisted by someone else.
What to Avoid When Choosing and Providing Professional References
Writing a reference letter has challenges like any other task. If you want to compose an excellent piece, there are mistakes you should avoid, as noted below.
Don't choose someone unless they worked with you
It is vital to select someone who has a vast knowledge of you in terms of work. Choosing a friend to be your professional reference means that they might not give honesty information; hence it will spoil your chances of getting employed.
Avoid providing references whom you have not confirmed their availability
It is improper to provide references before informing them because they might not be available when required. Also, failure to tell them means that your potential employer may contact them when they are not aware.
Understanding Character Reference
A character reference is a person who knows you, and they can recommend you to get help from somewhere. Moreover, note that this reference understands you personally, and you can choose them from your professional networks.
Character references may be neighbors, clients, friends, personal mentors, and many more. It is vital to avoid selecting your immediate family members as your personal references. Bear in mind that the primary purpose of a character reference is to recommend you based on your attributes. For these references to craft an excellent letter, you need to provide them with your resume and the job description to enable them to make adequate preparation for what to write.
If you have been approached to craft a character reference letter for someone in your network, it is crucial to speak well about their personal character relating to the work they are applying for.
The following are some of the elements that constitute a character reference.
The relationship you have with the candidate
Mention how you relate with the applicant. For instance, you may write as, "Christopher is my friend, and we workout at a local gym…."
How long the reference has known the candidate
When crafting a personal reference letter, state the duration you have to know the candidate. For example, you may mention, "I have known Perris for the past two years."
If you want to enhance the applicant's success, mention at least four traits about them. For instance, you may include aspects such as teamwork, leadership skills, and innovativeness, etc.
A statement of recommendation
A character reference letter must be concluded by stating recommendations. You may do it as, "Due to that, I recommend martin for this role, and I believe he will be resourceful for your organization.
The character reference's contact information
Ensure you include your address and phone numbers so that the applicant's employer may contact you in the future.
Sample Character Reference Letter
Sometimes, composing a reference letter can be hard if you are inexperienced in crafting it. However, by checking samples, you can overcome the challenge. Below is an example of a character reference letter.
To Whom It May Concern
I have known Peter for more than ten years now. We met at an academic conference when he was presenting his research paper. Peter has helped me a lot; for instance, through his research consultancy, my business performance has improved.
Peter is diligent, dedicated, and a team player. Besides, he can work under pressure and still meet strict deadlines. His leadership qualities are above board. For instance, while they were working on my research, he was able to organize his team well and managed to deliver the project one week early.
Peter has excellent interpersonal skills, and whenever he is away from work, his colleagues usually feel the absence.
Due to the above reasons, I recommend Peter for the research manager position, and I trust he would be a resourceful person to you and any other organization that would have him on board.
Yours Sincerely,
manne
Mary Anne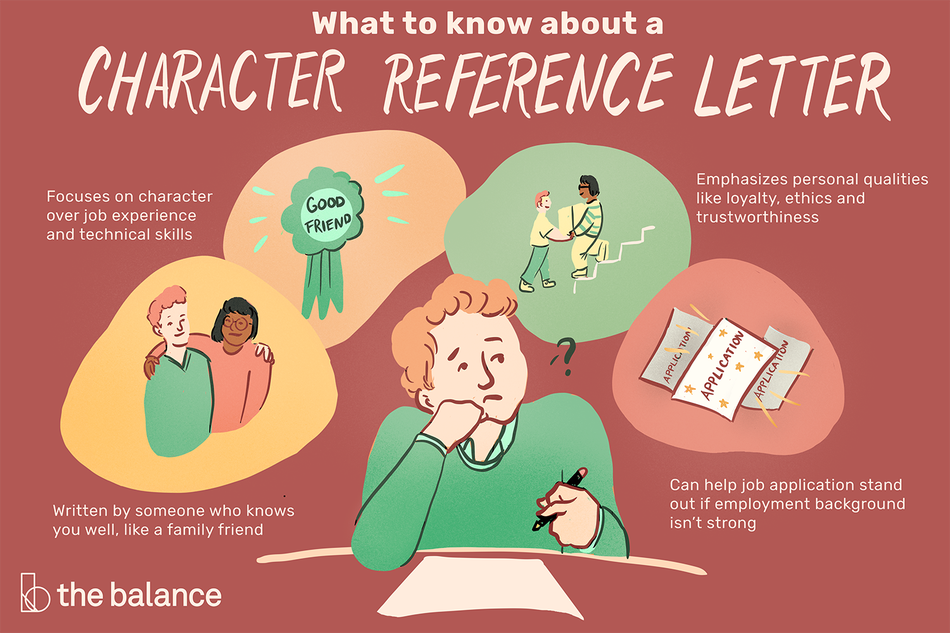 Tips for a Solid Reference Letter
It is crucial to understand things that can make your reference letter look excellent. Below is a highlight of some of them.
Make your letter positive
It is vital to act as a reference if you feel that you can write well about the candidate.
Provide specific examples
Besides writing about the applicant's attributes, it is crucial to give detailed scenarios on how the candidate has managed to use their traits to solve problems.
Craft clear and concise letters
Ensure that the letter you craft is brief, and shouldn't exceed one page. Note that the recruiters are busy evaluating several applications; hence they might not review every detail in the document.
If you are composing a reference letter for someone, avoid mentioning issues relating to their private lives. For instance, don't talk about things, such as marital status.
Final Thoughts on Reference Letters
A reference letter is a recommendation you give about a candidate to enable them to get employment or admission in college. There are two standard references – A professional reference and a character reference. A professional reference is someone who knows you formally; for instance, your immediate supervisor at the workplace. On the other hand, a character reference is a person who knows you personally.
To craft a professional reference letter, you must include the candidate's name, exact things about the applicant, instances where the candidate has excelled, and your contact details. If you want to write a reference letter but you don't know where to start, consult professional writers, such as Peachy Essay, for help.