Crafting a business plan can be a challenging task, especially if you have inadequate skills and experiences. In this guide, you will get lots of insights on how to it. In this article we discuss how to write a business plan.
What is a Business Plan?
A business plan is a summary of a firm's operational and financial objectives with an elaborate roadmap and budget, showing the goals that are to be achieved. This document is vital to the success of both startups and existing companies.
The Components of a Business Plan
A business plan is usually created to guide your enterprise or to help you raise money from investors. Before you craft this piece, it is vital to understand its components. The following is a highlight of some of its elements.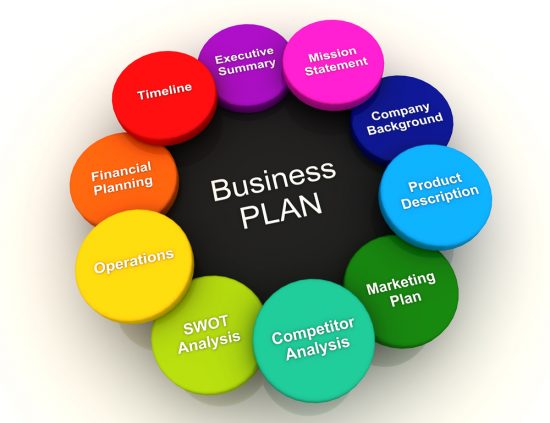 An executive summary is the first section that people will read in your business plan. It is an abstract with brief information regarding the content of the business plan. This section comes first in the document, but it is prepared last.
An executive summary is meant to inform the audience about your business and highlight what you are looking for from the clients. Sometimes, investors only need an executive summary to evaluate your business. Therefore, ensure that it briefly captures the crucial information in the entire document.
Abstract ought to be concise and should entail only the critical parts of your business. Usually, this section is written to occupy between 1-2 pages.
The following is a description of the elements of a winning executive summary.
One Sentence Business overview
A sentence overview should be written after your business name, and its purpose is to highlight the essence of your business. A business overview is your value proposition, and it describes what your organization does.
The problem is the needs of the market that you are about to address. Briefly highlight the issue you are solving to give a better perspective to your audience.
The solution refers to the product or service you are providing to the market. Therefore, demonstrate how you will solve the problem.
Indicate the details of the clients you are going to serve. For instance, mention the type of customers and their estimated number.
Indicate whether there are people providing solutions to the target market. Identify and provide an overview of the competition.
Company overview and team
Provide details regarding your team and explain why you think you are better placed to take the idea to the market. It is crucial to note that sometimes, investors consider the team more than the idea and, therefore, ensure that you have the right people on board.
In this section, note the key points of your financial plans. For instance, use charts to show your projected sales, expenses, and profits.
If you are crafting a business plan to get a loan from funders, indicate the amount of money you require to finance your business activities.
A milestone is one of the key aspects that investors will want to look into. Therefore, it is essential to mention what you have achieved and your targets.
If you are composing a business plan for internal business use, you may avoid the executive summary or reduce its scope. Therefore, include aspects like the management team, funding requirements, and milestones. In this case, the executive summary should be considered as an overview of the organization's strategic direction.
In the opportunity section, highlight what you are offering to the market, or the problem you intend to solve. It is vital to indicate how your products or services fit into the existing market.
In this part, demonstrate how your solution to the problem is different from the existing competitors, and provide more details on how you plan to enhance your offering afterward.
Pinpoint the problem your potential customers are facing, and show why the current solutions haven't managed to address them. In this section, it is vital to highlight the answers to your clients' problems. The solutions refer to the products and services you intend to offer.
It is essential to highlight your potential future plans to show the investors where your business will be in the long term. However, avoid including too many long-range plans that you might fail to complete.
In the execution section, mention how you will convert your plan into a business. It is vital to highlight the marketing or operation strategies you are intending to use to achieve your objectives.
Also, indicate how you intend to reach your target markets, your selling strategies, and pricing plans. Note that a marketing plan will be useless if you don't define your potential customers well.
Use this section to highlight the company's corporate philosophies, such as mission, vision, company location, and core values. Also, indicate the organization's team or show how you are planning to hire if you are starting a new venture. This section is very vital, especially to investors who may want to know the team behind the business.
Highlight a short bio of each team member, and show whether they have the right skills and experiences to turn an idea into a business.
The market analysis encompasses an in-depth evaluation of the industry, market, and competitors. The following is a description of the constituents of your market analysis.
Describe the industry's past and future outlooks. Indicate the key industrial players.
Overview of the target market
Highlight key aspects of your target market. Provide an estimated figure on the number of clients and their geographical distribution.
Target market size and growth
Indicate the size of the target to let readers understand how big it is. Based on the current size of the market, provide its projected growth.
The potential of your market share
Indicate the magnitude of market share you are expected to gain in the targeted area.
Before you price your products, conduct research to come up with the best estimates of pricing them.
Indicate any barrier that may inhibit your market entry, such as government regulation or lack of human resources.
Investigate your competitors' strength and weaknesses, their market shares, and any barrier they present.
Under this section, it is vital to highlight how you will market and sell your products. The following is a description of the components of a market and sales plan.
The way you present your product or service determines how the customer will get attracted to your offering. For instance, if the service you are providing guarantees quality, you will stand out against your competitors.
After positioning your offering, it is vital to indicate how you will inform customers about the product or service you are selling. Indicate any plan you have in marketing the products, your sales force, and the strategy of sale.
Note that without a financial forecast, your business plan is incomplete. In the financial plan, ensure you include the income statement, balance sheet, cash flow statement, and sales forecast.
An excellent financial plan must have monthly sales and revenue forecasts for the first year and annual projection for the next 3-5 years.
If you have been running a business for some time, you will use financial information from past performance. However, if you have no historical data, it is advisable to use financial projections. These projections might either be derived from past data or determined from the analysis of the competition in the industry.
Another essential aspect of your financial planning is funding needs. Indicate whether the source of your funds is equity or debt. Under funding, you need to include the following: the amount of funds, future funds, and the purpose of the fund.
It is crucial to use visual illustrations, such as graphs and pie-charts, to highlight the financial position of your business and its plans.
The appendix section is used to provide supporting documents that may be required by the consumers of your business plan. This part is essential in boosting the credibility of the information in the project. The commonly used documents include resumes, permits, licenses, and any other legal material.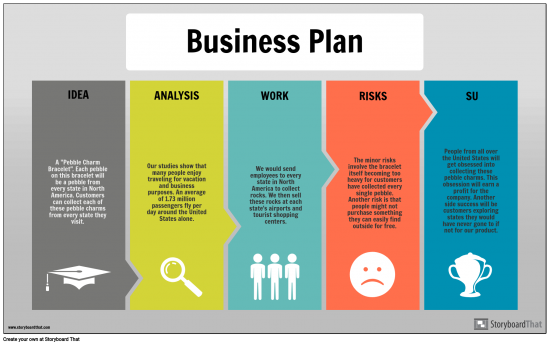 Benefits of a Business Plan
The following is a description of the benefits of a business plan.
A business plan introduces your ideas to potential investors, hence wooing them to invest in your company.
With a business plan, entrepreneurs can focus on products or services that match the target market.
Through a business plan, you can prioritize on the right and most crucial things. Planning enhances an appropriate allocation of time and other resources in areas that need maximum attention.
Excellent planning can enable you to review what is targeted versus the actual to determine whether you are making progress or not.
To enhance accountability
The essence of planning is to set expectations and find out whether results are being achieved as per the targets.
Proper planning is crucial for the management of your cash flow. For instance, through it, you can identify slow-paying clients and take actions to enhance your liquidity.
To evaluate strategic alignment
With a business plan, you can determine whether the daily activities align with your business strategies.
An excellent business plan sets achievable milestones. For example, opening a new branch and hiring a finance manager.
Business planning entails performance indicators that ought to be achieved within a particular period. Therefore, ensure that you set realistic targets that are likely to be delivered.
A realistic reminder on what to keep on track
Sometimes, it may difficult to remember to do some business tasks due to work pressures. However, with a business plan, you can be reminded of the essential things to prioritize on.
Rules of Business Planning
If you want to compose a solid business plan, the following tips can help you a lot.
Before you do any planning, it is vital to research and see whether the market can accommodate your idea. Identify the companies operating in your niche and find out how they are fairing in terms of sale performance.
Determine the actual readers of your business plan
It is vital to write a business plan with your audience in mind. Therefore, tailor it to specific people whom you want to read it. Most importantly, you need to focus on ideas that are relevant to a particular target group. For instance, suppliers might be interested in sales forecasts.
More importantly, craft your plan using a language that your audience is familiar with. Therefore, avoid using jargon that can make your readers find difficulties in understanding your document.
Note that a business plan is a preconceived idea you have about your business. Therefore, you don't have to hold a degree to put this idea to paper. If you are not conversant with crafting such documents, you may start with a single-page business plan and then expand it later.
A business plan must concise and should include only the key points. Ensure that the executive summary captures essential aspects of all the sections. Once you finish drafting the document, proofread it to correct typos and grammar mistakes.
Adopt a standardized business template
A standardized template will make your business plan look professional before the readers. For instance, if your goal is to attract investors for funding, polish the document to make it look perfect.
Before you send your business plan to your intended audience, it is vital to seek a second opinion from professionals. Experts are essential people in your planning because they have experience; hence they can offer you advice on where to correct or perfect your document.
Who is Responsible for Writing a Business Plan?
A business plan can be written by an individual person or a group of people who owns a business. Note that, in most cases, it is written by the founders of the company. It is vital to bear in mind that this document is not only meant for internal use but externals users, such as customers and investors.
Examples of a Business Plan
Writing an excellent business plan is not a straightforward thing if you don't know how to go about it. If you are facing such a challenge, it is vital to consult experts or check business plan samples online for your guidance.
Steps on How to Write a Business Plan
The following is a highlight of the steps involved in writing a business plan.
Creating of an executive summary
An executive is the first chapter of a business plan. With an executive summary, you can give a highlight of what you do, where you are, and where you expect to be in 3-5 years.
Provide your company overview
A company overview entails a summary of your business structure and what you do. In the company overview, highlight what your business does, the industry, and the legal structure of your enterprise.
The company overview must be a catchy pitch on what your business does, the nature of clients you serve, and how you intend to provide service to them.
Present an analysis of the market, industry, and competition. Note that a sound market analysis informs and convinces the investors that you have a clear perspective of market dynamics.
Define your business's organization
Defining your business's organization entails giving details regarding the structure and management of your business. For instance, explain your employees' roles, their backgrounds, and their past experience.
Highlight your products and services
Give a brief description of the products and services you are offering and the needs they are fulfilling. Explain what makes your products superior to the competitors'.
Explain your marketing plans
After identifying the products or services you will offer, the next step is to explain how you will market them to the target market.
Give details of your financial plan and projections
Provide details regarding your current financial status and show where you will like to be in the future.
An appendix is any vital document you attach to provide evidence or additional information to support what has already been provided in the paper. These documents include permits, resumes, and any business contract.
Final Thoughts on Writing a Business Plan
Knowing how to craft a business plan is vital for the strategic growth of your business. A solid business plan must have essential components, such as an executive summary, company overview, market analysis, financial analysis, and an appendix. If you are not conversant with composing a business plan, please contact expert writers for business writing help, such as Peachy Essay.