Writing a philosophical essay can pose a significant challenge if you don't know how to go about it. Unlike other academic papers, philosophy requires students to provide answers to questions using structured arguments.
Even though philosophy essays are tough to handle, this article will give you excellent guidelines on how to craft high-quality pieces.
What is Philosophical Writing?
Philosophical writing refers to presenting and defending a claim with supportive facts throughout the paper.
Writing a Philosophical Essay Paper
Before you craft any philosophical essay, understand the questions that you ought to answer, and then review relevant literature to get adequate content for the paper. Some of the philosophical questions include: Is there a heaven? What happens after death? Does God exist?
For you to compose an excellent essay, you must consider the following.
Comprehend various philosophical concepts, theories, and questions that are used by different philosophers.
Exercise critical thinking about such arguments
Come up with answers to philosophical questions.
Composing a philosophy essay is an essential step in studying philosophy. Before you craft any paper, it is advisable to familiarize yourself with the assignment, read the questions thoroughly, and have a clear perspective of the prompts like "compare," "contrast," or "describe."
Visit the example on compare," "contrast," or "describe essay sample.
A quite number of philosophical tasks require that you understand the subject by critically evaluating the arguments and theories. Therefore, once you encounter a philosophical question, it is vital to show your exposition regarding a particular argument in a manner that demonstrates critical thinking.
The following steps are critical when it comes to writing a philosophical paper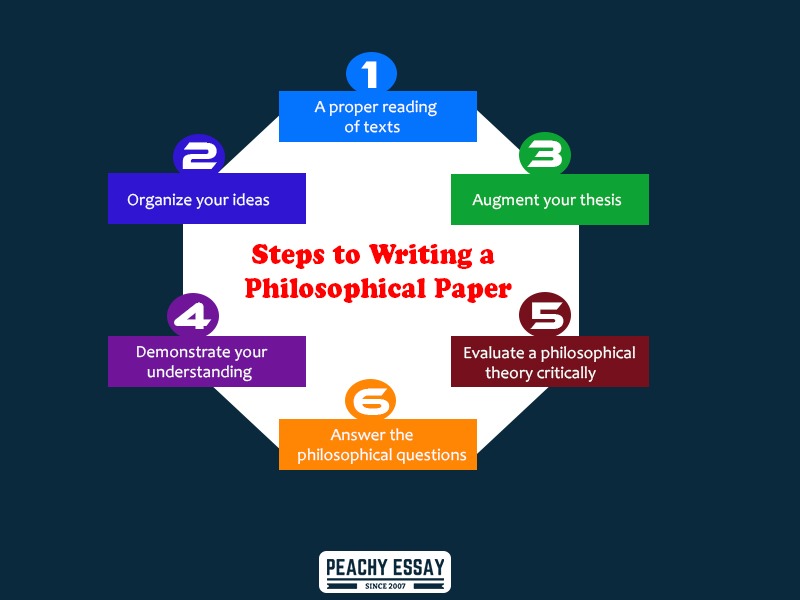 A proper reading of texts
It is vital to understand the content in your course outline and other recommended references. Read the work slowly and pay attention to crucial aspects such as questions, concepts, theories, and arguments.
Consider taking notes as you study the texts and then organize the ideas for the paper in a logical manner. Create an outline to capture all the vital points you require in your argument.
Ensure that you present a comprehensive thesis statement that gives detailed information about your position in the argument. Also, in the introductory paragraph, provide a roadmap showing how your thesis will progress. This plan indicates what you intend to achieve in the different sections of your essay.
Demonstrate your understanding via accurate exposition
If you want to come up with an excellent philosophical paper, make your expository writing clear, and avoid vague and careless omissions. For instance, an assignment, such as "outline and evaluate ethical issues in abortion," requires you to approach it using both evaluation and exposition techniques.
Evaluate a philosophical theory critically
Before you start analyzing the theory, it is vital to assess its strengths and weaknesses.  Determine the arguments given by the philosopher to support the theory and those not provided despite the fact that they are supportive. Moreover, identify all criticisms against the arguments and find out how the philosopher has responded to such claims.
Answer the philosophical questions
Some philosophical questions such as "what is morality?" requires that you present your answers with justification regarding the validity of your response. By answering the questions, you not only evaluate theories, but you also develop your philosophy.
Differences between Philosophical and Normal Essay
Unlike a typical essay, a philosophical paper requires both exposition and evaluation. Expository writing entails explaining your argument regarding a particular aspect. The evaluation section encompasses writing your own philosophy concerning something.
Writing a philosophical paper encompasses taking a position of agreement or disagreement with a philosopher's conclusion and engaging with their reasoning. If you want to achieve proper engagement, you must find out whether the philosopher's arguments are justifying the end or not. Note that in philosophy, you are free to use the same terms throughout the paper, as long as you convey the required meaning.
Contrary to other papers, philosophical papers don't require quotes. Therefore, you are supposed to answer questions in your own words. However, it is advisable to provide in-text citations whenever you make a claim on a particular issue.
Format of a Philosophical Essay
The format of a philosophical essay encompasses an introduction, body, and conclusion. The following is a brief description of these sections.
The introduction is meant to give the reader a brief background about the topic. It is vital to craft an introduction that grabs the attention of your audience to make them develop an interest in reading your essay.
A thesis statement is an account that summarizes the position you take in an essay. Ensure that the report you create is debatable and provide arguments supporting both sides of the claim.
Note that usually, a thesis statement appears as the last sentence in the introductory paragraph, and it is also a roadmap map of what will be discussed in the rest of the paper. Examples of a thesis statement include: religious beliefs have effects on COVID-19, ethics are essential in contemporary society, and going to church cannot take you to heaven.
The conclusion entails a summary of the main points in the paper. Also, note that the end may include a restatement of a thesis in different words to emphasize to the readers your position on the topic.
Read more: Philosophy Essay Topics and Questions for Students
Example of Philosophical Essay
If you are unfamiliar with writing a philosophical essay, it is crucial to contact a professional writing company, such as Peachy Essay, for help. Also, you may check philosophical essay samples online to get guidance on what you are supposed to do to write such papers.
Organization of a Philosophical Essay
A philosophy paper comprises three sections, such as the introduction, body, and conclusion. The organization of a philosophical essay refers to different aspects such as the length of body paragraphs and how the document is arranged from the beginning to the end. Note that paragraphs in these papers should have between 6-8 sentences. Moreover, the number of paragraphs for the essay depends on the length of the paper in terms of word count.
If you want to write an excellent paper, there must be a flow from one statement to another. Therefore, you have to use connective words, such as moreover, in conclusion, besides, alternatively, contrary to that, and many more.
Strategies of Writing a Philosophical Essay Paper
To craft an outstanding essay, you must follow the recommended guidelines, as explained below.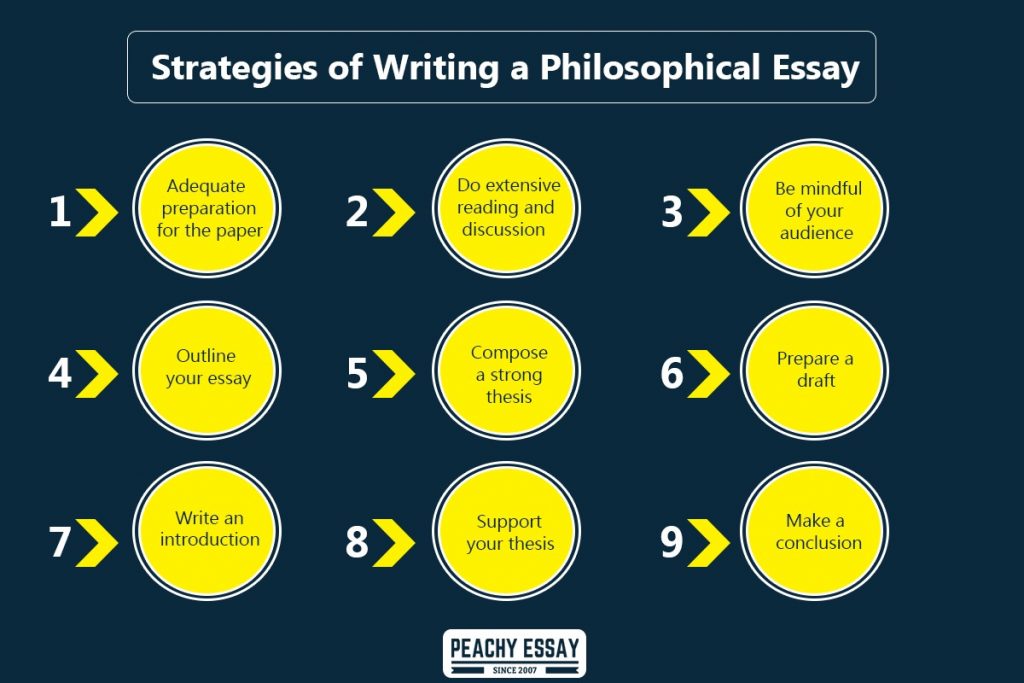 Adequate preparation for the paper
At this stage, you are supposed to read relevant literature and materials regarding the topic. Moreover, before you think of composing your essay, it is vital to create an outline with your notes. Preparing in advance determines the kind of argument you will make in the paper.
Do extensive reading and discussion
It is essential to read all the materials for the topic to acquaint yourself with what is expected to answer the questions. Therefore, as you read, it is crucial to note critical ideas and arguments. Carrying out adequate research on the topic confirms to your reader that you are serious, and the content you craft can add value to them.
Be mindful of your audience
Note that your audience includes your fellow students and your instructors. It is crucial to bear in mind that although your readers may have in-depth knowledge of philosophy, what they know may be different from your arguments. Therefore, try to give an explanation regarding any new things you introduce, and ensure that the content you craft is easy to read.
With an outline, you craft your paper without going off track. By preparing the right plan, you make sure that you have everything that is essential, and you minimize the chances of forgetting pertinent aspects regarding your document.
An excellent outline must include your main points for the introduction, crucial ideas for the body paragraphs, opposing ideas for the thesis statement, and the content of your conclusion.
A strong thesis is meant to make the reader understand your paper and know its focus. Your thesis should appear as the last sentence of the first paragraph of an essay.
After completing creating the outline, it is vital to write a draft paper for your essay. The draft includes a summary of all essential compositions of a paper, from introduction to conclusion.
After composing the draft, you can go ahead and craft an introduction. Note that an opening is an essential section of your paper because it highlights your work to your readers. Note that this part is intended to grab your audience's attention to make them read your paper further.
A thesis statement appears as the last sentence in the first paragraph of an introduction. An excellent thesis must advance ideas that support or go against the argument. Ensure that you write down relevant points to support your argument.
In this section, you are supposed to summarize the main points of your paper. Also, highlight the significance of your essay to emphasize crucial points to your audience.
Final Thoughts on a Philosophical Essay
A philosophical essay is an academic paper that entails presenting and defending a particular claim throughout the document. The structure of this paper is composed of an introduction, body paragraphs, and conclusion.
Note that writing a philosophical essay may be challenging, especially to those students who are inexperienced. If you are in such a situation, don't worry; contact Peach Essay writers for help.