Writing a business proposal can be a challenge if you don't know how to identify your potential client's problems and offer solutions to address them. The proposal is meant to convince someone to choose you as the best service provider. In this article, you will get detailed information on how to craft a business proposal. Let's go!
What is a Business Proposal?
A business proposal is a document that you use to highlight your value proposition to persuade a particular company to do business with you. A proposal can be solicited or unsolicited. The former one is where a client requires a specific service, while the latter is when you approach a client with a suggestion to offer the service.
An excellent proposal can determine whether you will win or lose a prospective client. Business proposals are intended to help you close deals, make more sales, and achieve business goals.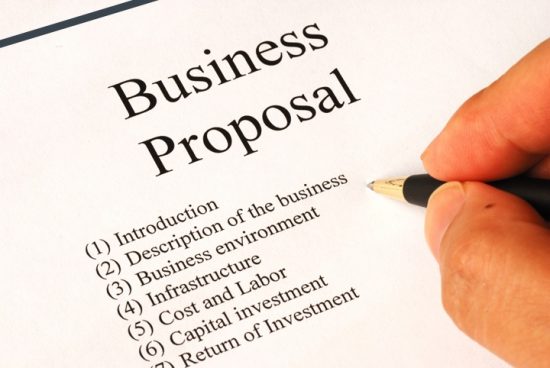 The Basic Structure of a Business Proposal
The structure of a business proposal varies based on industry and company size. Here are the constituents of a business proposal and what to capture in each part.
This is the outward appearance of a proposal, and it includes your contact information, your business name, client's address, date, and title.
The cover letter is what you use to introduce yourself to your client. In this section, mention the name of your company, give an overview regarding its background, and indicate what your business can do for the client. Moreover, advise your audience to ask you questions regarding your proposed solutions.
The following is a sample offer letter
Dear Dennis,
Thank you for giving Shape Gym an opportunity to provide solutions to your business needs. My team and I met deliberated about your current needs and expectations.  We are experts in offering fitness services to corporate companies here in New York City. We started our operation in 2000, and we have experience of 20 years. Our first clients were the employees of Barclays bank, and we have been training them to date.
Contrary to our competitors, we provide holistic exercises covering aerobics, strength training, and stretches. The majority of the clients who have benefited from our services can confirm that through their positive reviews, and we take pride in that.
Our business model is based on three approaches – personal training, consultancy on nutrition, and gym services. We have several branches spread across all major cities in the US.  Our monthly charges are affordable, and we provide discounts to clients who make annual subscription.
Studies show that employees who are physically fit perform better than those who don't exercise. We trust that our proposed solutions will add value to your staff's productivity.
In case you have any questions, please get in touch using my contact information below.
Yours sincerely,
Nelson Mathew
Tel +1724982920
A table of content is a vital section, especially when your document is not too brief. It assists your client know what to expect in the text. If you are sending an electronic document, it is advisable to create a clickable table of content so the customer can easily access sections without going through many pages.
An executive summary highlights your proposed solutions to the client's problems. It explains the benefits of your company's services and why they are suitable for the client. Ensure that the content of this section is relevant and engaging. The following is an example of the summary.
Shape Gym has the pleasure to present this proposal to KYC Bank to provide customized gym services to your staff. We are aware that your employees are in need of fitness services considering the fact that most of them lead sedentary lifestyles. We believe that we have the potential to address their needs. We are aware that there are other service providers in the market, but we want to assure you that our services are unique and of high quality.
We are very confident that our proposed services will adequately bridge the existing gaps regarding your fitness requirements. Our main goal is to ensure that each participant realizes his/her fitness objective within two months, and after that, continue keeping fit throughout their lives. We intend to foster a long-term partnership with you.
Our proposal will bring the following benefits to you: one, it will contribute to the health and wellness of your staff; two, the team will be able to control their weight; and three, it will boost their morale and self-esteem.
We have qualified staff whom we believe will accord you the necessary professional services. Our team falls into the categories of trainers, dieticians, and medical consultants. Besides, we are well equipped with variety of ultra-equipments and, therefore, we trust that we are prepared to offer you the right solutions to your problems. We are eagerly looking forward to establishing a rewarding relationship with KYC Bank
State the client's problem or need
Highlight the client's need and confirm to them that you know exactly what is affecting them.
In this section, highlight the solutions you are presenting and indicate the expected results and the timeframe. Ensure that you address the client's needs to prove to them that you are the ideal candidate for the job.
This section highlights the specific approaches regarding your proposed solutions. It is crucial to walk your client through the entire process so that they may have a clear perspective regarding your proposition. Indicate your deliverables and their expected dates.
The 'about us' section is where you demonstrate your company's capability. Ensure that you include a brief description of the team the client is going to work with. You may include details regarding your past success and awards.
The following is an example of 'About us.'
At Shape Gym, we take pride in the public recognition we have received because of our exemplary services. Last year, we won the New York award of the best fitness center of the year, and we have been recognized by the America Fitness Association thrice.
We have trained many clients across different towns in the US, and most of them have success stories to tell, as demonstrated by their positive reviews on our site.
We have a team of professional staff who have vast experience in fitness and nutrition services. We deliver both personal and public training services at your convenience. We value our clients, and we always provide excellent services.
Create a pricing table to enable your client to select the services that are suitable to them. Make sure that the prices you suggest are neither overestimated nor underestimated.
In this section, indicate the timeframe of your agreement and specify the payment dates. This part highlights what you and your client are pledging by consenting to the proposal.
This is where the client signs as an indication of their approval of your proposed solution. It is advisable to add a signature and date section to enable your client to sign conveniently.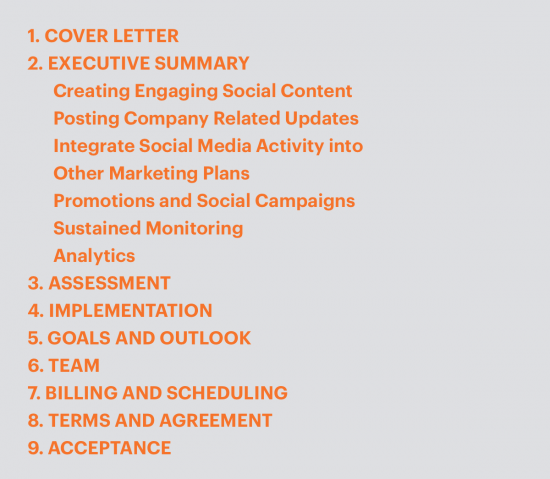 Types of Business Proposals
There are three types of business proposals, as described below.
A solicited proposal is created in response to the client's official request for a proposal. Under this circumstance, you compose the document based on the client's requirements and their needs. Your role is to craft a proposal for their evaluation.
An informally solicited proposal is written when there is no official request for it. For instance, a potential buyer gets interested in your services and asks to evaluate your document. If you want to present an informal proposal, research your prospective client's needs, and present solutions based on that.
An unsolicited business proposal is like a cold email. This document is written without adequate knowledge of the buyer's needs.
What to Consider When Writing a Business Proposal
If you want to craft a winning business proposal, you must consider the following.
When building a business proposal, ensure that it addresses your client's needs. Avoid presenting generic proposals to your customers, and instead, tailor your solutions based on their requirements.
Before you write a proposal, it is crucial to collect details regarding the client's problem and potential solutions. Hold a meeting with the members of your team and deliberate how you will present the proposal to the client. Through discussion, you will make your proposal more effective and efficient.
Highlight why you are the best
Don't show off on how big your company is, but show how you can make the client's firm great. Ask yourself, "Why should the client consider me?" Analyze your solution and demonstrate to your client how you would add value to their business.
If you have prior experience, cite instances about your previous work. Make the client develop confidence in your service.
It is vital to bear in mind that the proposal you are presenting will be reviewed alongside other competitors. Think and research what your competition is likely to offer, and prepare a proposal that will make you stand out.
Sometimes, clients provide a list of companies who have downloaded the proposal document on their websites. Also, based on the experience you have, you should be aware of the companies that are likely to submit the document.
Moreover, you may evaluate your competitor's previous work to get a hint of the price they are likely to quote. After that, amend your proposal to make it more appealing than your competitors'.
This entails organizing your document to make it coherent and compelling. You may use a mind map tool, free online, to help you organize your concepts in an orderly manner.
3 Ps of a Winning Business Proposal
The secret behind a successful business proposal lies in your ability to use highlight the problem, proposed solution, and pricing details, as described below.
A problem statement is where you convince your clients that you are familiar with their needs than any other person. If you want your potential client to trust your proposal, describe to them what their needs are and how you can help them.
This section should present detailed information on how you will address the client's problem.
Pricing information is very crucial to many clients because it will make them decide whether to give you business or not. You may present your solution using a fee schedule.
Things to Remember When Crafting a Business Proposal
The following is a highlight of things to remember before you write a proposal.
Bear in mind that a prospective client may not give you all their details. Therefore, find out their problem, and if possible, research information regarding the competitors. Ensure that the proposal you present is comprehensive and detailed.
Put yourself in the client's shoes
Ensure that the solutions you propose to the client are based on your past experience. For instance, price your solutions fairly to make the client feel that you are not overestimating it. Before you write a proposal, be familiar with the client's needs and work style.
Many people are competing for the same client you are targeting. It is vital to convince them to offer you the opportunity. Therefore, highlight your qualification, experience, and talents in the document to make them choose you.
Final Word on a Business Proposal
A business proposal is a document you write to your prospective client to convince them to give an opportunity to solve their problem. There are three types of business proposals – formally solicited, informally solicited, and unsolicited. Understanding these documents will help you know how to craft a proposal tailored to your client's needs.
If you don't know how to write a business proposal, don't worry; please contact professional writers, such as Peach Essay, for assistance.