Knowing how to write a resume is an essential aspect that can help you get your dream job. However, not everyone has experience in professionally crafting these documents. In this article, you will get a lot of insights on how to compose this piece. Let's go!
What is a Resume?
A resume is a summary of your personal information, educational qualification, work experience, and achievements. A resume is intended to advertise you to the hiring manager, and it should be crafted with a lot of care to set you apart from other competitors.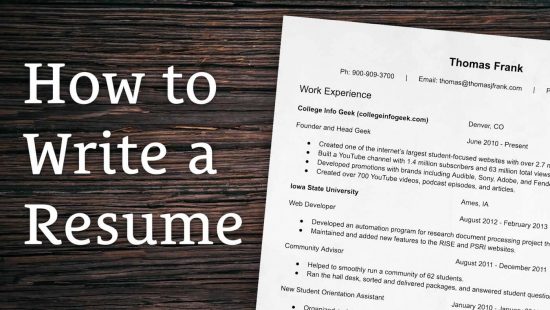 Types of Resume Format
To craft an excellent resume, you must beware of the different formats and utilize the most suitable one. The commonly used resume formats include reverse-chronological, functional, and combination. The following is a highlight of these styles.
Reverse-chronological is the most common format that has been used for a long time. It is crucial to note that this style is more flexible and can be adopted by any person regardless of their level of experience.
A chronological resume is ideal for people who have experienced consistent advancements in their career paths. For instance, if you have spent the rest of your life in one particular industry, you may adopt the chronological format if each position you held was more senior than the previous one.
The following is a description of what to do with some of its components.
Ensure that you craft an introduction that is tailored to fit the organization you are applying to. It is vital to keep this section concise to emphasize your experience.
Under this format, you should list the work experience from the latest to the oldest.
To make your resume look excellent, you need to highlight only the most relevant skills. Also, note that this part is intended to support your work experience.
Unlike a reverse-chronological format, a functional resume is focused on skills and qualifications. This type of resume is ideal if you have multiple gaps in employment, or you are entering the job market after a long break. The following is a highlight of its parts.
The introduction you compose should capture your achievements and skills. Alternatively, under this section, crafting a professional profile is adequate for the opening.
In this part, list all the transferable skills you possess to let your employer focus on positive traits that distinguish you from being the best candidate.
It is advisable to keep this section brief with no dates. Note that the functional format is meant to conceal your inferior work experience and instead highlight your skills.
A combination resume merges the reverse-chronological and the functional resume. This type of resume is ideal when you want to highlight both your skills and experiences. You may choose either to list your skills or experience, and this is based on how significant is the role.
The following is a highlight of some of its components.
With a combination resume, your most significant career achievements and skills are highlighted at the top of your resume. Although your work experience is vital under this format, your skills are more significant in compelling the employer to hire you.
It is advisable to describe your skills using more than one section. For instance, you may highlight some skills in bullets and others in sentences.
The work experience section is meant to show your career progression. Ensure that you highlight your work experience from the latest to the oldest.
Writing a Professional Resume
The writing of a resume can be challenging if you don't know how to go about it. The following guidelines can help you to compose a comprehensive document.
It crucial to craft a resume that is as concise as possible, and it should be between 1-3 pages. If you are an entry-level candidate, a single-page resume is adequate, and an experienced person requires at least a two-page resume.
Ensure that the font you use is clear and easy to read. Therefore, it is advisable to use Time New Roman, Calibri, or Arial throughout the document. The ideal font size should be between 10-12, except in your names and sections that ought to be a bit larger.
It is vital to set your resume to have the right margins to ensure that its information is readable. Use the standard page margin of one-inch on all sides of the document. To enhance the readability of your text, ensure that it is left aligned.
To help the employers quickly get the information they are looking for, it is vital to bold or underlines the section headers. Also, you can apply the style you use on section headers on your name and contact information.
The use of bullet points allows employers to identify the most crucial information from various sections of the resume. Bullet points should be used to highlight your achievements and should only be adopted when you have at least three pieces of information.
Ensure that you organize the various sections of your resume to have uniformity throughout the document. For instance, if you italicize one job title, make sure you do it to the others.
Before you send your resume, read through it to correct errors, such as typos and grammar mistakes. Also, if you want to enhance the accuracy of the piece, you may allow someone to check it on your behalf.
If you want your resume to look professional, avoid including personal details, such as marital status, birthday, height, and weight unless it is required of you.
Information Required When Writing a Resume
In the subsequent sections, you will find a highlight of the information required on the resume. For more information, it is worth checking our university application help page.
The contact details include your name, email address, telephone number, and postal address. Make your identification information professional, and avoid sounding casual. For instance, use an appropriate email address, such as johndoe@gmail.com, instead of musiclover@yahoo.com.
The objective section is optional, and it is meant to highlight what you intend to achieve within a particular period. It is advisable to keep this part brief by indicating your job field and what you plan to make.
A profile is also an optional section detailing your skills, experiences, and goals for a particular position.
The education section should be formatted to include the following.
Indicate the degrees you have acquired in reverse chronological order. Therefore, start with the most recent qualification.
Include the name of the institution, its location, date of graduation, or the expected date of graduation.
Indicate your primary area of specialization and any publication you have done.
The following is a highlight of the information to include in the experience.
Work experience should be included in reverse chronological order with the most recent qualification indicated first.
You may also include details on internship and volunteer work.
Capture the name of the organization, position, and employment dates.
List at least three crucial skills attained in each job. Use action verbs to describe your achievement.
Below is the information you are supposed to include in the skill section of your resume.
Capture the computer programs you are proficient with if they are relevant to the position you are applying for.
Include all foreign languages you are familiar with.
Include any other skill you think is related to the job.
In this section, list the name of the organization where you did volunteer work. Also, indicate the dates, and achievements recorded so far. Note that this part is optional and you only need to include it when you feel that it is necessary.
Include the hobbies and interests you have if you think they relate to the position you are applying for. For instance, if you are applying for a managerial role, you can include interests, such as "making friends."
Writing a Resume that is Superior
A superior resume is the one that attracts the attention of your recruiter and makes you stand out from the competitors. The best approach to writing a great resume lies in its formatting. Therefore, before you compose this document, find out the style that is ideal for your adoption.
Language and Tone Used for Writing a Resume
Although the resume may lack body language and voice, using the right tone can help you engage the reader. It is advisable to select the correct action verbs to describe your achievements. Words such as "accelerated," "generated," etc., can arouse an emotional response from the hiring manager.
To manage your tone, it is advisable to observe the following strategies.
The content in your resume should portray a lot of optimism or positive energy. Don't say anything negative that can ruin your chances of getting recruited.
A professional resume is crucial in creating your first impression before your employers. Ensure that the piece you craft is free from typos or grammar mistakes. Also, make sure that your headings are well labeled to enable your readers to identify points that are essential to them.
The resume you write must convey your brand. Therefore, mention something unique to distinguish yourself from the crowd.
Note that a recruiter has a short time reading your resume and, therefore, you should make it exciting to make them review it to completion.
Tips for Selecting the Best Resume Style
It is essential to crafting the resume in a style that can enable you to rise above the competition. The following are the tips you can use to select the best style for your resume.
It is crucial to crafting a resume with your audience in mind. For instance, if you are submitting it via an online platform, use a style that can make the document readable to both the hiring managers and the applicant tracking system. It is advisable to use standard fonts and avoid excessive formatting.
Nowadays, most employers use applicant tracking systems to read resumes. Therefore, it is vital to format your resume in a simple manner instead of using fancy designs. For instance, use readable fonts such as Time New Romans, Arial, and Calibri for your audience.
Ensure that you use font size 10-12 to enhance the readability of your document. Although the smaller font size can allow you to have a lot of content on a single page, the hiring managers will have difficulties in reading the piece.
Consistency is an essential element in your resume. For instance, if you decide to bold the company name, ensure that other names are also bolded.
Know when to get creative
Note that your resume will be readable if you use the standard font, such as Calibri. However, if you are applying for a creative position, such as an artist or a graphic designer, you may use other fonts and colors. No matter the circumstances, ensure that the font you choose is readable to your employer.
General Rules for Writing a Resume
Writing a professional resume is not a straightforward thing. However, the following rules can help you craft an excellent document.
A quite number of hiring managers take about six seconds to go through your resume, hence having a short document is vital. Note that one page is adequate to showcase your skills and experience for the role.
Ensure that you proofread and edit your resume before you send it to your recruiters. A document with typos and grammar errors can make the hiring manager put it off.
Always use the right tenses based on whether you are active in a particular role. For instance, if you are talking about your last assignment, use words such as "managed," "achieved," etc. If you are still active in a position, use words like "organize," and "deliver."
Avoid the first-person pronouns
As a general rule, avoid using words like "I" or "me." For instance, don't say, "I exceeded the company's target by 50%." Instead, say, "Exceeded the company's target by 50%."
Send your resume as a PDF
It is advisable to send your resume as a PDF because if you do it in word, it will make its font and other styles look different on the employer's computer.
Label your resume correctly
Note that your recruiters receive thousands of resumes over a particular time. Therefore, label the file using your first and last name to enhance their easy retrieval.
Ensure that your resume is well-formatted and laid out in a logical manner.
Ensure that the resume is easy to read
Don't be tempted to minimize your text to make your resume fit on a single page. Note a small font size that is below ten can make it difficult for your recruiters to read the document.
Include context in your resume
When giving details on your work experience, indicate the name of the cities where you worked and the dates.
Ensure that it is organized
Bear in mind that hiring managers take a short time to read your resume and, therefore, ensure that you bold sections and job titles.
Keep your resume consistent
The formatting you use should be consistent throughout the document. For instance, if you underline a particular company name, the rest should also be underlined.
Use statistics to quantify the information you give
Whatever achievement you mention in your resume, you should justify it by providing evidence. Therefore, use numbers or percentages to support your claims. For instance, instead of saying that you successfully achieved the targets, indicate that you successfully hit the target 100% of the time, and surpassed the goal by 25% in the last ten months.
Think about your audience
Ensure you craft the resume in a manner that can make the hiring manager read it quickly. For instance, use the right font and size. This is the key to how to write a resume.
Final Thoughts on How to Write a Resume
Knowing how to compose a resume is an essential aspect that can quickly land you a job. It is vital to note that the resume format you choose depends on your skills and work experiences. A professional resume should have essential elements, such as contact information, experiences, education, hobbies, objective, profile, and interests.
To craft a perfect resume, you must follow some general rules, such as avoiding grammar mistakes and keeping it consistent. If you want a resume and you don't know where to start, contact Peachy Essay writers for help.