After completing all the application paperwork and taking all the exams, it's time you need to impress your college admission officers with your App essay.
Your university app essay will usually be around 500 words. Nevertheless, acceptance and rejection might hinge on those words. Many people devote many hours to creating their essays, but admissions officers will only have a few minutes to read them, so you have to grab their attention.
Why the Common App Essay is so Important
The admission departments consider test scores, grades, and extracurricular activities, but thousands of applicants have excellent qualifications for the available slots the colleges. Being a contender, you require an admissions counselor to distinguish you from your competition.
In this regard, essays are a great tool; they could be the means for you to leverage an admissions counselor and be your best advocate! Your Common App essays are the most important since some colleges will see them more frequently than other essays. Additionally, it will be the longest essay you have ever written, allowing you to give more depth to your story and express your personality.
 An overview of the Common App Essay
The essay offers admissions committees a better way of getting to know you as a student. While grades, past courses, and SAT scores suggest quantifiable aspects of your academic profile, the essay presents a captivating story about you as a person.
For this reason, it's important to view the essay as a chance to inform universities about who you are and what you value most.
In the essay, which lots of colleges will read, you will want to portray a strong picture of yourself that is interesting to all schools and admissions officers. For instance, If you are only applying to engineer programs at some schools, don't be swayed by the STEM option in your Common App; try to focus your attention on your other applications — skip the STEM component and save it for your supplemental essays.
The Common App essay should be regarded conversational rather than an interview, so try to write about anything you enjoy, such as music, food, sports, politics, or watching movies.
 How to Write a Common App Essay
Here are the steps for writing a common app essay.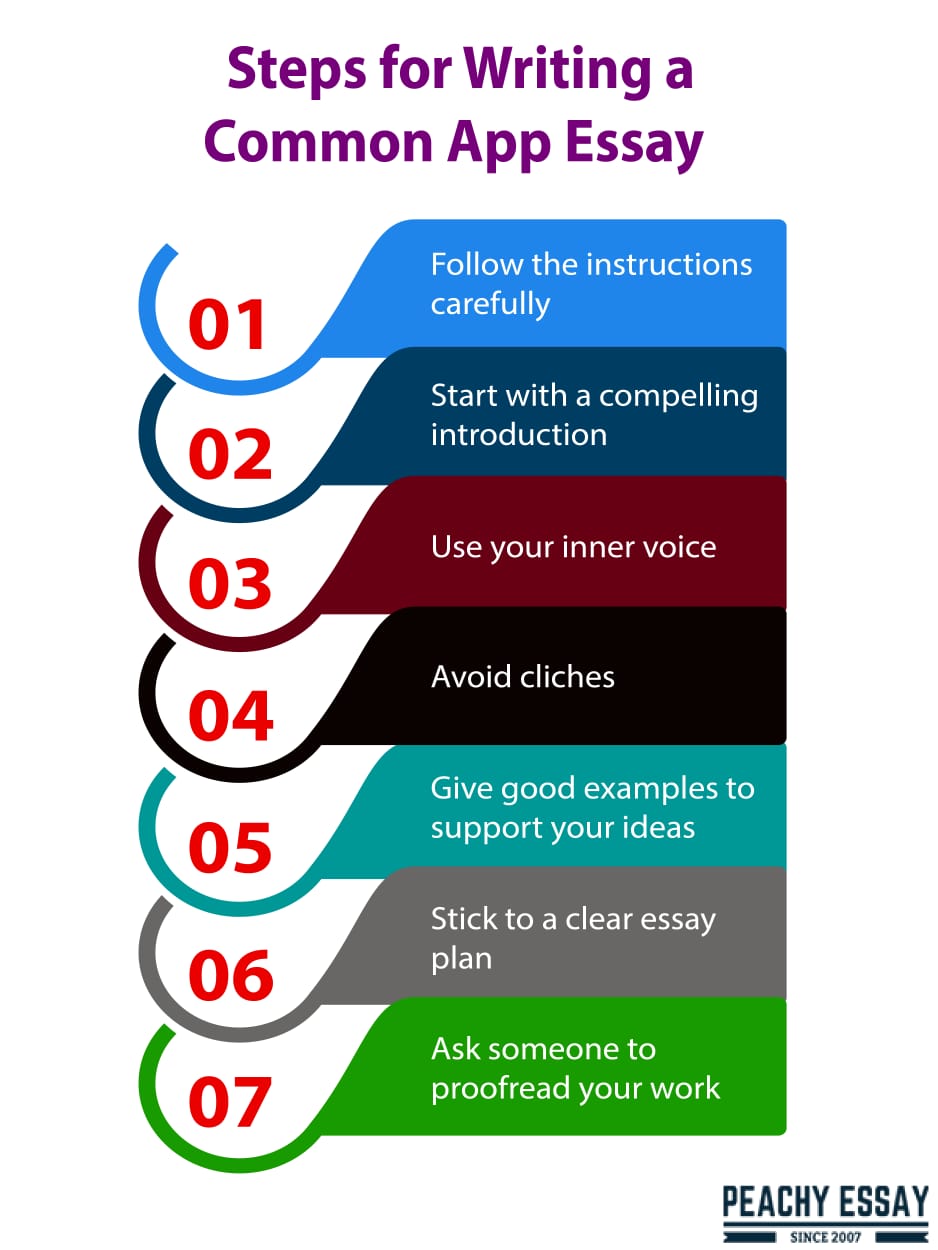 Follow the instructions carefully
Starting the paper is usually the hardest part, but reading the instructions carefully is a crucial part of the process. With everything that characterizes a student's life during this period, it is imperative to emphasize it.
Unless you adhere to the application's essay guidelines, the admissions officer may assume you aren't able to comprehend and follow the requirements of the university program. The words and page limits are mentioned on the application for a reason, so you must organize your submission by following the rules.
Having read through the instructions several times, you can start putting together an outline to ensure your essay follows a cohesive path and decide on a clear message. Now you can begin writing your first draft.
Start with a compelling introduction
Writing great is hard, but it is possible if you are skilled at it. Any journalist knows you can capture a reader's attention with an excellent introduction.
The admissions officers may only read your essay for a few minutes, so you must begin with a captivating introduction. Your introduction should explain to the reader what your essay is about and grasp their interest.
If you are adding anecdotes or entertaining stories that illustrate your personality and character strengths, you may be able to help the admissions officers understand who you are.
Use your inner voice
It is important to be authentic and provide high-quality thinking, so don't try to shape your essay around ideas that have been used before many times, but use your genuine beliefs for inspiration.
An application essay is your opportunity to show how you are determined, know your subject area well, and demonstrate your ability to succeed in your chosen program. It should reflect your best skills and ambitions and point out how you will integrate your chosen program with your future goals.
Avoid clichés
During your research on your application essay, you will probably be encouraged to look at examples and get inspired. Although this is good advice, too many students rely on examples and resort to clichés to impress admission officers.
It is important to remember that hundreds, if not thousands, of applicants to the university you want to attend. Use your essay as an opportunity to stand out from the crowd. Take away all clichés and find an original angle.
Thousands of applications are scanned yearly by admissions officers, so it's only logical that some of them will catch their attention. Let them discover you!
Give good examples to support your ideas
Essentially, a college application essay gives a glimpse into how your thoughts work and how you view the world. When you're writing the essay, you have to make sure that each sentence supports that viewpoint.
Understand how the essay question links to your personal qualities, then write from that perspective.
Therefore, you need to explain every thought with factual statements and provide specific examples and details to develop your ideas.
In addition, you can use examples from your own life and discuss what motivates you and how you came to believe certain things.
Stick to a clear essay plan
Writing creatively is very much appreciated, but don't assume an artistic essay can also be well-organized. Obviously, you don't want to write random words without meaning, so avoid covering too many topics at once.
There will be a maximum amount of words, so you cannot cover everything in your essay. Instead, plan your essay, categorize it into sections, and look at the main ideas you want to express within that framework.
Ask someone to proofread your work
To create an outstanding college application, you will probably read it repeatedly to ensure it is free of errors, such as typos, spelling, and grammar mistakes.
Sometimes you need to get a fresh perspective. It is best to ask someone who hasn't yet seen it to take a look since they will be able to spot any mistakes you might overlook.
It's difficult to tell if what you wrote is a true statement of who you are after reading so many examples and following all those instructions. However, a teacher or parent can help you. Besides editing your essay for mistakes, they can ensure that your writing sounds like you. Seek out the help of others so that your essay turns out perfect.
How Long Should a College Essay Be?
Although Students can submit their application essays to multiple colleges, the Common App suggests limiting the essay to 650 words.
Typically, institution-specific supplemental essays have an average word count of 250 words.
Formatting Your Common Application Essay
Here are some tips for formatting your essay:
Write your draft in either Google docs or Word files
It would help if you didn't write the essay directly in the Common Application text box. Use Word or Google docs and take advantage of their word count and spell-check features instead. Google allows you to upload a Microsoft Word or Google doc directly from Google Drive.
The Common Application essay text box does not allow tabbing.
In the Word or Google doc, make sure you use block formatting for your paragraphs (space between paragraphs as opposed to indentation.) However, after you make the copy/paste from the Word or Google doc, it needs to translate correctly.
Note that the essay text box only has formatting for Italics, Underline, and Bold. Use MLA guidelines to format your essay and highlight things like book titles, foreign words, and other copyediting regulations. If you lose italics, paste them in the Common App text box.
There is no need to underline or use bold in your essays. Stay away from fonts like all caps, emojis, or hashtags.
Avoid titles
A good title can really draw readers in, but you can't format it at the top of the essay that would centre it, and it could potentially be distracting. If you really love your title, I recommend putting it on the left side of the first line.
Exclude the prompt at the top of your essay
You can check the box with the Common App that your essay is comparable to the best since it takes up so few words.
Supplemental (shorter) essays have similar formatting options
This will work the same way as above. Some sites don't provide a text box and require you to upload from Google docs or attach a Word document (which will convert it to a PDF format).
Double-check word counts
Text boxes listed under the Common App and on an application for supplemental essays have word counts that are minimum and maximum, which is very helpful. When you copy and paste an essay, always be sure everything is copied correctly (including formatting), and it is within the word count requirement.
Make edits after you have submitted your essays.
You should review what you submitted to make sure it's the way you wanted it.
General rules for formatting drafts in Word or Google docs:
Write in 12pt font with double spacing in a common font (Times New Roman, Arial, Cambria…).
Common App Essay Prompts
Here are the Common App Essay prompts.
Occasionally, students possess unique backgrounds, identities, interests, or talents, making them believe their application is insufficient without them. If it applies to you, please let us know your story.
Failure, challenges, and setbacks can affect us in ways that can be beneficial in the future. Tell a story about how a particular obstacle affected your success. What is your experience?
Recall a time when you questioned a belief or challenged an idea. What prompted your reasoning? What was the result?
Think about a time when someone surprised you by showing gratitude or happiness for something they did for you. How will that have affected or motivated you?
What achievement, event, or realization helped you reach greater personal maturity and understanding about yourself or others?
Explain what makes a topic, idea, or concept so captivating that you lose track of time with it. Why do you find it so appealing? Where or who do you turn to for more information?
Feel free to share an essay on any topic. It may have already been written, it may respond to a different prompt, or it may have been crafted entirely by you.
How your Common App Essay Fits with Your Other Essays
The Common App is one piece of your admissions essay portfolio along with supplemental ones sent to individual colleges. It would help if you used all of the essays for a college to create a narrative and tell elements of your story in a meaningful way.
Thus, the topics you discuss should be coherent and complementary, yet not redundant or overlapping.
Before writing your Common App essay, think about all of the other institutions you will be applying to and design a strategy for each school, including different topics for the essays.
You tend to be humanized by best narratives if you have strong qualifications on paper. If you lack strong qualifications on paper for your colleges, your best narrative will show that you are passionate about the topics or fields of study that interest you and magnify your accomplishments.
 How Can You Get Your Common App Essay Edited?
A professional should review the college essay you submit before submitting it. A second or third opinion on your essay can make a huge impact on its quality, which ultimately impacts your admissions chances.
When to Write the College Essay
Summer is a good time to start writing essays for students before their senior year. This is the time when homework and extracurricular activities do not consume their time.
Starting early will also give students time to work through numerous drafts of an essay in time for college application deadlines, which can be as early as November for students applying for early decision.
Colleges set word limits and essay topics for their students' essays, so many students begin with the Common App, an application platform accepted by more than 900 schools.
How to Pick a College Essay Topic
In the writing of an essay, the first and sometimes most challenging step is coming up with a good topic.
There are usually several essay prompts to choose from on a college application. They tend to be broad, open-ended questions, giving students the freedom to write about a wide array of topics.
Students could write about a specific experience, hobby, or quirk that illustrates something personal — about their mindset, what they value, or their strengths. It may also be a personal experience or a personal quirk. An essay on a mundane topic can still be captivating if it is written well.
For help brainstorming topics, students can ask for help from friends & family. Don't tell the admissions officers anything they already know.
Students should not discuss something that is already mentioned elsewhere in their application, such as in the activities section, or develop in great depth an existing topic.