Thinking about which major you should take at university can be a truly bewildering task. With so many options available these days, there is a danger that you will end up committing yourself to a degree that you soon realise you have very little interest in and will ultimately leave you financially and mentally drained.
Studying for a degree is one of the great stepping stones in achieving your long term career goals, giving you a solid foundation knowledge of the subject you are most passionate about.
Worlds Apart
Every university course falls under the umbrella of a specific field. These fields are business, healthcare, liberal arts and "science, technology, engineering and maths" i.e. STEM. The two major and universally popular fields are liberal arts and STEM, as both have majors that are so diverse and varied.
Liberal arts and STEM are worlds apart in what they offer students, both in terms of content and future career opportunities, salaries etc. Below, we will breakdown exactly what you'll find in terms of content.
Liberal Arts
The majors associated with the liberal arts encompass the traditional '7 Liberal Arts', which traces its roots back to antiquity and operate under 'those universal principles which are the condition of the possibility of the existence of anything and everything'. Essentially, they are all based on philosophical principles, hence why in most, if not all, classes students undertake in a liberal arts major will have a smaller student-to-teacher ratio, and students will research broader areas that are all related to their chosen major.
The majors under the liberal arts umbrella are –
Visual and Performing arts
Liberal Arts/General Studies
Foreign Languages and Linguistics
Philosophy and Religious Studies
STEM
STEM majors have a far more diverse and specific set of disciplines. The term originally became popular in US universities and worldwide, governments have made earnest efforts to attract students to study in these fields, as high-tech jobs have become an ever increasing necessity for a country's success both domestically and internationally.
The majors under the liberal arts umbrella are –
Aerospace Engineering
Astronomy
Biochemistry
Biology
Chemistry
Mathematics
Physics
Psychology
Statistics
Liberal Arts vs STEM in the US
Out of all countries in the Western world it is the US that has the greater opportunity for students who are interested in studying one of the majors in both liberal arts and STEM fields, for example the liberal arts college has been a staple of higher education in the US since the early to mid 18th century, giving students the opportunity to study their field with a rich array of resources at their disposal.
Liberal Arts
A liberal arts major in the US offers a student mid to high tier salary in terms of career opportunities after graduation, with the highest average starting salary being around $37,000 for Philosophy and Religious Studies graduate. In contrast, Visual and Performing Arts graduates earn on average a starting salary of $35,000, this is because the field is highly competitive and produces around 100,000 graduates per year. In recent decades Visual and Performing Arts has become one of the most popular majors in the Liberal Arts field.
STEM
STEM graduates comprise the largest bulk of graduates within any field across the board, for example the Biological and Biomedical Sciences produce, on average, 122,000 graduates each year, mainly because this field has myriad associated majors e.g. biology, microbiology et al. These graduates are able to obtain a yearly salary of $37,000. Of the most financially lucrative, giving a graduate a potential to earn a $58,000 starting salary, Engineering has proven substantially beneficial for those who wish to forge a long lasting career. Offering students a wide area of study e.g. civil and computer engineering et al.
Liberal Arts vs STEM in Canada
Like its US counterpart, Canada has a long history of providing students with ample resources and institutes of higher education in the two fields. Successive governments in Canada have, like many across the globe, increased their efforts in attracting students to STEM, yet have also increased subsidies to institutions etc that focus on the liberal arts fields. 
Liberal Arts
Canadian universities have seen a decline in the enrollment of liberal arts majors, this has prompted the government to extol the values of the liberal arts, attempting to make more clear the path between studying a liberal arts major and actually securing a career out of it. Liberal arts fields have changed significantly over the years, merging traditional teaching with the inclusion of marketable skills that can easily transfer to the modern workplace. As well as enticing more students, the Canadian government has marketed the benefits of liberal arts graduates to employers, putting a spotlight specifically on the diverse range of skills a graduate in this field can bring to a company.
STEM
In strict contrast to the liberal arts, STEM majors have witnessed a steep increase. Canada also has attracted a large amount of foreign students to study in the STEM fields. It's safe to say that STEM related courses are in their highest demand, with the five most popular being Computer Networking and Technical Support, Software and Information Systems Testing, Health Systems Management, Wireless Information Networking and Computer Science Technology.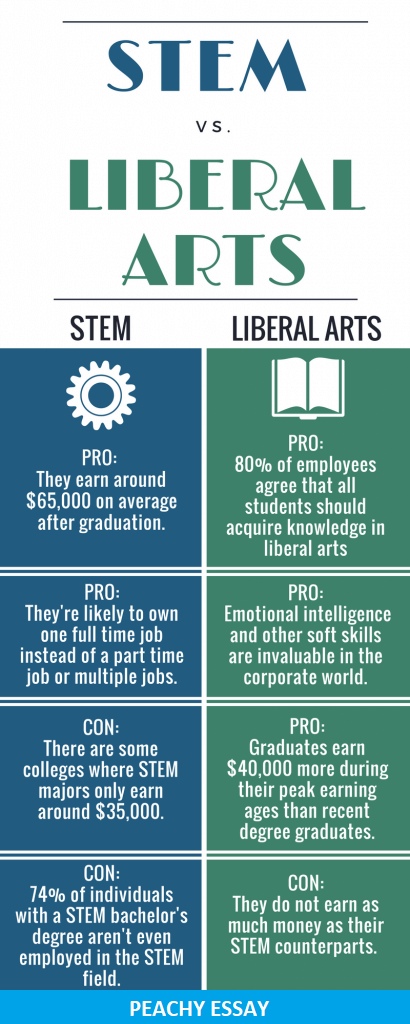 Liberal Arts vs STEM in the UK
The UK's history with the teaching of the liberal arts and STEM is undoubtedly the oldest and most rich out of all four countries, with institutions that stretch back to Medieval times; however, as with the US, Canada and Australia there is a stark contrast between the two fields in regards what graduates can achieve in terms of career and starting salary.
Liberal Arts
Similar to Canada, the UK has seen a decline in enrolment for liberal arts degrees, which prompted the Labour government, which came to power in 1997, to clear the pathway from studying a liberal arts major to securing a career. Successive Labour and Conservative governments have made commitments to focus on marketable skills that graduates can transfer to many areas of employment. With much of the UK workplace transforming dramatically since the 1980's, a place for the liberal arts graduate has become essential, especially in areas such as digital marketing etc.
STEM
A focus on increasing enrolment for STEM fields has been a government priority since the Margaret Thatcher administration of the 1980's. Today, the STEM graduate and their respective fields have become critical for the UK economy, with research suggesting that jobs are to double, dwarfing most other occupations. Research has suggested that 142,000 jobs will be created between now and 2023.
Liberal Arts vs STEM in Australia
The Liberal arts have triumphed in producing more graduates in Australia than in other fields. Career opportunities have  also increased since the mid-2000's. In regards to top colleges which offer both STEM and liberal arts courses, it has seen both sets of graduates obtain jobs relatively quickly.
Liberal Arts
As Australia has achieved the world's second highest development index, liberal arts majors have attracted students domestically and internationally. Graduates can achieve a greater degree of career flexibility and transferable skills. The growing popularity of businesses employing a liberal arts graduate has increased, especially in the major cities of Melbourne and Sydney.
STEM
In 2018, an NAB Business Confidence Survey made a startling discovery that employers are finding it harder and harder to find suitable job candidates with skills in the STEM fields, which led to the understanding that students interested in studying STEM has dropped over the past 10 years. As employers are demanding more and more that their potential employees have at most a major understanding of STEM or at the very least a basic knowledge, it has made STEM one of the surprisingly untapped areas for obtaining a career that is both lucrative and long lasting.
---
Bio – Ben Mirza runs Aestheticus Media is a freelance writer and photographer. His primary focus as a writer is exploring the worlds of art, history and contemporary culture across Europe, Russia and Iran.
---
If you are applying for university or colleges, make sure you will check out our end-to-end college admission help including personal statement writing services.