How to Write a Research Paper – Step by Step Guide
What comes to your mind when you hear the term research paper? Regardless of what comes to your mind, one clear thing is that it entails a lot of research involving articles, books, and journals. By definition, a research paper is a type of academic writing where the writer presents their arguments, evaluation, or interpretation. When writing a research paper, you build on what you know as well as borrow ideas and information from published sources. While in college, you will be required to write several research papers before you can graduate. The process of writing research papers can be daunting, particularly if you do not have impressive writing skills. Students encountering difficulties to complete their research papers can always seek assistance from companies providing essay writing services.
How to write a research paper
First of all, you should have enough knowledge about different types of research papers. Then these following steps will assist you in writing impressive research papers.
1. Familiarize yourself with the requirements of the paper
Although this point may sound obvious, it is essential that you first understand the paper's requirements before you can begin your essay. Unfortunately, the majority of the students fail to do this vital step, and thereafter, they begin to wonder why they scored low grades on a research paper, which they sacrificed a lot to complete. The reason for low performance is because they did not adhere to the instructions. It would be best if you made it your habit to spend enough time reading the instructions and carefully going through the grading rubric, prompts, or any issued instructions. If you are unsure about anything, ensure you seek clarification from your colleagues or professor.
2. Select an appropriate topic
Once you have understood your paper's requirements, the next thing you should do is selecting an appropriate topic. Settling on the right topic can be daunting. You should be careful to choose a topic that has easily accessible information. Using the guidelines provided by your instructor can assist you in selecting the right topic. If you happen to love a particular topic but have difficulty fitting it into the guidelines, consider changing it. It will be easier to write about a topic that adheres to the guidelines in the long run.
3. Do your research
After familiarizing yourself with the essay's requirements and thereafter selecting the right topic, the next thing you should do is perform the actual research. While doing your research, you should be careful to use reliable sources of information. Consider using sites such as Wikipedia to gain general information on the topic. Finally, you should be able to differentiate credible sources of information from those which are not.
4. Develop an outline
The way you will write the outline of your research paper will depend on your essay's instructions. Whereas some assignments will require you to provide an outline, others may not. If you are not required to write an outline, you can go the extra mile and ensure that you have one since it will help you organize your thoughts. As you write your outline, ensure that you develop a structure that will allow you to arrange your thoughts in a clear and organized way.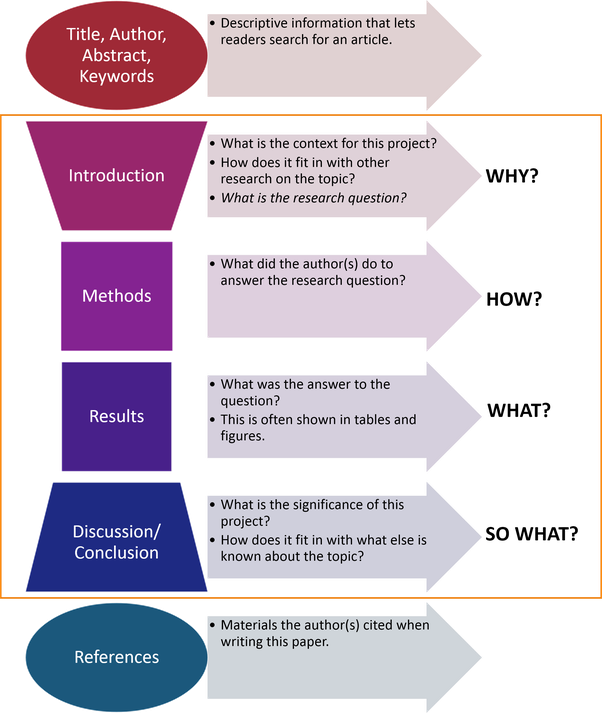 Research paper format
The ideal structure of a research paper should follow the format below;
Title page
            Title of the page
 Author's name
            Name of the institution
            Date
Abstract
Introduction
Body paragraphs
Conclusion
References
Writing a research paper outline
Every student should know how to write an outline for their research paper. An outline plays an essential role in any academic writing. It will assist you in organizing your thoughts as well as your entire work before you start writing your actual research paper. A research paper usually aims at scientific research, where the student proves that they have a scientific aptitude to find solutions to core issues by using scientific methods and approaches. An outline will assist you in remembering to include all your subtitles in your research paper. In other words, it will act as a skeleton of your entire research paper. By writing your research paper bits by bits as indicated in your outline, you will be certain that there is no piece of information left out. It will also not seem so perplexing and overwhelming when you split your work into different portions since you can always handle each part on a different day.
Outline for research paper
An outline for a research paper entails a plan on how an individual will write the entire research paper. The main objective of an outline is to assist you in demonstrating your vision and understanding of a particular subject. A research paper outline should consist of the following: Title, thesis statement, major arguments, supporting arguments, and concluding remarks. Apparently, the outline of a research paper is usually the same regardless of whether you are writing assignments for high school or college. Students struggling to complete their research papers can always seek assistance from companies providing essay writing services. However, if you are still interested in learning how to write an outline for your research paper, the following is a template of how it should be;
Abstract: It not only summarizes the main ideas of your paper, but it also reveals important information, usually in the form of four to six sentences. It is usually made of a single paragraph, which is found at the beginning of the research paper.
Introduction: It is one of the essential parts of a research paper. It introduces the topic to the reader and acts as a hook, capturing the reader's attention and maintaining it throughout the essay. Here, you are supposed to include a thesis statement that summarizes your research paper's primary objective.
Body: It is the largest part of a research paper, and it consists of several paragraphs. The body paragraph is where you write your arguments, which should support your thesis statement. Your body paragraphs should give your audience insights on how you carried out your research. It may also include a questionnaire and a literature review.
Literature overview: The literature review of your research paper should be able to back up your theories as well as hypotheses.
Research methods and analysis: In this section, you describe the research methods you will use to gather information and how you will analyze your findings.
Results:  You can use graphs and tables were necessary to describe your results.
Perspectives: Describe whether your research paper has different findings from those written by other researchers.
Conclusion: The final part of a research paper does not present the readers with new ideas or information. The conclusion is where you summarize your main ideas and also reinstate your thesis statement.
Bibliography: This is the section where you cite all the materials you have used to write your research paper.
Research paper introduction
The introduction plays an essential role in any type of academic writing. It would be best if you structured your introduction in such a way that the reader will not lose interest in going through your content. The reader is likely to begin reading the research paper from the introduction. The introduction of your research paper should set the context and provide background information about your discussion subject. Every research paper should have a context, which aids the reader in understanding why the writer wrote the article. The introduction is one of the most challenging parts when it comes to writing your research paper. As a result, you need to devote enough time and effort so as to ensure it is well-written.
The introduction of your research paper should set the rationale, which provides a clear picture of what your essay will discuss. The readers will be able to tell the quality of your research paper by reading the introduction. Therefore, you must make the beginning of your research paper interesting right from the start by engaging your audience. This will ensure that people will read your content right from conception up to the end. The following are some of the things that you need to include in your introduction.
Introduce your topic
State your rationale
Create some background and context
State your hypothesis
Explain why your research is important
Begin with announcing your topic
The topic is one of the most fundamental elements of any research paper. Depending on the angle you use to view your subject, it should be able to describe different aspects of your research paper. There is no specific way of how you should begin your introduction. One of the most effective ways of intriguing your readers is by connecting your topic to real-life events.
The rationale is one of the critical elements in the introduction. Once you have written your introduction, it is vital that you show your readers how they can relate to the issues presented. Also, your introduction should leave your audience with food for thought. The rationale serves as the attitude of your essay, as well as the importance of your essay.
To develop a quality thesis statement and argument, you need to refer to some literature sources. Whereas at times, your ideas may sound subjective, mixing them up with information obtained from well-known philosophers or authors can help you prove your point.
Writers can always use a thesis statement maker to ensure that their thesis statements are of high quality. A thesis statement supports all the ideas you will present in your research paper concisely and logically. Your thesis statement should;
Reflect on the significance of your research paper
            Be precise and engaging
            Provide general information on the discussion topic
How to write a conclusion for a research paper
Writing the conclusion for your research can be an uphill task. The concluding paragraph should summarize the information presented in the body paragraphs without appearing redundant. Including a well-written conclusion in your research paper performs an essential role since it reminds your readers about the strengths as well as the impact of your essay. Including a conclusion may also help refocus the reader's attention to the most important points or ideas presented in the research paper. Consider the following steps when writing your conclusion;
Restate your topic and thesis statement
Summarize your main ideas
State the significance of the research
Conclude your thoughts and ideas
How to write an abstract for a research paper
An abstract presents a summary of your research paper. In most cases, it consists of between 150 to 200 words. It is important to note that an abstract provides the reader with a glimpse of what the research paper is about. Therefore, an individual can skim through your paper so that they can quickly decide on whether to read the entire paper. Although most people are always tempted to write their abstract first because it is at the beginning of the research paper, it is always advisable to wait until you have a full paper draft. That way, you will have a clear idea of what you will include in your abstract. Some of the tips for writing quality thesis statements are stated below.
Start writing your abstract after you have completed your research paper
 Choose the significant hypothesis or objectives from your introduction and conclusion
 Choose the main phrases and sentences from your methods section
 Choose the main result from your results section
 Check to ascertain whether the abstract meets the requirements of the research paper
Concluding remarks
After reading the above well-written information on research papers, composing a quality one should not be an uphill task. Ensure that you manage your time well by starting to work on your papers early so that you can have ample time to edit and proofread your work. Students who will find themselves struggling to write excellent research papers even after reading this article can always seek assistance from companies providing essay writing services. The above article will, without a doubt, assist you in producing top-notch papers.