Knowing how to craft a letter is a vital skill that can help you communicate in different settings, such as business, school, or personal relationships. In this article, you will get an essential guide that will help you put your thoughts on paper in the right way.
Different Types of Letters
There are different types of letters that you can craft to achieve various objectives. For instance, you can compose correspondence for employment, business, resignation, and personal relationship. The way you craft a letter or the format you use will depend on its purpose. Whatever the reason, it is vital to send a piece that is professional and error-free.
Letters can be formal or informal. Official letters encompass employment letters, resignation letters, and business letters. However, personal messages are the correspondences that you write to your friends or relatives. The following is a highlight of these categories.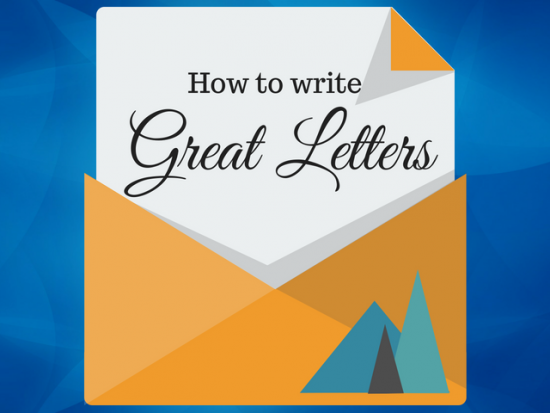 Writing a Formal Letter
Writing a letter can be difficult if you don't know how to go about it. Note that you can craft an official letter if you know the recipient in an official capacity. Moreover, bear in mind that such letters are written to state departments or businesses but not to known individuals.
The following tips can help you craft an excellent formal letter.
Know when to compose a formal letter
A formal/business letter is addressed to a recipient who is known to you in an official capacity. A quite number of people craft business letters when applying for jobs or communicating officially to government departments.
It is advisable to type these letters, proofread, and edit them using software, such as word or Grammarly. If you are sending the letter to your current supervisor or workmate, you may use an email. In this case, you may treat it less formal, and you don't have to include an address at the top of the page.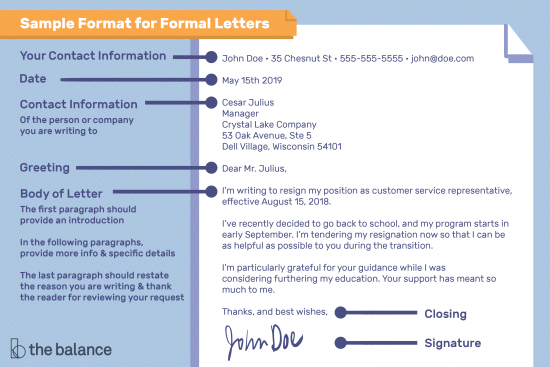 Write your address and date
If you are writing a formal letter, write your name and address on the top-left side of the page. However, if you are crafting a business letter, you may use the company name and address. After that, skip two lines and write the current date. Note that you don't have to include the date if you are writing an email.
Write the name and address of the recipient
After you have written the date, skip two lines, and indicate the contact information for the person you are sending to. Ensure that the details you provide include full name, address, company name, and address.
After writing the recipient's contact, skip one line, and greet them with the name "Dear" followed by their full name/surname. If you don't know the person's name, you may use the job title, such as "Dear director." In case you are not aware of the specific contact, use "Dear Sir/Madam."
Ensure you start your letter with a clear statement, and avoid using contractions (don't use phrases, such as "didn't" and instead write "did not."). After you finish writing, proofread the document or let your friend assist you. If you are writing a letter for business, keep it formal and concise.
Use a complimentary close
Ensure that you finish your letter appropriately and establish an excellent connection with your recipient. For official letters, use phrases, such as "Yours sincerely" or "Your faithfully."
If you are dealing with a formal typed letter, skip four spaces between the complimentary close and your typed name, print the letter, and append your signature in between the spaces. However, type your name after a complimentary end in case it is an email letter.
If you are mailing the letter through post or courier services, fold it and put it in an envelope. Write the recipient's address in the center of an envelope. You may also write your returnee address so that the letter is sent back if it is not delivered to the recipient.
Writing an Informal Letter
Informal letters are correspondences crafted in a personal way. They are typically addressed to friends, relatives, or to anyone whom you have a non-professional relationship with. You can write these letters to give advice, ask questions, request some details, or congratulate someone. Writing an informal letter requires you to be warm, friendly, and with an emotional tone.
Format of an Informal Letter
Note that there is no specific format when it comes to writing informal letters. However, people usually follow a general pattern to compose these pieces. The following is a description of the constituents of a friendly letter.
Your address ought to be written on the left-hand side at the top of the page. Ensure that the details of your address are accurate and complete. Bear in mind that your contact information is still essential even if you are writing to your relatives. For your friends to reply, they need your address.
Include the date below the contact details to enable the reader to have a reference on when the letter was crafted.
The greeting used in an informal letter is casual. For instance, if you are addressing your friend, you may use their first name, such as "Dear Jane." In case you are writing to an elderly or a respectable person, use phrases, such as "Dear Mr. John."
The opening of an informal letter should be informal and exciting. Ensure that you introduce your letter well to set an excellent tone for the entire correspondence. For instance, you may start by enquiring about how the recipient is fairing.
The body's content must convey a friendly tone; however, you have to frame the content based on whom you are sending the correspondence. For instance, you can write a personal letter if you are addressing a friend, but you must use a respectful language if you are writing to an elderly person.
In this section, summarize why you have written the letter. Wrap up your correspondence with an affectionate message and invite them to reply.
The complimentary close for informal letters has to be casual. For instance, you may use phrases like "Kind regards," or "Best wishes."
After the complimentary close, skip two spaces and type your full name. After that, append your signature between the two sections.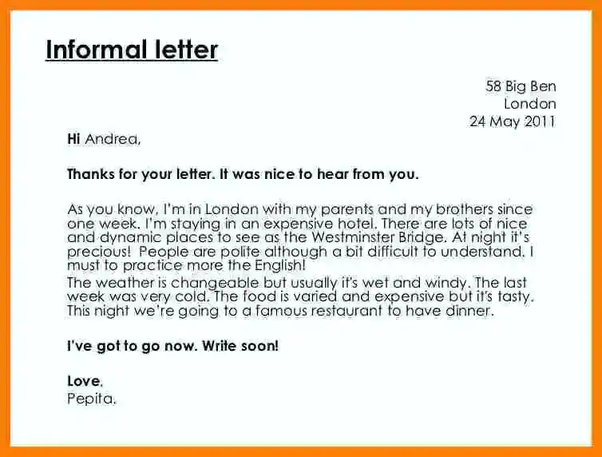 Example of an Informal Letter
Not everyone knows how to compose an informal letter. If you are experiencing such a challenge, the following sample will help you a lot.
Jack Johnson
P.O. Box 1223-02200
Florida
11th May 2020
Dear Alex
It is so long since we communicated. How is your home? I hope you are doing well.
Now that summer is approaching, I would like to invite you to visit my coastal town – Miami. Once you arrive, I would introduce you to my friends and show you the best places to tour. Right now, the weather is conducive, and we can enjoy swimming in the sea.
I am eagerly looking forward to spending the summer with you. I have a lot of things to discuss with you. I am sure you also have new information for me. In the meantime, pass my regards to your mom and sister.
Thank you, and let us meet soon!
Best regards,
jacksonjohnson
Jackson Johnson
Tips to Enhance the Quality of an Informal Letter
The following tips can make your letter look great.
Focus on what excites the recipient.
Ensure that the salutation is followed by a comma.
Be courteous when writing a complaint letter.
If you are sending a letter, ensure that your email address is professional.
Write a complete and accurate address.
Proofread and edit your letter before you send it.
Differences between Formal and Informal Letters
Formal letters are written to achieve a professional or business goal. The language used in an official letter must be natural to read and write. However, the informal letters are written to friends or relatives for private communication, and they usually use a casual or emotional tone.
Formal letters should be clear and concise, whereas the informal ones can be detailed.
Formal letters are mainly used to write correspondences to business contacts, such as suppliers, partners, customers, employers, and other professionals.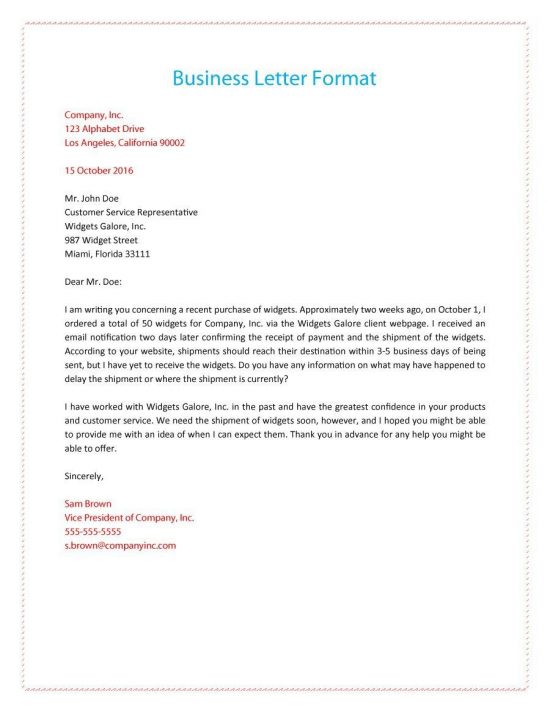 How to Write a Business Letter
Before you write a correspondence, you must understand the purpose of the letter. A business letter should have the following components.
If you are sending your letter through an email, include the title of your correspondence in the subject line. For example, "Subject: Proposal for Computer Services."
Contact information is very crucial for future communication between you and the recipient. If you are crafting a letter, indicate your name, address, phone number, and email address on the top-left side of the page. After that, skip two spaces and capture the recipient's contact details.
Make sure you include a salutation at the beginning of the correspondence. Ensure you capture the right name and title of the person you are addressing.
A brief introduction should follow your salutation. For example, use sentences like "I trust you are doing well" and then explain why you are writing.
This is where you highlight the main aim of writing the letter. Ensure you provide concise information, and confine your content between 2-3 paragraphs. Moreover, your letter shouldn't exceed one page.
Ensure that you complete writing your letter professionally with closing statements, such as "Yours sincerely."
For a hard copy letter, the sign between your closing and typed name. However, include only your typed name if you are sending an email.
How to Format a Business Letter
The format you use for your business letter must enhance readability. Therefore, select the right margins and font to make sure that the correspondence is clean and clear. The following is a highlight of how you can format your document.
Select the right font size and style
Ensure you choose a font that your audience can read without a struggle. Desist from using the stylish font and instead, use Times New Romans size 12.
Include sections for all necessary information
Bear in mind that you have to include all the necessary information in a business letter. Such details include your address, date, and recipient's contact details.
It is vital to use appropriate spacing and margins to make your correspondence look official. Put spaces between different sections of your letter, such as between contact information and date.
Begin and end your letter properly
Start by addressing the recipient appropriately and close the letter with the right information.
Business Letter Example
If you don't know what it takes to write a business letter, don't worry; the following sample will help you!
Norim Consultancy
P.O. Box 5433-00220
Beijing-China
11th May 2020.
Dennis Brown
Head of Commercial Services
Galax Security Ltd
P.O. Box 2233-00200
Canada
Dear Dennis Brown,
I am writing to introduce our company to you. We are a management consultancy firm with more than fifteen years of experience. Our consultation services cut across different sectors, such as finance, marketing, IT, management, and human resource.
Our team comprises of competent people who are highly-skilled and experienced in different areas. Our track record is quite impressive. For the past ten years, we have offered consultancy services to top companies throughout the world. For more details about our expertise, please check the latest reviews on our website and social media platforms.
Enclosed, please find the description of our services plus the terms of engagement. We look forward to working with you. Thank you.
Yours faithfully,
kenevans
Ken Evans
Final Thoughts on How to Write Letters
Knowing how to compose different letters can help you communicate both officially and casually. Letters can be categorized into two – formal and informal. Formal letters are written to people whom you know professionally, while the informal ones are addressed to people who are known to you personally.
Formal letters may be crafted for business proposals, employment opportunities, resignation, and school admission. If you don't know how to craft letters, please contact experts, such as Peachy Essay, for assistance.