Gods of capitalism teach you that where there is only hot sand, scorpions, snakes, cacti and lizards, there can be immeasurable wealth and prosperity. That miracle is called Las Vegas, meaning the meadows!
Las Vegans and tourists look for the tall and majestic STRAT (formerly called the Stratosphere), taller than the Eiffel Tower, to know what part of the city they are in. The said gods can use the STRAT as a sundial. But it is up to you to stay away from the shadow of the gnomon in the early morning and late at night. I know that because I lived there for almost two years.
Between seven and ten o'clock of the STRAT lies a hundred acres of land infested with crimes and misery. That area is called the Naked City.
As the hospitality business and local residences are growing, the old Naked City is shrinking. There have also been efforts to make the Naked City safe and clean. An example of these efforts is the Stupak cultural center, where among other things citizenship classes are offered, and food is distributed on Mondays.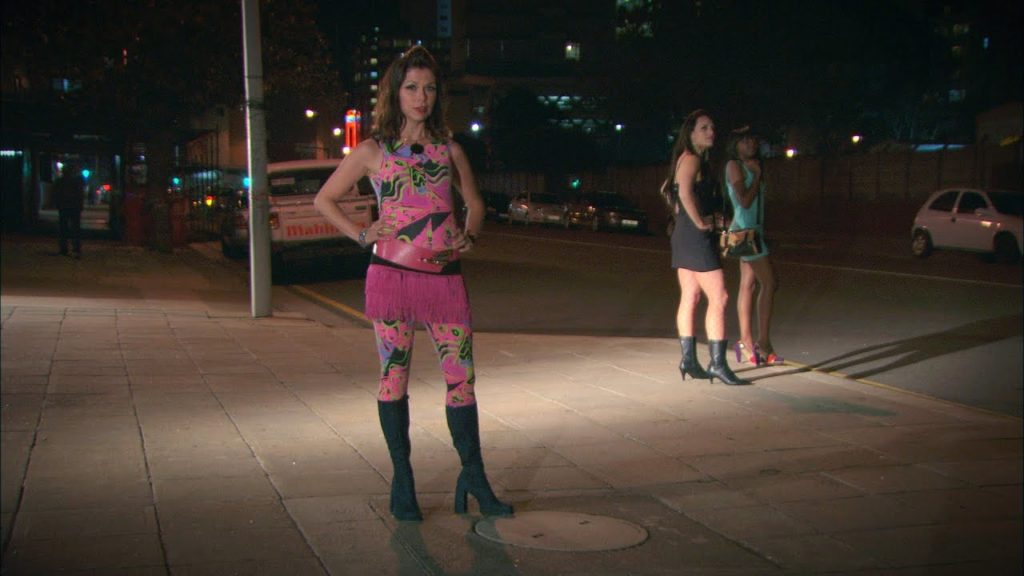 The name of Naked City comes from the show girls who used to sunbathe in front of their townhouses decades ago. Those houses are now a series of single floor ruins that are rented for almost half the price of inexpensive areas in Vegas. And there is no one sunbathing in front of them.
The streets of Naked City are named after major American cities, like Baltimore, Cleveland, and Philadelphia. I lived on Boston which reaches the walls of the STRAT parking garage. That is only one of the places in the area that you can find every kind of illegal drugs and stolen valuables for a very cheap price if you are lucky; and can lose everything valuable on you, if you are not.
The area also houses a large number of homeless people, every one of whom that I know are addicted to crystallized methamphetamine. Many of these people are suffering from mental issues that can be addressed with medication. In fact, the medication Adderall, which is used to treat, narcolepsy and Attention Deficit Hyperactivity Disorder (ADHD) contains four salts of amphetamine, and obviously acts very much like 'meth', aka 'speed.'
There are families living in Naked city. Both at private homes and section 8 housing facilities. But what is more important is the gang life that exists to replace the family that the individuals are lacking. There are people from all around the country living in the Naked City.
Gangs create a support system for those who do not have families or are not in touch with them. The fraternity among the gang members is strong and very dangerous. Gang members stand for one another and stand against rival gangs.
It is important to know that like many other places; the gangs and criminals don't see you unless you see them. Meaning you are not going to be targeted by gangs or criminals, unless you put yourself on their paths.
People cross paths with gangs and criminals in search of controlled substances and sex, which are bought and sold all over the Naked City.
It is not my place to judge sex workers or drug users, but they do not seem like they have happy lives. Let's not forget that we, as an electorate, have decided to push these people in shadows. Everywhere you walk in Naked City, you can see very beautiful and handsome young girls and boys whose appearance shows their drug use. Many die of overdoses and toxic drugs. Methamphetamine contains iodine crystals, drain cleaner, and battery acid.
As a writer, or an adventurer, or both, I sat down with these drug addicts many times during my stay in Naked City and used their drugs to experience, blend in and discover what their lives are like. I could not believe my eyes when I saw my teeth completely clean and shiny after a couple of times of using meth. I am a heavy cigarette smoker and coffee and tea drinker. My kidneys were also failing because of that.
I cannot understand for the life of me, why it is that the clean and safe medications like Adderall should be illegal, so that the person would have to go buy meth, made with very dangerous chemicals. These medications are jealously guarded, obsessively kept out of reach of the public to guarantee that they are not misused. Who thinks that banning these drugs can stop people from using drugs they think they need?
I have lived with these people. No one wants to break laws, and no one enjoys being marginalized. But some of our laws push people (especially sick ones) to the shadows, where they are in constant contact with drugs and sex business.
Let's not forget that what happens in Naked City, does not stay in Naked City, as these drug and sex services are provided all over Vegas by some residents of the area and homeless people, especially on the strip where the tourists have the money and the time to use those services and substances.
If you look hard enough, there are Naked Cities all over the world, even in very advanced societies. But you need to look harder to realize why!
To me, as only one vote, regulating personal human behavior is not only wrong, it is immoral, and it does not work. We all know that people have sex. We know even better that our rules are not stopping people from selling it everywhere. I don't know any place in the world where prostitution is illegal, and it has been rooted out. Just the same, we have strict laws against controlled substances, but the drug business and market are doing well.
As is going, the Naked City will become a good place for living, but the rational mind tells you that there will be other Naked Cities housing the people who live there now, or the cities will have to absorb these 'undesirables.'
About the writer: Farrokh Nikmaram is an American writer, blogger and former human rights and political activist.
Sample essays:
– Homelessness; A Widespread Social Problem in The US
– Diversion Programs in Canada
– The Conscious Leadership Experience
– Role of the banking sector in the growth of Singapore's economy
– Online Ethics
– Social Psychology
Also look at:
– Sociology Assignment Writing Help
– Sociology Essay Writing Service
– Social Work Essay Writers