Introduction
The findings below relate to the inquiry into the status of civil rights cases against Family Dollar concerning unfair termination cases and public accommodation case. The answer as to the question on whether Family Dollar or Dollar Tree have been sued for violations of civil rights of employees and customers is to the affirmative, YES. Many cases have been settled out of court through consent and many have also been withdrawn by the parties. However, the four cases summarize the blueprint of the manner that Family Dollar has related to its employees.
Cases
ANGELA JACKSON v. FAMILY DOLLAR STORES OF LOUISIANA INC., S&S JANITORIAL SERVICES, LLCSMS ASSIST, LLC, NO. 2017-CA-0712 (2018).
In this case, Family Dollar Stores was sued for compensation after a worker sustained injuries when working for the Stores. The claimant Angela Jackson sustained an ankle injury on October 22, 2014, when a shelf full of packaged water fell on top of her leg and ankle while she was allegedly cleaning the floor of a Family Dollar Store in New Orleans, Louisiana.  The Worker's Compensation Judge ("WCJ") found that Ms. Jackson was a direct employee of Becky Tolito and Tolito Services Co., L.L.C., and a statutory employee of Family Dollar. The Worker's Compensation Judge concluded that Ms. Jackson was injured in the course and scope of employment, and awarded Ms. Jackson her medical expenses, total temporary disability, and supplemental earnings benefits, and assessed penalties and attorney's fees against Family Dollar. A subsequent appeal by Family Dollar was dismissed.
Phyllis MERRIWEATHER, Plaintiff-Appellee, v. FAMILY DOLLAR STORES OF INDIANA, INC. Defendant-Appellant. No. 96-1052 (1996).
In this case, Family Dollar was sued by its employee citing racial discrimination since she was black. Plaintiff Phyllis Merriweather sued defendant Family Dollar Stores under Title VII and 42 U.S.C. § 1981 for intentional race discrimination in denying her promotions, and for retaliating by firing her after she filed a complaint of discrimination.
Brief facts are that on July 7, 1993, Merriweather filed suit in federal court, charging that Family Dollar (1) discriminated against her on the basis of race in failing to promote her and in limiting her work hours, and (2) when she filed a complaint of discrimination, retaliated against her by refusing to give her a raise, and discharging her.   Following a bench trial, the court concluded that while Merriweather had made out a prima facie case of discrimination, the decision to promote Wynne rather than Merriweather was a matter of personal favoritism and sloppy personnel practices, rather than race discrimination.   The court also concluded that lax management, rather than retaliation, led to Family Dollar's failure to give Merriweather a pay raise or written work evaluation.   At the same time, the court found that Family Dollar discharged Merriweather in retaliation for filing her complaint with the Indiana Civil Rights Commission.   The court also found that Family Dollar's proffered reasons for firing Merriweather were deliberate falsifications.   The court awarded Merriweather $3,958 back pay, ruled that Merriweather had suffered emotional distress and humiliation as the result of her discharge, and ordered Family Dollar to pay Merriweather $25,000 compensatory damages.   It also awarded $25,000 punitive damages. Family Dollar then filed a motion to vacate the judgment or, in the alternative, reduce the damages.   The court denied the motion, and awarded Merriweather almost $64,000 in costs and attorney fees, but reduced the attorney fees 10% for her lack of success on the discrimination claim.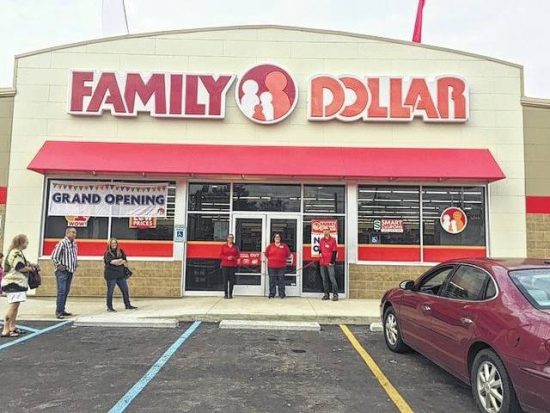 EEOC v. FAMILY DOLLAR SERVICES INC, 5:03-cv-00083-sgw (W.D. Va.).
A worker sued Family Dollar after sustaining disability from the nature of her work and then being terminated after she could no longer independently work. The brief facts are that in September 2003, the EEOC district office in Baltimore, Maryland brought a suit against Family Dollar Services, Inc. on behalf of the aggrieved female employee who unloaded trucks at Defendant's Front Royal, Virginia facility until she underwent surgery for breast cancer. Because she was no longer able to unload trucks without assistance, the defendant terminated her. The EEOC alleged that her termination was a violation of the Americans with Disabilities Act of 1991 (ADA). The parties quickly settled the case, and a consent decree was issued in July 2004. The consent decree stated that the defendant was not to discriminate against individuals with "a musculoskeletal condition resulting from cancer surgery" and was not to retaliate against anyone who participated in the investigation or litigation of the case. The defendant was required to pay the aggrieved employee $50,000 and issue her a neutral reference letter, post ADA notices, and provide EEO training concerning the ADA.
Doe V. Family Dollar, Inc. And Citywide Protection (2017) (Administrative Complaint).
The facts are that in February 2016, a Cleveland Family Dollar Store and its contracted security company, Citywide Protection, refused to serve two transgender women, Jane Doe, and her friend, because of their gender presentation. The City of Cleveland has an ordinance protecting people from gender identity discrimination in places of public accommodation including stores and restaurants. Family Dollar and Citywide discriminated against Doe when they refused her service because of her gender presentation. The City of Cleveland Fair Housing Board ordered each defendant to design a cultural competency training program for its staff to be reviewed by the Board and conducted annually; to reimburse the City the amount of $175 (split between the parties) for the cost of conducting the hearing, and to each pay our client $7,500 ($15,000 total) in punitive damages. The decision ordered the training to occur within 180 days, or by June 12, 2017, and the damages to be paid within 90 days, or by March 13, 2017.
Conclusion
The first three cases involved the employees of Family Dollar who sued to try to enforce their rights as guaranteed in different laws. The first case regards compensation due to an injury sustained while working where the worker won compensation and a subsequent appeal by Family Dollar was dismissed. The second case alleged racial discrimination and retaliatory termination leading up to stress from the frustration. In that case, Family Dollar successfully defended itself from the racial discrimination claim but still compensated the plaintiff for the stress caused even though at a reviewed rate upon successful appeal. The third case involved discrimination on the basis of disability and Family Dollar was required to pay the aggrieved employee $50,000 and issue her a neutral reference letter, post ADA notices, and provide EEO training concerning the ADA. Finally, the last case is special to the second limb on public accommodation claim and Family Dollar was ordered to make compensation for discriminating against the claimants when they sought their services against the City of Cleveland ordinance protecting people from gender identity discrimination in places of public accommodation.
Our law services are included but limited to:
– Law Essay Writing Services
– Law Dissertation Writing Services
– Law Assignment Writing Services
– Law Coursework Writing Services
– Law Report Writing Service
– BVC/BPTC Writing Service Online