Breast cancer is the number one cancer affecting women and a major killer of middle-aged women. It is a rare disease under 35 years of age, but until up to the age of 50, the incidence doubles every 5 yearly. Even though the aetiology of breast cancer is still researching, a number of risk factors have identified including hormonal changes, demographic, social, genetic, environmental and psychological factors. But, luckily survival rate has improved significantly over the last 10–20 years which probably reflects screening, awareness, early diagnosis, use of newer hormonal and better chemotherapeutic agents.
All patients presenting with a breast lump should undergo a sequence commonly known as triple assessment. This involves relevant clinical history and examination (That is bimanual palpation of the breasts and regional lymph nodes examination), followed by breast imaging (mammography and an ultrasound of the breast) and pathological assessment (core needle biopsy). A core needle biopsy must be obtained before any surgical procedure; at least fine needle aspiration cytology is acceptable if a core needle biopsy is difficult.
Preoperatively disease is staged clinically by TNM staging, histological assessment of the core needle biopsy, cytological evaluation of axillary nodes, and determination of receptor status. Additional investigations including chest X-ray, abdominal ultrasound, CT scan and bone scan should be carried out to exclude metastasis if neoadjuvant therapy is planning to perform. 111Histological evaluation of the surgical specimen should be carried out with the TNM system following the surgery.
A multidisciplinary treatment approach should be used and treatment plan includes mastectomy or breast conservation surgery. The primary aim of the surgery is to completely resect the tumour with negative margins. Nearly two-thirds of newly diagnosed patients with breast cancers are suitable for breast conservation (using wide local excision followed by radiotherapy) which offer acceptable cosmesis, but the remaining patients require mastectomy due to larger tumour size or multifocality of it. When the patient is advised for mastectomy, immediate breast reconstruction treatment should be available to all the patients; however, flap sinkage with radiation is a known adverse effect.
Metastasis into axillary lymph node is a bad prognostic marker and is helpful in delineating further treatment pathways such as node sampling, clearance or sentinel node biopsy in the axilla which is an alternative to axillary lymph node sampling or clearance. It provides information on the probable metastasis of the tumour to axillary lymph nodes.
Patients who diagnosed with early breast cancer need to be informed on the risk of lymphoedema following surgical treatment as well as radiotherapy. This includes giving advice regarding prevention of infection or trauma in the same side upper limb which may be the reason or exacerbates lymphoedema. Also, it should ensure that patients who develop lymphoedema have easy access to special care lymphoedema services. Hormonal replacement treatment often offered to women presenting with severe menopausal symptoms after considering associated risks and benefits. Patients may develop early menopause and menopausal symptoms as an adverse effect of treatment and all patients should be counsel regarding the issue.
Key research recommendations
Cognitive behavioural therapy is effective in treating and reducing depression in breast cancer patients.
When breast cancer has been found to be metastasis to axilla, reference of appropriate clinical trials is recommended in treating the patients.
Trastuzumab is a routine and recommended adjuvant therapy for HER2-positive invasive breast cancer.
The international standard radiotherapy practice is recommended in patients with invasive breast cancer following breast conservative surgery.
Conclusion
Even though the incidence of breast cancer has been raised over the past decades, the survival rate has been improved due to widely available cancer detection and treatment methods. Triple assessment should be conducted in almost all patients presenting with a breast lump and further management and follow up should be done accordingly. Extensive research on breast cancer has led to extraordinary progress in moving towards more targeted and less toxic treatments.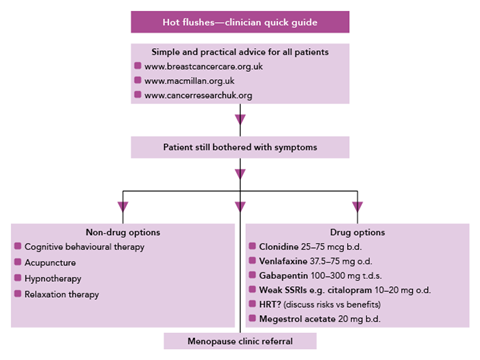 Recommendations
MRI should not perform routinely as a breast imaging method in patients who are awaiting surgery.
Ultrasound scan of the axilla is recommended in all patients who have diagnosed with invasive breast cancer at the early stage.
All patients with breast cancer are recommended to gain the service and facilities of breast care nurse and adequate psychological support.
To have an adequate excision, at least 2 mm tumour free radial margin is needed in patients who diagnosed with DCIS and followed the breast-conserving surgery.
Sentinel Lymph Node Biopsy is recommended in all mastectomy awaiting patients.
Mastectomy should be followed by immediate breast reconstruction after considering the patients view on risk versus benefit.
Oestrogen receptor status should be assessed in all patients with invasive breast cancers.
All patients with early invasive breast cancer should be offered adjuvant therapy after consideration of risk and benefits.
All patients who have offered breast-conserving surgery (with clear margins) should follow breast radiotherapy.
Our Healthcare Writing Help team provides high quality writing services in the field done by healthcare professionals:
– Healthcare Assignment Writing Services
– Healthcare Essay Writing Services
– Healthcare Dissertation Writing Services