How to Write a Literature Review
The literature review is an important component of a research paper. Unfortunately, when it comes to completing academic papers such as essays, dissertations, and research papers, most students tend to think that writing the literature review is the easiest part. Apparently, the other percentage of the students believes that composing a quality literature review poses the most significant challenge. Writing a literature review is not a walk in the park since it requires an individual to dedicate a lot of their time and efforts. Unluckily, most students have a short concentration span, which makes it difficult for them to gather adequate information for their literature review. On the same note, we always want to be entertained, which makes us lose our attention to come up with quality academic papers. The truth is that writing a literature review is not easy. Often times, you will ask yourself these questions;
Where do I begin?
What will I include?
What should I exclude?
How do I engage with the audience?
What is a literature review?
By definition, a literature review entails a summary of previous research conducted on a certain subject or topic. An individual may write a literature review for a journal, books, articles, or any published material. The review should have the ability to evaluate, summarize, and describe previously done research. In other words, a literature review not only acknowledges the work performed by other researchers but also creates for the reader a kind of landscape that describes how a particular field or subject has developed. In essence, a literature review is more than just a summary of previously done research since, in addition to establishing the strengths and weaknesses of a subject, it also conveys to the reader the established ideas and knowledge on a particular topic.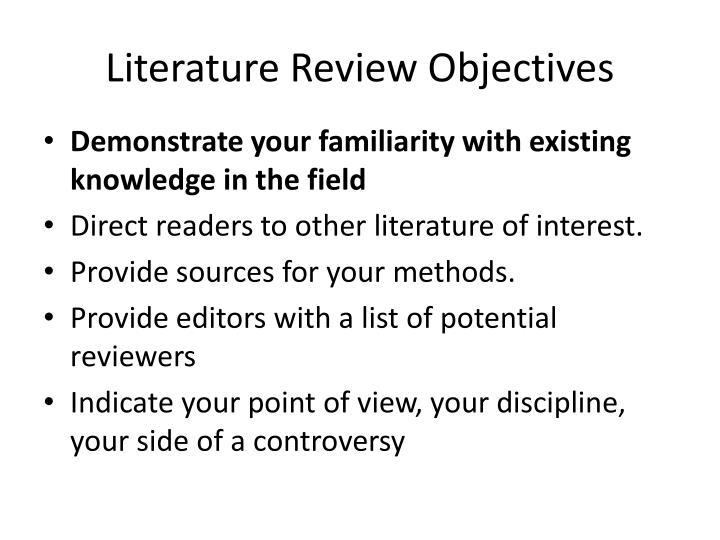 Important things to do before writing a literature review
There are various tips for writing a dissertation literature review an individual should do before they can start writing their literature review. Here are a couple of them;
Seeking clarification
Just as the name suggests, the writer needs to clarify all the instructions that will be used in writing the literature review. You may need to ask your examiner or professor the following questions;
The number of sources that should be used
The type of sources that should be used (websites, books, journals)
Should you critique, synthesize, or summarize a given source?
Finding the models
One of the most effective ways of writing your literature review is by analyzing how previous literature on the topic was written. You may want to read other literature reviews and get to see the kind of themes you may incorporate in your review. While searching using keywords or phrases, you may consider inserting the word review. On the same note, while reading literature reviews written by other authors, you will see the areas that have been explored so much as well as the areas that have little research done on them.
Narrow down your topic
While conducting your research, there are high possibilities that you may come across thousands of research materials depending on the phrases or words you use. If you want to get excellent results, you may consider narrowing down your topic or using certain specified phrases. Your examiner will most probably not expect you to read all the information you come across in every source. Students having difficulties in narrowing down their topic can always seek assistance from their colleagues or professors.
Use updated sources
Whereas there are disciplines where you may be allowed to use sources published in the ancient days, there are others that will require you to use current sources. When it comes to the science field, which involves the treatment of medical problems, you may notice that depending on the advancement of research or technology, new research will be published daily. Therefore, this means that the books or journals that were published earlier can only be used to make references.
How to write a literature review
Writing an excellent literature review can be an uphill task since it involves performing a lot of research. Anytime when writing a literature review, the first step should be to understand the requirements of the paper. Performing this step will aid you in ensuring that the information you present in your paper is not out of the topic. Next, you need to select an appropriate topic. The topic of your literature review could be in the form of a research question or a field that you would wish to explore further. When you have decided on the topic to proceed with, you need to analyze it, and thereafter, think of all the possible terms that are associated with the topic. In essence, you need to identify any words or phrases that will assist you in gaining more information regarding a particular topic.
Your next step for writing a literature review should be to formulate a research strategy. You can begin doing this by first making notes of the phrases or words that you will use in searching for more information regarding a particular topic. You may consider looking at some of the available sources and thereafter, determine which ones of them will aid you in writing the literature review. By doing your research, you need to keep a note of the quantity of information you are getting and subsequently, determine whether it is too little or too much.
If you are encountering challenges to access information regarding your selected topic, consider framing your question from a different angle. Alternatively, you may try expanding the scope of your research by including some of the areas you may have excluded. If you still cannot access detailed information, you may be required to either change your discussion subject or check the practicability of your research. There may be possibilities that the little research that was carried out had technical or ethical constraints.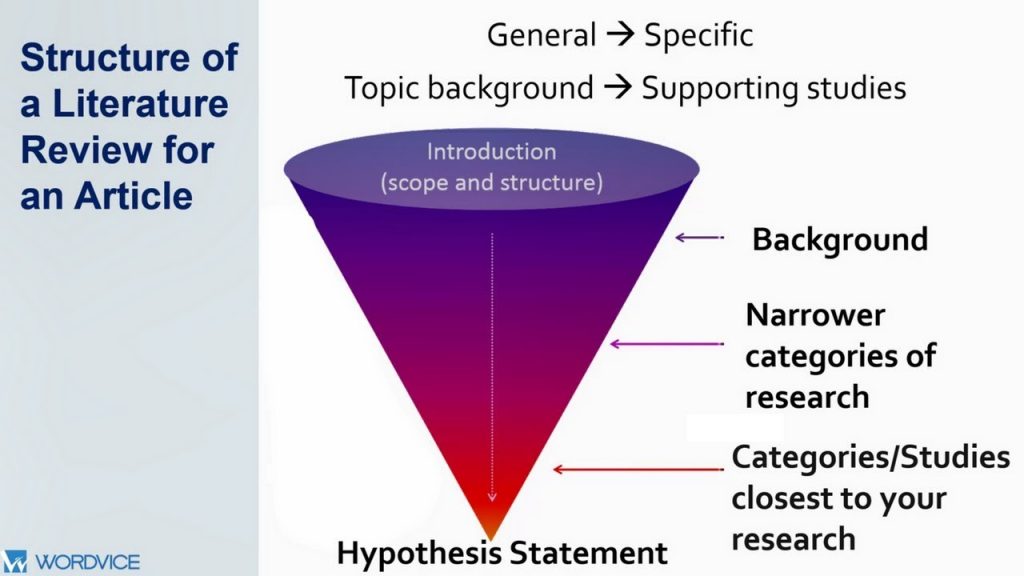 Literature review outline
Most students usually underestimate the importance of composing an outline before writing the main paper. Having an outline will not only help you come up with the right structure but also format. In addition, an outline will make the writing process easier and ensure that you have included all the important details in your paper. Writers should always remember that it is important to have an outline while still maintaining the basic structure of a paper, which comprises of the introduction, body, and conclusion. The outline of a paper should follow the following structure;
Introduction
Here is where you introduce the main topic and discuss its background.
You should also develop your research questions
Develop a methodology section for your paper
Mention the expected outcomes
Discuss the overall trends in the literature of the selected topic
Body
Discuss subject 1: An overview of a particular subject in general terms; review the research questions, procedures, methods, and outcome. An overview of the contradictions, gaps, strengths, and weaknesses in different sources
Discuss subject 2: An overview of a particular subject in general terms; review the research questions, procedures, methods, and outcome. An overview of the contradictions, gaps, strengths, and weaknesses in different sources
Discuss subject 3: An overview of a particular subject in general terms; review the research questions, procedures, methods, and outcome. An overview of the contradictions, gaps, strengths, and weaknesses in different sources
Conclusion
Summarize the relationships between the sources of information you have examined.
Ensure you emphasize the trends, general patterns, and main themes.
Talk about the strengths and weaknesses of the sources of information you have come across
If possible, discuss how the literature review assisted in the further disclosure of a topic.
Types of literature review
Argumentative literature review
An argumentative literature review examines specific literature so that the writer can refute or support an argument using published literature, philosophical journals, or assumptions. The main objective of this kind of literature review is to establish a contrarian viewpoint. Apparently, given the significant value-laden nature of social sciences such as immigration control, and educational reforms, argumentative literature reviews are essential elements of the discourse. It is also important to note that this kind of literature review may also introduce problems to do with bias particularly when they are used in making some sort of summary claims.
Systematic literature review
A systematic literature review entails a process where the body of an academic paper is assessed, reviewed, and analyzed while still utilizing the standardized as well as pre-specified techniques. In other words, the hypothesis, rationale, methods of data collection are first prepared before the review is conducted so as to minimize any incident of bias. Similar to the traditional literature review, the primary objective of a systematic literature review is to identify, critically appraise, and thereafter, provide a summary of existing sources of evidence regarding a specific problem. Through a systematic literature review, writers are able to examine coincident and conflicting findings together with the themes that should be investigated further. A systematic literature review entails the following;
Clearly defined objectives
Detailed pre-defined criteria for examining a literature
Detailed defined criteria that are applied to all the sources
Identification of the sources not included in the literature and the reasons that led to the decision
Synthesis and analysis of the information; which may involve a meta-analysis, qualitative synthesis, or comparison of the information from different sources
  Methodological literature review
A literature review does not have to focus on what was said by the author of a particular source but on how they addressed the subject. Methodological literature review aids in creating a better understanding of various research approaches, methods of data collection, and techniques for performing analysis. This type of literature review also focuses on highlighting the ethical issues which the researcher should be aware of when doing their studies.
Theoretical literature review
The objective of the theoretical literature review is to perform an examination of the corpus of theory that has accumulated regarding a particular phenomenon, theory, concept, or issue. This type of literature review aims at analyzing the relationship between already established and published theories.
The size of your literature review
The length of your literature review will be based on the instructions of your assignment, the course you are pursuing, and the type of review. However, generally, the word count of a literature review should be between 2,000 to 3,000 words. Anytime you write a literature review, you need to always remember that you have a limited word count, and hence, you need to include only essential information. If you are not sure of the required word limit, you should not hesitate to seek clarification from your professor or examiner.
Literature review structure
Like many other different types of academic writing, the structure of a literature review is divided into the introduction, body paragraphs, and finally, the conclusion.
Your introduction should direct your readers towards the general objective. In other terms, while writing your introduction, you should begin from the broader perspective and thereafter begin narrowing till you reach your primary objective.
In general terms, each of your body paragraphs should concentrate on a particular source of literature. Since different kinds of literature reviews have unique ways of structuring the reference, it is essential that you do it using the most consistent and presentable way. This means that your paper should be structured methodically, thematically, or chronologically.
Concluding remarks
Writing an excellent literature review is quite complex since it involves doing a lot of research, picking out important information from each source, and comparing various sources of information. However, the process becomes easier as you complete more papers. The above-discussed tips will, without a doubt, bring you closer to success. Students ought to change the perception that writing a literature review is one of the most minor parts of a research paper. Writing an impressive literature review requires a person to devote adequate time and resources. Finally, when doing your literature review, ensure that you can differentiate between credible and non-credible sources of information. This article will assist you to improve your writing skills.