In 1993, Kate Spade identified a void in the market, which was inspired by her need for better handbags. Her distinct taste for fashionable and sophisticated bags inspired Kate Spade the brand. In essence, the brand targets a specific age group with defined tastes in their handbags. The target market for Kate Spade was women aged between 25-44, with an annual income of around $100,000 and confined to certain personality traits (Ascarza, & Wilcox, 2015 page 1). The brand targets fashionable women that can afford quality bags at affordable prices compared to other competitive brands like Louis Vuitton.
The Kate Spade brand can be characterized as simple, yet sophisticated and fancy. Its bags are high-end, quite affordable and precisely offer the kind of fashion craved by their customers. The personality of the founder and designer, Kate Spade, defines the bags in so many ways. The bags give a vibe of being bright, vibrant, colorful and fun. The brand is iconic and its marketing strategy made it a $3.1 billion brand. The brand has high profits and revenue.
Kate Spade can be defined as authentic and full of originality. This trait dated way back to 1993 when Kate Spade herself decided to design handbags for herself. Kate Spade puts much effort in creating an original personality for itself. The brand has achieved this through creating a voice for itself and defining a Kate Spade girl (Ascarza, & Wilcox, 2015 page 3). This interest brings us to the definition of a Kate Spade girl, an adventurous woman aspiring to reach her goal through a rough journey. Whenever the brand comes up with new products and campaigning methods, it always upholds this uniqueness and originality.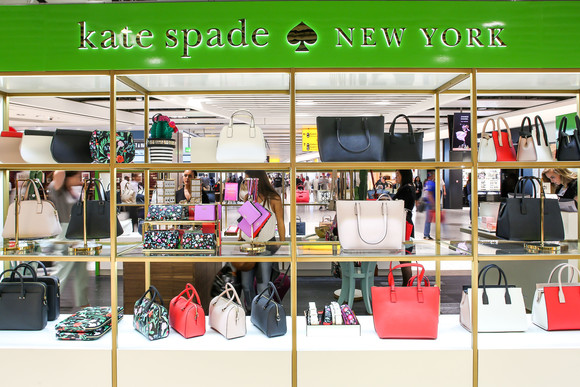 Kate Spade is also highly creative, which is evidenced by their adverts and marketing strategies. One particular advertising is the #Missadventure, a four-part video. In these series, Kate Spade captures the brand's voice, the adventure of an interesting woman. This marketing strategy incorporated the brand's voice and target market all in one. The publicity received from these series made the brand gain popularity and over 7 million views within the first season.
Another trait of the brand is simplicity. The bags manufactured by Kate Spade are quite simple. Kate Spade has never been known to be fancy, but yet its products bring out a sense of fashion in the simplest of accessories. On the runway, the Kate Spade bags are catchy, simple and can be worn on a day-to-day basis and by anyone. The bags give the audience a sense of belonging and that even the simple and ordinary person can pull it off without struggling.
Kate Spade can grow its brand through brand diffusion. Deciding to start another brand, under a different name but still maintain close ties with the parent company will be a good move for the company. Through this, they can still produce Kate Spade bags but avail them at a much lower price than the original bags. This way, the brand gets to reach a wider market and satisfy the needs of people from all walks of life. Brand diffusion will also increase the acceptance of a new product in the market. Brand diffusion will also save Kate Spade the cost of developing new brand. Through this diffusion, Kate Spade will also their customers a variety of products to choose from.
Out of a diffusion of brand, Kate Spade stands to benefit a lot from the new product.  These benefits include enhancing image of the Kate Spade, reviving Kate Spade and clarification of the brand meaning. The vital essence of the extension brand is increasing the market size of Kate Spade and making its products available to a broader population.
Another significant advantage of brand diffusion over separate brand is quality associations. Customers tend to associate the parent brand to upcoming and new products. This means that the extended brand will automatically receive popularity because of its association with the parent organization, Kate Spade. This association will increase the chance of trials and distribution. People will want to try out a product associated with an established brand like Kate Spade, which reduces the risks perceived by the customers. Along the way, as the extended brand acquires its customers, the market coverage is increased and the entire brand franchise gains new customers hence more returns. Kate Spade also stands to gain through cutting the costs of advertising. There will be economies of scale as advertising for one brand reinforces the other. The efficiency of its promotional expenditure will increase and at the same time reduce the cost it could have.
Some of the risks associated with this option is that the created product may bring about implications that may cause damage to the Kate Spade brand. Also, there is no guaranteed success if the brand will not have an advantage over other competitive brands.
References
Ascarza, E., & Wilcox, K. (2015). Kate Spade New York: Will Expansion Deepen or Dilute the Brand? Columbia CaseWorks.
Also look at some of our business services
– Business Essay Writing Service
– Business Dissertation Writing Services
– Business Report Writing
– Business Assignment Help
– Business Planning Writing Service
– Business Assignment Writing Service
Students working on case studies or might need academic help, might find our custom Case Studies Writing Services helpful.