CHRONIC KIDNEY DISEASE
Introduction (Chronic Kidney Disease)
Kidney has always been an important part of our body. The role of the kidney is to supply your blood and remove all the wastage from blood in a body and control the body fluids through passing urine. The kidney plays an important role to keep your blood pressure control. But when blood pressure high and high, then blood did not circulate properly and the kidney area starts to be damaged. If kidney functions damage for some years, it means the renal failure disease started and this disease in medical terms, refers to CHRONIC KIDNEY DISEASE.
CHRONIC KIDNEY DISEASE is a disease in which the kidney fails and cannot absorb blood the way it should. Diabetes, high blood pressure, heart disease or a family history of kidney failure is the main chances factors for growing kidney disease.
For chronic kidney disease diagnosis, some specific tests and processes are to be required like a Blood test, Urine Tests, ultrasound to check kidney sizes, kidney biopsy and so on. Many forms of kidney disease may be treated according to cardinal reasons. Yet often, there is no treatment for chronic kidney disease.
Chronic Kidney is very expensive, time is taken process disease. This is affected by kidney failure resulting from Concomitant including diabetes and hypertension. Approximately 26 million people are living with CHRONIC KIDNEY FAILURE in the United Kingdom and increasing no of individual each person are at a hindrance for expanding the disease. In the end, CHRONIC KIDNEY FAILURE will be causing death unless treated with a kidney transplant or dialysis treatment (Sullivan, 2019). So the main problem appears is how patients, physicians, clinical consultants keep up with the growing number of patients being diagnosed with Chronic Kidney Failure and the cost-effectiveness of treatment procedures.
The study is the non-clinical guideline, which takes slight advantage of existing national as well as international guidelines to review the importance of Chronic Kidney Failure, as well as provide a synopsis of primary care administration's main features (Fraser, 2016).
Background and Significance of Chronic Kidney Disease
Definition:
Chronic kidney disease is a complicated type of disease in which either kidney loss or glomerular filtration rate < 60 ml/ min for 3 months or more, no matter what of cause. chronic kidney disease is also known as chronic renal failure or chronic kidney failure.
Description:
Kindly note that below are the guide solely, it's getting to not apply to everybody.  Several persons get to final phase nephropathy (Stage 5) while not obtaining any symptoms, whereas some persons might begin to feel unwell among the Initial phases of excretory organ sickness. Sort of reasons affects the event of kidney failure and these are not assumed.
Initial stages (stages 1–2) typically patients are not have associated symptoms of CHRONIC nephropathy however, are the larger probabilities of exsiccosis and an HSP to medicine. Before beginning any new medications, it's extremely necessary to talk and tell all the medicines that eat along with your doctor. Management involves maintaining healthy sign conjointly as creating healthy life adoptions to slow or avoid more development.
Middle stages (stages 3–4) during this stage, once the nephropathy is discovering, and you will begin feeling sick, foremost see the changes multiple times by passing urine. It may show initial phases of deformities of bone and iron-deficiency.
Final Phase of CHRONIC kidney disease (stage 5) At this stage, the quantity of urine passed may change. Hypersensitivity of HBP is almost still present, but the quantity portion of protein in the urine is increasing, the same as the blood levels of serum creatinine and potassium are increasing.
When in continuity, hemoglobin level gets low and phosphorus, creatinine level quickly, it means patients need hemodialysis or a kidney removed to keep life going.
Signs and Symptoms
CHRONIC KIDNEY DISEASE normally considered a ' soundless illness ' because it goes unnoticed. It may not be felt, it occurs. 90%age of an individual people do not know these diseases, until below the sign does not happen. The initial symptoms can be common, it may include:
High BP, when the urine passed, quantity and level of urine is changed mostly at night • change of color when urine is passed, sometimes when urine passed, blood occurs, severe pain in the kidney area, drowsiness, loss of desire for food, trouble in napping, headaches, lack of attention, irritating, shortness of inhalation, queasiness, vomiting, and bad smell when breathing and a metallic taste in the mouth.
Table of incidence or prevalence rates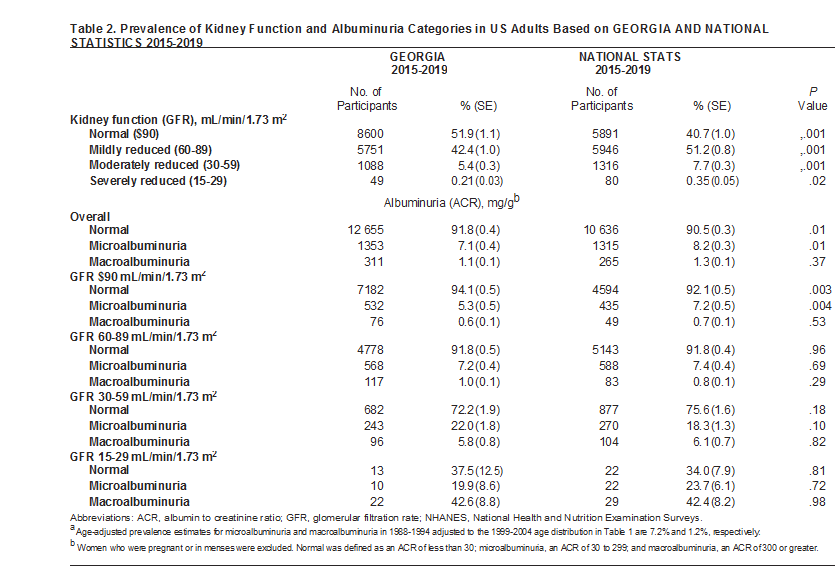 Current Surveillance and Reporting Methods
The CPCSSN database contains anonymized health information for patients from participating in primary care practices (PCPs) across Canada from electronic medical records (n=1200). The dataset contains information on socio-demographics of patients, medications, laboratory results and comorbidities. The use of validated algorithms, case descriptions and recommendations will help to define CKD and associated treatment processes, allowing us to: (1) establish the prevalent burden of CKD; (2) evaluate current practice trends in risk assessment and management of CHRONIC KIDNEY DISEASE, (3) Research variability in measures of treatment (e.g. achievement of blood pressure and proteinuria targets) and referral pattern for advanced kidney care; The care outcome cycle will be stratified across the demographics of patients, as well as the characteristics of providers and geographical (provincial/territorial). The prevalence of phases from 3 to 5 of CHRONIC KIDNEY DISEASE will be described as age–gender standardized estimates of prevalence stratified by province and as weighted averages of population levels using census data with 95%age CI. Age–gender standardized prevalence is estimated for each PCP and compared with predicted standardized prevalence estimates. The outcomes of the process will be determined using existing methodologies (Bello, 2017).
Descriptive Epidemiological Analysis of Health Problem
What the guideline will cover?
If people from below the age of 40 surviving with chronic kidney disease or suspected with Chronic Kidney Failure, the following subpopulations will be covered. For the diagnosis of chronic renal disease in mineral and bone disorders: Who are surviving with chronic kidney disorder, the chances of minerals, as well as bone disease on stage 4 or 5, is decreased and Non-dialysis and stage 5 chronic kidney disease undergoing hemodialysis or peritoneal dialysis Managing anemia: adults, children and young people with Chronic Kidney Failure -related clinical diagnosis, including pre-dialysis CHRONIC KIDNEY DISEASE, proven renal failure receiving conservative treatment or renal replacement therapy and functional kidney replacement therapy.
Why the Guidelines Needed:
The England Health Survey (2016) discussed that 13 percent of grownups (16 years of age and over) had any chronic kidney disease (stages 1 through 5). Stage 3 to 5 prevalence is 5 percent, rising to 34 percent of those 75 years of age.
Many people surviving with CKD or renal failure have also experience associated anemia. The prevalence of CKD-related anemia gradually increases with the CKD level, particularly when the patient reaches stage 4 or 5. Chronic Kidney Failure anemia contributes significantly to the strain of CHRONIC KIDNEY DISEASE but, with adequate diagnosis and care, it is theoretically reversible and manageable.
CHRONIC KIDNEY DISEASE's total cost in England is estimated at between £ 1.44 and £ 1.45 billion in 2015–19, which is about 1.3%age of all NHS expenditure that year.
Who the guidelines are for:
A concise study of epidemiology is intended for healthcare professionals in primary, secondary and tertiary care, commissioners and providers of suspected or diagnosed chronic kidney disease, and their families.
When descriptive epidemiology analysis covers:
Using cystatin C-based estimated Glomerular Filtration Rate calculation for Chronic Kidney Failure diagnosis
Monitor for proteinuria in children and adolescents
Test for hematuria in children and adolescents
Screening and Guidelines:
Tests for the blood and urine may diagnose chronic kidney disease (CKD). Chronic Kidney Failure is only present in many cases when routine blood or urine testing shows that your kidneys may not function normally for another disease.
Know your kidney numbers.
Get your blood pressure checked.
Talk to your doctor about medication dosage and imaging tests.
Exposure to intravenous contrast dyes used in imaging (MRI, CT or angiograms) can cause kidney damage, so be sure to speak with your doctor before scheduling one of these tests.
A UK Preventive Services Task Force Recommendation on screening for chronic kidney disease (CKD) states that there's lightproof in good adults to support screening for chronic kidney disease. The American faculty of Physicians ' recommendation on chronic kidney disease phases from one of three states that there's no understanding of the validity of one measured calculable estimated Glomerular Filtration Rate to check for CKD.  The question remains whether or not, despite proof of alternative risk factors, one single calculable estimated Glomerular Filtration Rate < sixty mL/min can accurately predict CKD in adults. CHRONIC KIDNEY DISEASE estimated Glomerular Filtration Rate is currently unknown. For patients at higher risk of Chronic Kidney Failure, such as those with diabetes mellitus (DM), hypertension (HTN), older age, targeted screening is recommended. Given population aging and the increasing prevalence of obesity based disease, the future of Chronic Kidney Failure screening should extend to populations not currently recommended for screening. The serum creatinine check is usually conducted in medical care, thereby creating the prognosticative worth of one low calculable estimated Glomerular Filtration Rate clinically relevant and manageable. The present study explores the impact of opportunist medical care testing on Chronic nephropathy designation employing a tiny, national medical care dataset (Satchidanand, 2016).
Plan of Action: 
The inhibition of Chronic Kidney Failure creates 3 main characteristics.
The primary or essential hindrance is intended to stop exposure to influences that cause urinary renal disease. Secondary prevention during which the hindrance of progression of urinary renal damage from stage one to stage five is undertaken by taking correct phases at various phases of chronic kidney failure. Tertiary preventive concentrates on reducing or avoiding accidents, impairments or disabilities over the future (Pecoraro, 2015).
The most preventive measures are restricted to many diseases, like DM, coronary-artery disease, and hypertension; in adolescents, a good variety of conditions could begin even before birth; if not antecedently best-known, such conditions will cause kidney failure and progression to Chronic Kidney Disease in pubescence, adolescence, or later grownup life.
Conclusion:
Chronic Kidney Failure is the broadest word utilized to define a clinical condition that could potentially lead to Final phase renal disease, irrespective of the severity of the fundamental pathophysiological mechanism, ranging from specific hereditary or invulnerable disorders (like SLE nephritis) to more systemic invectives like ‎ Diabetic kidney disease. CKD is a generic term. CHRONIC KIDNEY DISEASE is a long-term disease in which kidneys do not perform as well as they do normally. Two main aspects of kidney failure; one is High Blood Pressure and another is Diabetes mellitus. The word CKD has now replaced several other literature terms including kidney failure or loss (Delanaye, 2017)