Introduction
The contemporary world is experiencing an absolute transformation to become a complete digital world. New technological inventions have essentially become part of the human's everyday lives in almost all over the world. In fact, people are slowly becoming addicted to the new technological developments such as Smart phones (Petrovits, 2014).  Human's behavior in both their working and privates' lives are largely determined by these developments especially how they communicate and interact with their friends, families, and even colleagues at work. The dynamism of the contemporary world has been as a result of the digital achievements and it seems like human creativity is unlimited and it is never coming to an end since there are various technological developments that are still underway. In subsequent to the new trends and the digital world in the luxury hospitality industry, technology and digital transformation is a constituent of success in this industry (Petrovits, 2014).
This study aims at examining and analyzing the positive impacts of the technological and digital transformation trends on the luxury hospitality industry. Additionally, the study focuses in finding an emerging prospect that the digital and technological transformation trends are generating in the luxury hospitality industry particularly in the luxury hotel booking sector. Based on the outcome of the analysis, the study proposes two significant recommendations that the big players in the luxury hospitality industry particularly in the sector of hotel and travel can employ in upgrading their strategies  such as corporate strategies, and guest strategies and experience  to meet the digital standards  as well as improve their service delivery to their customers. The content of this study mainly targets but not limited to the senior managers of luxury hotel brands especially those that still largely rely on the traditional strategies in their daily, short-term, and long-term operations in this digital era.
In developed economies especially in the Western parts of the world, technology and digital transformation is extensively changing different aspects in the luxury hospitality industry. There are various developments especially in the sector of Artificial Intelligence and Robotics that are constantly transforming how luxury hotels serve their guests (Terry, 2016).  Some of the recent developments that by now have been employed by some luxury hotel brands especially in some States in the United States, include the development of driverless cars, personalized biometric security systems, block chain technology, and personalized booking and reservation systems (Newman, 2018).  Although these developments have not taken much effect in the luxury hospitality industry, but it has been predicted that within the next decade, almost all luxury hotels and travel brands will have these technological developments implemented in their corporate, operational, as well as guest strategies. Luxury consumers in this industry market are constantly in search of new experiences which are readily provided by these technological developments (Bryan, 2015).
Hansen & Owen (1995) once predicted that technological achievements with extensively be used in the luxury hotels and used of such developments will be the new normal. Specifically, they highlighted the use of smart cards as keys to hotel rooms, and easy means of check-ins in hotel atriums which they termed as kiosks. All these new inventions had one major objective twenty years ago which was reduction of the luxury hotel operational and administrative expenses. However, today, implementation of these technological developments in servicing luxury consumers in the luxury hospitality industry is not majorly about minimizing expenses but it is about meeting the customers' expectations of new experiences as well as improving the efficiency and quality of service delivery particularly with regards to time, security, and experience (Petrovits, 2014).
The key areas that this study will focus on include the analysis of the positive impact of technological and digital transformations on the luxury hospitality industry particularly in the luxury hotel segment of the industry, and provide relevant recommendations based on the research analysis specifically comprising of a new concept that luxury hotels can consider employing to improve the experience of their guests.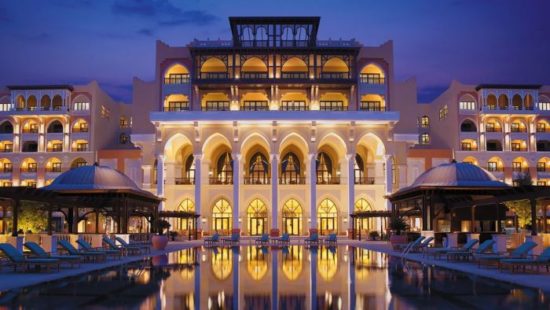 Analysis
Digital and technological transformation in the luxury hospitality industry is not only benefiting the players in the industry but also to the luxury consumers. The efficiencies and the reliability of the services offered in the luxury hospitality industry have been greatly improved by the technological and digital developments (Banerjee, 2017). From a broad point of view, the travelling of the industry is significantly gaining from the mobile integration technology.  About a decade ago, a mobile phone was just a device that was used for their primary roles today such as calling, sending and receiving text messages, but today, mobile phones are like mini-computers, they can actually be used to accomplish a task that can be completed on a laptop or desk-top computers (Saunders, 2015). Luxury consumers can literally do anything on their mobile phones ranging from ordering room services, checking-ins, and even locking the hotel room doors. In fact, it possible to plan a whole trip without even making any calls or talking to any urgency but by a smart-phone (Saunders, 2015). In addition, unlike in the past when luxury hotels used to carry out certain activities such as orientation of guests manually, today some luxury hotels have installed and implemented technologies that carry out such activities without having any employee on board (Friedman & Sen, 2017).
With the help of mobile applications powered by Artificial Intelligence, luxury consumers can now access luxury hotel services by just sending texts to automated chat-bots or access voice activated chat-bots that attends to any of their request. For example, Cosmopolitan, a luxury hotel in Las Vegas has implemented and using a robot called Rose to attend or respond to any queries by their luxury consumers at anytime of the day or night (Newman, 2018). Marriot, another luxury hotel brand headquartered in the United States, has been using chat bots powered by Artificial Intelligence in over 4000 hotels located in different regions across the United States and in other western nations, to accomplish such activities as checking on account balances , making room reservation changes, and redeeming of vouchers (Schick, 2). With the digital transformation , and technological developments, luxury hotels are now able to remain with data concerning their guest and easily examine the trend of their visits as well deepen to learn more about what appeal and does not appeal to them about the services they offer. This enables luxury hotels to improve on their service delivery to their customers (Boushka et al. 2012).
The impact of the technological and digital transformation on the hotel sector of the luxury hospitality industry has been reported to be positive in spite of a few challenges that the luxury hotel brands are experiencing due to the new technological and digital developments (Days, 2017). Some of the key areas that these paradigm shifts have positively affected include personalization of services, redefinition of business models of the luxury hotel brands, and alteration of operational processes. Luxury hotel guests have experienced more personalized services compared to a few decades ago. In fact, there are various developments that are still undergoing to make services more personalized (Terry, 2016). For instance, how guests arrive in hotels and welcomed is constantly changing since most travelers prefer easy and frictionless check-ins, as such some luxury hotels have started adopting the biometric technology to improve the experience and meet the expectations of guests when they check-in (Terry, 2016). Additionally, some luxury hotels have started considering implementation of facial recognition technology to curb the problem of check-ins and based on some prior research, a large percentage of luxury consumers have been reported to prefer hotels with facial recognition technology (Friedman & Sen, 2017).
It is estimated that by the year 2020, most of the luxury hotels will have altered their check-in services and shifted to biometric-based or facial recognition forms of services (Saunders, 2015). The digital transformations have forced some luxury hotels to completely alter their business model and migrate to new business models that are compatible with the new digital and technological environment. Inventions such as driverless cars has subjected some luxury hotels to rethink their strategies of receiving guests especially some of the luxury hotels in the United States have tested the use of driverless cars to pick up guests from the airports to the hotels (Friedman & Sen, 2017). In spite of the positive effects of the paradigm shift, luxury hotels are also facing challenges especially in terms of competition from other hotel brands that are classy but have not meet the luxury threshold. For instance, in the booking and purchasing sector, some hotels have implemented conversational software powered by AI which has attracted many consumers including luxury consumers, and this renders the luxury hotel brands worthless as their popularity diminishes (Bryan, 2015).
Digitization and technological transformations has not only been impactful in the luxury hospitality industry, but has also led to the emergence of new opportunities in the same industry. The upcoming opportunity that can be identified from this paradigms shift and which can be potentially beneficial to the luxury hotel and travel is marketing automation. Automation of communication with guests is a key area that most luxury hotels are apparently implementing into their systems to avoid losing consumers. Guests are progressively more time sensitive and not contended with waiting on hold to speak to a reservation person especially when there is online time travel (Banerjee, 2017). Propinquity is no longer considered as a luxury as it is expected by guests, and only hoteliers with prompt and fastest response may as well be confined with direct booking (Days, 2017).  Automation has been made possible by chat bots powered by AI-based systems, and some luxury hotels have already implemented this technology in their reservation services.
Recommendations
From the above analysis on the positive impact of technological and digital transformation on the luxury hospitality industry particularly on the luxury hotel and travel, it evident that the operational model, business model, and corporate strategy of luxury hotel and travel in the luxury hospitality industry have been extensively affected by these paradigms shifts. Nevertheless, the new technologies are not only improving the guests' experience of the services offered by the luxury hotel and travel, but also enable luxury hotels to learn more about their guests particularly on the services that most appeals to them and the ones that does not so that they can further improve on them. Additionally, the identified emerging opportunity that has come as a result of digitization and technological developments can potentially improve the reservation services of luxury hotels as well as attract more potential consumers if rightly implemented. As such, this study suggests the following recommendations which if explored, can potentially help luxury hotels and travel meets the expectations and improves the experiences of their guests.
Luxury Hoteliers should take a well defined approach to their marketing strategies  to be able to reach and engage their luxury hotel and travel consumers
Implementation of new technology in service delivery is good, but better when consumer's opinions about the technology are known.  In order for the luxury hotels and travels to upgrade value and attain relevancy in this digital era of technological transformation, meeting consumer experience is paramount and this can mainly be achieved when hoteliers redefine their marketing strategies such that they can be able to interact with consumers via digital channels (Petrovits, 2014). Accordingly, the strategies should encompass capacities and technologies that can track and enhance the guests experience across all the channels. Attaining such strategy involves incorporation of a company's own technological implementations with other platforms that have massive traffic such as social networking platforms like Facebook, Twitter, and YouTube (Banerjee, 2017). However, security measures should be prioritized first to protect the critical information of the guests.
Luxury Hotels should invest and focus on delivery, value addition, and being where there guests are in order to successfully automate their communication with guests using chat-bots and AI technology
Luxury hotel should not stretch much on different communication platforms when automating communication. Recent research has demonstrated that hotels can just automate communication to a manageable capacity. Integrating the use of chat-bots and a standby individual that can handle queries from guests that chat-bots cannot handle is an enhanced strategy of reservation services that is best for the guests (Boushka et al. 2012). Additionally, luxury hotels should incorporate their chat-bots application to social networking platforms such as Skype, Facebook messenger, WhatsApp, and WeChat since these are the places where there consumers are found. Obliging guests to download   the company's chat-bot minimizes the adoption rates rendering the goal of its introduction worthless. Lastly, luxury hotels should strive to ensure that guests experiencing some value of the chat-bot. Primarily, chat-bot are known to mainly give answers to queries in the frequent asked questions store, but when a situation arise that a guest want to book outside the opening hours, a value is created when such strategies implemented can handle situations beyond the normal expectations.
Conclusion
This study has primarily examined the positive effects of the technological and digital transformation on the luxury hospitality industry with a focus on the luxury hotel and travel segment of the industry. From the analysis, it is evident that the digitization and technological paradigms shift are intensely and positively impacting the luxury hotel and travel segment of the luxury hospitality industry, specifically by altering various operational models as well as service delivery and experience strategies. Two recommendations are suggested based on the analysis done. The new technological developments and digitization is constantly pushing luxury hotel and travel segment of luxury hospitality industry to attain the customer satisfaction philosophy. In conclusion, luxury hotels should invest and focus their efforts on technological-based service delivery in this digitization age. This is because, human inventions is never ending anytime soon and as new inventions comes , the expectations of luxury consumers also grows, and hence in order to maintain their imagery and identification in the market as a luxury brand, luxury hotels must  remain constant in meeting the guest's expectations and improving their  experience in this digital era.
Students working on case studies or might need academic help, might find our custom Case Studies Writing Services helpful.
Also look at some of our business services
– Business Essay Writing Service
– Business Dissertation Writing Services
– Business Report Writing
– Business Assignment Help
– Business Planning Writing Service
– Business Assignment Writing Service
Here you can check some of our dissertation services:
– Dissertation Writing Services
– Write My Dissertation
– Buy Dissertation Online
– Dissertation Editing Services
– Custom Dissertation Writing Help Service
– Dissertation Proposal Services
– Dissertation Literature Review Writing
– Dissertation Consultation Services
– Dissertation Survey Help