Introduction
The pharmaceutical industry researches, develops, produces and markets drugs licensed for use as medication.  It is a global industry, but the nature of marketing and distribution vary due to state politics. As for profitability, the pharmaceuticals industry occupies 1st place with an average ROIC of 18.4% in 1963-2003 (Grant, R. 2008). Historically, the industry earns some of the highest profits (appendix c), and correspondingly it essentially enacts a theory of oligopoly, with the domination of 'Big Pharma' (roughly 15 international pharmaceutical companies, that are both politically and commercially influential, and with revenues that tend to exceed $3billion). However, the pharmaceutical industry is arguably one that goes very much against the theory of C. Baden-Fuller and Stopford (appendix E) – this industry is likely to become inherently less profitable than others in the future.  Presently though the industry consistently earns high rates of profit. The US 1999-2005 median ROE is 22.3%, making it the 2nd most profitable industry after household and personal products (Grant, R. 2008).
Industry Analysis
Porter's 5 Forces 1) The bargaining power of buyers: historically middling to low (important products with little differentiation and substitution due to patents), but recently growing with increased political involvement (HMOs like the NHS in the UK), and the proliferation of substitutes due to patent expiries. 2) Supplier power – the industry commonly develops and produces its products, so supplier power is not really an issue.  However, as research and production activities have become more complex 'Big Pharma' companies are outsourcing more. 3) Threat of substitutes –low with patents and medium after patent expiry 4) Threat of entry – Generally low, with the 'Big Pharma' oligopoly.  High barriers to entry due to: capital intensity (extreme R&D sunk costs) and the need for EOS to endure severe risks and patent limitations; there is also considerable product differentiation and brand loyalty from patents (and with this, established access to channels of distribution).  However, patent expiry significantly increases the 'threat' of entry (and existing firms generally move to produce previously patented products at a competitive price). 5) Industry rivalry – the 'Big Pharma' companies are competitive with regard to innovation (the need to gain first mover advantage), but not so much concerning price.
PEST analysis
| | |
| --- | --- |
| Political | Increasing political activity and control of the pharmaceutical industry Widening of health care availability (globally) B. Obama's US health reform Changing geo-political environment (ethics) |
|  Economic | Not recession proof, but has remained profitable. The growth of LEDCS has led to an increased demand for medicine. The development of emerging markets, such as the BRIC countries (Brazil, Russia, India and China) has led to increased R&D outsourcing, and more global activity. |
| Social and cultural | Good health is of increasing importance. Global epidemics (SARS, AIDS, swine flu) has put increased limelight on the industry Controversy regarding the industry (e.g. the Vioxx affair). An ageing population has led to specific medical acts (e.g. the US Medicare Part D, 2003 – lower prices).  Long term it will lead to increased sales volume (people need more medication as they get older). |
| Technological | A continuing trend of scientific and technological advance (biopharmaceuticals, stem cell research) Technological advances socially, notably the internet and its increased use. However, the rate of technological innovations in pharmaceuticals is thought to be slowing considerably. |
Strengths
Oligarchic competition and largely cartel like behaviour
Patents
EOS
Political power
Necessary goods, whose importance does not diminish with the passing of time
Emerging markets in LEDCs
Weaknesses
Patent expiry and the resultant generic substitutions
High political involvement (generic substitution, lower prices, tighter regulation and compliance overheads)
The costs and risks of R&D
Weak government-industry-societal relations (bad publicity)
Dependence on emerging markets, geographical expansion and mergers for growth
Less product innovation (risk-aversion and cost
Exposure to product liability (the Vioxx affair),
Volatile investment confidence and activity
Opportunities
Emerging developing markets
Line-extensions (less expensive to develop)
More vertical integration (M&A), especially with R&D companies
Drug development
Direct-to-consumer selling via the internet
Market gains from the US Health reform
Increased trust in the industry from increased political activity
Threats
Increased government action – leaning towards privatization (also levy taxes)
Drug innovation is likely to continue to decrease (less investment in R&D and less demand)
Finite patents – eventually a majority generic market
Emerging markets will decline simply through base effect (so reliance on them is risky).
From EnvironmentalAnalysis to Industry Analysis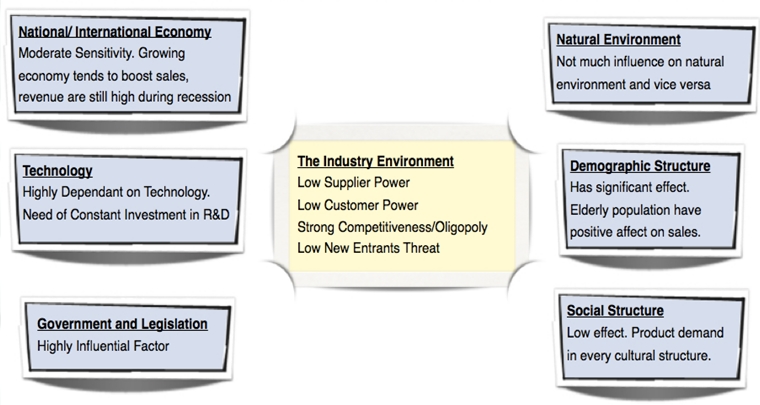 The Spectrum of Pharmaceuticals Industry Structures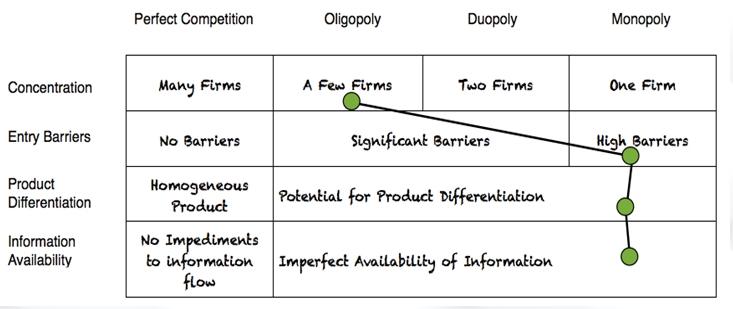 Price/Value Perception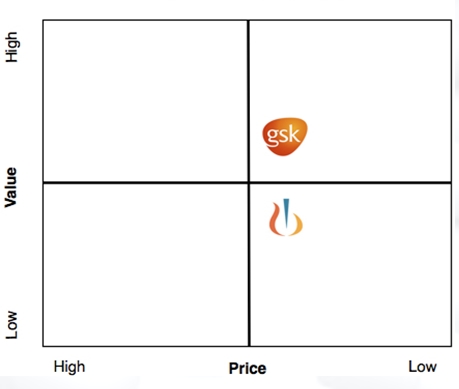 Boston Matrix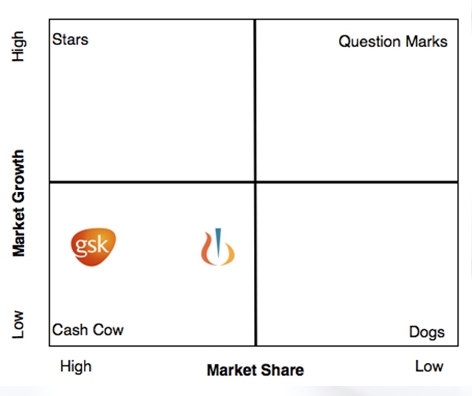 The Dominant Firm: GLAXOSMITHKLINE
GSK is headquartered in England and employs over 100,000 people in 117 countries. It is the second largest drug manufacturer in the world and the largest in Europe by revenue; this size allows it to invest significantly in R&D. In addition, the expansion in emerging markets is also a key factor to GKS success. In Q3 2009, GSK reported sales of £6.76 billion, a growth of 3% from the same quarter of 2008.
GSC Financial Ratios 2008

Public Relations
GlaxoSmithKline (GSK) has had a very focused and straightforward strategy over the past years. One of its main strategic priorities according to Stefan Stern (How to rebuild trust, 2009) is to create a feeling of trust with its customers. It accomplishes this by initiatives like selling drugs to developing countries for no profit (The Economist, 2007) and slashing the prices of lots of its principal medicines in emerging markets. Such initiatives demonstrate GSK as promoting a pricing policy that sacrifices immediate profit to gain brand recognition and societal approval.  Andrew Witty (CEO) is also aiming to be increasingly flexible regarding the pricing of drugs as an answer to the challenge of developing new ideas for future marketing.
GSC Brand Avareness Basket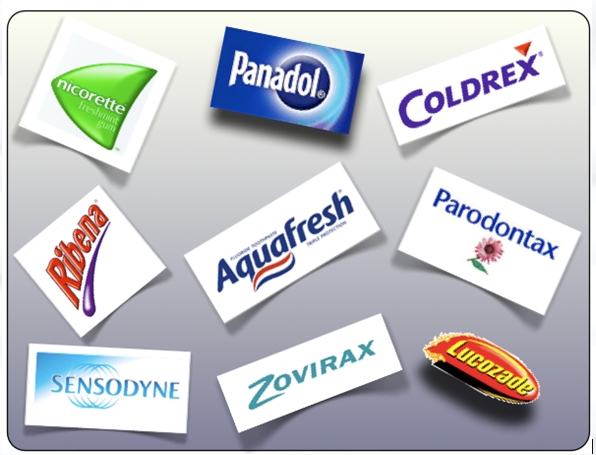 The Two Competitive Advantages
A firm can achieve a higher rate of profit either by supplying a product/service that is differentiated in such a way that the consumer is willing to pay premium price, or a company can supply an identical product/service at a lower price (Grant, R. 2008). GlaxoSmithKline seems to occupy both positions, GSK brands are differentiated and are offered at a low price.
Move to the Generic Market for Less Risk
Another very important point of GSK' s strategy is CEO Witty' s push from 2008 to 'reduce risk and diversify, allying GSK with a generics drug maker and halting share buy-backs to give the cash rich group more firepower for acquisitions' (Richard Milne, 2008). 'GSK' s shift into generic drugs reflects and develops a trend during recent years by large pharmaceutical companies to diversify into off-patent medicines' GSK uses this strategy as a way to 'market its own "tail" products whose patents are approaching their expiry dates' (Andrew Jack, 2008).
Less reliance on 'white pill market'
An additional point to GSK diversification strategy is the effort to reduce reliance on sales of 'white pills in Western markets' (John O' Doherty, 2009) and increase its weight in different markets and types of drugs. Indeed, as more and more of its medicines go off patent, the emerging markets show promise for selling large volumes at lower prices (Gill Plimmer, 2009).
Diversification to Foreign Markets
Alongside this, in the past years GSK has also pursued expansion in emerging markets, acquiring a market share in Africa, the Middle East, the Asia Pacific, Latin America and China. In 2008 it struck a deal to pay $210m to 'acquire the "mature" off-patent drugs business of Bristol-Myers Squibb in Egypt, in a move to strengthen its position in the developing world' and which would give GSK 'the largest market position in Egypt at about 9%.' According to A. Witty, 'more geographical and product diversity provides greater predictability and "better annuity values"' (Andrew Jack, 2009).
Innovation
GSK also gives priority to innovation and to new types of medicine. Jean-Pierre Garnier had 'overhauled the group's research and development systems in an effort to boost innovation' (Andrew Jack, 2007).  A. Witty, has continued this policy, in the summer of 2008 GSK announced a $25m collaboration with the Harvard Stem Cell Institute (Financial Times, 2008). Stem Cell is a scientific field that is expected to grow immensely with the change of US administration, and, considering GSK is trying to become less dependent on its current types of medicine, they are a promising way to pull of this strategy.
Elements of GSK Strategy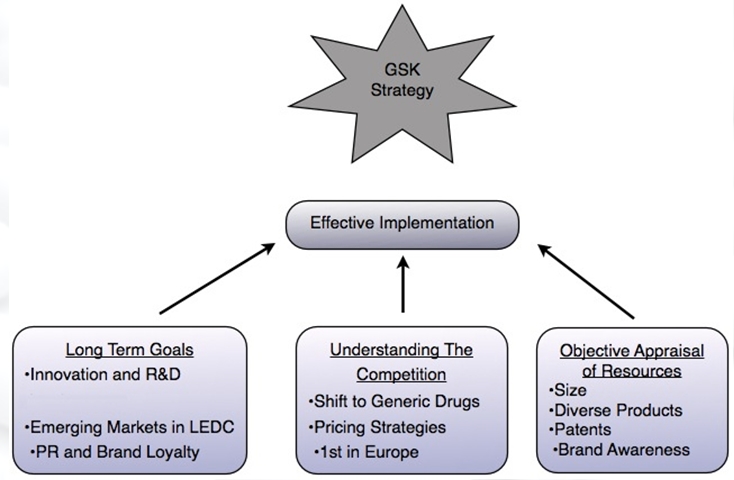 GSK Competitive Advantage is Cost Driven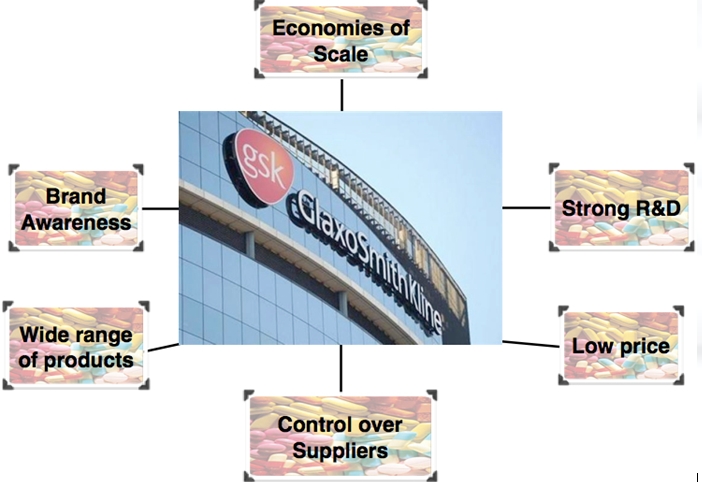 GSK strengths
Resources and capabilities
Characteristics
Tangible resources
Large size
Diverse products
Emerging markers
Efficient technology
Intangible resources
Patents
R&D
Reputation (customers)
Technical and scientific employees
Capability
Technological development
The company has to deal with patent expiry and the resultant generic substitutions. GSK response undertakes a range of activities, including: •  introducing innovative products into as many markets as possible •  Accelerating the process by which new products are brought to market •  increasing brand share among customers.
SWOT Analysis of GlaxoSmithKline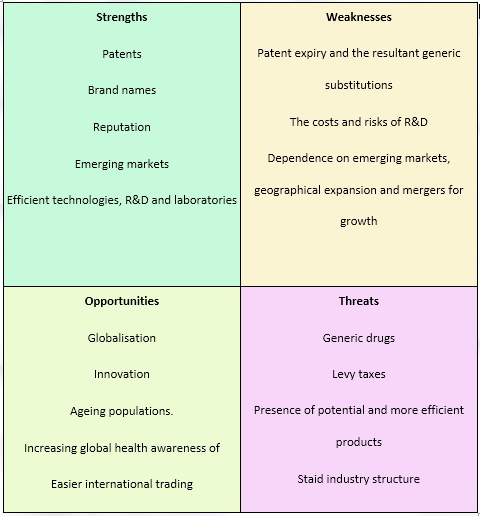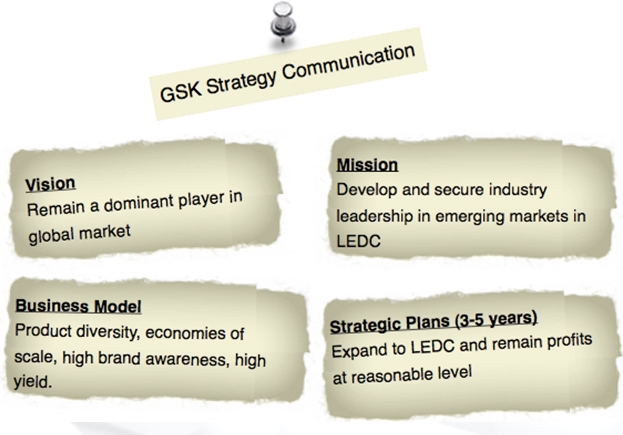 Strategy Link
Novartis
Generally there is open competition between firms that are in the same industry, and as time passes, initially peaceful competition develops into fully-fledged strategic rivalry. This is the case observed between GlaxoSmithKline (GSK) and Novartis in the ever-dynamic pharmaceutical industry, where the advent of new diseases encourages the need for constant research for discovering new drugs. Novartis employs several strategies in order to stay ahead of competition.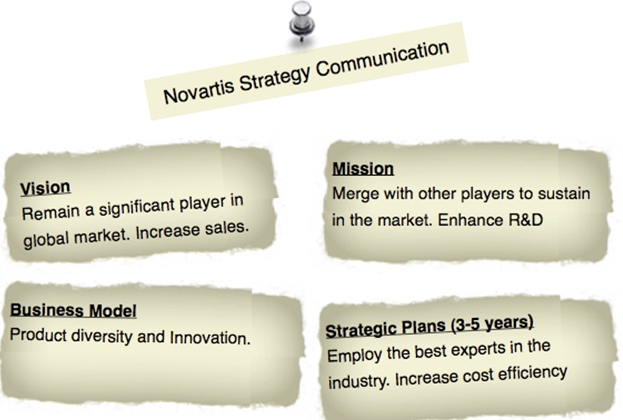 Diversity and Inclusion
Their `diversity and inclusion approach' enhances the business by serving the needs of individuals from different cultural backgrounds, which is necessary considering Novartis being a global organization.  However, GSK leads in this area since consumers recognize it as the market leader in healthcare products.
Strategy Link

Attitudes towards the consumer
Novartis also ensures open communication and aims to view patients as the center of operations, acknowledging that there is nothing more important than the consumer, and so also the safety of their products (Marn & Rosiello, 1992). GSK on the other hand has a wide range of innovative medicines since it is committed to empowering people to do more and live a better life.
Employee Welfare
The rivalry in the Pharmaceutical industry is heightened by the ever growing research for new products and the need for intense research; they consequently compete for the best manpower for R&D (Tomlinson, 2008).  Novartis is a major player in this field, by looking after the welfare of employees it attracts top expert personnel and ensures the company and their environment motivate employees. With this in mind GSK has taken steps to maintain its competitive edge, giving employees opportunities for personal and professional development, and encouraging their health and well being (as is evident with the Energy for performance programs).
Outsourcing
Novartis outsources pharmaceutical research to Institutes of Biomedical Research (NIBR), which are placed globally; with a head office is in Cambridge, Massachusetts.  This enables scientists to get the real time data from local areas and helps solve problems in these vicinities with necessary assistance from head office. This is in line with Novartis' mission to "discover, develop and successfully market innovative products in order to prevent and cure diseases.''
Consolidation
Novartis strives to make alliances with companies with a common vision of success through mobilizing the best resources and manpower available worldwide. Close collaboration with these companies is crucial for achieving success in the research of new products that benefit consumers. These alliances help Novartis to upgrade and improve in areas where it is deficient. GSK has also not been left behind in this respect, it has collaborated with Harvard stem cell institute (Andrew, 2008) in order to stay abreast with the growing Stem cell scientific field.
Elements of Novartis Strategy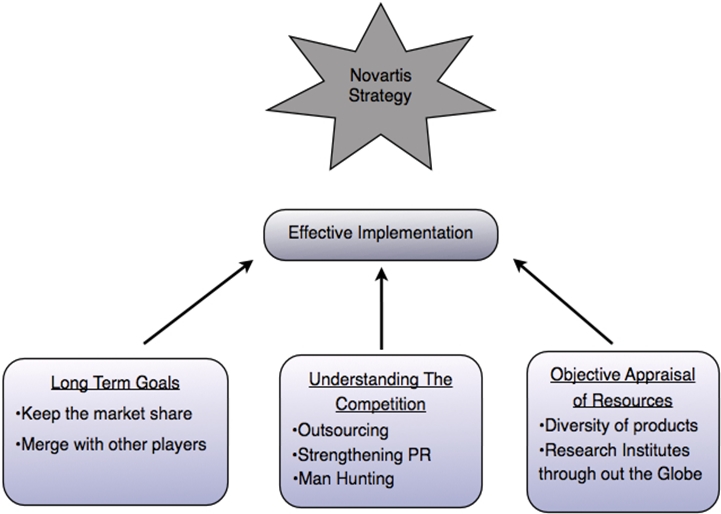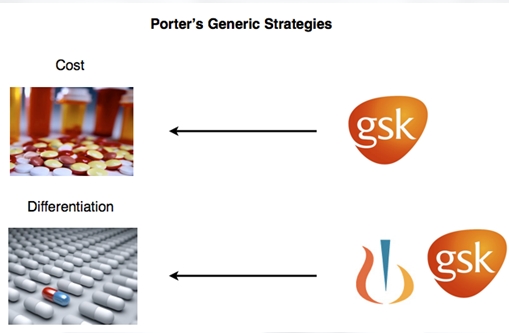 Recommendations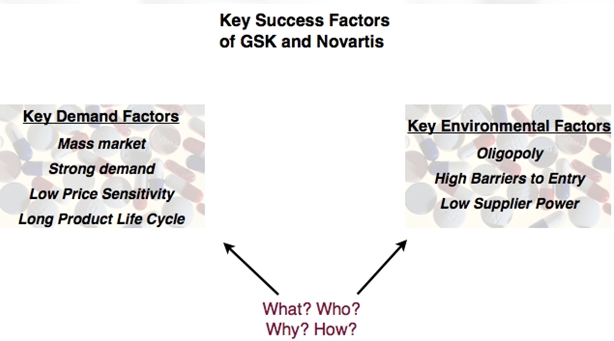 Grant, R. 2008: "When two or more firms compete within the same market, one firm possesses a competitive advantage over its rivals when it earns a persistently higher rate of profit".
Suggestions for Novartis
Like GSK, Novartis should take initiatives to come up with price cuts for the benefit of its customers (helping to attract and retain them) (Gourville, John & Soman, 2002).
The creation of more research products and space for expansion to encourage more product diversity for increased success is also a strategy that should be pursued.
To compete with other competitors, Novartis has got a great opportunity strategy in resource expansion, especially in expanding itself physically by purchasing assets and plants in potential markets. For example, an 85% shares acquisition of Vaccine Company in China. (Novartis Newsroom)
Novartis should also attempt to lead in global diversity (presently GSK does).
Novartis might focus on the developments of health issues in new emerging economics (Brazil, Russia, India, and China (BRIC)) which would provide access to a potentially massive and profitable market as they encompass more than 40% of the world's population. (Lanzeni, M. 2008).
All observation show that Novartis lacks in marketing and advertisement sectors, and this is in part because there are few direct customers for their products. A suitable response to this would be internal marketing – spreading awareness of products to consumers and offering promotions for GPs and Hospitals.
Moreover, marketing and advertisement campaign for animal drugs might also be beneficial; it would depict a very conscientious image of Novartis (which would be especially advantageous considering GSK is damned by many animal right campaigners against its animal testing policy (BBC 2006)). Also, this is one of few markets that show direct purchase by customers, and so make it suitable for commercializing.
As we discussed earlier, there are high barriers for new entrants to the market and this factor is beneficial for current firms. However, this sector is not a fast growing industry. One of the most formative competitive advantages between firms is R&D.  Novartis should take a drastic action in R&D field to contribute new and necessary drugs. Though this will be expensive, it is crucial for Novartis in maintaining its place in the industry.
Novartis should aim to cut prices in LEDC like GSK. Apart from the moral factor, it is necessary for public relations, and also to maintain competitive edge in new markets.
Though predicting reactions is not easy, possible responses from GSK (strategic interaction) should Novartis makes these changes in its operations include:
If Novartis increases its establishment in BRIC countries GSK will likely bring more competition in terms of drugs, patents and also price between companies.
Companies with close price competition and a similar market can sometimes share the market with specific products. Each company can offer areas that their rivals do not cover. It could build a compromising situation for all of them.
In terms of price, as there is already cut price policy being implemented by governments, it is unnecessary to state that the margin is narrow. In addition as they effectively act as an oligopoly, they can make an oligopoly block to hold the profit for them.
Suggestions for GSK
GSK has shown that it is taking the sector of corporate social responsibility very seriously, as it is constantly trying to show a good image to the public. Furthermore, it has far to go to lessen its dependence on the "white pills" market in western countries and has given large amounts to new medicines and ways of healing. These are very important steps towards maintaining its position as a leading force in the pharmaceutical industry. GSK has also been quick to grasp market share in the developing countries of Asia and Africa, realizing that they contain vast market potential.  GSK has a clearly formulated and precise strategy, and its short and long term goals appear sensible. However, their strategy could be more straightforward regarding how it implements this strategy, and should aim to have more immediate results. For example, it could set higher goals for market penetration in some developing countries.
Appendices
Appendix A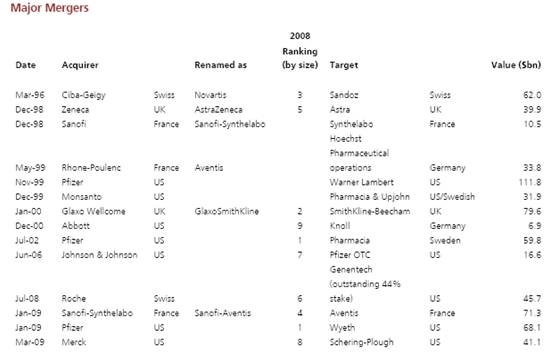 (Lombard street research) Appendix B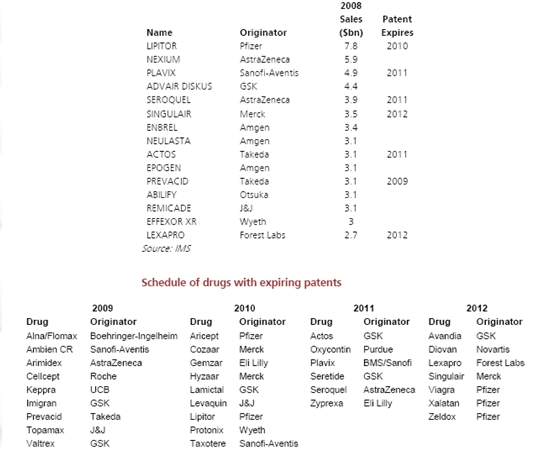 (LSR) Appendix C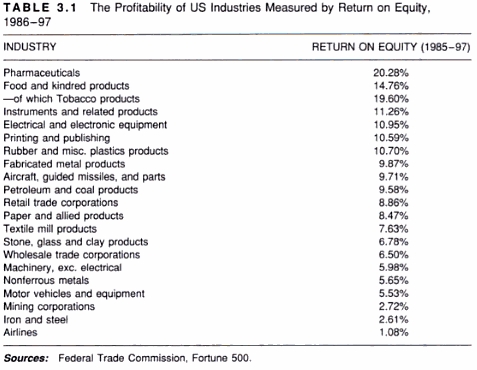 Appendix D
Appendix E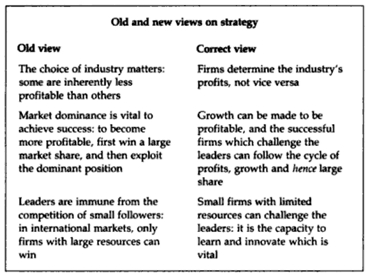 Students working on case studies or might need academic help, might find our custom Case Studies Writing Services helpful.
Also look at some of our business services – Business Essay Writing Service – Business Dissertation Writing Services – Business Report Writing – Business Assignment Help – Business Planning Writing Service – Business Assignment Writing Service Here are some the pharmacology writing help we provide: – Pharmacology Dissertation Writing Services – Pharmacology Essay Writing Service – Pharmacology Assignment Help