Reflective Journal of Jeff Bezos Leadership Style
Introduction
Reflection is a form of mental processing with a purpose or anticipated outcome which is applied to relatively complex or unstructured ideas for which there is not an obvious solution (Moon 2013). It helps people in thinking about or considering the past experiences and situations to help in learning from those incidents. Consequently, reflection assists individuals gain a clear understanding of the ideas and opinions of who they are and what they intend to be in the future (Boud, Keogh & Walker 2013). This paper is going to reflect on the leadership style of Bezos in relation to skills such as communication, ICT, research, teamwork, organization/time management, and problem-solving. The report is going to utilize Kolb's reflection model.
Discussion
Figure 1: Kolb's Reflective Model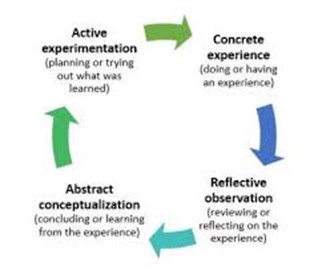 Source: (Center for Excellence in Teaching and Learning n.d)
Phases of Kolb's Reflective Model
Concrete Experiences
Concrete experience is the first stage of Kolb's reflective model. This stage involves people thinking about past experiences by looking at them from a different perspective (Atkinson & Murrell 1988). People prefer watching compared to doing whereby they tend to gather information and use imagination to solve problems. In this stage, people usually experience situations either physically or consciously, making them understand the need for systematic reflection so that they can learn something new or they can improve on their existing practice or skill. The concrete experience stage involves people describing a specific situation as well as how they feel or think about it (Boud, Keogh & Walker 2013).
Before I undertook the first assignment on the leadership style/skills of Jeff Bezos, I did not have a clear understanding of the idea of leadership styles and its significance. However, completion of the assignment shed more light on how leadership styles can be used to steer an organization to huge success, and this is evident with how Amazon has become so successful. I lacked a proper understanding of elements such as listening, empathy, verbal and non-verbal communication, open-mindedness, and clarity, and concision. I did not pay much interest to the communication aspects of presentation, verbal and non-verbal communication as well as written communication. Also, I lacked a proper understanding of ICT skills as well as research skills. I was unable to properly apply and utilize the elementary functions of ICT technologies to exchange, present, produce, store, assess, and retrieve information, as well as to participate and communicate in collaborative networks through the internet. Additionally, my insufficient research skills made it difficult for me to be able to search for, evaluate, extract, locate, and use of present information that is relevant to certain topics. I, therefore, lacked the intensive investigation, search, and critical analysis which is usually needed to respond to specific research hypotheses or questions. In relation to teamwork, I lacked a clear understanding of communication, reliability, decision-making, planning and organizing, rapport building and listening conflict resolution, and problem-solving. Moreover, my insufficient time management skills made it hard for me to effectively organize, communicate, prioritize, plan, goal-set, delegate, and manage stress. Furthermore, before the completion of the task, I lacked the proper problem-solving skills regarding active listening, analysis, decision-making, team-building, and creativity.
Reflective Observation
This is the second stage of Kolb's reflective model. It involves a deep reflection of what happened during the experience. Reflective observation helps people recount and evaluate their experiences. This is achieved by taking time off from the task and assessing what has been experienced and done (Boud, Keogh & Walker 2013).
In reflective observation of the first assignment, I noted that communication skills were utilized properly. Effective communication skills have been used in ensuring that Amazon's vision is understood well by the employees, investors, and consumers. The task helped me learn the assertive communication style used by Jeff Bezos in expressing his ideas and feelings while taking into account the needs of others. I realized that confidence is significant in communication as it helps people communicate what they want, take ownership of their feelings, listen to others, and not fear to say "no" (Huseman, Lahiff & Penrose 1988). Also, I learned that communication in business meetings should be small and diverse, manageable, and agile team meetings. I realized that communication through presentations should also incorporate well-narrated and detailed memos with real sentences through storytelling. Non-verbal communication needs to consider the aspects of posture, facial expressions, as well as hand movement. Moreover, Jeff Bezos helped me understand how to manage conflicts by encouraging his employees to raise their concerns as well as criticize the opinions/ideas of others respectfully. The "Disagree and Commit" management tactic used by Jeff Bezos is significant in encouraging faster decision-making (Harney & Dundon 2020).
In regards to teamwork, I realized that every team should be small enough as it is easier to manage that group since it leads to rich and productive communication resulting in the generation of new ideas. Also, I learned that it is easier to coordinate team schedules for such a group. Additionally, in achieving teamwork, the team should cut down on unproductive communication. In any teamwork, there should be accountability to increase commitment. Teamwork has also been achieved in Amazon through hiring employees with qualities needed in the company (Harney & Dundon 2020). In relation to research skills, I learned that the company encourages its senior leadership team to write six-page narrative memos, which the team reads together in silence before a discussion. This style is significant in enhancing better thought and a better understanding of what's more important as well ss how things are related. I learned organization/ time management with how Jeff Bezos places great importance in achieving short-term objectives and using the power of discipline to reward or punish which improves employees' performance (Harney & Dundon 2020). I realized how the company solves its problems by outing into account the opinions and ideas of all employees.
Abstract Conceptualization
This is the third stage of Kolb's reflective model. It involves the process of making sense of what took place. It also involves interpreting the events and comprehending the association among them (Atkinson & Murrell 1988). This stage helps people to make a comparison between what they have done, reflect upon, and what they already know.
From the first assignment, I realized that my communication skills were poor and I should improve on them. Although I paid attention to listening to others, I should incorporate active listening to understand the feeling of others, give the speaker undivided attention, show that I am listening, provide feedback and respond appropriately (Huseman, Lahiff & Penrose 1988). Also, I learned that I can improve on my non-verbal communication to consider my facial expressions, hand gestures, tone of voice, body language, eye contact, as well as posture. Moreover, my basic ICT skills should be improved to cover information exchange, presentations, production, storage, analysis, and retrieval. I also need to improve my communication and participation skills in collaborative networks via the internet (Huseman, Lahiff & Penrose 1988). Understanding these aspects of communication will help me express myself properly.
I realized that I can improve my teamwork skills by building rapport and listening actively to gain the most from the group. The team also needs to comprise competent members who have the best interest of the company at heart. I can improve my teamwork skills by cutting down on unproductive communication and ensure there is accountability among members as this increases commitment (Harney & Dundon 2020). My time management skills can also be achieved by coordinating schedules to help me in prioritizing, planning, setting goals, organize, and delegate duties. My research skills can be enhanced by facilitating my use, presentation, searching, assessment, and location of relevant information to help in sharing accurate information and respond to the needs of the organization. In regards to problem-solving skills, I can improve them by taking into account the opinions of others and encourage the participation of everyone in decision-making as well as improve creativity (Harney & Dundon 2020).
Active Experimentation
This is the final stage of Kolb's reflective model. In this stage, people now consider how they are going to put into practice what they have learned. Some of them tend to work while others do not. This stage helps people to take new understandings and predicting what will happen next or what actions need to be taken to revise or refine how the task should be handled (Boud, Keogh & Walker 2013).
I am going to use proper communication skills to help me express myself by using active listening skills, giving the speaker undivided attention, providing feedback, and responding appropriately. I realized the significance of nonverbal communication and I plan to incorporate posture, hand gestures, facial expressions, and body language. As a result, this will ensure the achievement of goals as well as foster a good working relationship which can improve efficiency and morale (Huseman, Lahiff & Penrose 1988). Additionally, I am going to use the ICT skills I have acquired and developed to facilitate the completion of tasks through retrieving, storing, producing, presenting, and exchanging information. This information will be significant in helping me make decisions quickly and accurately to manage operations effectively and respond rapidly to business threats or opportunities (Harney & Dundon 2020). Moreover, I will utilize teamwork skills to help me solve problems by exchanging ideas and be creative, thus helping in finding solutions that work best. Furthermore, I will use my problem-solving skills to gain identify challenges and determine the ways of fixing them (Harney & Dundon 2020).
Jeff Bezos
Jeff Bezos, the founder of Amazon, was the child of a sixteen-year-old mum and an absentee father. He was a bright student who performed well in school and scored straight As. During the summer, Jeff spent most of the time with his grandparents in Texas (Clifford, 2017). He left his finance job to start Amazon, whereby he began selling books and later transitioned to selling music videos. Today, Amazon is the largest online company that sells almost everything. The company also has a large support team worldwide that work hard to meet customers' desire and help them select products they want to purchase and respond to their feedback (Clifford, 2017).
Jeff Bezos Vision for Amazon
Amazon was established in 1995 and has grown to one of the world's largest companies (Clifford, 2017). It was initially launched to sell books; Jeff Bezos's vision for the company was to become a considerable e-commerce dominator and an everything store. Due to hard work and diligence, he was able to achieve his vision. The current inspiration of the company is to become the best consumer-centric organization on earth and build a place where people can get anything they wish to purchase (Clifford, 2017). Its unwavering commitment to the company mission and vision has made Amazon the top internet retailing company globally. Furthermore, the main distinguishing factor between Amazon and other online companies is that it regularly reviews customer feedback to meet their desires. It also encourages customers to leave their thoughts on any product they purchase.
Amazon's Concept and Its Impact On the Global Society
Amazon is a prominent cloud service provider and an extensive online retail store. Besides being a bookseller initially, the company has diversified into selling consumer goods, digital media, and electronic devices (Isabel, 2018). Its cloud services have progressively evolved over the years, and it has become one of the best clouding platforms. Since Amazon is everywhere, it has a significant impact on global society. The company has disrupted the way people have been shopping and created an economic ruffle that has gone far beyond people's wallets. The company either directly or indirectly impacts inflation, investments, and jobs in the global society (Isabel, 2018).
Major Benefits and Drawbacks
Additionally, Amazon has key consumer benefits such as free two-day shipping. The company sells products and ships to the customers within the shortest time possible, such as gifts cards and magazine subscriptions. Secondly, customer products are secure because the company covers risks on lost and damaged products (Shevchenko, 2020). Thirdly, Amazon offers consumers an excellent product selection; hence they can purchase almost everything they want from the company website. At the same time, the company has significant drawbacks. First, the company sales change based on the product category; hence, customers pay more for some products than expected. Secondly, even though the company offers shipping services, the cost is included in the product's price. Thirdly, customers get affected by price battles between the company and its competitors (Shevchenko, 2020).
Next Steps for Amazon
The first prediction I have for the future of Amazon is that its advertisement will increase. It is the third-largest advertising platform after Google and Facebook; hence its excellent advertising business will continue to flourish and grow beyond media opportunities to products (Clifford, 2019). The company has been able to establish opportunities for developing brands to target its customers. Secondly, I believe that the company will continue recording an increase in its revenue every year. A consistent rise in Amazon Web Services will continue to impact the company's profit margin (Clifford, 2019). Thirdly, I believe the company will experience an increase in competition; however, it will not fall because it has big companies selling their products on its platform. To remain competitive in the next five years, I believe the company must incorporate these three business strategies; production differentiation, cost strategy, niche, and diversification.