Introduction
In normal circumstances, sports have been conducted to create unity and cohesion among people. However, the past decade has experience extreme Violence in Sport in various regions. It is in this light that the topic of Violence in Sport has therefore attracted a lot of debate and questions. Many scholars have been in the forefront to debate on this topic that is only geared towards causing harm since it involves execution. It is worthwhile to note that violence in sport brakes the rules and precepts set for sporting activities. Conversely, it is treated as unethical act since it involves the infliction of physical assault with a motive of inflicting pain and injury to an opponent player. Violence in Sport in most instances involves aggressive conducts or behaviors that are not allowed within the rules of a specific sporting activity. According to the recent survey, it is evident that Violence in Sport has been prevalent in athletics and other indoor games. In as much as Violence in Sport usually emanates from players or athletes, other external individuals such as parents, fans, coaches, and media have also contributed immensely to this menace.
Statement of the Problem
As mentioned above sports violence is one of the phenomenon that has attracted a lot of debate. The primary purpose of this paper is to analyze whether or not sport increases the likelihood of a violent behavior by athletes or does it allow athletes to "let off steam." This is about all the sport-related violence that does take place on the field but not outside. It is in this aspect that one can argue that measures to curb this menace are of significance, especially among the athletes. This is because it does not only create grudge between the athletes and fans but also spearhead disunity among the athletes as depicted by various scholastic articles that will be reviewed in this paper (Coakley, 1982). It is with no doubt that sport violence is a bad and unethical activity that should be avoided at all cost. This relates to the fact that it portrays numerous adverse impacts in the field of sport making one of the unethical behaviors that deteriorate games. In as much as this act is treated as unethical, some critics have argued that violence in sport is as a result of psychological torture as a result of dissatisfaction. In many times, frustration result when an individual is hindered from attaining a specific goal of interest. This is what has calumniated violence in sport, especially in athletics. The socialization process is what boosts the act of violence in athletics as a result of hindrance towards attaining certain goals of the fans.
Justification of the topic study
Violence in sport especially athletics is one of the significant topics that should be addressed comprehensively. This is because athletes have been reported to have undergone injuries every year. Conversely, this topic is of significance since it helps in identification of the possible causes of sporting violence as well as how it can be hindered to safeguard the life of athletes.  Athletics is one game that usually experiences violence of body contact. Therefore, the topic is of interest since it educates one of the negative and positive significance of all the violence that occurs in athletics (Tenenbaum et al. 1997). Most importantly is the fact this topic tends to represent the aspect of gender inequality within our society. Women and female athletes have been booed by their male counterparts and fans based on their identity and gender conformity. Therefore the topic is of importance since it shows issues of inequality within the contemporary societies.  Indeed, this topic illustrates the fact that sport is a microcosm of society since it is through sport that contemporary societies can merge and unite as they embrace each other's cultural heritage.
Background of the topic
The question of whether sport increases the likelihood of a violent behavior by athletes or whether it allows athletes to "let off steam" faces serious controversial versions as depicted by various scholars. According to Schneider (2009), it is noted that there are some tactics that athletes employ to counteract their opponent and competitors a fact that to some extent promotes violent behaviors. For instance, professional athletic sports are faced with casualties of violence some of which include body contact. Athletes employ brutal body contact to prevent their competitors from passing them and this is treated as a violent behavior. In as much as body contact is accepted by athletes it is one of the violent behaviors that some athletes use to intimidate others. Some of the example of brutal body contacts may include hits, blocks, collisions, tackles, body checks, as well as other types of physical attacks that may result into injury.
It is therefore true to argue that indeed sport increase the likelihood of a violent behavior by athletes. This is because they are forced to employ violent and brutal avenues to achieve their targeted goals of winning the race at the expense of injuring their fellow competitors. In as much as some critics posit that sport violence allow athletes to win many athletes induce violent behaviors to intimidate others. It should be pointed that serious and professional sports do not comply to the rules of fair play but rather comprises of hatred and extreme jealousy. Boastfulness as well as disregard to the set rules are also some of the vices that have encountered todays athletic sports (Morgan, 2007). One can therefore describe today's athletic sport as being a violent war that only lacks shooting actions. Athletes who are aggressive and determined to achieve their set goals have therefore employed violent behaviors to suppress their competitors.
History of violence in athletic sports
Physical aggression, brutality, and conflicts in sport are long-life inherent in sporting activity. Such violence can be traced back to roman as well as medieval competitions like those that encompass gladiatorial sports., jousting, and chariot races just to name a few. The recent anecdotal, as well as empirical evidence, purport that there has been increased risk emanating from the use of violence in sporting events within the field.  Sports violence I athletics have attracted the attention of media as far as medieval times. Athletes have learned various avenues and methods of intimidating their opponents which to other fans does not seem to be violent in nature (Dunning, 1999). Athletic games that comprise of both genders have faced challenges related to male dominance. During this time female athletes were seen to have encountered extreme bullying and dominance by the masculine males. The history of sports violence is therefore as old as the origin of man and will continue being in the forefront as showcased by various media houses and magazines.
Measures to reduce the field violence
It is vital to note that there exist various ways through which sports violence among the athletes can be prevented. Notably, coaches, as well as physical educators, are individuals who form the platform through which this vice can be prevented. This is because they can initiate the creation and implementation of positive thought in sporting activities (Weiler & Roberts, 1993). This chapter will tend to focus on some of the measures that have been employed to curb violence in sport, especially among the athletes.
Placing athletic sports in viewpoints: Physical educators and specifically in this case the coaches have avoided the practice of showcasing and emphasizing the achievement of victory or attainment of the athletes' goals. It was evident formerly that most coaches motivate players or participants to ensure in their totality that they win and become victors in any game. Coaches could not encourage participants to enhance their skills and enjoy themselves as they carry out sporting activities. Recently, coaches have been in the forefront towards praising individual skills of players rather than putting a lot if the focus on achieving their goals of becoming winners. Some coaches have also prevented injured athletes from participating in games hence have curbed this menace at all cost (Weiler & Roberts, 1993).
Providing positive role models: just like it has been stated above, violence in sport is majorly prominent in professional athletic sports. Coaches have therefore avoided symbolic association with that teram that are ranked as professionals for instance by using their logos or names. Additionally, coaches have avoided the application of coaching strategies that are used by other professional athletic teams and instead concentrated on those strategies that will ensure their players and participants improved their skills. Today, many athletes can be allowed to participate and take part in decision making a platform that not only boosts the success of the team but also impacts players with ethical practices even as they compete with their counterpart (Weiler & Roberts, 1993).
Well defined integration of ethical values in sports curriculum that promote intervention: it should be pointed that strategies that foster moral and ethical development give rise to accepted behaviors as far as sportsmanship is concerned. Coaches and physical teachers have attempted to educate athletes with positive values in their sporting activities so that they can portray ethical behaviors while competing with their fellow sportsmen. Peer educators have also inculcated spectators with positive values so that they can avoid incitement especially during games that can culminate to sports violence in the field. Teaching moral attitudes among athletes have made it possible to reduce sports violence that for a long time was more prevalent (Terry et al. 1985).
Accepted behaviors of the coaches as a guide to athletes as well as spectators: given the fact that coaches are the primary role models of many young athletes, it is advisable that they employ behaviors that impact and shape the behaviors of athletes and fans while in the field. For instance, a coach who showcases bad behaviors especially when an athlete tends to make a bad move stimulates such players to employ unethical behaviors as well (Weiler & Roberts, 1993). Today coaches have shown respect and total control of sporting activity in as much as some are frustrated with the trend.
Penalties: issuing penalties on athletes and fans who have shown any kind of violent behaviors has helped a lot towards curbing violence in sport. This is because penalties keep the behavior of an individual on the check. For instance, extreme fouls are today warned by issuing yellow cards especially when an athlete uses bad language or brutal tackle I the field. Unruly behavior in the field has been treated as breaking the laws of sports and therefore controls the behaviors of both fans and players.
Is violent behavior on the field a "bad" thing?
It is important to note that violent behaviors in the field are indeed bad and unethical. However, there are critics that have argued that violent behaviors are only geared toward attaining the victory of an athlete a fact that is sad to have infringed the rights of other players. The moment an athlete employs a brutal blockage of other competitors, no skill development is enhanced but rather selfish gains of attaining the victory and becoming a biased winner (Eitzen, 1988). It is recommended that athletes should compete on fair grounds but not inhibiting others by using violent behaviors and intimidation to become winners. In as much as violent behaviors are meant to achieve the targeted goal of being victorious in any game, it is treated as being bad and unethical. This is because it goes against the set precepts of the sporting activity that recommends compliance with the ethical behaviors especially when player are in the field. It is also unethical to involve violent behavior in every activity that entails competition.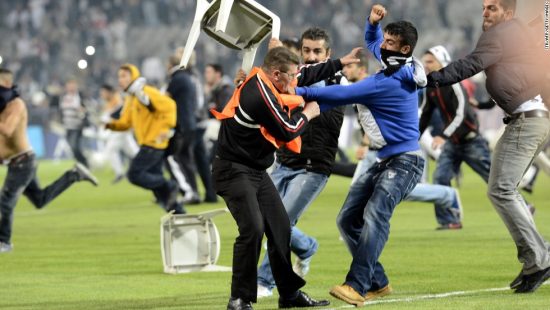 Making an Ethical Decision
To make ethical decision as far as sport violence is concerned, one need to evaluate and examine the actions of most athletes in conjunction to the outcome of their actions and the perceived values prior to committing those actions. This is in line with Utilitarianism as one of the ethical framework for decision making. Utilitarianism approach posits that consequences of an actions concern many individual and affected groups (Eitzen, 1988). It should be pointed that decision that relates to consequences entails and can affect many people. Individual actions results in some good and bad and the best action are hose that result in less harm and more good.
In this context, one can employ the guiding principles of sport to argue on whether sport violence among athletes is ethical or unethical. Standards placed beyond just a mere win strategy also guide in deciding whether the ever existing violence are violent or not. Sport violence therefore is treated as being unethical since its resultant impacts does not value the rights and privileges of human life and the participants (Young, 2013). Like it has been noted above, sport violence only inflicts pain and injury on the opponent rather than attaining goals. Since violence does not satisfy the standard of sports, it is true to argue that indeed violence in sport is unethical and comprises of bad behaviors. Notably athletes who commit violent behaviors are deemed unethical and therefore should be banned.
According it Nucci & Young-Shim (2005) it is quoted that "unfortunately, a "win-at-all-costs" philosophy has often led to unethical and aggressive behaviors, impacting negatively and destructively on the development and wellbeing of young athletes and of society at large."  This fact depicts the fact that sports forms a platform of socialization in various societies. When athletes take part in sporting activities they get to embrace each other's diverse ethnic background and therefore foster unity as they socialize to each other. However the presence of sport violence will only ensure divisiveness among the athletes and hence hinder socialization process that is the opium of human kind. Such violence are therefore deemed unethical and bad and this fact can be validated by utilitarianism approach that postulates that only good actions are ethical. Finally, it is advisable to note that other approaches such as common good also are applied in making ethical decision concerning sport violence. For instance common good approach states that every society is guided by the principles of general good will. This fact is unlike the resultant effects of violent sport that do not bear any good to the society. The approach can also help in validating that indeed sport violence is deemed as unethical.
Conclusion
In a nutshell, it has been evidenced that sport violence has been existing and creating many harm more than good within various contemporary societies. One of the adverse impacts that has resulted from sport violence gets attributed to the fact that it facilities violent behaviors among athletes. Many athletes have faced fatal injuries and brutal frustration from their counterparts who in spite of practicing fair competition do involve violent behaviors to intimidate others. In many instances sports are organized to bring people together and promote national cohesion. However, today many countries have used sports as a weapon of attaining supremacy and intimidating others. It is in this light that I tend to comply with the fact that violence in sport is unethical and unaccepted practice. First, it promotes violent behaviors among the fans as well as players and this is disastrous to the entire society. Additionally, I tend to argue that sport violence promotes rivalry among individuals rather than initiation strategies geared towards national integration. Making decision regarding the unethical nature of sport violence is in support of utilitarianism approach that according to psychologist indicates that the society is erected upon the general good will. Sport is all about celebration and fostering socialization but when extreme brutal behavior encompasses it then it losses its perceived meaning and the role it should play in the society.
Notably, violence is unaccepted by law and is said to bear no good than harm. Therefore one cannot support sport violence since it violates the privileges of human being as well as the set policies that govern such activities. According to the dictates of human ethical considerations as well as the precepts of athletics I therefore attribute violence in sport as one of te unethical act that should be stopped at all cost. This paper has also identified some of the strategies and measures that can be implemented to help in curbing the ever growing sport violence. Some of the measures that have been discussed in this research paper include placing athletic sports in viewpoints, providing positive role models, initiating well defined integration of ethical values in sports curriculum that promote intervention, and penalties. These measures have been seen to have reduced the practice of violence behavior in athletics as showcased by the recent media coverage. Indeed, stakeholders in the field of sports and recreational activities should work tireless towards initiating strategies that can reduce violence among athletes in totality.
References
Schneider, R. C. (2009). Ethics of sport and athletics: Theory, issues, and application. Philadelphia: Wolters Kluwer Health/Lippincott Williams & Wilkins, c2009. xxi, 392 p.: ill.; 24 cm.
Tenenbaum, G., Singer, R. N., Stewart, E., & Duda, J. (1997). Aggression and violence in sport: An ISSP position stand. The sport psychologist, 11(1), 1-7.
Nucci, C., & Young-Shim, K. (2005). Improving socialization through sport: An analytic review of literature on aggression and sportsmanship. Physical Educator, 62(3), 123.
Coakley, Jay J. (1982) Sport in Society, Issues and Controversies (Second Edition). St. Louis: C.V. Mosby Company.
Terry, Peter C. and Jackson, John J. (1985) The Determinants and Control of Violence in Sport. Quest, 37 (1) 27-37.
Eitzen, D. S. (1988). Ethical problems in American sport. Journal of Sport and Social Issues, 12(1), 17-30.
Weiler, P. C., & Roberts, G. R. (1993). Sports and the Law. Text, cases, problems, 3.
Young, K. (2013). Sport, violence and society. Routledge.
Dunning, E. (1999). Sport matters: Sociological studies of sport, violence, and civilization. Psychology Press.
Morgan, W. J. (2007). Ethics in sport. Human Kinetics.
Our Sports Science Writing Help team provides a wide range of academic writing services including but not limited to:
– Sports Science Essay Writing Services
– Sports Science Assignment Help
– Sports Science Dissertation Writing Services