The report analyses the strategic position of Sainsbury by relying on PESTEL, Porters Five Forces and Porters Generic Framework. Analysis of PESTEL model and Porters Five Forces has shown that the company has room for competing in the market within the UK even though there are a lot of uncertainties with Brexit.  The company will still be able to be profitable if they are to operate within the regulatory framework in the UK. The value chain analysis shows that the company can capitalize of the availability of resources such as inbound and outbound logistics as well as HRM structure to have a competitive edge over their competitors.
Analysis for Sainsbury
1.0 Introduction
The chosen company for this study is J Sainsbury PLC also known as Sainsbury which is registered with the FTSE and LSE. The company is based in the United Kingdom and was founded in 1869 by John James Sainsbury. It is the second-biggest chain in the UK and dealing in a range of clothing, groceries, electrical, and homewares. The company started retailer foods and currently is one of the largest in the industry (Economics, 2018). Its success factors are that it has many consumers more than other supermarkets. This is due to price comparisons schemes, vouchers, and coupons. The company also offers quality products with high value when it comes to food. During the year 2018, its net income was £309 million and revenues £28.486 million. However, the company is operating under a competitive environment making it face an exceptional reduction in revenue due to price conflicts among the players.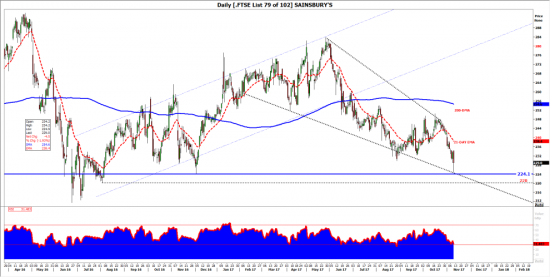 The figure below also shows the market share of the major supermarkets in the UK with Sainsbury being in the third position.
This model deals with political-economic, social, technology, environment, and legal factors. It helps in analyzing the macro-environmental factors that affect the operation of a business. It helps in coming up with supportive factors that help in making decisions.
In previous decade, the UK has had a stable political environment which is suitable for business operations. However, following Brexit in 23016, Britain voted to leave EU and this has had a great cost and uncertainty in the political economy. Brexit implies that there are a lot of political tensions which will highly affect negatively the UK supermarkets (Thomspon and McLarney, 2017). The political factors that the company should analyze are corruption level, taxation, political stability, and intellectual property.
Looking into economic factors is important as they have an impact on prices, demand, cost, and profitability. There has been negative economic impact following Brexit that includes depreciation of the sterling pound, increase in inflation, unemployment which has rocked the UK economy.  Sterling has plunged into its lowest following Brexit. Due to stagnation in economic development and the rising food prices, the UK citizens are careful on how they are spending their money. It is in this reason that the competitors of Sainsbury engaging in price wars by imposing discounts that can negatively affect the food retail market. The economic factors that Sainsbury should look into are economic growth rate, currency exchange, inflation, unemployment and interest rates.
The social environment is important for business growth and it revolves around perception of the people and their perception towards a given product.  The economic aspects such as inflation rates and lack of employment have forced the consumers in the industry to change how they shop. It is indicated that the UK consumers now prefer spending their money on suitable stores instead of shopping big during the month or weekly hence affecting profits and sales of the big players in the industry (Briaza and Tzezairlidou, 2016). However, the advantage that Sainsbury has is that it is focusing on the diversification of its products. The social factors to look into are education level, gender roles, and culture, attitude and the entrepreneurial spirit.
Sainsbury has managed to successfully incorporate digital technology through its online systems. Sainsbury has launched an online platform for shopping by its customers hence allowing them to have convenience in shopping and collecting their products this has made their sales to increase by 20%. Factors to consider when analyzing technology are the impact of technology, the impact of the value chain, and technology development in the company.
The current customers are agitating in having sustainable products. This is making the company to adopt new practices that include paper packaging as well as proper waste management. They are also employing recycling of materials. During their annual report, Sainsbury indicated that they are committed to ensuring a sustainable environment which encompasses the health of consumer lives, environmental protection and championing on issues that the local communities are facing in its area of operation (Thomspon and McLarney, 2017). Factors to analyses in the environment are climate change, weather, recycling, laws, and regulations as well as waste management.
Currently, the government is having a direct effect on business operations in the UK due to government policies and legislations. For instance, the government has so far come up with a policy that restricts the advertisement of fatty foods. This kind of policy implies that a company must comply hence restricting them from marketing and conducting promotional activities amidst the strong competition in this industry (Briaza and Tzezairlidou, 2016). Additionally, the government also came up with the "sugar tax" levy which is aimed at decreasing content of sugar in all drinks by the year 2020. This will directly have a great impact on Sainsbury brand products. Sainsbury should consider employment laws, property rights, discrimination laws, and health and safety laws.
This model was developed by Porter to help in analyzing the effectiveness of the firm. Precisely, the model helps in directing the attractiveness of the company in the field that it is operating under.
There is a low threat of new entrants in the retail industry in the UK. This is due to the fact that the sector is controlled by the four big players that includes Asda, Tesco, Sainsbury, and Morrison making 70% cumulatively of the total UK market. This implies that competition from smaller companies like Waitrose, Aldi, and Iceland cannot allow new entrants to thrive or have a considerable share in the market. This means that new entrants in the market must have high-quality products at a low price to thrive. It is in this regard that the food retail industry in the UK is unattractive.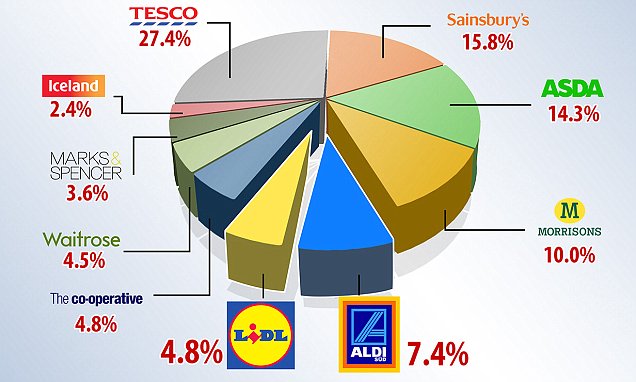 This is greatly manifested in both groceries and retail in the food industry. Sainsbury as a supermarket faces a lot of intense competition from its competitors as well as retailors from other different industries. These players also provide food substitutes and non-food products making the company faced stiff competition (Thomspon and McLarney, 2017). Some of these retailers that clients can buy from are House of Fraser, BHS, and Debenhams. However, there is still the chance for Sainsbury to fend off substitute brands through their digital online systems.
Within the food and grocery retail sector in the UK, Sainsbury customers have strong power of bargain. This owes to the accessibility of other competing retailing business such as Asda, Morrison, and Tesco. This implies that the high bargaining power by customers allows them to have the power of switching to competing supermarkets. It is based on this that Molenaar (2013) asserts that the UK consumers in this industry are controlled by price and it has been validated by the current events which have seen customers coming to Lidl and Aldi. For instance, if the cost of mild at Sainsbury is high, then consumers will change to a firm which offers low cost.
The suppliers bargaining power low and this may be due to the existing number of suppliers in operating in this sector. It implies that Sainsbury can change and buy from other suppliers if their current suppliers are not complying. This is an indication that Sainsbury also have the influence to bargain and get goods from other players at lower prices. This will allow them to have the ability to offer a wide variety of products to their consumers.
The UK retail industry is very competitive hence the company is facing an strong competition from other supermarkets in the market that are providing similar products. Based on the intense competition among the players, there is a cut of prices among the player in the industry hence affecting them negatively within the market share. However, the company has recently invented new methods that will allow its position to flourish, and this has been through merging with Walmart-owned Asda. Merging with Asda has made its market share to increase hence dominating when it comes to sales and growth resulting to the high growth margin of 6.70%.
This model was developed by Porter in 1985 and it categorizes the activities of an organization into support and primary activities. It is based on the fact that firms resources and capabilities are a source of its competitive advantage.
Among the players, the company does not manufacture their goods but rather they obtain them from a various suppliers. This implies that the relationship that they have with the supplier is key in their operations. They order quality products from the suppliers and ensure that the right amount and quality is received at low prices. The top management at Sainsbury are also keen on certifying that quality products are bought in bulk, particularly those which are on high demand. As alluded by Casedesus and de Castro (2005), goods are only distributed ones an order from the physical store has been received.
It is important to analyze operational activities when raw material arrives, the company is ready to process the raw materials into the end product and launch it into the market. Some of the operational activities are packing, machining, assembling and testing of products. Repairing and maintenance are important in that it ensures high productivity, maximizes efficiency and ensures the success of competition by Sainsbury.
Casedesus and de Castro (2005), alludes that outbound logistics deals with undertakings such as collecting, storing and distribution of the output. Sainsbury has numerous choices of making its deliveries include collecting, standard delivery, and Saturday delivery. The company also has many stores which also support the organizational proper administration. Sainsbury Company also uses its transport logistics to minimize costs and duration of deliveries.
This is aimed at the company ensuring that they evaluate the products that they are offering their customer and they should ensure that they are offering better products than their competitors. High-quality products with distinctive features alone cannot ensure that Sainsbury rises above its competitors but rather investing in the right marketing strategies is important. This means that sales and markets play an important role. Some of their marketing activities are advertisement, salesforce, promotional activities, and pricing. The company can make use of the marketing funnel approach in structuring their marketing and sales activities. They can design a marketing strategy in the form of push and pull nature depending on Sainsbury objectives, brand image, competitive dynamics, and the current standing in the market.
For any company, infrastructural investment plays a crucial role, especially in the supermarket industry. Sainsbury supermarket has various levels of management, quality departmental, monitoring and evaluation levels that are keen in ensuring that quality goods and services through reputable protocols of quality assurance is adhered to. The supermarket has an executive committee and the board of directors who are addressing the governance issues constantly within the company. On its finances, the supermarket had operating incomes of £518 million. Aldi acquisition and its infrastructure is an indication that Sainsbury is advancing its infrastructure.
According to Russell and Taylor (2008), "human resource is the most important and supportive function that ensures the success of any organization." The Human Resource Department at company is accountable to the recruitment processes, selection, motivation, and training of employees. Rich et al. (2011) also asserted that the HRM department for organizations is responsible for ensuring recruitment process and retention of employees. Sainsbury has over 180,000 workforces who work towards customer satisfaction as well as in achieving the goals of the organization. They also practice employee retention and motivation that include intrinsic and extrinsic rewards. As indicated by Ramirez and Rainbird (2010), an organization should provide opportunities for their workforce to go overseas for training and have exposure at the international level.
Currently, most of the value chain activities depend on technological innovations. The technological integration requires that Sainsbury should realize the importance of technology development in their distribution, marketing, and human resources activities. It can be divided into product and process technology development activities.
According to Michael Porter, there are three fundamental ways by which firms can achieve a sustainable competitive advantage. This includes cost leadership strategy, differentiation strategy, and focus strategy. The main aim of having competitive strategies is on how a company can achieve the most advantageous position over its competitors.
In the event that Sainsbury can produce low-cost goods within the industry, then it should be devoted to as a cost leadership strategy. A company making goods at low prices implies that they have bigger margins and sale at a normal market price. Sainsbury is more attentive on product quality than cost. The company is currently using a cost leadership approach that includes having summer sales in various superstores and providing 50% discount. This can help them to increase their share and profit. The company needs this cost leadership strategy to succeed. More capital should be invested in technological innovations to down cost. Having well-organized warehouse, transport system and delivery of goods along their supply chain is another strategy. Reducing cost compared to their competitors can also help Sainsbury to improve. One of the risks for using Cost leadership strategy is that the competitors can copy the strategy. It is therefore important to find out ways on how to reduce cost. It is the reason why Tesco has been successful in using its cost leadership strategy.
This is aimed at specializing in some products in a small market and going bigger afterward in the market. This can be achieved by building on a unique product market. This can be done by finding out areas where there is the least competition. It is a strategy that Sainsbury can capitalize on depending on the type of consumers and studying area. They can also focus on opening up more warehouses to enhance their customer base. Additionally, Sainsbury can also offer low-cost products so that they increase their sales. The customer needs in this segment requires that the customer needs of the segment should have products that are different from their competitors. It is a classic niche marketing strategy. Focusing on a small niche within the market will help the company in improving its sales thereby increasing their profitability.
This strategy is aimed at making the products of Sainsbury to be diverse and cooler from their competitors. To differentiate themselves from competitors, Sainsbury needs to investigate how they can expand and modernize their services. They should also look into how they can distribute high-quality products as well as have a valuable sales and marketing strategy.  The company can further differentiate its products and services from competitors by offering a superior product that has a premium price. More investment should also go into research and development aimed at coming up with new products to remain in the market. Currently, Sainsbury differentiates itself from competitors by having larger segments of the market. They also look into quality, taste, and freshness of their food products. Sainsbury also sells various ranges of quality products at different prices to their target social classes. They also have various brands such as Sainsbury Organics, Sainsbury's Basics, and Taste the Difference which targets different segments of customers. Porters was of the idea that differentiation strategy can help firms to gain competitive advantage by offering customers products which have unique features that add value to them hence gaining competitive advantage. The company has differentiated itself from its competitors based on the high quality of products that they are producing.
Currently, Sainsbury is keen on ensuring that the quality of their products is above that of their competitors and they ensure that they maintain the quality at every stage of their production. This report has analyzed the strategic position of the company based on its external environment that indicates that it is in a situation to remain in business amidst the doubts that it may be facing as a result of Brexit. The company is likely to remain cost-effective if it will adhere to the set regulations within the UK. Analysis of the value chain of the organization has shown that Sainsbury has a resource advantage that includes inbound logistics and outbound logistics, strong HRM system, and infrastructure which are important in ensuring a competitive advantage. The business strategies have been analyzed using Porters Generic Strategies. The macro-environmental factors of the company have also been looked into by use of tools such as PESTEL analysis model. The analysis shows that the company has focused its marketing plan on price as well as the quality of the products that they are producing. This in itself should not be considered as ethical owing to "ethical consumerism" given that there are some low prices that are likely to damage the environment.
Sainsbury should use its current geographical position to enhance its sustainability in the market. They can do this by continuing to use their geographical segmentation strategy with the main emphasis on a specific geographic that deals with a concentration on buyers. This will allow the company to come up with a formula that will improve its business in the market.
Sainsbury should also identify its target for the products that they are dealing in. this should be by developing a target which is linked to the market not only in terms of quality but also values conscious. The main emphasis should be on developing a wide target audience linked directly to the variety of products that they are offering.
Being that the company has situated itself at the mid-tier of the market, it is important that they produce products that can participate with the lower end market from the pricing point of view. This will allow the organization to develop a market presence that can penetrate the discounted market segment.
The above-proposed strategies will allow the company to develop a more diverse role which is important in allowing the company to reposition itself based on the current market demand. Having a good marketing mix will allow it to have an improved marketing strategy hence increasing the level of sustainability of Sainsbury. The marketing mix to keep in mind is the product, price, place, and promotion.
Students working on case studies or might need academic help, might find our custom Case Studies Writing Services helpful.