Introduction:
The United Kingdom has always been renowned all over the world for its fashion statement. Fashion is very important having the power of portraying a person's mind, background, legacy, culture, and etc. Fashion is not only about cloths or accessories but also it can reflect a person's lifestyle as well. The fashion industry has always been very complex, dynamic and challenging as well because of the ever-changing and ever evolving demands of the customer. This report deals with the approaches H&M, a key player in the UK fashion industry, adopt to outperform its competitors by delivering the best quality and fashion at the best price.
The UK has been considered as one of the most influential trendsetters in the fashion world. More than 500000 people in UK are now employed and somehow associated with this fashion industry. More than £25 billion are revenue from this industry. Fashion industry holding major economic growth of our country. UK gained worldwide recognition for their innovative clothing brands. Some of the clothing brands are Mark & Spencer, Asos, River Island, H & M, Next, Primark, Zara, etc. (Jiménez-Zarco, Moreno-Gavara, and Njomkap, 2019).
H&M is the world-famous clothing brand which was originated from Stockholm, Sweden. Erling Persson opened first women wear Hennes store in 1947 for making fashion available and affordable to common people. Over time it has spread its wings all over the world in more than 60 countries having more than 5000 global outlets and more than 100.000 direct employees. The name H&M is the abbreviated form of Hennes& Mauritz AB, which is the original Swedish name of this clothing company. In 2015 this company became the world's second largest retailed clothing company after the Spanish company Inditex (the owner of Zara) (Eliasson, 2018). The products of this company are also available are some famous online retail sites. Apart from this, they have an online shopping site. This site is available in more than 30 countries globally. At the year of 1968, Persson merged his company with Mauritz Widforss and launched men clothing business apart from women. Over time many famous fashion designers were associated with this company. In UK the H & M store is situated at Birmingham, at the Pavilions shopping center (Arrigo, 2018). Numerous fashion designers of UK like Matthew Willimson, Stella Mc Cartney, etc. have launched their clothing collections collaborating with this company. According to, Arrigo, (2018) H&M is customer oriented, innovative, creative fashion company driven by their values. H&M, being a firm believer of people and teamwork, always strives for continuous improvement along with cost conscious business strategy.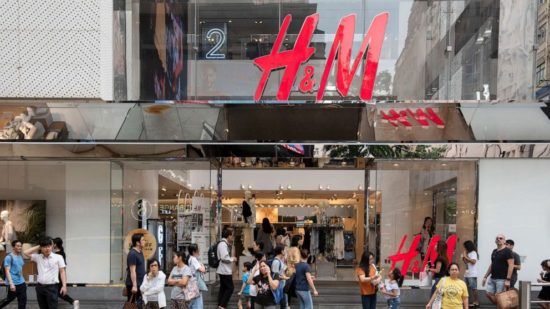 Introduction:
Competitive advantage helps a company to let them perform beyond the expectation compared to its competitors (Namada, 2018). With the help of this attribute a company can achieve its superlative goals and can create a brand image about their products as well. To achieve this goal there are some steps which a company needs to maintain:
A company must need lots of natural and organic resources which must be very difficult to access by their competitors.
The employees of that company must be skilled, efficient and dedicated towards their respective company (Kumar and Pansari, 2016).
The location of that particular company must be very unique and user friendly.
The market price of their product must be cheap compared to its competitors.
The brand reputation and brand recognition are the most important thing to sustain in the competitive market (Albrecht, 2015).
To sustain and to lead the ever-increasing competitive market a company needs to follow some strategies (Allahverdiyeva, 2016). Three different strategies are there which can be helpful for a company to sustain into a competitive advantage, those are
1.  Cost leadership
2.  Differentiation
3. Focus
H & M need to imply differentiation and cost leadership strategies to upgrade their brand image and recognition (West, Ford and Ibrahim, 2015).
Porter's five forces:
The porter's five forces are a business model which is implied on the strategic business management. With the help of this business model, a company can easily identify and evaluates their competitive market (Madsen and Walker, 2015). This model is also helpful to understand the current marketing trends and which strategies are helpful for the growth of their company. With the help of this business model, we can identify the current competition and strategies of H & M Company.
By taking advantage of the industrial economy of scale, H&M outperforms new entrants through cost effective business strategy. By innovative product development and unique marketing strategy, H&M focuses on customer retention (Tsougkou, 2019).
Bargaining power of suppliers:
Multiple suppliers as per different geographic locations and purchase of raw materials at lower cost strengthen its supply chain management with cost effective business (Lazzarini, 2015).
Bargaining power of buyers:
By innovative, unique and good quality products as well as with well-established marketing strategy, H&M focuses on building loyalty of brand along with a large customer base. With low cost production and less selling cost, it attracts low-income buyers too leading to attract a large customer base (Jannesson, Nilsson and Rapp, 2016).
Threat of substitute products:
H&M Company always focuses on providing good quality and a variety of products to its customers at the lowest selling price in the market. By cost conscious and customer centric business strategy H&M outperforms competitors (Davcik and Sharma, 2016).
Rivalry among existing farm:
H&M now focuses on distinguishing itself from competitors through good quality products at an affordable price for everyone. With detailed market research and well-established marketing strategy, they target new customers besides the existing customer base and understand the supply demand situation in the market to prevent overproduction (Donvito, 2018).
SWOT analysis:
SWOT analysis is an important tool for evaluating the competitive position of a company and to determine its business strategy. In this ever-increasing competitive market it is very important for a world famous company like H&M to identify all of the positive and negative marketing perspectives to not only sustain into this competition also holding a top position into the retail industry.
| | | |
| --- | --- | --- |
|   H&M offers a variety of products like shoes, clothing, apparels, blankets, vases pots, and many others. targeting a wide range of customers (Mierzejewska, 2017).   |   Product selling through different well-established brands like H&M, COS, Weekday, Monki, Other Stormiest enables it to target different customer groups (Uddin, 2018).   |   Ever expanding business and global presence in more than 60 countries enables it to minimize the risk of the business (Mensah and Osman, 2018).   |
Because of outsourcing of product manufacturing to nearly 900 independent suppliers leads to less control over production. Dependent on third parties, vendors in case of product manufacturing may affect their brand image due to unavoidable inconveniences (Kutsenkova, 2017).
Focus on low cost may sometimes affect the quality and the brand image.
| | | |
| --- | --- | --- |
| H&M Company has now been focusing on expanding their business globally. They currently set up around 400 new stores in the different country (Eberenz and Schröer, 2019).   |     | Expansion in emerging markets in Africa and Asia should be considered by H&M for greater customer base (Dimitrakopoulou, 2015).   |
Fashion trends are rapidly changing their existing loop. Thus, in such cases these companies need to update themselves with current trends.
Currently social media plays a very important part in case of e-commerce industry. These are considered as threat for existing e-commerce portals (Cao, 2018)
Increasing salaries of their employees sometimes affects the profit and revenues of this company.
Foreign currency rate fluctuates everyday which affects their business.
Most of the clothing companies now launch their own e-commerce portal which creates huge competition on this existing fashion industry (Silva, 2018).
The main competitors of this H&M industry are Zara, Next, Mark & Spencer, etc.
It is a famous Spanish accessories and clothing brand. This company was established in 1975. It has now become one of the most reputed fashion brands all over world. They are actually a part of a large fashion group named as Inditex. Zara products are famous for their uncommon and rare designs. Various famous designers are associated and designed cloths for this brand. Every year this brand launching some unique styles, variety of designs not only on their cloths but also on their accessories like shoes, watches, jewelries etc. in order to their fame and their brand image Zara is considered as topmost competitors of H&M (Mo, 2015).
It is one of the most famous multinational footwear, clothing and home products retail Company founded in 1864.It is previously known as Joseph Hepworth and Sons. This UK originated company has more than 550 stores in UK and more than 250 stores in Europe, Asia and Africa and it is rapidly expanding its business in Britain with a well-established strong marketing strategy and innovative good quality products.
This is also a Britain originated company dealing with clothes & accessories and food products. This company launched very famous and widely accepted Kellogg's corn flakes brand. This company has nearly 1000 store inside the country.
Marketing Mix:
To achieve the goal H&M Company needs to follow the strategies of marketing mix analyzing 7p's.
H&M is enriched with variety of products according to the demands of their customers. They provide high quality products to their customers at a very minimal price compared to their competitors. The design and the quality of their products are very unique and highly assured by H&M. H&M also offers to their customers some designers cloths as well designed by some world famous fashion designers. They are selling not so famous street fashioned clothing brands under their e brand name, which helped those company a powerful brand image (Ohlsson and Riihimäki, 2015).
The price of their products still bit higher than the regular clothing brands. In online portals the price of their products is a bit higher than normal (Abril and Rodriguez-Cánovas, 2016). H&M uses some innovative products pricing strategies for some specific products. It offers a certain price for that original base product and different price for the accessories which are the part of that closet.
The company sells their products in two different ways i.e., directly to the customers as well as to the whole sellers or different retailers.
H&M is a very famous brand and this company is now associated with more than 500 retailers all over the world.
Their personal online delivery system has not been launched in every corner of this world thus they merge with various different online business portal and delivery services to expand their business (Comm and Mathaisel, 2018).
Many famous fashion designers have been associated with H&M. A lot of celebrates use their products which in turn promote the products of the company.
They also use various existing Medias and Channels, social media, digital marketing platforms, television advertisements, YouTube etc. to promote the products.
They are organizing various fashions shows to advertise their products and this will become helpful for them to attract large number of people (Arrigo, 2018).
According to, Nguyen, (2018), People who are working on their marketing and sales team, quality assurance and quality control team etc. are real assets of their company. H&M focuses on people & team building, nurture the talents and employee welfare along with corporate social responsibilities.
H&M always makes sure that their products must be always available in the market. To satisfy the customers this company always come up with new designs and trends. H&M make sure their online delivery system must be fast and user friendly (Abril and Rodriguez-Cánovas, 2016).
H&M stores have polite staffs along with great ambience. Well decorated stores, latest trends products etc. attract customers. Association with celebrates, user stories and suggestions from users being welcomed always leads to more customer engagement
Recommendation:
Although being a popular brand, this company has been facing various new challenges in the ever-changing fashion industry (Szymanski, Fitzsimmons and Danis, 2019). To gain a competitive advantage over competitors they should look upon the following things:
H&M should introduce innovative, creative products as per latest fashion trends along with testing of new products before fully commercializing those.
H&M should provide customer attracting services like a larger warranty period, after sales service, 24*7 customer care service etc. along with improvement of product packaging to make products more convenient to transport and use.
H&M need to imply discounts, offers, allowances etc. sometimes to attract more customers by reducing the price of products (Eloranta and Turunen, 2015).
While introducing new products to market they should initially lower the price than the competitors for gaining market share.
Selling products in social Medias will enable company to achieve more sales because social media has become a part and parcel of daily life all over the world. Online shop and social media pages should be linked to provide users with easy navigation (Comm and Mathaisel, 2018).
H&M should sell its products to large retailers with a large customer base to increase the sale of its products (Arrigo, 2018).
Various digital marketing technique, social media advertisements, promotional events etc. should be done continuously for spreading brand awareness among people (Alon et al., 2016).
H&M should continuously train marketing and sales team, customer care team as they play an important role for customer attraction (Nguyen, 2018).
Conclusion:
H&M is one of the largest fashion company in the world. They are constantly evolving with time and spreading their business all over the world. They are committed to provide sustainable design and fashion to common people with low cost. Although over time they have created a larger customer base and achieved to build a brand loyalty among customers still they need to work on their marketing strategy to reach more customers, to take full control in product development instead of outsourcing for minimizing production cost and advertise & expand their market outside Europe for minimizing business risks.
Students working on case studies or might need academic help, might find our custom Case Studies Writing Services helpful.
Also look at some of our business services
– Business Essay Writing Service
– Business Dissertation Writing Services
– Business Report Writing
– Business Assignment Help
– Business Planning Writing Service
– Business Assignment Writing Service