Introduction
I did my internship at Uber, a company incorporated in 2009. I chose the US-based modern multinational transport tech company because its operations in major cities in the world based on a cashless digital accounting system. I believe my internship experience at the company is instrumental in helping me to progress my career in the digital accounting field. The company's founder members, Garrett Camp and Travis Kalanick adopted a online-based driver-client seamless business model where the company created the Uber software connecting prospective riders with taxi drivers (Fitzgerald & Gunter, 2017, p. 261). During my time at the company, I learnt that company leadership structure includes an executive team composed of 15 individuals with specific designated roles as the figure below illustrates.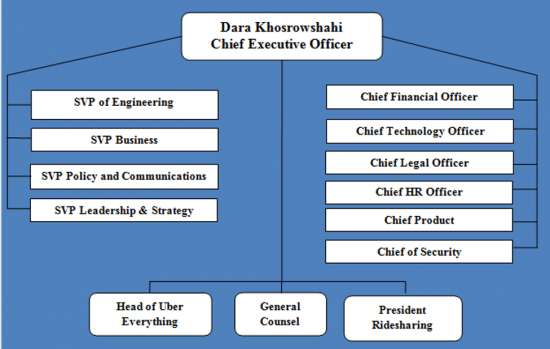 Figure 1: Uber Organizational Leadership Structure
The executive leadership team is in-charge of the company's day-to-day operational framework. Essentially, I learnt the executive teams' designs, implements and evaluates the company's strategic decisions. Primarily, the company runs mobile-based application software that helps customers acquire, pay and review cab services in the major cities(Cramer & Krueger, 2016, p. 181).My internship experience as an Intern accountant at the firm's regional office exposed me to various aspects of the company's operational framework.
The company has a 12-member team of board of directors tasked with the mandate of making key decisions such as recruiting of the CEO, making policy decisions and reviewing its annual performance and budget allocations ("Bloomberg," n.d.). It relies on a complex cashless payment system that, in my view is very effective to ensure equitable and transparent revenue sharing system (Dudley, Banister, & Schwanen, 2017, p. 492). I experienced firsthand how the company's huge investment in technology helps both the client and the driver to closely monitor their finances. The company's exemplary performance in the transport sector from an accounting point of view has made the sector easier to manage, evaluate and monitor. It's "Sharing Economy model" is revolutionary (Pepić, 2018). My experience at the company taught me a great of the digital market environment including management, customer engagement and integrated accounting systems in e-commerce.
Current Organizational Situation
Uber Company is one of the biggest success stories in the city transport sector across the globe since it launched in 2009. According to the recent market surveys, the company has over 100 million active users in the world (WSJ.com News Graphics, 2017). In retrospective, the company since its inceptions has acquired 67.8 % of the American market share and in total the company's capital portfolio amounts to about $ 22.4 billion with the company investing in various areas such acquisitions such as Otto in 2016 (Paayal Zaveri, Deirdre Bosa, 2019). Major US and Chinese companies have over the years invested in the company with major players such Google and Baidu respectively acquiring huge stakes in the company.
In 2016, I learnt the company sold its Chinese division to Didi with the agreement of retaining a 17.7 % stake in the company and a subsequent $ 1 billion investment package by Didi to Uber Global (Alyssa Abkowitz in Beijing and Rick Carew in Hong Kong, 2016). Various research conducted on the financial performance of the company indicates that employee pay-rates have over the years mainly led to the company's consistent annual loss portfolio despite the company sales revenue having consistent upward growth rates. According to a market survey I came across at the company's database conducted by the economic policy institute, the company's average rate differs in every city. Table 1 below illustrates the average pay-per-hour of various cities across the US.
The company's 2018 financial reports indicated that the company's annual sale revenue increased by 43 % from the previous year amounting to $ 11.9 Billion(MacMillan, 2018). However, the company recorded a loss of $ 1.8 billion after all deductions which was a decrease of 15 % from the previous year. The company has operations in 65 countries worldwide with over 600 cities having Uber rides ("Uber Cities Across the Globe," n.d.). The company's long term profitability margin, according to many business scholars is highly viable with projections estimating the company total value to be around $ 120 billion. The company still operates as a private entity but recent reports from the company indicate that it will be seeking an IPO in 2019.
In brief, the company has since 2013 been recording a consistent growth in its sale revenues as shown in the graph below.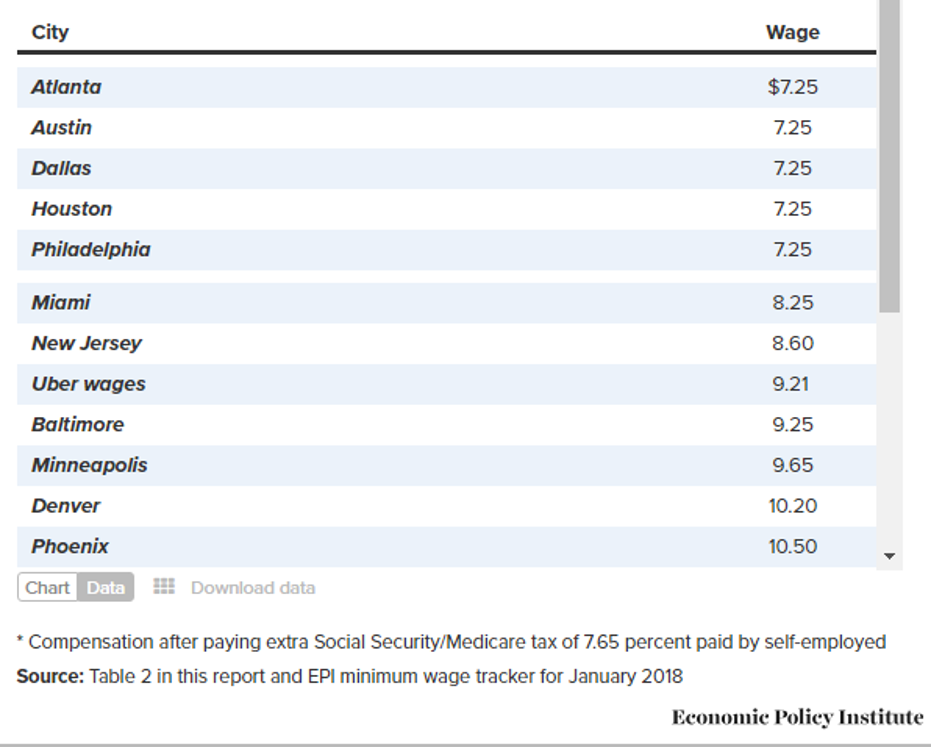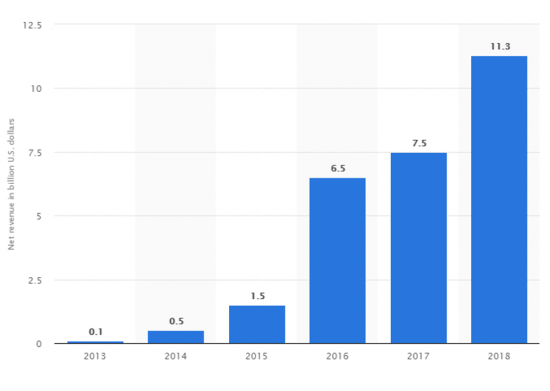 Figure 2: Uber net revenue worldwide, 2013-2018.
SWOT Analysis of Uber Organization
Strengths:
I was able to learn that Uber is an established brand popular among the tech savvy users of private transport
It was evident that Uber maintains high quality standards in its service delivery. Users enjoy value-for-money services
I established that the company has a fair pricing systems for both the customer and the driver in comparison to traditional taxi services
I acknowledged that the Instant response systems for clients upon request for service was highly valued by customers
It has low operational cost for the service. The service has no dispatch costs as its dependent on the customer-driver relationship.
Working closely with the company's accountant helped me to deduce that the Cashless system helps the company track driver's performance, market consumption trends and users can monitor their expenditure using their electronic gadgets.
Weaknesses
High probability rates of duplication of the Uber business framework. The idea of the business is vulnerable to imitation by new entries
Company reputation is dependent on the drivers who are not actual employees. Uber lacks a direct control over the behavior of its manpower. Strict guidelines don't offer any guarantee on driver-user relations.
Internet-based. In absence of high speed connectivity of Internet, the company cannot operate. It expansion to new markets with slow connections is a challenge. Non-connected users cannot access Uber services.
Opportunities

Poor Customer care by traditional Taxi Services : Satisfaction levels for clients in unorganized markets of private transport in major cities create an opportunity for Uber to venture in with high rates of success(Cramer & Krueger, 2016, p. 179).
Global connectivity of high speed internet in major cities across the world. High rates of digitization and installations of internet infrastructure by governments and city administration around the world offers Uber new opportunities of expansion and growth.
Emerging new global markets in Asia, China, Africa and South America
Threats:
Market Resistance from Traditional Taxi operators: Unorganized markets resistance to digital migration and new technology in the sector interrupts efficient operations of the Uber services.
Lower Returns on Margins: Although the drivers get more work on daily basis and increase their client base, profit margins are significantly lower and makes the drivers vulnerable to switching brands for competition with better terms.
Internship Goals and Objectives
My first personal goal during my internship with the company was to become to how Internet-based cashless accounting systems function and apply the standard accounting principles. I demonstrated adequate masterly to the application of accounting principles within the company's work environment using various online tools which aligned to the core values of the company's accounting practices. I applied various methodological accounting approaches in evaluating the general performance of the company during my stay with the company.
My second goal was to develop practical work-environment skills such as team-work, problem-solving and inter-organizational communication skills. Uber code of ethics advocates for effective valuable employee skills and thus I found that on this perspective my individuals was in line with those of the company.My third goal was to build personal ability to effectively participate in accounting work environment through evaluation of my professional accounting code of practice. Uber's HR policy stipulates that every employee demonstrates strict commitment to professional and ethical accounting practice. I achieved this objective through successful completion of assigned projects.
Another key personal was to develop critical thinking skills through the identification and evaluation of specific accounting issues and arrive at evidence-based solutions thereof. I achieved this goal by exhibiting competency in identifying at least two accounting issues within the company and subsequently proposing effective solutions using accounting principles learned during the course. This correlated with the organizational primary objective of harnessing employees' abilities to achieve maximum problem-solving attributes towards the growth and development of the company.
Recommendations
I would recommend the following issues for the company per see future interns and the existing employees:
I propose that the company internship program should constitute a weekly evaluation program to oversee the effective inclusion of internship in key company activities such internal system design assessment. In my view, this will enhance the exposure of the interns to the way cashless systems practically work especially because the future of commerce is mainly digital
I strongly believe that the company employees should consider engaging in internship mentorship programs to ensure that the generational gap between elderly employees within company does not limit their ability to engage the interns.
Also, I avow that interns seeking to engage with the company should be tasked with preparing a comprehensive pre-engagement report on preference attachment divisions key to enhance accurate incorporation of intern within the organization.
References
Cramer, J., & Krueger, A. B. (2016). Disruptive Change in the Taxi Business: The Case of Uber. American Economic Review, 106(5), 177-182. doi:10.1257/aer.p20161002
Dudley, G., Banister, D., & Schwanen, T. (2017). The Rise of Uber and Regulating the Disruptive Innovator. The Political Quarterly, 88(3), 492-499. doi:10.1111/1467-923x.12373
Fitzgerald, T., & Gunter, H. M. (2017). Debating the agenda: the incremental uberisation of the field. Journal of Educational Administration and History, 49(4), 257-263. doi:10.1080/00220620.2017.1342980
MacMillan, D. (2018, August 15). Uber's Revenue Growth Keeps Up Fast Pace.
Paayal Zaveri, Deirdre Bosa. (2019, February 13). Uber's growth slowed dramatically in 2018.
Pepić, L. (2018). The sharing economy: Uber and its effect on taxi companies. ACTA ECONOMICA, 16(28). doi:10.7251/ace1828123p
Also look at some of our business services
– Business Essay Writing Service
– Business Dissertation Writing Services
– Business Report Writing
– Business Assignment Help
– Business Planning Writing Service
– Business Assignment Writing Service
Students working on case studies or might need academic help, might find our custom Case Studies Writing Services helpful.