Apple's Marketing Strategy
1. Introduction
The report aims to investigate the marketing strategy used by Apple Inc. for the latest addition of its mobile handsets, the iPhone 5 and 5s, which it directly challenges it most competitive rival with the Samsung Galaxy S3 and S4 and with other Smartphone manufacturers.  In the report at first, the current market and competitive environment will be investigated and analysed, followed by identification of its competitive edges and recommendations on marketing strategies in segmentation, targeting, positioning and marketing mix activities. The core aim is to critically evaluate the best possible strategies for Apple in the mobile phone industry for present and in the future.
The Apple Company
Value Proposition
            Apple Company is among the world's most outstanding technological companies. The company's value proposition explains that a phone should be more than a collection of features. The phone should further be simple, attractive, and awesome to use; the company offers unique experiences to its consumers through its products. Apple's products give it a competitive advantage since all its competitors use Android while Apple uses iOS. Apple products include iPhone, iPad, and iTunes. The current product Apple would soon produce is virtual reality gadgets, including spectacles, headsets, and watches. Apple's strategic plan is broad differentiation (Shakhtarіn & Nosyriev, 2018). Generic differentiation involves making Apple's products unique and unadaptable by its competitors. The Apple Company produces its products in unique and attractive features that its competitors cannot emulate. Despite their product type, they all use iOS and Mac for mobile and laptop devices. Mac products are too expensive for other companies to adapt and implement. The virtual reality gadgets are also unaffordable by many companies giving Apple's competitors a hard time implementing them. If the company implements virtual reality technology in its new products, it will attract more clients. A new device comes with new prices, which would mean more profit generation by the company. The generic differentiation strategy helps the company in all sectors, including quality product production, leadership, and fast distribution channels.
Competitive Advantage
Virtual Reality is a modern technological technique that each technological company is trying to adapt. The device does not serve mobile users and the entertainment industry alone; it also serves the military and doctors in their training. The virtual reality gadgets will therefore serve a large mass of individuals across the world. Surgery performance is a vital process since it deals with the human body. If doctors can have devices to record the patients' CT scans, MRIs, and other test results concerning the patients' surgery, the device will show them how they should perform the surgery. The AI surgery devices will help eliminate accidents during surgery, predicting the chances of a successful surgery and easing the surgeons' work. In the entertainment segment, people will travel to different places while seated in their houses or workplaces. They can also watch movies, listen to music, and have their classes while wearing the virtual reality gadgets; cool, right? The inventiveness of the gadgets will lure consumers into purchasing the products no matter the expense of the products. The products will generate much income increasing the profit maximization of the company. The products would further build the company's reputation of being the best in virtual reality products. With profit maximization, increased sales, and reputational building, the company will have an excellent annual income. The product would create an excellent competitive advantage that will enable the company to have future growths and innovations (Hwang & Chun, 2017).
To discover the virtual reality project, we noticed most competitors in the android world AI in building their products. If AI could work appropriately in the phones, what of other regularly used devices such as spectacles, headsets, and bracelets? The other competitive companies managed to emulate our AI implementation, but they could not have sufficient funds to emulate the Virtual Reality in the devices.  Apple Company could then produce the Virtual reality gadgets without competition since they can afford it due to sufficient revenue. Virtual Reality will change the value proposition of the Apple Company since it will highlight that virtual Reality is a future we can see.
Risks and Opportunities
The virtual reality gadgets would disrupt the current industry since many people are used to manual devices. People would be curious to taste the new augmented reality devices disrupting the sales of the other devices. More sales would be on the new devices, and companies with the old model devices would have to lower their prices to increase their sales, leading to losses. The Apple company's three main weaknesses include high selling prices, limited distribution networks, and dependence on sales in high-end market segments. Apple implements the exclusivity policy to select its sellers in the market, therefore, limiting its distribution networks. Only specific retail shops can sell Apple products, and not every business person has the license to Apple products sales.  Apple products are usually expensive, which means that the company depends on high-earning individuals. It depends on high-end markets, thus limiting its sales. The risk in depending on high incoming individuals is that if they divert their expenditures elsewhere, the company will make losses. Limiting its distribution networks bears a risk of not covering a broad market thus, the sales could fall at any time. The risk associated with virtual reality gadgets is an imitation from other companies that would produce them at a lower price. The other risks involve fluctuations and credit risks. Political, economic, liquidity, and sovereign risks are some of the challenges the company can face. If interest rates fluctuate, the company can expense losses in the year the fluctuations occur. Chinese exposure is another risk since the Apple Company buys some of its body parts from the country.
Growth Opportunities
On opportunities, the Apple Company has good chances of producing innovative products such as virtual reality devices due to its high revenue income. The company can afford the production of any electronic devices, which is an advantage to the company's growth and development. The company can further expand its distribution networks since it has limited it to high-end markets. The company can further be more aggressive on its marketing strategies to increase its volume sales and generating more profit margin. The Apple company has three main strengths in the world business including, it is the world's strongest brand (strong reputation). Apple moreover earns a large profit margin in the market and bears rapid, practical innovation.  The Apple Company produces the most significant profit margin worldwide, making it more accessible in the innovation and production of expensive advanced technological gadgets. The company further possesses highly skilled and committed employees who are devoted to innovations yearly. Not every company can afford to produce a new vast range of productions yearly. The yearly innovation, therefore, gives Apple a competitive market advantage. Apple's reputation in being one of the gigantic companies in the world also accelerates its consumers' purchasing power. No matter how expensive an Apple product will be, clients will complain and still purchase it (Hwang & Chun, 2017).
Distinguish as a new product or innovation
            Virtual reality devices are not a new product in the market but rather an innovation of existing products. Most people use watches to observe time, and others use glasses as a luxurious product or to prevent sunlight. Headphones help in privately listening to music, sound records, or any form of sound. The Apple Company is going to upgrade the devices from their functionalities to a higher form of performance. The company will upgrade the glasses to become training and entertainment devices.  Scientists, military doctors, chemotherapy patients, and students would use the glasses to train in their various specialty segments. The glasses can take militaries for secure missions, provide them with enemies and train them on how to execute their missions.
Apple Company is one of the largest electronic companies with a high-profit margin. It can implement virtual reality technology to the wearable devices such as headphones, watches, and glasses, among others. The VR devices will positively impact the Apple Company's portfolio. The company would be the first technology company to implement VR devices and introduce them to the market. Hospitals, military, schools, and other training facilities would adopt the devices building the company's reputation and increasing its gross profit rates. Competitors would not be able to create the VR devices or emulate them quickly, making Apple Company the sole distributor of the devices.
Target Segment
The Apple Company aims to target institutions or individuals obsessed with fancy technological devices for research, training, and luxurious advertisements. The company targets institutions such as hospitals, military camps, theaters, and learning institutions. It moreover targets businesses implementing digital implementation forums. Blue ocean strategy operates on the non-competitive market where it searches for opportunities that competitors cannot access, making it impossible to compete with them. The Apple Company intends to implement virtual Reality in their product productions. Virtual reality implementation is expensive, and most companies will not afford to implement it. Virtual Reality is also unique in that people wear glasses, watches, and headphones that move them in a different world. The wearable devices would aid in explain concepts better since it displays them in 3D. The virtual gadgets would help users watch movies or entertainment in the various places they reside. It will further assist users in more accessible methods of receiving and making communications via their devices. Therefore, the new target markets would be facilities operating with digital devices or wants to upgrade to new technological operations.
Sales Speculations
| | | |
| --- | --- | --- |
| | Apples usual Products | VR products introduced |
| Sales | $ 100 B | $ 200 B |
| Cost of goods sold | $ 200 B | $ 500 B |
| Gross profit | $ 100 B | $ 300 B |
| Selling expenses | $  5 B | $  70 B |
| Administrative expenses | $   5 B | $    15 B |
| Total operating expense | $  10 B | $   85 B |
| Income from operations | $  190 B | $  415 B |
| Other income | $  100 B | $   200 B |
| Income before tax and interest | $  290 B | $   615 B |
| Other expenses (interest) | $  10 B | $    10 B |
| Income before income tax | $ 280 B | $    605 B |
| Income tax expense | $   30 | $     50 |
| Net income | $ 250 B | $   555 B |
Explanation of Assumptions
Apple Company generates approximately $ 250 B annually with its usual iPhones, iTunes, and iPad. It could generate approximately over $ 500 when it introduces the VR devices in the market. The company would still earn $ 250 annually for its standard products and another $ 250 or more for the new products. The product sales would increase by at least double the price since introducing new products in their sales. Selling expenses would further increase since it would be the new and old products in the market. Administrative and other expenses would also increase from what the company is used to and go a bit higher due to increased product quantity. Taxation rates and other income that the Apple Company generates would increase since it has expanded its sales volume. The high-income generation will affect the external operations of the company rather than its internal operations. It can lead to inflations of the money value since the value would have to increase to prevent one company from being enormously richer than the other companies. Inflation can lead to economic instability and financial crisis for the rest of the individuals in the country.
Profitability
The virtual reality project is profitable to the company by double the ordinary annual income and even more. The company typically ranges between $ 250 B to $ 260 B gross income annually, and the introduction of the devices would raise it between $ 550 B to $ 600 B. The profit margin would rise from cash $ 100 to $ 300 B, a profit increase of 66.67%. Therefore, the virtual reality gadgets would provide the company with a good revenue income if it implements the gadgets. The volume sales would increase since individuals would be curious to test and use the products. The products further bear numerous merits including, saving on time and energy, entertainments and training. The products would have a high market demand. The accounting department would have tedious work since the revenue structure would be a bit complex than before. They would have to balance the scales of the standard gadgets and new VR devices. The revenue would also be double the average income, thus increasing their tasks. The company's overall financial generations would be at the prime, making it easy to expand territories. The promotion department would also have a hectic time planning to promote new launches each year since the devices would have increased in number.
CSR Plan
Providing quality consumer service that involves timely deliveries, quality product production, and responding to feedback is one way of retaining consumers. If the company attains a new client, the company will ensure that the customer enjoys the products sufficiently. It will further respond to any complain and deliver the products on time. The company can also update the new client of its catalog via messages or emails and update the customer on a new product launch. It can further provide weather updates to prevent customers from exposing their virtual reality gadgets to terrible weather conditions. When clients put on the gadgets, there can be advertisements or messages that appreciate them and make them feel special. The gadgets can also take them on an adventure to Mt Everest or Viagra Falls to welcome them to the Apple community.
The company will provide dedicated personal assistance, personal assistance, and a long-term relationship. The activities will demonstrate social responsibility in terms of ethical and economic responsibilities.  The company will further employ more workers to help distribute the products, thus employing society. Apple has committed 430B dollars and created 20000 job opportunities over the last five years. The company supports learning institutions and companies creating the advancement of the 5G networks. In 2018, the company dispersed   $ 350 B to support the community venturing into innovative tasks and the country's economic growth. Apple is also working as an investor in growing businesses in all the 50 states of America. It has further provided essentials to community schools and donated some funds during the COVID-19 pandemics.
A good CSR plan helps the company gain a competitive advantage by building its reputation. When the company practices ethical consumer conduct, provides jobs to the society, supports growing businesses, and ensures it does not pollute the environment, it lures the public into liking it. When the public supports the company, it earns them loyalty, ensuring that the community will still purchase its products even if the company increases product prices. Loyalty is a concept between the business and its clients. Competitors can therefore not snatch the clients no matter the circumstances.
DEI Plan
The Apple Company incorporates Diversity, Equality, and Inclusion in the various segments of the workplace.  The Apple companies incorporate Diversity by hiring individuals with different qualifications and job experiences. Apple does not discriminate race, age, and gender, or ethnic group. We hire individuals from different backgrounds and women with IT specializations, which brings the best out of the company. The company further hires different age groups, including seniors and young adults. In terms of Equality, there is no gender or age discrimination. Men and women earn the same amount of salary in their as well as young adults. The company seeks to include the next generation in its development and equip them with quality skills. It hires individuals as young as 18 years and equips them till 87 years for retirement. Apple hires all races, including Asians, Arabs, Latinos, whites, and African Americans, without discrimination. Our company believes in nurturing each other and producing quality results rather than dwelling on racial factors. In the future, Apple plans to invest more in minority colleagues and schools. Sponsoring individuals with special needs, especially in the IT world.  Apple's strategic plan involves broad differentiation, making it unique from its competitors in service delivery, team member management, and quality productions. The DEI plan fits in the company's strategic plan since the company does not practice any form of discrimination. Every individual is equal, and their lives and opinions matter to the company. The various ethnicity and gender backgrounds are what have formed the company to be where it is now. We value every person working on our premises.
1.1 Background to Apple Inc.:
Apple Inc., formerly Apple Computer, Inc., is a multinational corporation that creates consumer electronics, computer software, and commercial servers and is best-known for Macintosh computers, the iPod, the iPhone and the iPad. For the reasons as various as its philosophy of comprehensive aesthetic design to its distinctive advertising campaign, Apple has established a unique reputation in the consumer electronics industry (Data Monitor, 2013). It has been the world's most valuable firm since the end of last year with value of $664.74 billion and approximately 17,787 employees (Apple, 2013). Fortune magazine named 'Apple' the world's most admired company in 2013 and in 2008, 2009 and 2010 respectively (CNNMoney, 2013). It is also ranked number two biggest Smartphone Company in the USA in terms of market share value 38.9% (Engadget, 2013: Figure 1) and 16.9% globally (IDC, 2013: Figure 3).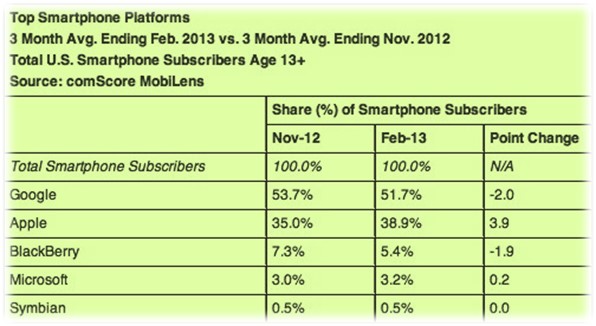 Figure 1: Smartphone Market Share in the US (Engadget, 2013).
Customers' segmentations
According to Marketing Line (2013) report Apple's key customers' segmentations are:
 Demographics:  Male and female, teenagers and students, business people and Adults, elderly people, low to high income individuals.
Geographic: All over the world but majority are in the North America and Western Europe (Guardian, 2013: Figure 2).
Behavioural: Individual interests in extreme innovative and differentiate electronic products and hard-core loyal.
Psychographic: Sophisticated people with high self-esteem.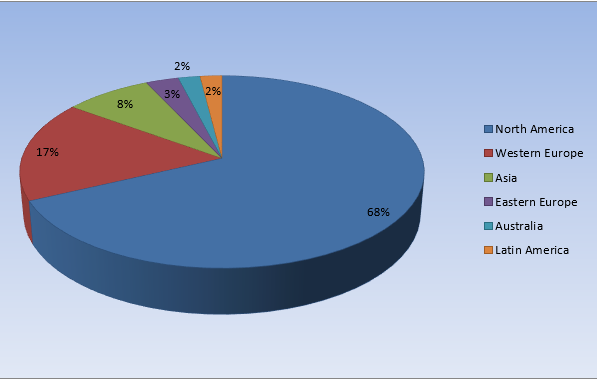 Figure 2:  iPhone Subscribers by region, 2012 (Guardian, 2013).
2. Situational Analysis
Current situational analysis of Apple should be analysed based on some tools such as SWOT analysis and Competitive analysis in reflection of PESTEL analysis and Porter's 5 forces analysis of external environment. Please see Appendix 2 and 3.
2.1 SWOT Analysis
The SWOT analysis is a beneficial tool for decision- making and understanding dependencies between a company and its environment. Proactive thinking is enabled, rather than counting on subjective opinions (Monczka, 2010). It refers to strengths, weaknesses, opportunities and threats (Marquis and Huston, 2009). Please see Appendix 1.
Strengths:
Apple is worldwide: it has 381 retail stores, 17,787 employees across the four continents (Apple, 2013).
The Smartphone industry in the United States is close to being Google/Apple's duopoly. Apple maintains 38.9% market share in the US and is able to establish globally recognised brand. Apple celebrates being world's 'most admired' company in the world in 2013. It has achieved massive bargaining power (International Business Times, 2013).
iPhone sales of 2012 were $25.2 billion which a 93% sales growth from the year is before (Apple, 2013).
Large amount of investment have been put into increasing of cash and cash equivalent worth $51,011 million in 2012 which is 50% growth compared to 2006 (BBC, 2013).
Good innovation and product development. It continually works towards keeping existing customers in and new customers towards the business (Guardian, 2013).
Aesthetic design to special advertising campaign, Apple has established an exclusive unique reputation in the electronics industry (IDC, 2013).
Integration strategy across devices: iPhone, iPads, iPods and Mac enhance customer loyalty and provide lock-in (Data Monitor, 2013).
| | | | | | |
| --- | --- | --- | --- | --- | --- |
| Vendor | 2Q12 Unit Shipments | 2Q12 Market Share | 2Q11 Unit Shipments | 2Q11 Market Share | Year-over-year Change |
| Samsung | 50.2 | 32.6% | 18.4 | 17.0% | 172.8% |
| Apple | 26.0 | 16.9% | 20.4 | 18.8% | 27.5% |
| Nokia | 10.2 | 6.6% | 16.7 | 15.4% | -38.9% |
| HTC | 8.8 | 5.7% | 11.6 | 10.7% | -24.1% |
| ZTE | 8.0 | 5.2% | 2.0 | 1.8% | 300.0% |
| Others | 50.7 | 32.9% | 39.2 | 36.2% | 29.3% |
| Total | 153.9 | 100.0% | 108.3 | 100.0% | 42.1% |
Figure 3: Market growth for Smartphone globally, 2011-12: Shipments and Market share (IDC, 2013).
Weakness:
Approximately 68% of total revenues accounted from US and Canada in 2012. Densely relying on one geographic area increase company's exposure to local factors such as adverse economic situation, labour strikes and changes in regulations that can affect its operation (Mail Online, 2013).
Other than geographic concentration, Apple is excessively dependant on few distributors. Consequently it may increase the risk of disruption in the company's supply and distribution network (MarketLine, 2013).
Apple has been involved in patent infringement. For instance, the company has lost a series of lawsuits against Samsung based on the design of their tablets and iPhone 3GS. These include cases in the Netherlands, Australia and US – despite sometimes winning temporary sales bans (The Verge, 2013).
The company's products and services experience quality problems from time to time. For example in 2010, it was forced to recall newly launched iPhone 4 for antenna issue and iPod nano with faulty screen (Data Monitor, 2013).
Apple's success and Steves Jobs' leadership were tied up so strongly. Apple's stock has been in decline in 2012 from $700 to $400 after he died, causing many analysts to speculate: is Apple's reign coming to an end? (Market line, 2013)
Opportunity:
International expansion into emerging markets of China and India. This may offer a lot of business due to the dense population. Also, IDC (2013: Figure 4) inspires it to go global as Smartphone industry is growing fast and Apple secures second position on the table.
Apple could use CRM, database marketing to more accurately market to its consumer target groups. It could identify customers (based on modeling and profiles of shoppers) and prevent brand switching (Engadget, 2013).
Apple may have joint ventures with retailers (e.g. mobile phone retailers). Possible move could be an option of combo deal of iPhone and other products (BBC, 2013).
Apple needs to rebuild its gravity on legal issues on patent infringement and put control over the quality check (The Verge, 2013).
Apple should concentrate more on competitive as competitors are offering similar devices for lower prices. Also it should consider different product lines for various segmentations (Foster, 2012).
Apple has opportunity to improve on customer satisfaction over the products and involvement on Corporate Social Responsibility (CSR) and charitable events (Engadget, 2013).
In the next 5 years the UK's population is forecasted to be over 65 million and GDP growth is expected to increase in 2013, to 1.7% which is good news for both the mobile phone networks and mobile handset manufacturers (Keynotes, 2013).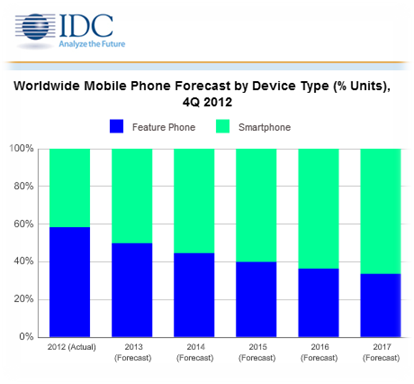 Figure 4: IDC's 2013 worldwide Smartphone sales predictions (IDC, 2013).
Threats:
Apple faces threat from other major Smartphone manufacturers such Google and Blackberry. Google produced the highest percentage sales among the three which is a threat for Apple. The cost to produce the devices during inflation and lack of sales puts Apple in a tough spot and other competitors could take advantage to advertise new product and hence raising their sales (Chiffin, 2012).
Apple also competes with number of well-capitalized national and international manufacturers such as Nokia, HTC and ZTE and so on. It also competes with regional manufacturer, such as ZTE's Grand series (ComScore, 2013).
Competitive pressure on the high street as other new entrants offering value and greater product ranges with lower prices e.g. Nokia Lumia series and HTC desire series (CNNMoney, 2013).
Samsung, the closest competitor, has been offering the Galaxy S3 with a bigger screen, longer battery lifespan and with extra features like NFC (Near Field Communication) capabilities and removable battery (Marketing magazine, 2013).
Like all other industry, the mobile phone industry is continuously threatened by slow economy recovery. The economic downturn four years ago still hinders financial strength of North America and European countries where Apple holds 85% of its market share (CNN, 2013).
2.2 Differential Advantage/ Competitive Edge
Evans (2012) states, Competitive advantage is achieved whenever you do something better than competition. Competitive edge should support organisational strategy and reflect key market capabilities (Papp, 2001). Porter goes on to suggest in his work that competitive advantage 'grows out of the value a firm is able to create for its buyers that exceeds the firms cost of creating it (Poter, 1988).
2.2.1 Competitive Analysis
Following is a summary of the key competitors'' activities from the IDC (2013) research. Please see Appendix 3 and 4.
SAMSUNG
Electronics Company, Samsung, has a diverse number of businesses but is best known to the public for its Mobile, TV, Camera and home appliance products, accounts 32.6% global market share. The key products to compete with iPhones are the Smartphones (Galaxy SIII, Galaxy SII). However, it relies on Android Apps stores. The North Korean based company sponsors Chelsea Football Club in the UK to advertise its brand in and out of the ground (Marketing week, 2013). Online media such as Face book, YouTube and Twitter are also used as communication platform to sustain the marketing campaigns (Samsung, 2013).
NOKIA
Finnish telecoms company Nokia, is led by CEO Stephen Elop, a former Microsoft executive. It is the biggest handset manufacturer globally but in Western Europe has been outflanked by rivals, including Apple, in the smart phone sector. Its latest initiative is in the field of contactless payment technology via its C7 handset. (Marketing week, 2013).  Despite of having higher sales of its Lumia smart phones, have fallen 13% of its market share in the first quarter 2013.  It is trying to compete on the segment where consumers are moving from feature phones to smart phones, but they want cheap smart phones. It has also introduced latest Lumia, which can be used with gloves, more convenient to use in the winter (BBC, 2013).  Range of product competes with iPhone devices are: Lumia 720, 920, 820, 620, 520, 900, 800, 610, and 510 (Nokia, 2013).
HTC
HTC is familiar as a designer and manufacturer of many of the most popular OEM-branded mobile devices on the market and it secures 5.7% global market share. 'HTC First' is known as first real 'Face book phone' and it's a Smartphone powered by the Android and Windows phone operating systems. HTC One, HTC First, HTC One SV and HTC One Desire C are the key competitors of iPhones. Lately HTC arranged a global TV campaign which features a skydiving photo shoot on an HTC one camera (HTC, 2013).
ZTE
Chinese mobile manufacturer ZTE, the world's fourth biggest handset maker by volume with 5.2% global market share, is preparing a major push to grab a slice of the UK market by positioning as an ''underground'' and ''cool'' brand that opens up the mobile internet to all. Its co-partners are Orange, T-Mobile and Vodafone in the UK for its network devices such as Rio, San Francisco and Sydney from Orange, T-Mobile Affinity, T-Mobile Vairy Touch II and T-Mobile Vivacity and Vodafone 351. ZTE Grand series are the competitors to iPhones (ZTE, 2013).
2.2.2 Competitive Edges
Apple's horizontal integration strategy across devices and channels and vertical integration strategy from chip design to software and retail creates a truly sustainable competitive advantage that is hard to replicate by the competitors. For that reason alone its valuation skyrocketed worth of $400 billion (the guardian, 2013). This is brilliant example of classic business strategy theory at work. Apple products are also highly innovative and differentiated which creates a cutting edge as the pioneer in the market. For instance, forbes.com (2013) state, Apple has been ranked number 1 as most innovative company since 2005 by more than 1,500 senior executives in a wide range of countries.
There is an interesting 'Apple Math': iPhone+ iPad+ iPod+ Mac= Market Dominance. Every single Apple products complement (compete) and complete each other. For instance, get an iPad, and you can download content via iTunes and access them through iCloud and use that to move content to iPad or other devices. The sort of control over the entire user experience or process, from hardware to software, strengthens customer loyalty and provides lock-in. You cannot leave Apple once you are in. It is becoming the consumer equivalent of IBM for business (International Business Time, 2013).
3. Recommendations
3.1 Segmentation, Targeting & Positioning
In the real world of building products and attacking market opportunities, market segmentation is the process of defining and sub-dividing the aggregate, homogeneous market into addressable, targeted needs and aspirations buckets. Buckets those are in turn, threshold by demographic, psychographic and/or budgetary constraints (Moyano, 2011). Please see Appendix 5.
Being consistent with the Apple's segmentation, Apple's Smartphone should target to more psychographic segmentation, which appeals to consumers' personalities, attitudes, motives, and lifestyles. According to comScore (2013), being a "lifestyle brand" and this lifestyle appeals to Tweens to Boomers, low-income to high-income individuals, and all shape, race, and size are captured. Apple has a branding strategy that focuses on the emotions. The Apple brand personality is about lifestyle; imagination; liberty regained; innovation; passion; hopes, dreams and aspirations; and power-to-the-people through technology. The Apple brand personality is also about simplicity and the removal of complexity from people's lives; people-driven product design; and about being a really humanistic company with a heartfelt connection with its customers.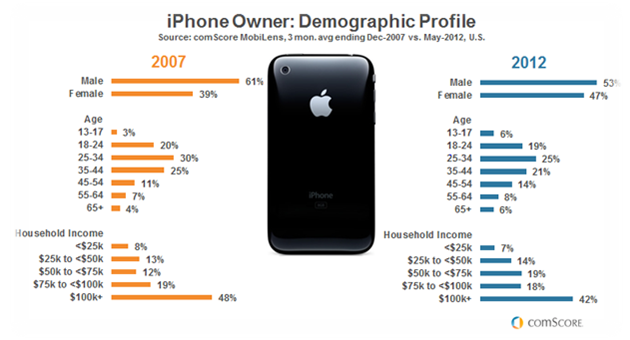 Figure 5: iPhone's segmentation targeting (comScore, 2013).
According to Porter (1988), organisations have the choice of the following competitive positions: cost leadership, differentiation, cost focus and differentiation focus (Please see Appendix 6). Apple has used a concentrated targeting strategy that has helped its position themselves as a niche and best quality and differentiated product for premium pricing. A limited product mix and small product lines have also worked to their benefit, which many might say goes against convention. And now this "niche" brand appeals to the masses.
3.2 Marketing objectives and goals
Apple's marketing goals and objectives (Appendix. 7) should be consistent to ensure its products uniqueness and exclusiveness. The marketing objectives for Apple on Smartphone devices should sustain its previous objective '' how technology will make your life better''. It should continue to bring the latest innovative and developing standardised devices to the consumers (Pride and Ferrel, 2012).
With regard to communications objectives, Apple should higher customer satisfaction level (Figure 6) from 7.72 to 8.00 in year 1 and 8.00 to 8.5, and 8.5 to 9.00 in rating in year 2 and 3 respectively. Apple should develop strategies for serving their chosen customers better than competition.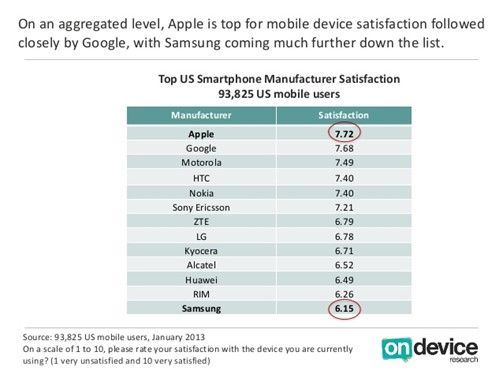 Figure 6: US Smartphone manufacturer satisfaction survey (ondevicereseach, 2013).
Marketing Goals: According to Engadget (2013, Figure: 1), Apple has market share of 38.9% in the US Smartphone market. On the next 18 months it should set a target of increasing further 5% and 2% global share growth over the new launches like iPhone 5s and so on.
However, marketing has a negative effect on society and how an organisation interacts called Social Corporate Responsibility (CSR). Apple should take responsibility for the effect of its actions and the consequences of these actions on its consumers, communities, customers, employees, and so on. 'The Body Shop' regularly funds and supports wider ethical and charitable events (Body shop, 2013).
Despite of donation worth of $50 million to Stanford University hospitals and another $50 million to African aid organisation that has not developed a reputation for philanthropy whereas Exxon, Apple's closest rival for the top slot, was named one of the top ten ''most charitable companies in America'' and donated $198,692,197 in 2010. Therefore Apple should participate on more charity events which not only help the poor but help to enhance brand image (Huffingtonpost, 2013).
3.3 Marketing strategies and programmes
Marketing strategies in terms of marketing mix refers to a unique blend of product, place (distribution), promotion and pricing strategies (often referred to as the 4P's) designed to produce mutually satisfying exchanges with a target market (Notedesk, 2013: Appendix 8).
3.3.1 Product
Guardian research (Figure: 2) shows Apple is not well globalised company. It has good opportunity to more international expansion especially in BRIC countries (Brazil, Russia, India and China). GDP growth and densely population should offer a lot to the business. Apple is suggested to consider these market for iPhone 4 and 4s on their 'maturity stage' (Figure: 7) with penetration pricing in order to improve its global market share (16.9%, Figure: 3).
In addition to it, Apple could offer new product line extensions to consumer for iPhone 5 and 5s and future devices for the following types of customer segmentation as 'product life cycle' develop.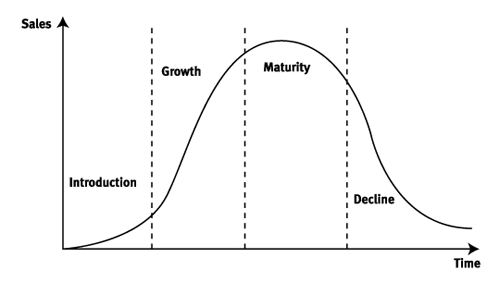 Figure 7: Classic product life cycle, (Kaplan, 2013).
Teenagers and Students: This range will target the teenagers as they use iPhones to socialise with friends, listen to music and go on Facebook, MSN and Twitter and the students take quick record notes. Therefore it should add more social network apps and useful apps for students. For instance, Instagram Apps (CNN, 2013).
Business People: This category of iPhone should have a business quality to finish work efficiently even on the move. For example: easy communication facilities with the clients or an appointment management system. In addition, sending documents is easy and organised.
Adults: This type of iPhone should focus on everyday needs such as phone calls, map directions, internet connection, documents and cameras. It is important to make sure these small devices make adults lives much easier for communication daily.
Retirees: Apple can offer basic iPhone to make phone calls easier for people unfamiliar with modern technology or with bad eyesight. It should therefore design with clearly labelled buttons and few numbers could be programmed into the phone so they can make calls with a touch. Cycell has brought special phones for elderly people through the Age UK Shop, are very successful (Mail online, 2013).
More importantly Apple needs to deal with complaints of severe battery drainage for iPhone, iPod, iPad on iOS 6.1.3 version.  Other than this, Black and White do not give enough colour choices to the consumers (CNN, 2013).
3.3.2 Pricing
As mentioned above, iPhone devices consist of five product lines for the different segments of customers. Basically, Teenagers and Student, Business People and Adults target to the more demanding customers in terms of best quality, innovative and aesthetic design. Therefore, skimming pricing should be used to increase its perceived value.
As for the Retirees and International range, the devices include are mostly targeting to a wider salary and age range of people. Therefore, penetration strategy is suggested to be used. Moreover, this range of devices has a lower price hurdle and higher value for money. As such, the ranges serve as entry-level products to encourage the customers to firstly try and experience the value for money products, as such to trade up the customers to buy other more products (iPads, iPods and Mac). However, Apple is suggested to adopt 'Dynamic Accounting' concept where it should put every effort to reduce production costs in order to offer more competitive price (Pride and Ferrel, 2012).
3.3.3 Promotion
Strategy: A pull strategy is suggested to stimulate its consumers so that they request the product from Apple or intermediaries and 'pull' the device from the distribution channel. Apple needs to use different types of promotional activities to create awareness and interest about its products Appendix 9-10(d).
Above-the-line Activities
Media Implementation
Figure 8 shows the distribution of current advertising spending on different media. The budget on iPhone has been always uprising since 2009, so the company is suggested that the Apple spend the media budget in various advertising media such as:  TV, Radio, Campaign, Newspapers, Press, Magazines, Journals and Internet, Social networks, Third party websites, Cinema, and so on.
For the internet media, basically the company should build up its own online social networking media (e.g. Face book, Twitter and YouTube) to promote the products and also allow co-creation of message with the participants.
It is also suggested that the company should sponsor some events or games. For instance, Emirates Airlines sponsors Arsenal Football Club. Also it can fund to the charities regularly like British Heart Foundation or show real commitment to the social corporate responsibility. It will enhance the brand image and brand equity eventually.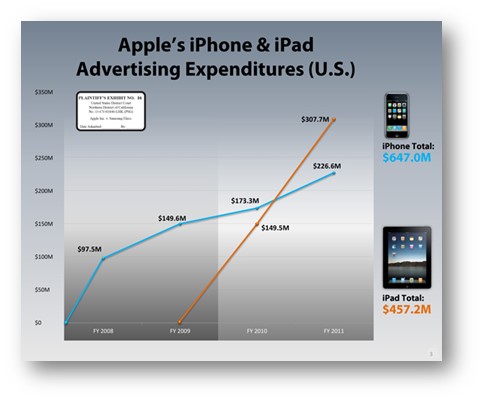 Figure 8: Monitored advertising expenditure in different media in the US on iPhone and iPad, 2008-11 (The Verge, 2013).
Below-the line promotion
In-store and distributors promotion
As mentioned above, Apple should conduct regularly with intermediaries promotions to cover the message not only Smartphone but also iPods and iPad, and Mac for a combined deal.
3.3.4 Place
Since Apple has consumers all over the world, iPhone Smartphone can preferably sold on its own website. The devices can be delivered for free and swiftly as customer satisfaction, is very crucial. Moreover, the company should consider 'intensive' market coverage and that is why it should build more i-stores in major cities and towns or purchase retail outlets in order to control the distribution channels.
Before that Apple may co-operate with the telecommunication service providers and use their networks to sell the products. However, too many intermediaries in the distribution channels may lead the company to lose the control. It is advised that Apple bind the distributors with legal contract to deal with the issues such as stock levels, levels of after sales services and territories. It also can set specific and realistic agreed targets for the distributors to assess their performance.
4. Conclusions
In this case, Apple's Smartphone iPhone is chosen. Based on above analysis, it is recommended that Apple should focus on launching various categories of iPhones: Teenagers and students, Business people, Adults and Retirees and international segments of customers who concerns about modern, possible best quality and pioneer innovation on devices with their own different needs and affordability's.
With the revamped product lines, the key marketing objective is to build up the brand awareness, attitude and recognition among the target customers, which are more skewed toward the male and female, young children and kids, students, adults, entrepreneurs, elderly people, international and  low to high income individuals.
Finally, the marketing mix strategy is presented to illustrate what 4P (product, place, promotion, and price) activities are planned to achieve the marketing objectives.