Introduction
The aim of this business report is to emphasise upon the factors and key elements related with digital marketing within business. Digital marketing is considered as an important and integral component of marketing which uses internet and online based digital technologies and media to promote products and services.
Part 1:
Discussion
Describe and discussion of marketing mix
According to Helmand Gritsch, (2014), Marketing Mix is a set of tactics or activities, that a company uses to promote its brand or products and services to a large consumer base.A marketing mix strategy includes several areas of focus as part of the comprehensive marketing plan. It helps a business to be enabled to offer right products to the customers on right time and at right place for right price.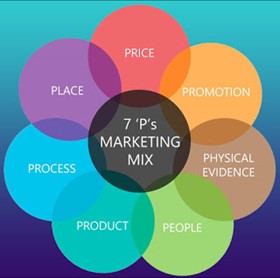 (Fig: Marketing Mix in Business)
(Source: Helmand Gritsch, 2014)
Importance of Marketing Mix in business:
Marketing mix helps in new product development
It helps to increase product portfolio at international business platform
It can guide a brand to improve business
It helps in differentiation and helps a brand to be dynamic and unique in cutthroat business environment (Syapsan, 2019)
To emphasise upon the importance of marketing mix in growth strategy, some examples can be taken into consideration. Slack has reached to annual revenue of $4 billion within four years with a focus on product and service ranges, barely promoting those at business platform.
Pricing strategy has helped Starbucks to grow even when it was hard to believe that the brand can even survive in market.
Chick-fil-A is now consideredas one of the largest American fast food restaurant and it has possible by the brand with the laser focus on the location.
And lastly, Burberry's promotional strategy has helped the brand become the world's most valuable brand in fast fashion sector.
The concept of marketing mix was originated in 1960which included 4Ps: Product, price, promotion, and the place. Afterward, the marketing landscape has started to evolve and it includes People, Process and Physical evidence to the strategy.
Product refers to the goods and services that a brand offers and how that meet the customer needs and demands. In current times, product-led-growth is becoming go-to-market strategy which refers to create such product bases that may satisfy the users than any other brands. Such product development strategy has helped Slack to make $4billion revenue within four years of its business (Kosaka, 2020).
Price refers "how much a customer can pay, or willing to pay-for a product". It comprised with factors like financing, discounts, referral bonus, payment method, loyalty discount, subscription option and so on.it can offer a straightforward way to a business to fuel its growth- even 1% of increase in product price can increase the profit margin by 11%.
Promotion is another important factor in marketing mix strategy. it refers the way a brand can communicate with their consumers. It includes the channel or platform, through which a brand can easily reach to its customers with unique and recognisable product and service range.For example, business collaboration with tech companies, streamed content on Instagram and snapchat and maximised use of social media platform has helped Burberry to achieve 86% of business growth in one year and to increase brand value by $3.38 billion (Olteanu, 2020).
Place refers how and where a brand or company will make its products and services available to its customers.By taking the example of Chick-fil-A into consideration, it can be stated that in spite of being a fewer location in comparison to its rival brands and operates business only for six days in a week, the brand is considered as third largest fast food restaurant in America and one of the popular food brand across the world. Laser focus on location for new stores and investment on heavy basis in location technology has helped brand to evaluate the sites, psychographic and demographic preferences of customers, which ultimately triggers the business growth of the fast food chain to considerable extent.
Describe and discussion key elements of communication mix
The term communication mix refers to the specific methods being used by organisations to promote their brands, products and services to the target consumers.It includes all the tools, that an organisation uses to communicate with the consumers.
(Fig: Communication Mix in Business)
(Source:Paurovaand Nadanyiova, 2020)
Key tools of communication mix are:
Advertising (Television, radio, press and PPC)- any paid format of non-personal presentation or promotion of a brand, goods and services or business ideas by identified sponsors. Two most common forms of Advertising in business promotion is ATL advertising which mainly includes radio, television and other one is BTL advertising which mainly includes home advertising.
Personal selling- personal presentation by the sales force of an organisation to make accelerate the sales rate and develop a strong customer base.in retail outlets, it is commonly observed that the company promoter is present in the outlet for the purpose of providing better attention from their brand to the customers (Paurovaand Nadanyiova, 2020).
Sales promotions- it is a short term incentive by any brand to influence the purchasing intension of the consumers as well as sales rate of products and services. It is in current times is used increasingly in e-commerce platform.
Public Relations- it is an effort by any organisation to build good relationship with stakeholders and business shareholders through obtaining favourable publicity, developing a good and positive corporate image in business world
Direct marketing or digital marketing- direct marketing or direct communication is an important effort by any brand to target individual consumers and to obtain their immediate response and maintain a long lasting relationship with customers. And on other hand, digital marketing is another element of communication mix which in current times is getting popular within current business scenario (popovic, 2020).Now majority of the businesses are using digital marketing to expand reach to targeted consumers. To emphasise upon the importance of digital marketing in communication mix strategy, focus can be given upon the promotional strategy of Burberry. The brand is using technology and digital strategy to expand its reach. It uses Snapchat, Streamed content, Social media platform, Instagram to reach to its customers and understand the customer preferences and current market needs for fast fashion.
(Fig: Communication Mix Strategy of Burberry)
(Source: Olteanu, 2020)
The aim of Communication mix in business is not to create awareness among the consumers about product or services or about a brand, rather it is used by organisation to reach to its customers and provide them purchasing experiences. So, communication mix can also be referred as Promotion Mix (Sprovieri, 2017).
Part 2:
Social media channels used as part of brand's communication strategy:
LinkedIn-
It is considered as one of the largest professional networking site and the most influential social networking sites with more than 575 million of members.In case of business scenario, LinkedIn is used by the entrepreneur to associated with the clients and co-workers. But it can be used to boost the profile, to develop awareness about a brand among targeted consumers, and it can help an entrepreneur to recruit the right people. In business scenario, LinkedIn acts as a meaningful connection platform, which play an important role to build network. Once the profile in this social media site is optimised, an entrepreneur can start to send connection requires to the targeted people. For each accepted connection request, LinkedIn will make suggestion for the connection and develop a tertiary circle of connection for the brand.It can also be used as a platform to publish content on regular basis (Sloneand Gaffney, 2016). The former CEO of Burberry, Angela Ahrendts took the helm in 2006, where she hired a young marketing team through LinkedIn. Additionally, the brand uses this particular social media for publishing content, which has helped to win over one million customers worldwide.
Facebook
In current times, Facebook is considered as one of the most widely used social media platform in business. With over two billion of active users in each month, in business environment, Facebook is now considered as one of the important means of interacting and engaging with customers. There are several reasons for which Facebook can be considered as one of the suitable element for business communication.Firstly, Facebook is considered as one of the great way to centralised information and engage a brand with customers, based one-on-one format.Unlike Twitter and Instagram, Facebook can give a space to a brand to create long term and interactive platform where a brand and its social media employees can engage with customer base. So, it can also be considered as an effective channel of communication. Additionally, Facebook Page Insight can offer a robust analytical capability to a brand through free and paid post (Goworek et al., 2016). Through Facebook a brand can gather information about the page viewers which in turn can help the brand to develop a better demographic sense and reach about the market and targeted customers.Facebook specific features are being utilised by Burberry, by using which the brand has launched live streaming catwalk shows during London Fashion Week. Facebook is considered as one of the most popular account for Burberry with 17 million of likes.
(Fig: Burberry uses Facebook as communication platform)
(Source: Goworek et al., 2016)
Twitter
Twitter is another important social media platform used by Burberry with average of 5 posts uploaded by the brand per day. With more than 7 million of followers, Burberry is behind the Channel in terms of having huge audiences in Twitter.This platform in any business helps a brand to get host of fresh eyes on the content. Burberry is also one of the first brand in fast fashion industry, where it uses Twitter's "Buy Now" function, during 2014 (Mazzoli et al., 2019).
(Fig: Twitter Account of Burberry)
(Source: Mazzoli et al., 2019)
So, Twitter can be considered as one of the popular social media platform with over 335 million of users. With the scope of connecting wide audiences, developing brand identity, many business is now using Twitter as business communicational platform. According to (), "when it comes to achieve marketing goal, Twitter is the powerful tool".
Snapchat
Snapchat is another extremely popular digital marketing platform among the millennials.According to (Gomez et al., 2017), "if your goal to engage with the younger population, Snapchat should be the most potent source of engagement". The benefit of using snapchat in any business is that it can give enough scope to a business to connect with young demographic. According to survey, in current times, 82% of snapchat users belong to the age group of 34 years old or younger. It can also give a brand to interact with the customers- among the snap chatters, 60% are more likely to make impulse purchase on this platform. For example, Snapchat has a "Discover" icon by using which a brand can reach to customer through content like Cosmopolitan magazine, MTV and so on.additionally, by using snapchat, a brand can show its playful side. Snapchat has recently launched cameos and 3D snaps, through which a brand can deliver its light-hearted, creative and little cheeky sides of the brands in authentic way to its users. Snapchat can even refer to as an app for #RealFriends (Gomez et al., 2017).
(Fig: Use of Snapchat in business as Commination Platform)
(Source:Gomez et al., 2017)
Instagram
Instagram can be considered as one of the most natural social networking sites for any brand like Instagram.By taking the example of Burberry into consideration, it can be visualised that, simplicity of the minimalist platform connects with the minimalism of Burberry's content which results development of a successful content and brand on social media site. Over 50 thousand plus likes, more than 100 thousand video viewers, and 7.5 million of followers, Instagram has made an uncommon occurrence in Burberry's business and marketing strategy (Olteanu, 2020). Instagram is such a platform, where aby business or brand can get scope of developing content uniquely, by using mix of images and videos and can get uploaded daily basis.
(Fig: Burberry's Instagram Account)
(Source:Olteanu, 2020)
With more than 800 million active users, 80% of business accounts and with 2 million of advertisers, Instagram is now becoming a popular choice in social media platform for any organisation to promote its brands and products.By analysing the example of Burberry, it can be seen that, Instagram is extremely an effective platform which can help various brands to reach out to new customers and develop a massive awareness about the brand.
Conclusion
In this business report, importance of digital marketing in business has been described. Important elements of marketing mix and communication mix strategy have been discussed in the report, by using several real-time examples. And lastly, use of different social media platforms in business have been included in this report.