Global Market Entry Strategy for Microchip Technology Inc.
1.0 Introduction
This marketing plan will discuss implementing an existing organization's marketing policy, which is 'Microchip Technology.' Microchip Technology Incorporated is a leading company in automotive control systems that are wired, intelligent, and stable. It is simple-to-use production software, and broad product selection allows customers to produce optimal solutions that minimize risk while decreasing overall device cost and time to market (Roychoudhury et al., 2020). Over 120,000 customers profit from the company's products in the manufacturing, aerospace, defense and automotive, consumer, telecommunications, and computing sectors (Holloway, 2017). Microchip, headquartered in Chandler, Arizona, provides superior technical assistance and consistent execution and consistency. On the other hand, it is an American public company that produces microcontroller, mixed-signal, analog, and Flash-IP integrated circuits. From 2006 to 2020, the market capitalization of Microchip Technology would be tracked using a price-to-earnings ratio. Market capitalization has been the most frequently employed method for calculating a publicly-traded company's value. It is calculated by dividing the current market price by the total amount of outstanding shares. Microchip Technology's market capitalization is $40.47 billion as of May 03, 2021 (see Figure 1).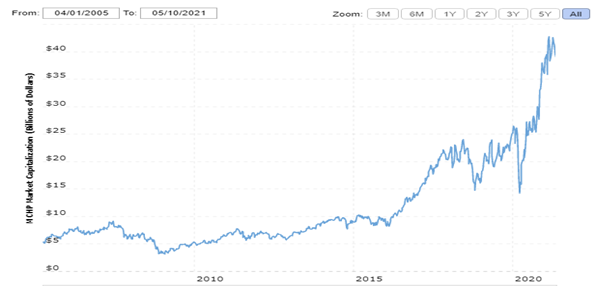 Figure 1: Market Capitalization of Microchip Technology Inc.
2.0 A Description of Microchip Technology Inc.
Microchip Technology Inc. develops, manufactures, and sells advanced semiconductor devices that consumers use for a broad range of integrated control systems. Its product portfolio includes general-purpose and specialized 32-bit, 16-bit, and 8-bit microcontrollers, radio frequency (RF), timing, wired connectivity, thermal management, security, safety, a wide range of high-performance linear, mixed-signal, power management, and wireless connectivity devices, and Serial Flash ROM (SRAM), Serial Flash ROM, and serial Electrically Erasable Programmable Read-Only Memory (EEPROM) (Lécuyer, 2021). Wireless, Automotive, consumer, medical, and commercial systems markets have used various strategies to provide a defense. Microchip combines cryptography and non-cryptographic components to offer a complete solution. In addition, the business permits Flash-IP solutions that are utilized in a range of devices.
3.0 Industry in which Microchip Technology Inc. Operates
Microchip Technology Incorporated is a company that develops, manufactures, and sells advanced semiconductor devices that its consumers use in various automotive embedded systems. The business is divided into two parts: semiconductor devices and application licensing (Guertler, 2018). In the semiconductor devices segment, a market embedded systems, produces, develops, the company designs and programming instruments, and analog, software, mixed-signal, and timing products. Sales, promotions, engineering, computer management, human resources, regulatory, and finance are among the functional operations. Its product range includes general-purpose and customized 32-bit, 16-bit, and 8-bit embedded systems, and a mixed-signal, thermal management, power management, variety of linear, scheduling, protection, reliability, wired networking, and wireless connectivity products.
4.0 Semiconductor Industry Definition
In the Value Line world, the Semiconductor Industry is one of the most cyclical industries. Evidently, during periods of economic growth, the chip industry thrives due to increased business and customer spending (Clark and Mostyn, 2017). However, through economic recessions, sales suffer when company information technology expenses are reduced, and shoppers postpone purchases of the new devices.
The industry is better described as a development site. Real, the business isn't as hot as it once was, but it still has better-than-average growth prospects. Brand creativity, fuelled by vigorous research and development (R&D), is leading the way for improved profitability. Other strategies for gaining a strategic edge are discussed further below.
4.1 Revenue Enhancement
Chip businesses place a premium on increasing profits. It is because increased profits make for better operating cost consumption. Product creativity is often critical since customers are still looking for the latest and greatest (Chandrasekhar, 2020). Consumption and investment products, like cellular phones, interactive televisions, and portable music players are updated daily, providing consumers with many choices. Technological creativity puts tremendous demand on companies to deliver exciting goods to consumers promptly.
Furthermore, customers choose to purchase advanced modern goods well before the existing ones became obsolete. In most sectors, this is not the case. For example, many customers may maintain their refrigerators until they break, but they will replace their mobile phones after two years or more.
5.0 Semiconductor Industry Description
Microchip Technology, Inc. specializes in the production of semiconductor devices. It works across the Semiconductor Devices and Technology Licensing sections (Hetrick et al., 2019). Semiconductor Products is responsible for the layout production, manufacture, and marketing of microcontrollers, development equipment, analog, interface, mixed-signal, networking, and timing products. Technology Licensing
6.0 Corporate Level Strategies Used in the U.S.
In this part, we would apply Porter's theory to the business strategy of Microchip Technology Company. As a result, the strategic market strategy gained mass acceptance in the late 1970s with the release of Michael Porter's Five Forces Framework. Offering a competitor research methodology that allows for the assessment of industries focused on the complexities of customer and seller negotiating strength, the challenge of new competitors and alternatives, and overall competitive rivalry. Microchip Technology Inc. employs various business strategy:
6.1 Variety-based Positioning
This is a technique in which Microchip Technology Inc. creates a subset of the goods or services offered by an entire market. As a result, it prefers to divide itself not by client but by providing. This concentrated strategy enables Microchip Technology Inc. to scale by specialization and resource allocation to accelerate growth, improve service, and reduce costs. Porter cited Jiffy Lube as an illustration of an effective variety-based positioning strategy. He cited an example of a company that flourished exclusively by manufacturing automobile lubricants and offering no ancillary goods or services (JKohnd, 2015). Consequently, the operation was expedited, costs were reduced, and a better product was produced.
6.2 Needs-based Positioning
The polar opposite of variety-based positioning focuses only on consumer groups and meeting all of their needs, this results in excellence by comprehending a client and absorbing the entirety of the value chain by customized delivery and repeat business. The points raised for this approach came from the money management industry. At the same time, Microchip Technology Inc. has achieved popularity by concentrating its efforts exclusively on clients with investible assets of at least $5 million (JKohnd, 2015).
6.3 Access-based Positioning
The final approach is to engage consumers with everyday needs but has divergent paths to the product or service. Access may be characterized in terms of consumer geography or size, in the sense that a firm can need distinct distribution methods to service each effectively.
7.0 Microchip Technology Incorporated Porter Five (5) Forces Analysis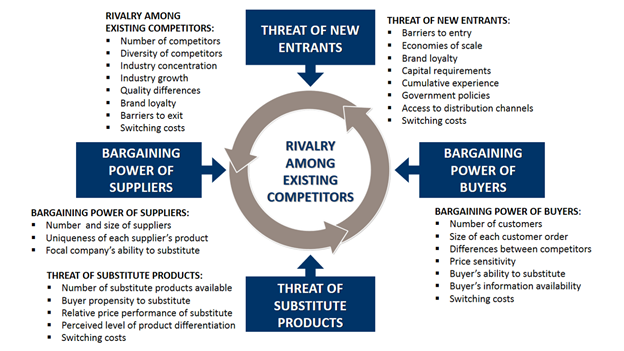 Figure 2: Microchip Technology Incorporated Porter's Five Forces Analysis (Ahmad, Webb, Desouza and Boorman, 2019).
7.1 Threats of New Entrants
Semiconductor entrants – Broad Line introduces innovative methods of doing business and puts pressure on Microchip Technology Incorporated into a reduced price policy, cost reductions, and new value offerings to consumers (Ahmad, Webb, Desouza and Boorman, 2019). Microchip Technology Incorporated must manage both of these obstacles and build successful barriers to maintain its competitive advantage.
7.1.1 How to Tackle the Threats of New Entrants
By increasing profitability, it can reduce the fixed cost per product.
Spending in research and developments as well as capability building. New entrants are less willing to join a competitive market where existing players like Microchip Technology Incorporated define the norms regularly. It significantly narrows the window of exceptional gains for new companies, discouraging new entrants into the market.
By creating new products and services. Innovations attract new consumers while providing loyal customers with a reason to continue buying Microchip Technology Incorporated products.
7.2 Suppliers' Bargaining Power
Raw materials are obtained from various manufacturers from almost any organization in the Semiconductor – Broad Line sector. Leading suppliers will reduce the income that Microchip Technology Incorporated will earn. Technology business powerhouses utilize their negotiating power to extract higher discounts from Semiconductor – Wide Line firms. Increased supplier bargaining power reduces Semiconductor – Wide Line profitability.
7.2.1 How to Tackle Bargaining Power of the Suppliers
By maintaining an efficient supply chain with different suppliers.
By experimenting with innovative packaging types and technologies. Once the cost of one raw material increases, the company can move to another.
Creating devoted distributors whose livelihood is contingent upon the company. Another thing Microchip Technology Incorporated should derive from Nike and Wal-Mart that these businesses formed third-party producers. Whose demand is mainly dependent on them, culminating in a scenario where these third-party manufacturers have much less bargaining leverage than Nike and Wal-Mart.
7.3 Buyer's Power of Bargaining
Buyers are often a competitive group. They seek out the highest-quality items at the most affordable prices, and this hindered Microchip Technology Incorporated's long-term viability. The smaller and more efficient Microchip Technology Incorporated's consumer base, the greater the consumers' negotiating power and willingness to pursue increasing discounts and deals.
7.3.1 How to Tackle Buyers' Bargaining Power
Via the creation of a sizable clientele. This is advantageous in two ways. Customers' buying leverage would be reduced, and the company would be incentivized to standardize its distribution and production processes.
By rapidly evolving innovations. Clients already expect discounts and special sales on current merchandise. However, if Microchip Technology Incorporated launches new items, customers' bargaining power can be restricted.
New products will also assist Microchip Technology in retaining existing customers.
7.4 Replacement Goods or Services Pose a Threat
Whenever a new service or product approaches similar customer needs in novel ways, the viability of the business suffers. Google Drive and Dropbox, for instance, may be used to bypass physical disk drives. If an alternative product or service has a market proposition that is radically different from the industry's existing products, it faces a severe obstacle.
7.4.1 How to Tackle the Treat of Substitute Products Services
Through concentrating on the buyer's basic need rather than the commodity they are buying.
By rising the switching cost for the consumers.
Through put emphasis on service over commodity.
7.5 Rivalry amongst Current Competitors
When new competitors in a business compete fiercely, it will drive down prices and the industry's size profit potential. Microchip Technology Incorporated competes in a cutthroat Semiconductor – Wide Line market. This rivalry is having an impact on the overall organizational long-term productivity.
7.5.1 How to Deal with Intense Competition between Current Competitors in the Semiconductor – Broad Line Industry
8.0 The Entry Strategy used to Enter the Target Country Market.
8.1 Market Entry Through a Distributor in Hong Kong
Microchip Technology's goods can be exported to China most easily and quickly via a Hong Kong distributor. Microchip Technology Inc. could ferry its goods to Hong Kong through a Hong Kong supplier operating in China; the Hong Kong supplier will recognize suitable end customers, export and import companies, and suppliers in China. Certain Hong Kong distributors also maintain connection agencies in China to assist with operation, service, and repair. Another good dealer in Hong Kong would be acquainted while doing business in China
Although there are some benefits to working with a Hong Kong dealer, there are also drawbacks in the short term. To begin, although the Hong Kong distributor would therefore sell directly to Chinese end-users in certain restricted circumstances, in certain cases, the Hong Kong seller cannot market exclusively to the customer but must work with a Chinese company that is authorized to perform foreign trade. Therefore, the Hong Kong dealer can act as an important intermediary in selling to China. The usage of a middleman results in higher retail costs and lower net profits.
Second, although Microchip Technology Inc. sends business executives on sales calls with the Hong Kong seller, the vendor will be unaware of customer needs. Third, exposure of the Chinese market as a whole could be low (Hong Kong distributors often skim the "cream" for fast profits), it might be uncertain which markets  in China have been targeted for exports. Fourth, Microchip Technology Inc. continues to face tariffs and quotas. Even export is performed lawfully, and payment delays can occur due to the Hong Kong distribution company's limited influence in China.
Lastly, brand maintenance can differ according to the strength of the Hong Kong distributor's China service. Consequently, if Microchip Technology Inc. chooses this market penetration approach, progress would be contingent on the Hong Kong distributor's ability and commitment to selling goods in China. Many Hong Kong distributors for technology oriented goods claim to be interested in China, but just a handful (about seven to ten) are significantly involved.
9.0 Readiness of to Engage in International Business
Microchip Technology Incorporated is a market leader in embedded control systems that are intelligent, wired, and stable. It is simple-to-use production software and broad product selection allow customers to produce optimal solutions that minimize risk while decreasing overall device cost and time to market. Over 120,000 customers profit from the company's products in the manufacturing, automobile, residential, aerospace and defense, telecom, and computing sectors. Microchip, headquartered in Chandler, Arizona, provides superior engineering assistance and consistent execution and consistency. As a result, it is prepared to do foreign commerce.
Justification of the Selection of the Chinese Market
10.1 Favorable Government Policies
The Chinese government has been highly proactive in enforcing entrepreneurial-friendly policies for both domestic and foreign businesses. Several of these initiatives involve assisting young people in incubating their innovations, fostering entrepreneurship and invention, and providing business subsidies to the citizens (Ahmad, Webb, Desouza and Boorman, 2019). These policies enhance China's attractiveness to domestic entrepreneurs and, by implication, to international entrepreneurs. Since the automotive and shipping markets are booming due to government action, for example, multinational businesses can quickly and affordably obtain more materials for their stores.
China's taxation and other investment practices are unmatched in the world. China's inland regions have reduced international company tax rates than the coastal regions in order to entice global corporations to establish operations in rural China. In the other side, tariff regimes for manufactured commodities continue to improve and become more favourable to international firms on a daily basis. Additionally, the ports and road network are near-perfect, making exporting and importing products very easy.
10.2 Facilitative Entrepreneurial Environment
It is extremely easy to establish local business relationships and developers in China as a result of favorable government policies. Capacity building is taking place, and the retail environment is very favorable. China's rural and urban areas, in particular, have a surplus of infrastructure opportunities.
Additionally, cities like Shenzhen, Hangzhou, Shanghai, and Beijing, have the world's best technology infrastructures, which facilitate market management.
10.3 The Abundance of Skilled Talents
Chinese young professionals are exceptionally gifted and competent. Local universities produce millions of skilled workers per day, not to mention the ease with which foreign graduates will live and operate in China. Bilingualism is also increasing in popularity, with many Chinese now conversant in both Mandarin and English.
English is used in the Chinese educational system's kindergarten program. Additionally, high schools and colleges encourage students to excel in the English language. In brief, you can now be confident of finding a teenage professional who is experienced, educated, and fluent in English
Whenever you need skilled personnel capable of delivering goods up to the requisite level to compete successfully in global markets, you may always turn to a specialist employer organization for assistance. If you employ a headhunting firm in China, recruiting the right people would be a breeze.
10.4 Growth Opportunities
China's corporate strategies and laws are constantly evolving – specific markets are unregulated, which means that there is still a new opening tomorrow. For instance, conducting business in China's digital payments and digital health markets is more accessible than in any other emerging economy on the globe. Furthermore, limited supervision enables entrepreneurs to experiment more easily in emerging technology. By the time further critical legislation is enacted, and economies develop, you could be in a position to claim a sizable portion of the industry. Indeed, the best time to expand in China is now.
10.5 Stability
China's steady growth over the last three decades has been facilitated by social, political, and economic stability. These three components are critical to ensuring a stable market climate. They estimate the economy, allowing companies to anticipate the future and make appropriate plans. That is why, for a more extended period, deflation and other company phenomena were nearly unheard of in China.
The company's target country customer
Computing and producers of peripheral equipment: The need for items like modems for personal computers, memory cards, loaded display boards, and peripheral controller boards. is the after this business sector because of the growth of the machine and peripheral devices industrial sectors.
Internet connection firms: The market for semiconductor products that can be used in telecommunications transmission lines, fiber-optic connectors, and cellular gateway devices have been on the rise in line with the rapid growth of the connectivity industry past five decades.
Electronic products suppliers on the market: one of the world's leading suppliers of household electronic items, explaining the strong demand for semiconductor computer devices from consumer electronics and appliance manufacturing companies.
Manufacturers of automotive electrical equipment: This segment is expected to grow in popularity over the next several years as China's automotive manufacturing industry grows and expands.
12.0 CSR Opportunities in China
Many businesses realize that they need to increase their geographic scope due to the overseas operations of Chinese firms, which is driving the internationalization of their company. At this point, one that now includes a plan that goes way beyond fulfilling the superficial standards that stakeholders have for "economies" or "brands 'whose social responsibility was all but determined by legislation. Although it has existed for more than a decade, the influence of Chinese business on CSR reports has increased in recent years, as shown by the fact that the amount of frequently released CSR (Forbes China) ratings for various sectors (listed by the magazine, Forbes) now includes "rising stars."